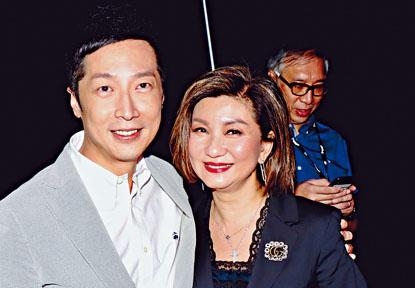 Steven Ma supports Elaine Lok at the Shaw showcase
courtesy of singtao.com
Steven Ma Chun Wai appeared at the Hong Kong International Film and Television Market as a director and a producer and felt very special and different. He attended for his first film TILL WE MEET AGAIN (SUN CHIN YEUK SEI HAU) as a director, screenwriter, actor and other identities. Ma Jai joked that he was already used to being a performing artist with multiple identities and enjoyed it. He was very happy to distribute his work around the world and introduced to it at the event.
Ma Jai then went to the Shaw's stall and met with Ms. Lok to show his support. He also saw many friends as everyone was giving their all to support Filmart. He also met many exhibitors and buyers. Ma Jai said that some of them have already seen TILL WE MEET AGAIN and hoped that they would be able to distribute it nationally and overseas. He was very grateful for their enthusiastic response and would give his all to the production, which was slated for a November release in Hong Kong. Ma Jai said that currently he is working on several film scripts that are almost finished.