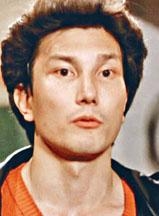 courtesy of singtao.com
Active in the 80s and the 90s, foreign action actor Eddie Maher earlier passed away from heart disease. He participated in films like YES, MADAM (WONG GA SI JEH), MAD MAD GHOST (GWAI DAI GWAI JI WONG GUM DOH SI) and MR. MUMBLE (MAN BO), and was the personal fitness trainer for Jackie Chan, Simon Yam Tat Wa and Donnie Yen Chi Tan. Eddie was active in the combat sports and won many international championships.
After the news of Eddie's passing spread, many friends remembered him on social media. Fellow foreign action actor Mark Houghton said that Eddie was like family to him and wish for him to rest in peace; Yam Tat Wa said that Eddie was very passionate about film and sports, but in recent years they had very little contact. His passing was very regrettable.