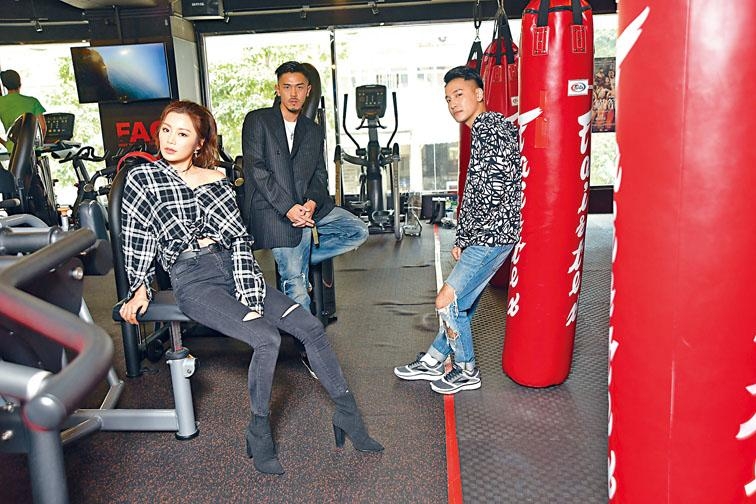 courtesy of singtao.com
The Edward Ma Chi Wai, Lam Yiu Sing and Wiyona Yeung Lau Ching starred film WE ARE LEGENDS (YUP TEET LUNG)'s subject was mixed martial arts. Ma Chi Wai and Lam Yiu Sing were brothers who grew up in an orphanage Jack and Rabbit. After being adopted by orphanage worker Lui Sir (Eric Kot Man Fai) and with the help of Madame Lui (Yuen Qiu), they moved into a village gym. They suffered setbacks in the process of chasing dreams, the brothers even turned on each other. They had to completely rely on persistence to succeed! Despite all the action, Ma Chi Wai said that fortunately he was not injured. Instead he remembered the fighter weight in scene. He had to drop from the originally 170 some pounds to 155 pounds in a month and a half! Before the shoot he did not drink any water for 30 hours to be even lighters from the dehydration. Not only his urine turned dark, he even felt dizzy. He said, "With so many people watching, I can't look bad. I have to tough it out, after the shoot I immediately 'stuffed' down a pineapple butter bun. You should see how happy I was! (How did you lose weight?) I had steamed egg, chicken cutlet and vegetable everyday until I wanted to puke. The worst part was seeing the crew with roast pork, chicken and rice everyday, I wanted some just from the smell of it; everyday I had to work out for 8 to 10 hours, 7 days a week. Yet seeing how great the result was, everything was worth it."
Lam Yiu Sing heard and said that he was lucky, because he had to gain weight from 129 pounds. Everyday in front of his co-star he kept eating rice and chicken legs. He seemed to enjoy himself but had a near death experience. "In one scene I was training at a Tuen Mun reservoir, doing sit up in mid air on a ladder with only a thin rope tied to my feet. When I looked down it was a deep reservoir. At first I really was very scared, it was the first time that I felt my life was in danger while making a movie. However watching the playback I thought it was pretty cool!"
Playing Jack's girlfriend Lili, Yeung Lau Ching was a Brazilian Jiujitsu coach. Because she had to bare her midriff in all her costumes she inevitably had to stay on a diet to maintain her curves. She also revealed that in a kicking scene, she lost her balance and even blacked out for a few seconds. "Because of an earlier rib injury, my breathing wasn't smooth. I only fell because I was out of breath. Although the fall was minor, the rib was dislocated and required hospitalization. It took half a year to recover."
All the fighting of course was nothing to laugh about, but the three of them admitted that working with elders Kot Man Fai and Yuen Qiu was a huge challenge as well. Ma Chi Wai revealed that the script was nonexistent to "Master Kot" because he improvised in each scene like a sharp turn for the brain. Luckily he finally was able to follow the Master's dialogue midway through the shoot. Lam Yiu Sing said that Yuen Qiu often provided advice on the set and suggested to them how they could fight even prettier; Yeung Lau Ching also praised Sister Qiu as a "warm woman". She constantly praised how tough and capable of fighting they were in a very heartwarming way!