courtesy of on.cc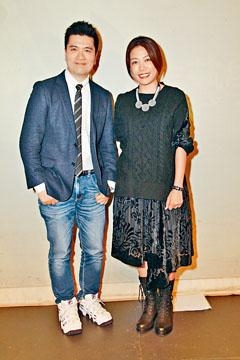 Kearen Pang advises Sunny Chan Wing Sun to enjoy the red carpet
courtesy of singtao.com
Anthony Wong Chau Sun, Ben Yuen Fu Wa, director Sunny Chan Wing Sun and director Kearen Pang Sau Wai yesterday attended the "Elite Alumni Sharing Session: the next years of Hong Kong movies" forum at the Hong Kong Academy for Performing Arts. Nominated with STILL HUMAN (LUN LOK YUN) for the Hong Kong Film Award Best Actor, Wong Chau Sun was asked whether he took the chance to campaign for votes when he attended several events recently. He stressed that he did not campaign for votes, just for the box office. "I made this film without any salary. If I can campaign for the box office then it would be good, I would have a bonus. That's what we used to say, I don't know whether it counts or not."
Chau Sun said that STILL has not been officially released yet, but he learned that many viewers who have seen advanced screenings laughed and cried. He was very pleased since he did not misjudge this team. Would he work with the team again? He admitted, "Not for free, if I would get paid next time, it means that this time we made money." He also joked that 20 years ago he fought for Hong Kong film, but its future development would be none of his business as it would depend on the younger generation to try. Speaking of STILL's good reaction, did it mean that his career had another sunrise? He said, "It's not up to me, it depends of timing, location and people."
Director Chan Wing Sun's MEN IN THE DRAGON (YIK LAU DAI SHOOK) was nominated for the Hong Kong Film Award Best Director, New Director and Best Screenplay. He admitted that he wanted to win the screenplay award the most. Because after years as a screen writer the recognition would be even more meaningful. Although he was confident, the award also would depend on fate. As Chau Sun said, the award was something that was fated and not pleaded for. The nomination was already like a victory for him. He admitted that he had plans for a sequel, but he would have to finish the script first.
Pang Sau Wai last year with 29+1 won New Director. She told Chan Wing Sun to dress up for the red carpet and for a beautiful memory. She said that she was looking into whether to halt her play for the Hong Kong Film Award so everyone would be able to support the film industry event.