courtesy of on.cc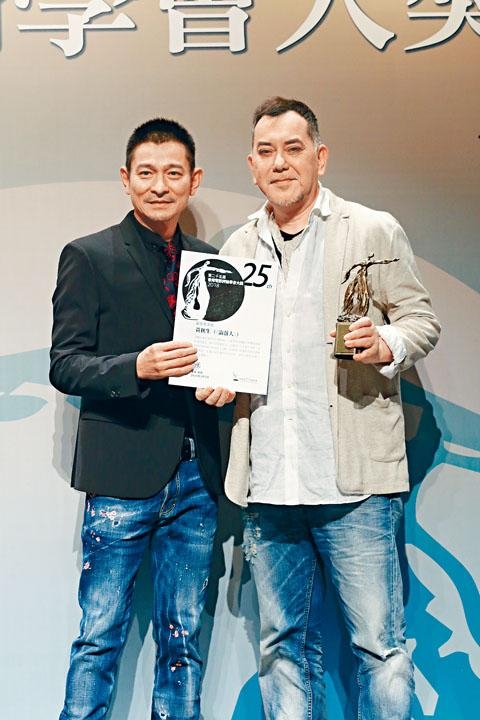 courtesy of singtao.com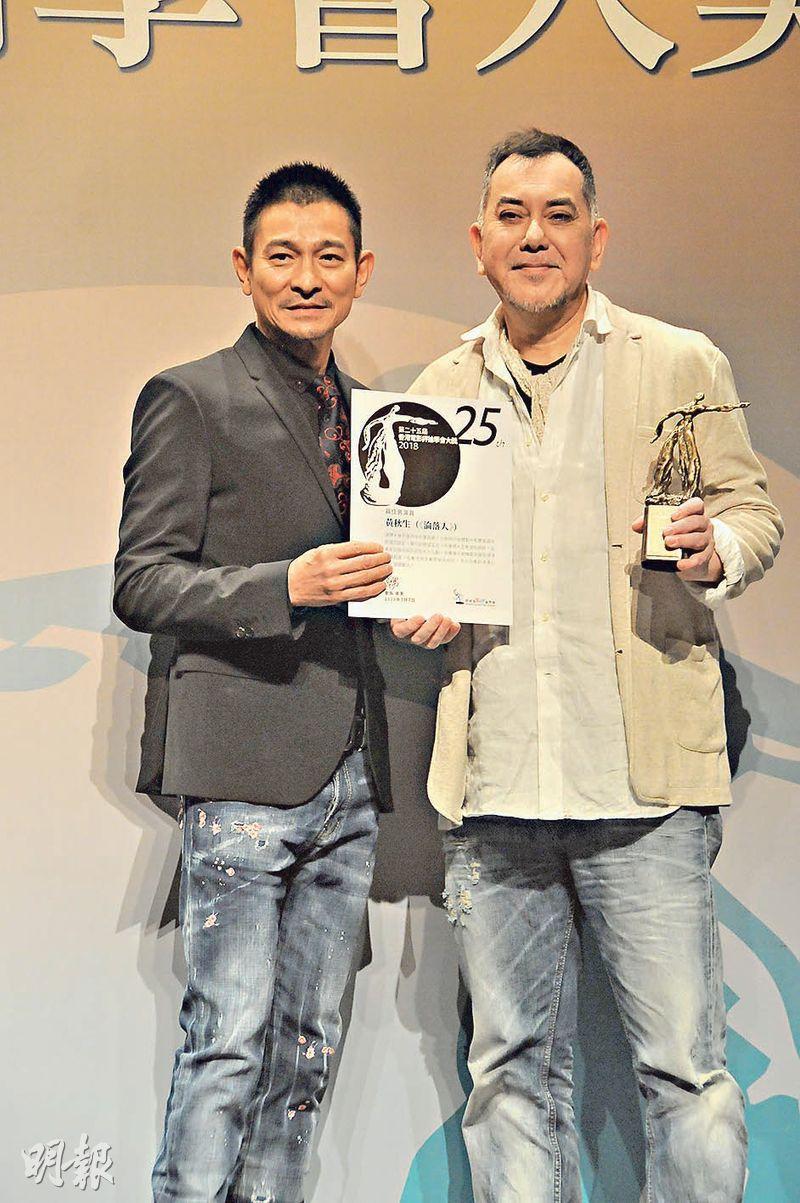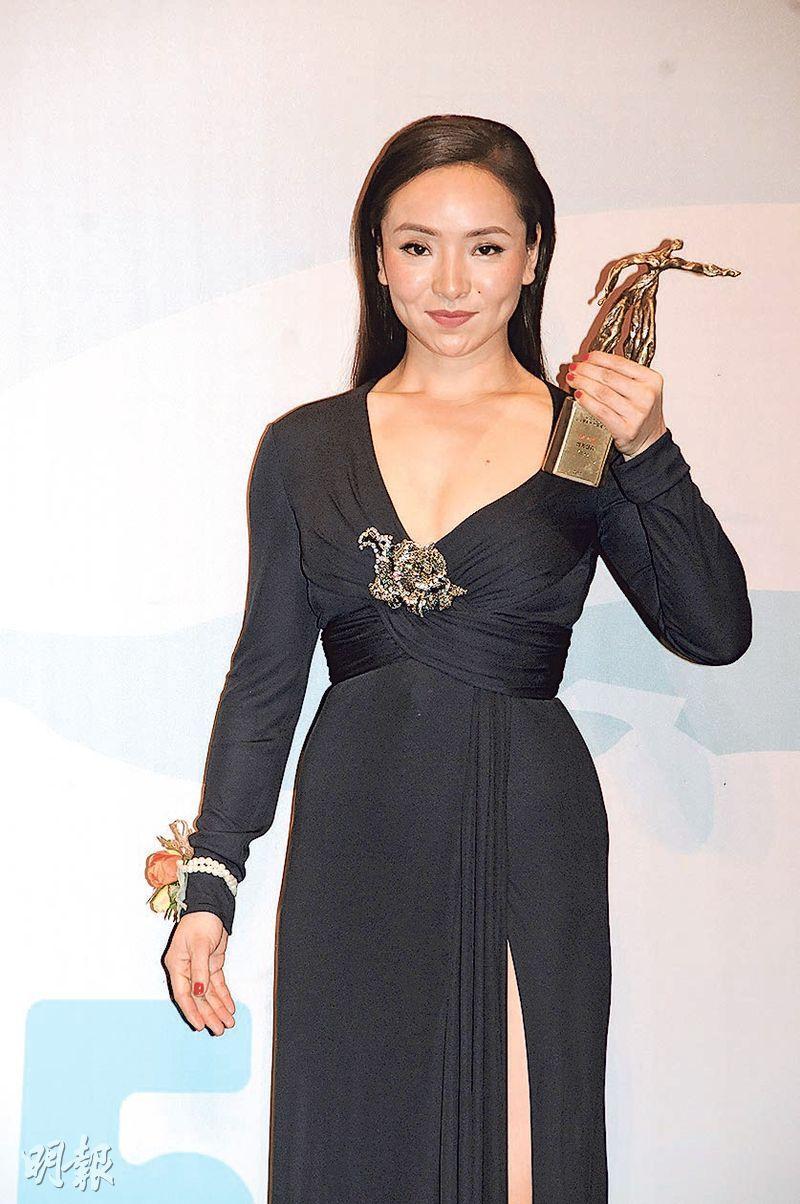 Chloe Maayan would like to work with Andy Lau and Anthony Wong
courtesy of mingpao.com
The 25th Hong Kong Film Critic Society Awards took place yesterday at the Hong Kong Film Archives. This year Andy Lau Tak Wa presented five major awards including Best Film THREE HUSBANDS (SAM FU), Best Director Fruit Chan Gor (THREE HUSBANDS), Best Actor Anthony Wong Chau Sun (STILL HUMAN), Best Actress Chloe Maayan (THREE HUSBANDS) and Best Screenplay Oliver Chan Siu Kuen (STILL HUAMN). In addition president Cheuk Nam presented the Society recommended films including STILL HUMAN (LUN LOK YUN), THE G AFFAIRS (G SAT), I'VE GOT THE BLUE (SHUI DAI HUNG JAU DIK YUN) and PROJECT GUTENBERG (MO SEUNG).
When Lau Tak Wa presented the awards on the stage, he said, "When I started Hong Kong Film Award was already around, but it didn't present an award to me. I felt that they didn't know how to watch a movie. 25 years ago the Hong Kong Film Critic Society appeared, I waited for ten years but I still felt that I was still very far from knowing how to act." Wa Jai also asked everyone to ask him to make movies and not necessarily have to ask Chau Sun. He even said to the STILL HUMAN Best Screenplay winner Oliver Chan Siu Kuen, "Next time don't ask Chau Sun, come and ask me. He only took the role because he thought you are pretty!" He also said that he has been very supportive of new directors. He would not look at what awards they have won, but how the screenplays were and how they were as people.
Wa Jai yesterday supported the event as a guest presenter. He praised Best Actor Chau Sun as a highly efficient actor, as soon as he made a movie he would win an award. Wa Jai said that in the past he has worked with Chau Sun on the play for a long time, only the company has not had a movie that would be suitable for him. However he would consider him for his movies. Was it due to Chau Sun's Mainland market ban? Wa Jai said, "He has the Hong Kong market, just take a little less!" Was he haggling with him? Wa Jai joked, "The Hong Kong price is the highest, I am not haggling with him!"
Did he feel Chau Sun would win the Hong Kong Film Award Best Actor? Wa Jai said, "In the history of the Hong Kong Film Award, this year is the strongest. Aside from new nominee Hak Gor (Philip Keung Ho Man), the other Best Actors have won many awards!" Only he was missing in the Best Actor race. Wa Jai helplessly said, "I fell and no movie for release, next year I will be back!" He admitted that due to his injury he made less movie. This year he would have a little higher production rate. YIT HUET HUP CHEUNG TUEN (HOT BLOODED CHOIR) was made before his injury and he did not have time for its post production. He would also work with Kent Cheng Juk Si on HEUNG GONG JAI (ABERDEEN). In addition he would try on several new costumes for SHOCK WAVE 2 (CHAK DAN JUEN GA 2). He also had an early Republic assassin movie in preparation.
Kenny Wong Tak Bun earlier busted Chow Yun Fat's head open while working on the film GIU YEUNG SHUI YUET (PROUD SUN AGE) earlier, Fat Gor remained calm and finished the scene before going to the hospital for stitches. While treating the wound on the set he even told everyone "if you are calm you would have money left" to ease the tension. Wa Jai said that he has not heard the news. When he found out that Fat Gor was hurt he asked, "Did he get hurt today? Actually a lot can't be predicted on a film production. When I worked with Fat Gor on television or film, no matter what happened he would put everyone on the set at ease. He remembered when they made THE LEGEND OF MASTER SO, in one scene he had to kick a coffin. He hurt his foot but kept going without saying a word. After working with him on television, I learned the professional attitude and atmosphere from him!"
Chloe Maayan after accepting the Best Actress award from her idol Lau Tak Wa thanked director Fruit Chan Gor for her character in the film. She also thanked her mother for continuing support and she will keep working hard. Chloe Maayan said that Lau Tak Wa has been her top idol since childhood. His songs are very encouraging and she immediately recited two verses from Wa Jai's LOVE FORGETTING WATER. "In my youth I love chasing dreams, only had my heart of flying ahead." Chloe Maayan said that she was very happy to receive the award from Wa Jai. She has been very familiar with his songs because all of her classmates sang his song. Thus she was very nervous to see Wa Jai in the VIP room. She would like to stay in Hong Kong and keep making movies, but she did not dare to recommend herself to her idol. However she really wanted to be able to work with Wa Jai because he had both culture and art, the person she would respect the most. As for Wong Chau Sun, she said, "He is a genius. His acting is very realistic, relaxed. He is very amazing, like Al Pacino!" However Chau Sun praised her eyes for having drama, soul and being thoughtful while acting and picked her to win the Hong Kong Film Award. Chloe Maayan humbly gave the credit to the director's guidance and thanked Chau Sun for the praise.
THE 25TH HONG KONG FILM CRITIC SOCIETY AWARDS
https://www.filmcritics.org.hk/
BEST FILM:
THREE HUSBANDS
BEST DIRECTOR:
Fruit Chan (THREE HUSBANDS)
BEST SCREENPLAY:
Oliver Chan (STILL HUMAN)
BEST ACTOR:
Anthony Wong (STILL HUMAN)
BEST ACTRESS:
Chloe Maayan (THREE HUSBANDS)
RECOMMENDED FILMS:
STILL HUMAN, G AFFAIRS, I'VE GOT THE BLUES, A FAMILY TOUR, PROJECT GUTENBERG