Director Stanley Kwan, Angie Chiu, Catherine Chau and Sheung Tin Ngor
courtesy of on.cc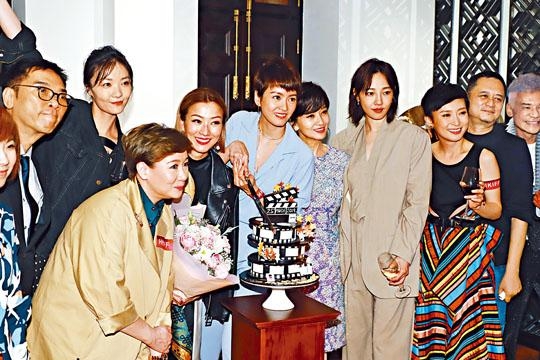 The director and actors celebrate Gigi Leung's belated birthday
courtesy of singtao.com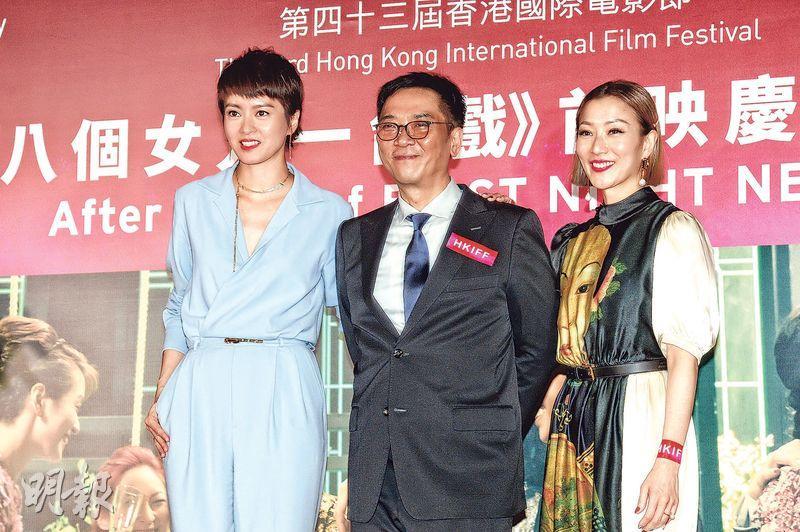 Director Stanley Kwan (center) has nothing praises for Gigi Leung and Sammi Cheng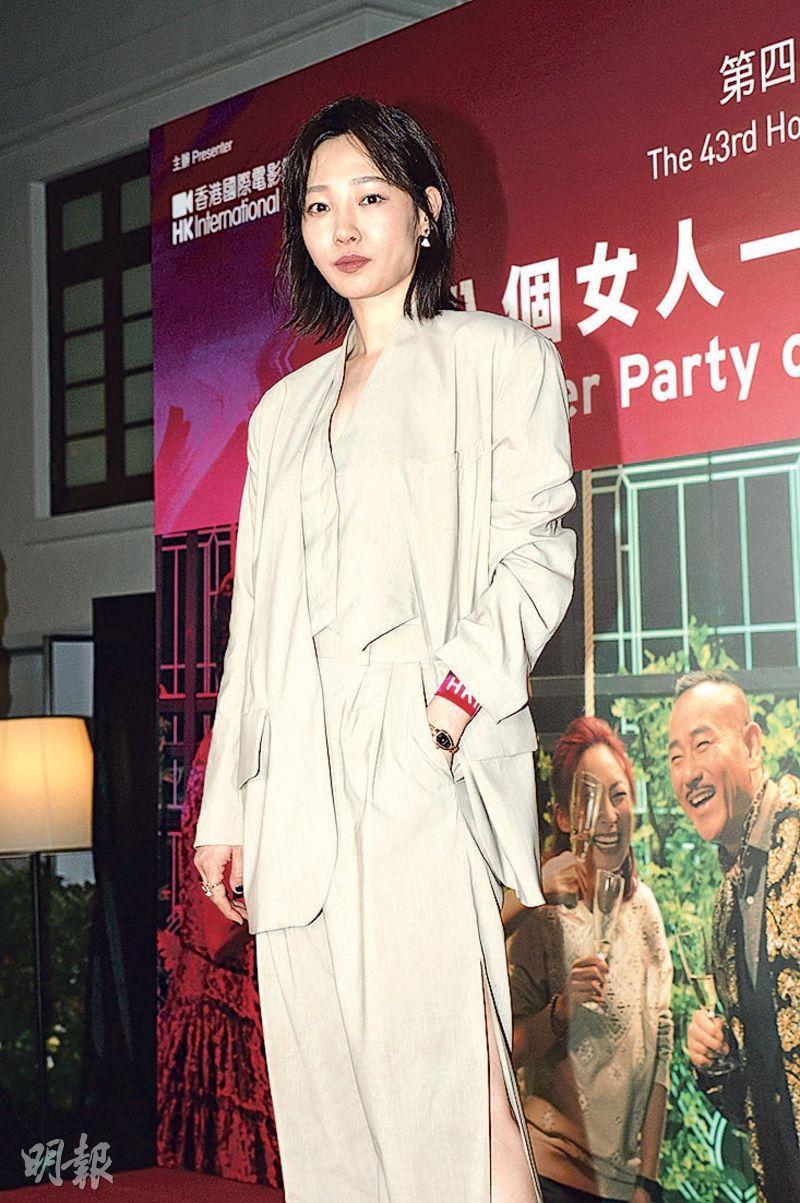 Bai Baihe declines to answer questions about her ex
courtesy of mingpao.com
The Stanley Kwan Kam Peng directed film FIRST NIGHT NERVES (BAK GOR NUI YUN YUT TOI HEI) two nights ago held its 43rd Hong Kong International Film Festival premiere. Then the director led actors Sammi Cheng Sau Man, Gigi Leung Wing Kei, Bai Baihe, Angie Chiu Nga Chi, Sheung Tin Ngor and Catherine Chau Ka Yi attended the premiere party. Since 2004's EVERLASTING REGRET (CHEUNG HUNG GOR), Kwan Kam Peng directed again after 15 years and the lead actress was still Sammi. Director Kwan said, "Time went by so fast but didn't feel long at all. Working with Sammi this time, I feel that she has become another person. She is relaxed, and the character required experience for the performance. She did very well." Sammi said that working with Kwan Kam Peng again, she admitted that she was not nervous. Instead she felt that everyone changed for the better, which gave her an even easier time and more confidence. Director Kwan also praised Gigi for changing a lot after marriage, and was just as relaxed.
Sammi also said that she will soon begin closed door training for her concerts, but she still would have to recover from her knee injury and would not be able to make big moves like jumping and running. The doctor said that she would need two months for a full recovery. For now she would train the upper body first. She was very optimistic that she would be able to reach her goal then. Speaking of how hard her concert tickets were to get, Gigi asked Sammi, "Don't cut me out of my 100 tickets!" Sammi joked, "I will print them for you myself."
Earlier Sammi posted a "tea ceremony" photo on social media and some mistook it for her wedding photo. Some also said that her and husband Andy Hui Chi On's smiles were stiff. Sammi explained that actually it was the wedding of a relative's offspring. Perhaps everyone missed what she wrote under the photo. Would she consider sharing her wedding photo? She said, "No one wants to see them." Gigi said, "I do." Sammi joked, "I can WeChat them to you." Speaking of her awkward smile in the photo, she said, "Actually at the time I was very moved inside, but I couldn't express it right away. My face was stiff. After the ceremony I immediately smiled again, I was moved because I have become an elder and had to give lai see."
Mainland star Bai Baihe in the film played a more masculine character. She said that the character differed greatly from her past ones. She could only observe how people around her protect girls. Was the performance difficult? She admitted that the hardest was the Cantonese lines, which she thought were very hard and after the shoot she completely forgot them. In addition, when asked if she had any contact with her former husband Chen Yufan, she said, "I have no comment for anything not related to the film." Then she turned and left.