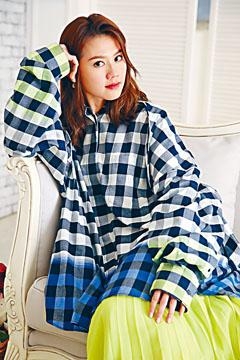 courtesy of singtao.com
After the film MASTER Z: THE IP MAN LEGACY (IP MAN OI JUEN CHEUNG TIN CHI), Chrissie Chau Sau Na and Kevin Cheng Ka Wing worked together again on the film P STORM (P FUNG BO). In the film Sister Na played a witness and had many scene with the Independent Commission Against Corruption officer Ka Wing. The running in the heat and the sea scenes were the most memorable and the happiest for Sister Na.
Sister Na and Ka Wing in the new film P STORM had a stadium running scene. The shoot took place in the summer, Ka Wing was all wet from running and had to take off his suit, but Sister Na said that it was not too bad. "Although we had a lot of running, gun fight and chase scenes, we even had scenes at sea, but maybe because I had a lot of fun and the film had many handsome actors I didn't feel bad at all. Haha! Instead I felt bad for the cinematographer. Because in this scene Ka Wing dragged me as we ran in the stadium, the cinematographer had to carry a camera and run with us. Not just for a part, but wherever we ran he had to run along side! When we shot the run we had to maintain a steady distance for the camera to focus."
Sister Na said that during the shoot rain often came. When the rain stopped they fought for time for the shoot. Actually the script did not ask her to fall, but due to the wet ground she did. "Because the gun fire was very frightening, the feeling was very real and I really was very scared! I slipped and fell, that take was kept. At the time I even anxiously asked the team did they get it? He said yes, if not that fall wouldn't be worth it."
Speaking of Lam Fung and Ka Wing's helicopter scene, Sister Na admitted that shoot inside the helicopter was difficult because the cockpit was too small. Although they rented an actual helicopter, due to time and money the team also made a full scale helicopter for the shoot. "Because the space was too small, how would we to capture the shot, show reaction and facial expression? We needed to rely on our own imagination to perform. Ka Wing was amazing though, in the story as the helicopter was about to take off he was knock off. He held onto the helicopter rack. I don't know how he twisted himself back up there. After I saw the trailer, I went wow, amazing!"