For the week ending Sunday March 10 2019
Photos courtesy of Yahoo! Movies Hong Kong


10 CAPHARNAUM
d. Nadine Labaki
Zain Al Rafeea, Yordanos Shiferaw, Boluwatife Treasure Bankole


9 THE FAVOURITE
d. Yorgos Lanthimos
Olivia Colman, Emma Stone, Rachel Weisz,
8 KURSK
d. Thomas Vinterberg
Lea Seydoux, Colin Firth, Michael Nyqvist, Matthias Schoenaerts


7 ALITA: BATTLE ANGEL
d. Robert Rodriguez
Rosa Salazar, Mahershala Ali, Jennifer Connelly, Christoph Wentz


6 GREEN BOOK
d. Peter Farrelly
Viggo Mortensen, Mahershala Ali, Linda Cardellini


5 FALL IN LOVE AT FIRST KISS
Can : Yut Mun Ding Ching
d. Frankie Chen Yu-Shan
Darren Wang, Jelly Lin Yun, Louis, Christopher Lee
Rating : I
Length : 122 mins.
Opening February 14 2019
Trailer :
https://youtu.be/_Xiw99MfGtc
[ CINEMA ONLINE MALAYSIA ]
Adapted from Japanese manga series "Itazura na Kiss", which tells of a teenage girl who falls in love with her fellow senior since their first day of high school but does not tell him about it at first. When an earthquake destroys her house, she and her father move into the house of her father's college buddy, who happens to be the father of the boy she loves.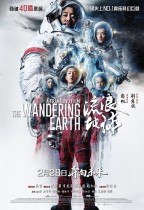 4 THE WANDERING EARTH
Can : Lau Long Dei Kau
d. Frant Gwo (Guo Fan)
Wu Jing, Qu Chuxiao, Li Guangjie, Ng Man Tat, Zhao Jinmai,
Opening February 28 2019
Trailer :
https://youtu.be/9CV5uWfpYoI
3 DRAGON BALL SUPER: BROLY
d. Yamauchi Shigeyasu
Japanese Animation
Rating : IIA
Length : 100 mins.
Opening February 28 2019
Teaser :
https://youtu.be/enwU2q--e0Q
[ HONG KONG MOVIE 6 ]
This is a New "Saiyan" Story.
Earth is at peace following the Tournament of Power. Goku, knowing that there are ever-stronger forces in the universe he has yet to encounter, spends all of his time training to achieve another level. One fateful day, a Saiyan appears before Goku and Vegeta who they have never seen before: Broly. How can a Saiyan – who had all supposedly been annihilated after the destruction of Planet Vegeta – appear on Earth? With the return of Frieza from hell, a fierce battle awaits these three Saiyans who have followed completely different destinies.
2 HAPPY DEATH DAY 2 U
d. Christopher Landon
Jessica Rothe, Israel Broussard, Phi Vu
1 CAPTAIN MARVEL
d. Anna Boden, Ryan Fleck
Brie Lawson, Samuel L. Jackson, Ben Mendelsohn, Jude Law,
Annette Bening, Lashana Lynch, Clark Gregg, Gemma Chan,
Djimon Hounsou, Lee Pace,