Carlos Chan
The new film shoots in a Fuzhou empty hanger
Xin Zhilei
Ian Wong, Dante Lam, Eddie Peng
courtesy of on.cc
Peter Pau, Dante Lam
Martin Laing
courtesy of on.cc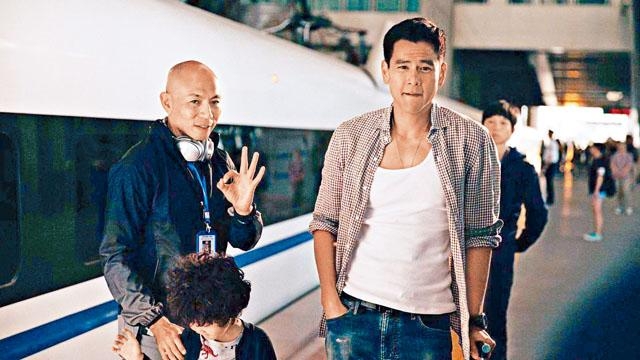 courtesy of singtao.com
The film GUNG GUP GAU WOON (EMERGENCY RESCUE)'s director Dante Lam Chiu Yin worked with producer Leung Fung Ying again on another blockbuster after OPERATION RED SEA, with stars Eddie Peng Yu-Yan, Ian Wang, Xin Zhilei, Lan Yingying, Wang Yutian, Xu Yang, Li Mincheng to make the Mainland's first sea rescue film. The film involved a lot of visually shocking effects. GUNG GUP GAU WOON since its production began in Xiamen has kept high confidentiality in a completely closed production. This film the production cost over HK$ 800 million. the director invested heavily on 4 extremely shocking rescue scenes, each could be an international rescue blockbuster's ending on its own.
Lead actor Peng Yu-Yan has worked with director Lam Chiu Yin 4 times. Eddie said that the director would always be able to see different sides of him. Through the director's hellish training, Eddie kept challenging his limits. He had an even more systemic grasp of rescue skills and even more in depth understanding of the rescue spirit; while working with the director, Eddie has been learning new skills and never be pleased with himself.
Courage is the center of the film. Everyone in the rescue team faces hardship, accepts challenges during crises to gain courage and growth. Since the film started production, some of the rescue scenes have already been completed. Many complicated and difficult explosions, fire rescue scenes have already been done. Aside from the Mainland shoot, the film will also shoot in TITANIC's production location in Mexico for some deep sea rescue shoot. Director Lam Chiu Yin has been known for his realistic production, as he relied on actors' on location performance in numerous dangerous scenes to the benefit of the audience and the nightmare for the actors. In order to play rescue team members well, each actor experienced the director's long term hellish training in order to achieve the director's highest demands -- to become professional sea rescue team members on the silver screen.
This film's production cost over HK$ 800 million, more than twice of OPERATION RED SEA. The director invested heavily on 4 extremely shocking rescue scenes. Each one could be the ending of an international rescue film, hence demonstrating the difficulty and the complexity of the film production.
In order to make a good movie, the production gathered top Chinese and Hollywood production team as it invited Best Cinematography Oscar winner Peter Pau Tak Fun and TITANIC's art director Martin Laing to join the team. Pau Tak Fun talked about working with director Lam Chiu Yin. "The director is very daring, sometimes for some big scene productions, he would leave the decision of color and lighting to me while he focuses on actors' performance and the action scenes." Martin compared Director Lam Chiu Yin to top international directors Steven Spielberg, Michael Bay, James Cameron. His films have elevated Chinese films to even higher level.