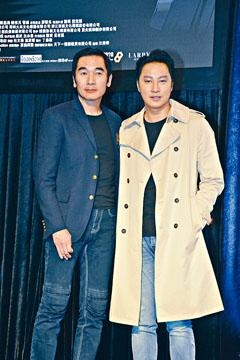 courtesy of singtao.com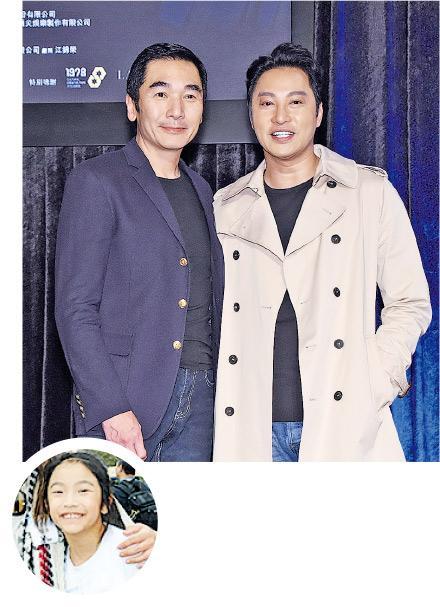 Alex Fong Chung Shun and Patrick Tam both have March birthdays, but Alex is upset that his daughter does not put any thought into his gift
courtesy of mingpao.com
Alex Fong Chung Shun, Patrick Tam Yiu Man, Carlos Chan Ka Lok, Justin Cheung Kin Sing, Jeana Ho Pui Yu and Himmy Wong Ting Him yesterday attended their film THE ATTORNEY (YUT CUP JUI HUNG)'s Hong Kong International Film and Television Market press conference. In the film Fong Chung Shun and Ah Tam would play lawyers at court. Having worked with each other many times they were very friendly off scream and both have birthdays in March.
Speaking of working together again, Ah Tam said that Fong Chung Shun since having a child turned from being cool and chok before to easy going and friendly. Ah Tam also revealed that they worked together on PTU and Fong even ironed his hat for him. He thought Fong was very interesting and an aestheticist. Fong Chung Shun pointed out that Ah Tam was introverted and warmed up to people slowly.
Turning 50 two days ago (on the 19th), Ah Tam revealed that after work that day he returned home to cut the cake. Earlier his family took him to a buffet. His children drew birthday cards for him and he felt very happy. Although he officially "entered 5", Ah Tam fearlessly said, "Men at 50 are like flowers."
With his birthday on the 17th, Fong Chung Shun said that he celebrated his 56th birthday with his family at dinner. Earlier Fat Soh very thoughtfully bought a birthday cake to celebrate in advance. What did his daughter give him? He complained that his ten year old daughter would not put any thought into her gift and would give the standard every year. "Every year she just draws a picture, with the words Happy Birthday and a drawing of the car brand that I like as a gift. (Did you forget to get her any money?) I gave and it was still like this, I didn't even get a kiss." Ah Tam said that his 8 year old daughter kissed him and would not let go. Fong Chung Shun said that he felt very hurt just from hearing that, but he did not dare to kiss his daughter because he was afraid that frightening her into not liking guys. Although he thought her gift was standard, he joked that it was better than giving him a grandson. Then he would be terrified.