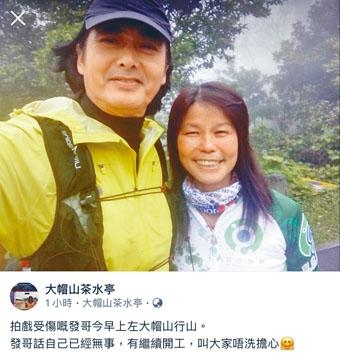 courtesy of singtao.com
Chow Yun Fat earlier while working on the film GIU YEUNG SHUI YUET had an accident with Kenny Wong Tak Bun. Fat Gor remained calm and finished the scene despite having blood running down his face. While being treated Fat Gor said, "After a few stitches I will be back!"
Finally Fat Gor was released from the hospital with five stitches on his left forehead, but he of course did not stop running and his daily routine. Yesterday Sister Lin from the Tai Mo Shan Kiosk shared a photo with Fat Gor. "Injured on the set, Fat Gor this morning went hiking on Tai Mo Shan. Fat Gor said that he is already fine and back at work. He tells everyone not worry."