For the week ending Sunday March 24 2019
Photos courtesy of Yahoo! Movies Hong Kong


10 WE ARE LEGENDS
Can : Yup Teet Lung
Lit : Enter the Iron Cage
d. Daniel Chan Yee-Heng
Lam Yiu Sing, Edward Ma Chi Wai, Yuen Qiu, Eric Kot Man Fai
Rating : IIB
Length : 108 mins.
Opening March 21 2019
Trailer :
https://youtu.be/ywi05a62dn4
[ THE FILM CATALOGUE ]
Orphaned brothers Jack and Rabbit grow up in a martial arts club. Jack supports Rabbit's study but cuts ties with him after Rabbit is caught for fighting underground and gets kicked out of school.
Rabbit goes viral on the internet with videos of how he speedily knocks out his opponents, and is referred to as the King of Street Fights. Jack devotes himself into training and fighting in numerous competitions, setting a record of 59 wins. However, he is defeated at his first professional MMA fight while his opponent Jason humiliates his teacher and martial arts club on stage.
To avenge for his brother, Rabbit challenges Jason for a fight...
9 KAMEN RIDER HEISEI GENERATIONS FOREVER
d. Kyohei Yamaguchi
Sou Okuno, Atsuhiro Inukai, Gaku Oshida, Shieri Ohata,
Keisuke Watanabe, Eiji Akaso, Kaho Takada, Kouhei Takeda,
Kensei Mikami, Shunsuke Daito, Takeru Satoh,
Rating : IIA
Length : 100 mins.
Opening March 14 2019
Trailer :
https://youtu.be/fOTIJnMCrMs
[ MCL CINEMAS ]
Something happens in the world which Sougo Tokiwa and Sento Kiryu lived in. Their companions are losing their memory one after the other as they are replaced by other people.
The Super Time Jacker, Tid, appears. He orders Another Den-O and Another W to attack a boy called Shingo. During the fight of protecting Shingo, Sougo meets Ataru, a young man who loves Kamen Rider. Although Sougo saves Shingo, they are told by Ataru that "Kamen Rider doesn't exist in the reality." Why did he say so?
And at the same time, Sento is brainwashed and manipulated by Tid...
When and why Kamen Rider become fictional character? In order to find out the answer, Sougo and Sento follow Tid and arrive Kurougatake Ruins, the birthplace of the first Heisei Era Rider...
8 CAPHARNAUM
d. Nadine Labaki
Zain Al Rafeea, Yordanos Shiferaw, Boluwatife Treasure Bankole


7 GREEN BOOK
d. Peter Farrelly
Viggo Mortensen, Mahershala Ali, Linda Cardellini


6 ON THE BASIS OF SEX
d. Mimi Leder
Felicity Jones, Armie Hammer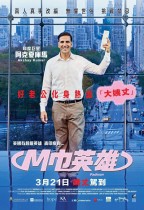 5 PADMAN
d. R. Balki
Akshay Kumar, Sonam Kapoor Radhika Apte


4 US
d. Jordan Peele
Lupita Nyong'o, Winston Duke, Elisabeth Moss


3 ESCAPE ROOM
d. Adam Robitel
Taylor Russell, Logan Miller, Jay Ellis


2 MASQUERADE HOTEL
Can : Ga Min Jau Dim
d. Masayuki Suzuki
Takuya Kimura, Masami Nagasawa, Takako Matsu, Atsuko Maeda
Rating : IIA
Length : 132 mins.
Opening March 21 2019
Trailer :
https://youtu.be/pZFVvr-B6Pg
[ BROADWAY CIRCUIT ]
Three murders have occurred in the Tokyo area. Left behind in all of the murders is a series of baffling numbers – a possible hint as to the next crime – that sets off an investigation to uncover the identity of a serial murderer. Kosuke Nitta of the Metropolitan Police Department Investigation Division deciphers the numbers and believes the location of the next offense will occur at the Hotel Cortesia in Tokyo. The police decide to investigate from within the Hotel Cortesia and Nitta is assigned to investigate posing as a clerk at its front desk. Selected to train Nitta in the ways of working at the hotel is their first-rate clerk Naomi Yamagishi. Nitta has focused himself on unveiling the "masks" of the hotel guests and to discover who the killer is. However, Naomi sees her priority to be with that of the guests' comfort and safety. Butting heads constantly due to their differing opinions, Nitta and Yamagishi forge on with the investigation, eventually discovering each other's worth as, over time, a trust is built between them. Meanwhile, the case develops rapidly. The police and the hotel are backed into a corner. Sure enough, the true identity of the culprit of the mystery is none other than......
1 CAPTAIN MARVEL
d. Anna Boden, Ryan Fleck
Brie Lawson, Samuel L. Jackson, Ben Mendelsohn, Jude Law,
Annette Bening, Lashana Lynch, Clark Gregg, Gemma Chan,
Djimon Hounsou, Lee Pace,