I WEIRDO has been accused of plagiarizing from MILLION LOVES IN ME, the leads' raincoats and gloves and other costumes are very similar.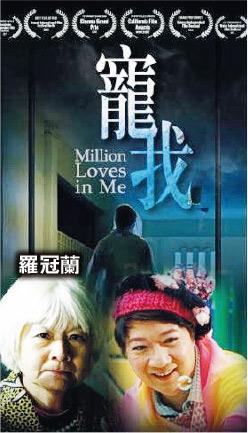 Law Koon Lan with MILLION LOVES IN ME won two Best Actress awards
courtesy of mingpao.com
The Austin Lin and Nikki Hsieh starred, Liao Ming-yi directed Taiwan film I WEIRDO received 6 nominations at this year's Golden Horse awards, including Best Actor, Actress, New Director, Cinematography, Visual Effects and Art Direction.
I WEIRDO will open in the middle of the month, but a Malaysian film company claimed that I WEIRDO violated copyrights and plagiarized the company's winner of countless awards, MILLION LOVES IN ME. It filed for an injunction against the film with the Superior Court to prohibit I WEIRDO from its Hong Kong release.
The plaintiff was JK Holdings Ltd; and the 3 defendants were Activator Marketing Company, mm2 Entertainment Co., Ltd. and Taiwan director Liao Ming-yi. According to the lawsuit, the Malaysian film MILLION LOVES IN ME since its 2017 release won 149 film awards around the world. The plaintiff owned all rights to that film.
The plaintiff in the lawsuit claimed that the first two defendants in the case were production companies of, and the third defendant the director of the Taiwan film I WEIRDO, which was suspected of plagiarizing MILLION LOVES IN ME. The plaintiff claimed that I WEIRDO while depicting Obsessive Compulsive Disorder used raincoat, gloves, mask, garbage bag and other objects and in similar color scheme. I WEIRDO will be released in November in Hong Kong, which would be damaging to the plaintiff. The plaintiff thus seeks compensation and an injunction from the court to prohibit the 3 defendants from continuing their copyright violation behavior and to prohibit I WEIRDO's Hong Kong release.
I WEIRDO was Asia's first fantasy romantic film shot on an iPhone. In the film both male and female leads had OCD. MILLION LOVES IN ME had Hong Kong actress Law Koon Lan in its cast. The film won her two Best Actress awards, including the San Diego Independent Film Best Actress.
I WEIRDO's producer responded to the charges of plagiarism. "That's nonsense, we haven't even heard of that movie, not to mention seen it. We also have no idea what that film is about."
Activator Marketing Company issued a statement through its lawyer, saying that I WEIRDO's film content was an originally created story. The accusation of plagiarism damaged director Liao Ming-yi's reputation and the company would take legal action. I WEIRDO will be released in Hong Kong on November 19th as scheduled.
[Case number: HCA 1896/20]