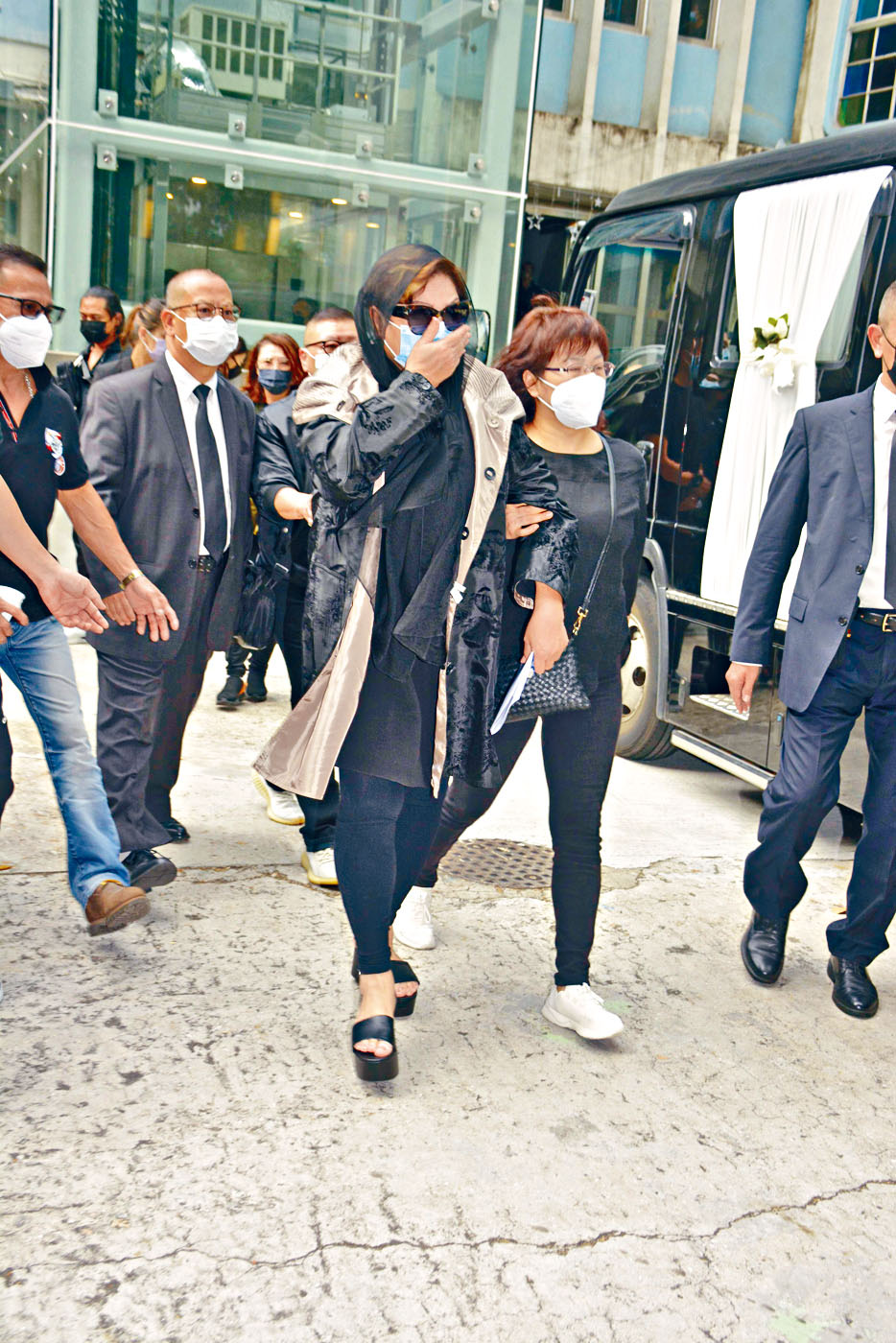 Maria Cordero breaks down at the sight of her late husband's coffin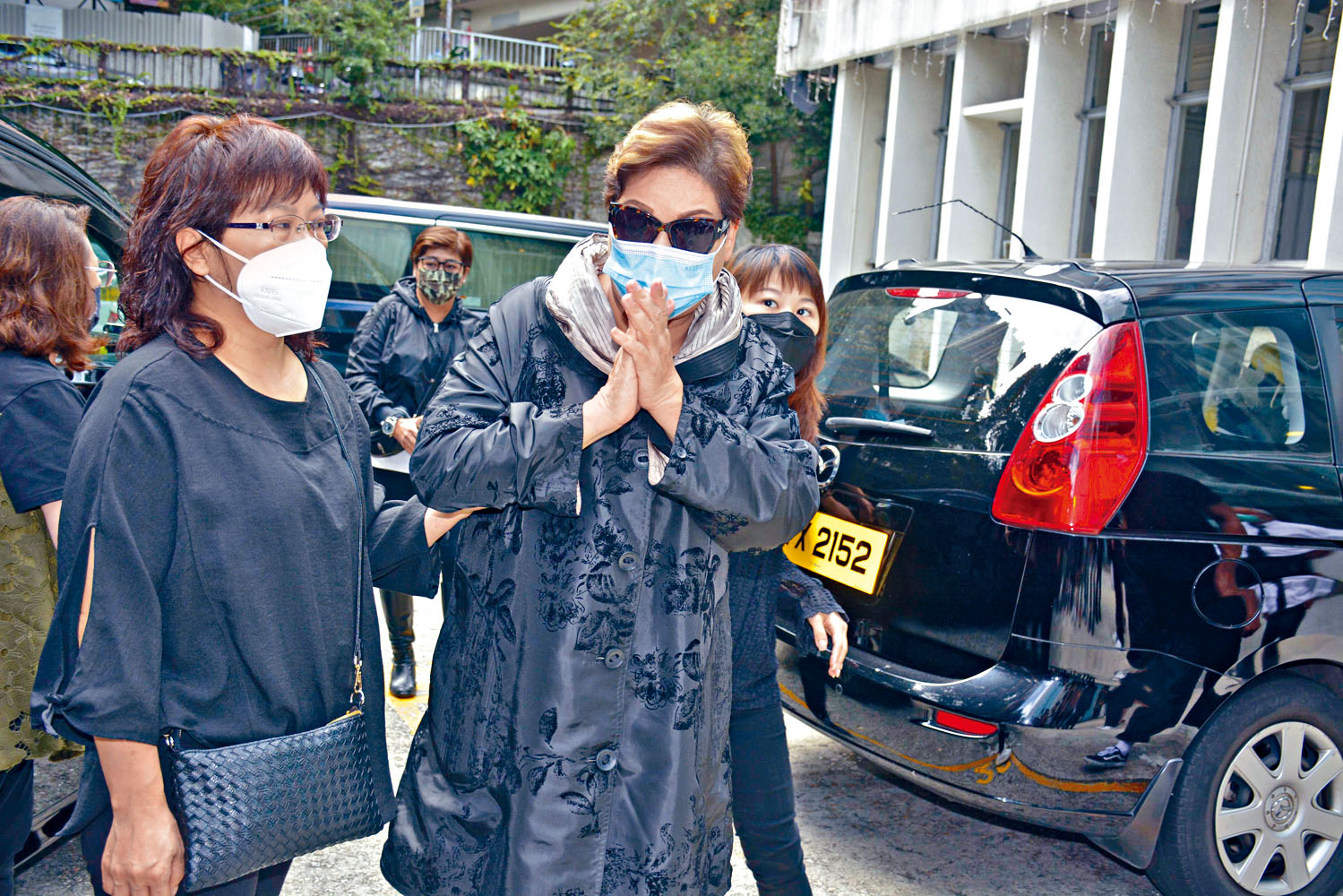 Maria Cordero puts her hands together to show appreciation to the media
courtesy of singtao.com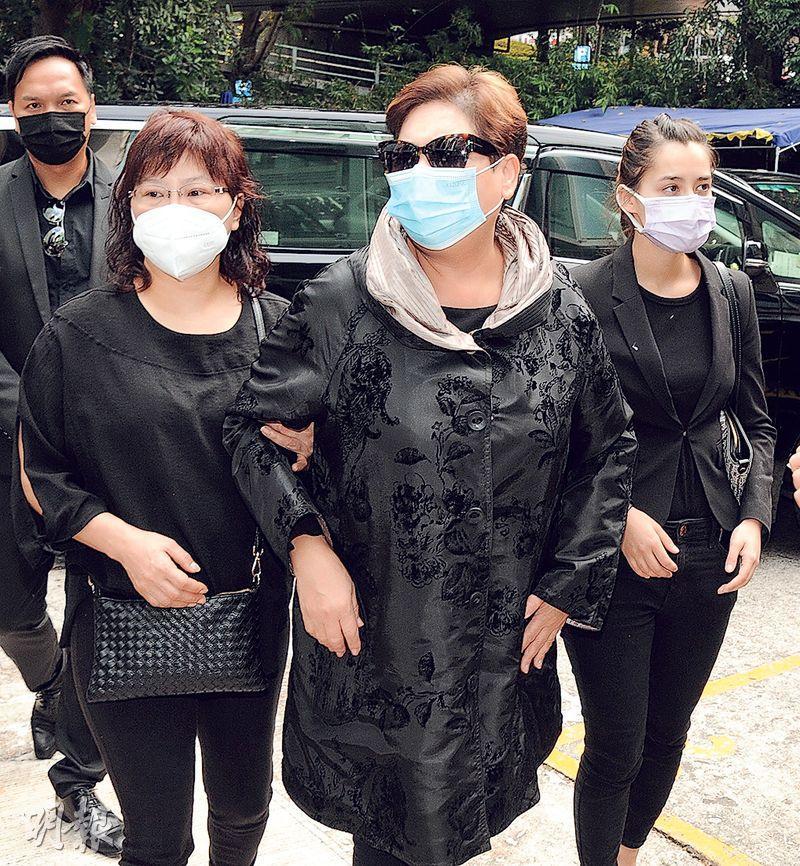 A friend gives Maria Cordero a hand. Miss Hong Kong Lisa Tse is also present to keep her company.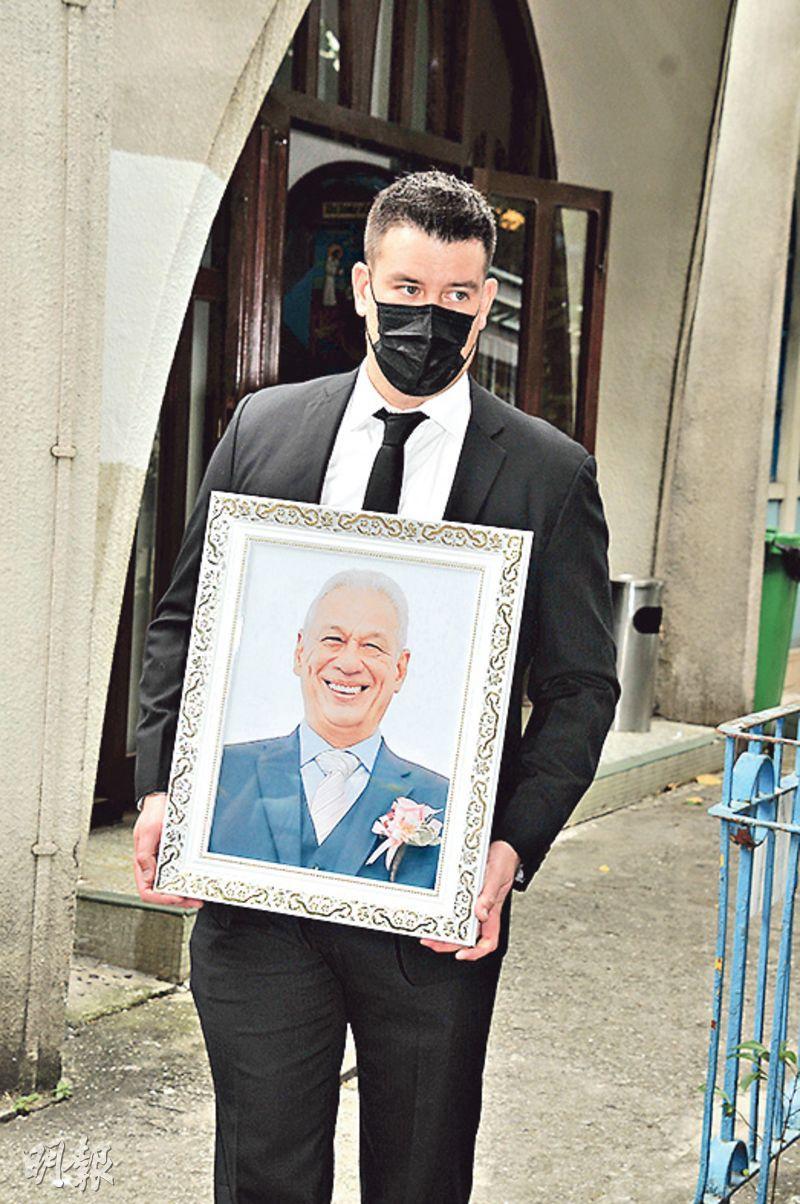 Rich's oldest son carries his father's photo
courtesy of mingpao.com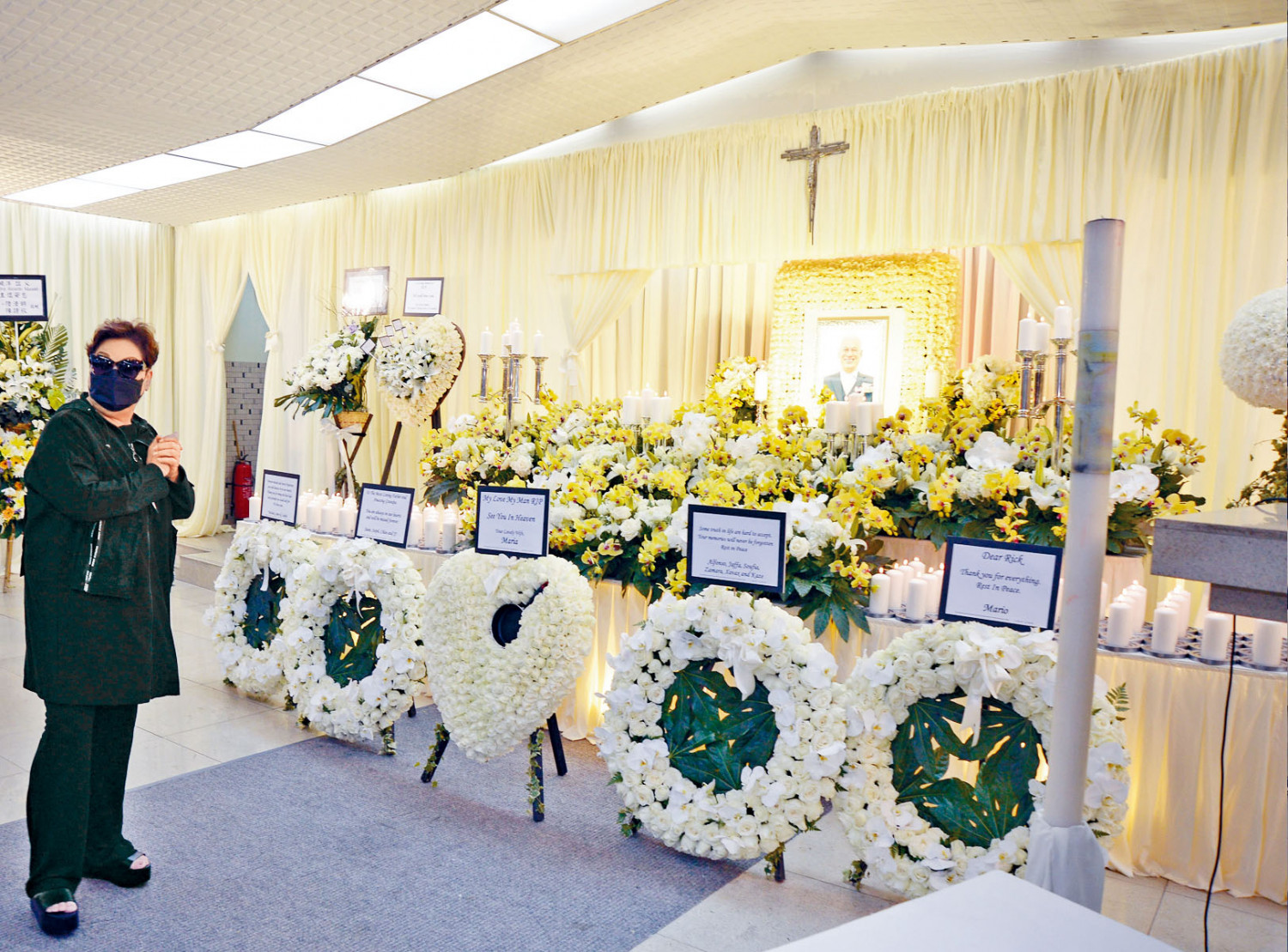 The most eye catching has to be the frying pan in Maria Cordero's floral arrangement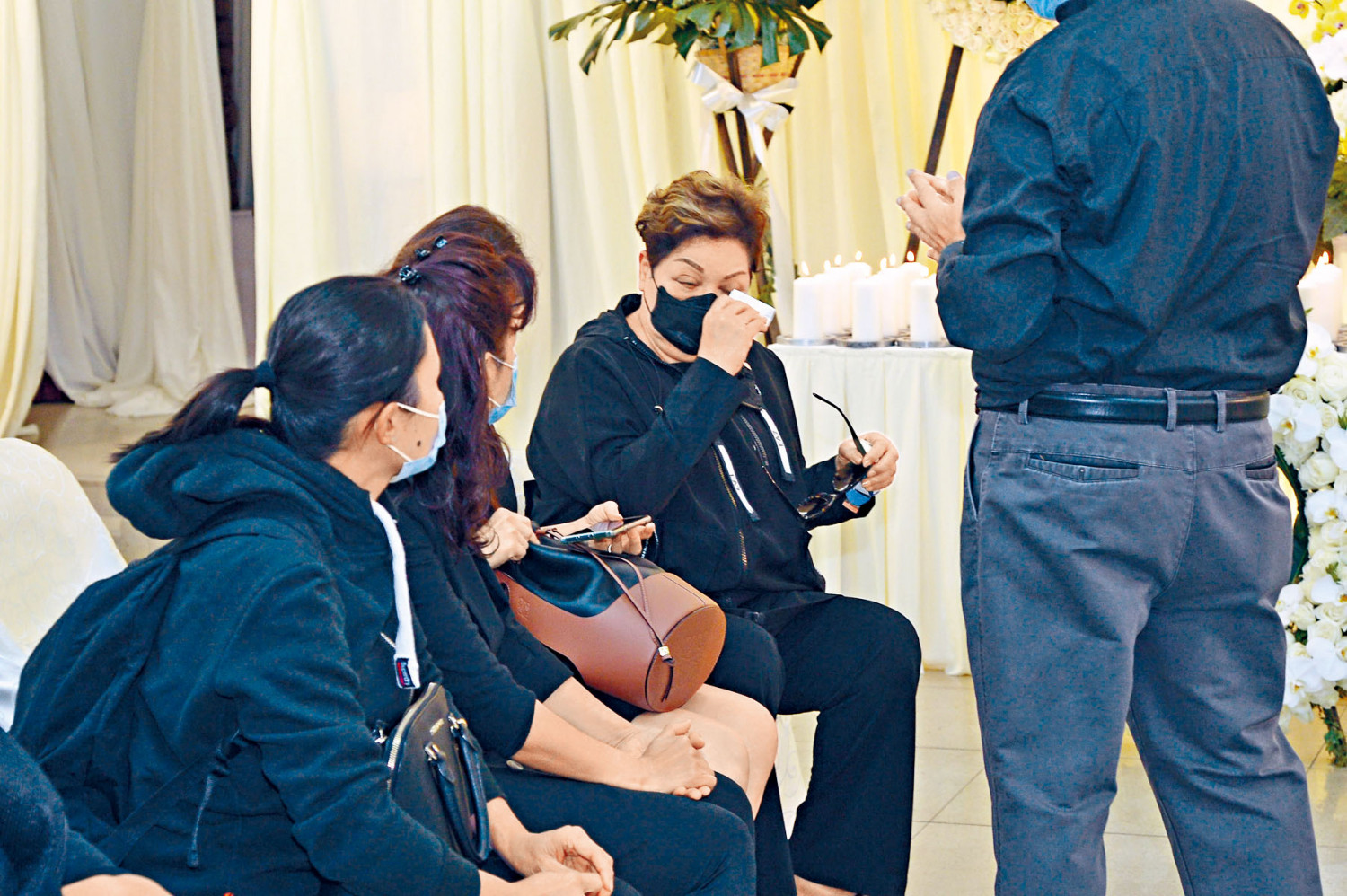 Maria Cordero often weeps while talking about her husband


Lok Ho Ming and his girlfriend come to pay their respect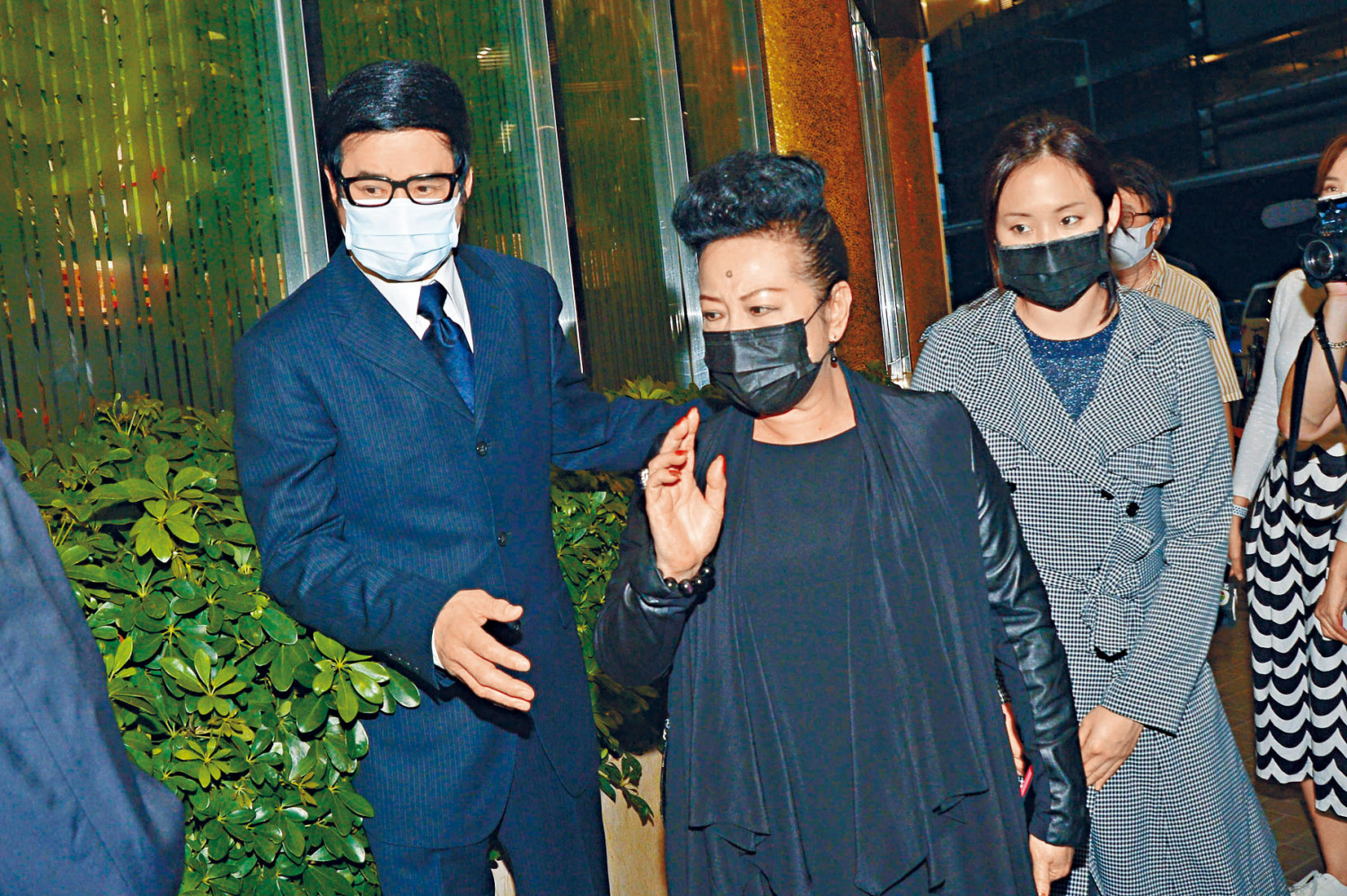 Nancy Sit and her elder daughter arrive with Anderson Junior
courtesy of singtao.com
Terence Lam, Amy Tam
courtesy of on.cc
Maria Cordero (Fat Ma)'s Portuguese husband Sze Hiu Yeung (Rick) passed away on the 6th at age 72. Yesterday services began at the Hong Kong Funeral Parlor. The ceremony was Catholic. Today the Catholic funeral will take place at St. Joseph's Church, the remains would then be transported to Cape Collinson Crematorium for cremation.
The hall was decorated simply and elegantly in white. Five floral arrangements were placed in front. The one from Fat Ma was heart shaped with a frying fan on it, symbolizing that she would keep cooking for him. Fat Ma arrived around 4:15PM. Dressed in black and a mask she could not hide her sorrow and exhaustion. When she saw the media she put her hands together and said, "Thank you, you are thoughtful."
Fat Ma often wept inside the hall, but she did not forget to comfort her family and friends. She sobbed during her interview. Fat Ma wiped away her tears as she said, "I really miss my husband, an old companion of several decades. However he was very lucky, the children and the grandchildren all really loved him. My husband told me to keep teaching cooking live online before he passed away. He really drove me mad." Fat Ma said that because of the pandemic, originally her son would return to Hong Kong but currently he was still in quarantine. In the end he would not be able to attend the funeral. Fat Ma sad that she has been a mess during this period, luckily everyone helped. "Over the past few weeks I didn't want to go out, the last few days Hak Mui (Li Lai Ha) drove me around with godfather and godmother."
Those who paid their respect included god son Lok Ho Ming and his girlfriend Chan Sze Yan, Miss Hong Kong Lisa Tse Ka Yi, Au Wing Kuen, Hak Mui (Li Lai Ha), Nelson Cheung Hok Yun, Albert Au Shui Keung, Ng Lai Chu, Alice Lau Nga Lai and her mother, Frankie Lam Man Lung, Maggie Siu Mei Kei, Mary Han Ma Li and her husband, Terence Lam (Hon Yeung) and Amy Tam Ka Chuen, Emily Kwan Bo Wai, Remus Choy Yat Kit, Tsang Lai Chun, Lam Yi Kei, Elaine Lok Yi Ling, Tsui Siu Ming and his wife, Vivian Lai Shui Yan, Ting Yu and others. Nancy Sit Ka Yin and her elder daughter Shek Yau Shan arrived with Anderson Junior (On Tak Juen). Sister Ka Yin said that she was close with Fat Ma. When she heard about her husband's passing it was very sudden. She understood that Fat Ma would definitely be very heartbroken right now, she contributed a lot when she took care of her bed ridden husband. Sister Ka Yin also revealed that Fat Ma was unable to hold back her tears, but she held hers back to console Fat Ma. She believed that Fat Ma needed everyone's comfort and time to settle down.
Godson Lok Ho Ming said, "After godfather Rick passed away, this is the first time I saw Fat Ma because during this period I didn't dare to disturb her. I know she is very sad and heartbroken. Actually she is a very brave Mommy and wife. I hope she will leave her sorrow behind soon, I would cheer for her. (Would he take Fat ma to dinner?) I would, during this period she would be busy with Rick's affairs. I would text her. Fat ma would reply and said that I was thoughtful. Because I had to work on a series I was unable to come early to help out, but after work I rushed over right away."
Nominated by Fat ma, Miss Hong Kong Lisa Tse Ka Yi arrived with Elaine Lok Yi Ling. Lisa said, "After Rick passed away I saw Fat Ma once. Everyone should give her time to settle down. She is OK. We would stay in touch everyday with text messages. Earlier I met Rick, he knew that I was competing for Miss Hong Kong and told me to be careful. Show business would be different from my job before, it would very fun and he told me to put my heart into it."
Many friends sent floral arrangement, including Louis Koo Tin Lok, Andy Lau Tak Wa, Eric Tsang Chi Wai, Liza Wang Ming Chuen and Law Kar Ying, Paula Tsui Siu Fung, Patrick Tse Yin, Nick Cheung Ka Fai, Kelly Chan Wai Lam, Dicky Cheung Wai Kin, Teresa Mo Shun Kwan and Au Ting Ping, godson Lok Ho Ming and girlfriend Chan Sze Yan, Susanna Kwan Kuk Ying, Alex Fong Chung Shun, flowers filled inside and outside the hall into a sea of flowers.