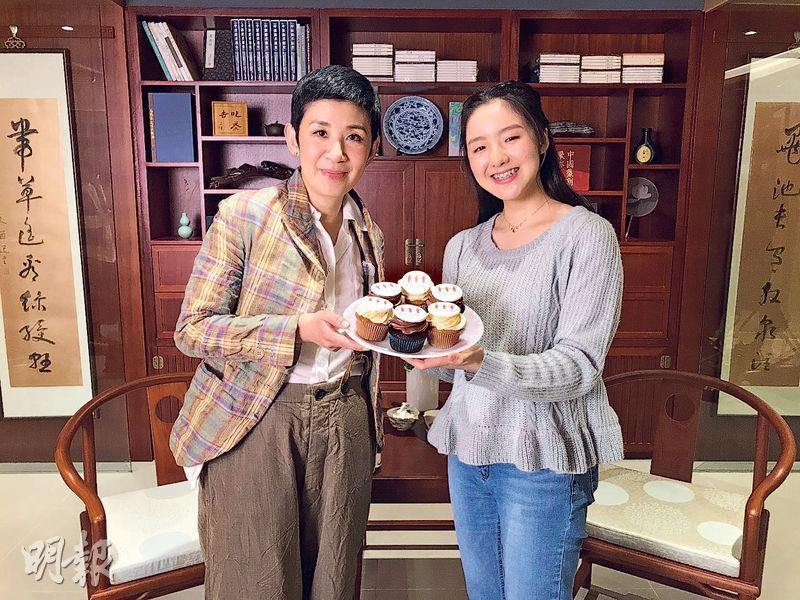 courtesy of mingpao.com

Sandra Ng Kwan Yu earlier spoke with internationally renowned musician Yao Jue's 17 year old daughter Lu Qi on her non profit online learning platform "Read For All" and shared his film performance and production experience as well as how she positively faced difficulties in life with Hong Kong elementary and secondary school and low income students.
Determined to develop in the film industry, Lu Qi also released film production and screenwriting courses on the platform as she shared the film production technique she learned while studying in the U.S. with Hong Kong students. She invited Ng Kwan Yu to share how she got into the film industry. Ng Kwan Yu joked that her choice to enter show business was a "clueless" one. "At the time my grades weren't great in school, few job choices were available to me. I didn't have any direction toward any specific industry, but at that moment my family thought that I was very vain and I was rather verbose. They let me consider working toward becoming an actor so I enrolled in the television station's artist training class and hence I joined the show business."
Kwan Yu felt that for students who were determined to enter the film industry, the most important was to "truly" like the film industry. Only by starting from the heart and injecting all the emotions would they be able to achieve performance of excellence. "In the past I felt acting was a job that required talent, but after so many years of experience I slowly changed my mind. I felt that acting aside from talent also required precision and continuous learning. Thus even now I myself still find acting instructors to learn from, listening to their advice for my interpretation method in hopes that I would be able to continue to improve."
Speaking of which characters and movies she liked the most, Kwan Yu said, "After so many years of hard work, now I can have my choice of characters. When I first started in the show business, I couldn't choose roles. Back then I played comedic characters mainly, but in the past decade I already very rarely played this type of character because I hoped to be able to play some different characters and break through myself." She also said that THE INSPECTOR WEARS SKIRTS (BA WONG FA), ALL'S WELL ENDS WELL (GA YAU HEI SI), PORTLAND STREET BLUES (GOO WAT JAI CHING YI PIN ji HUNG HING SUP SAM MUI) and ECHOES OF THE RAINBOW (SHUI YUET SUN TAU) were all films that she liked very much.
As for running in difficulties, Kwan Yu said, "After graduating from the television station artist training class, many students became leads but I was still playing many roles that didn't catch people's eyes. At that time I had many negative thoughts and questioned whether I was suitable for this industry, whether I needed to give up on developing in show business. At first acting was always my goal, but later a variety program asked me to participate. I thought I was an actor, not to be funny on a variety program. At that time I even thought about quitting. However on a second thought, I could only tough it out and give it a try. Later people noticed my funny performance on that program and invited me to participate in movies to play comedic characters. I performed even better and better!" She advised young people, when running in trouble and felt the setback, they should still do every jobs to their best and bravely face them.