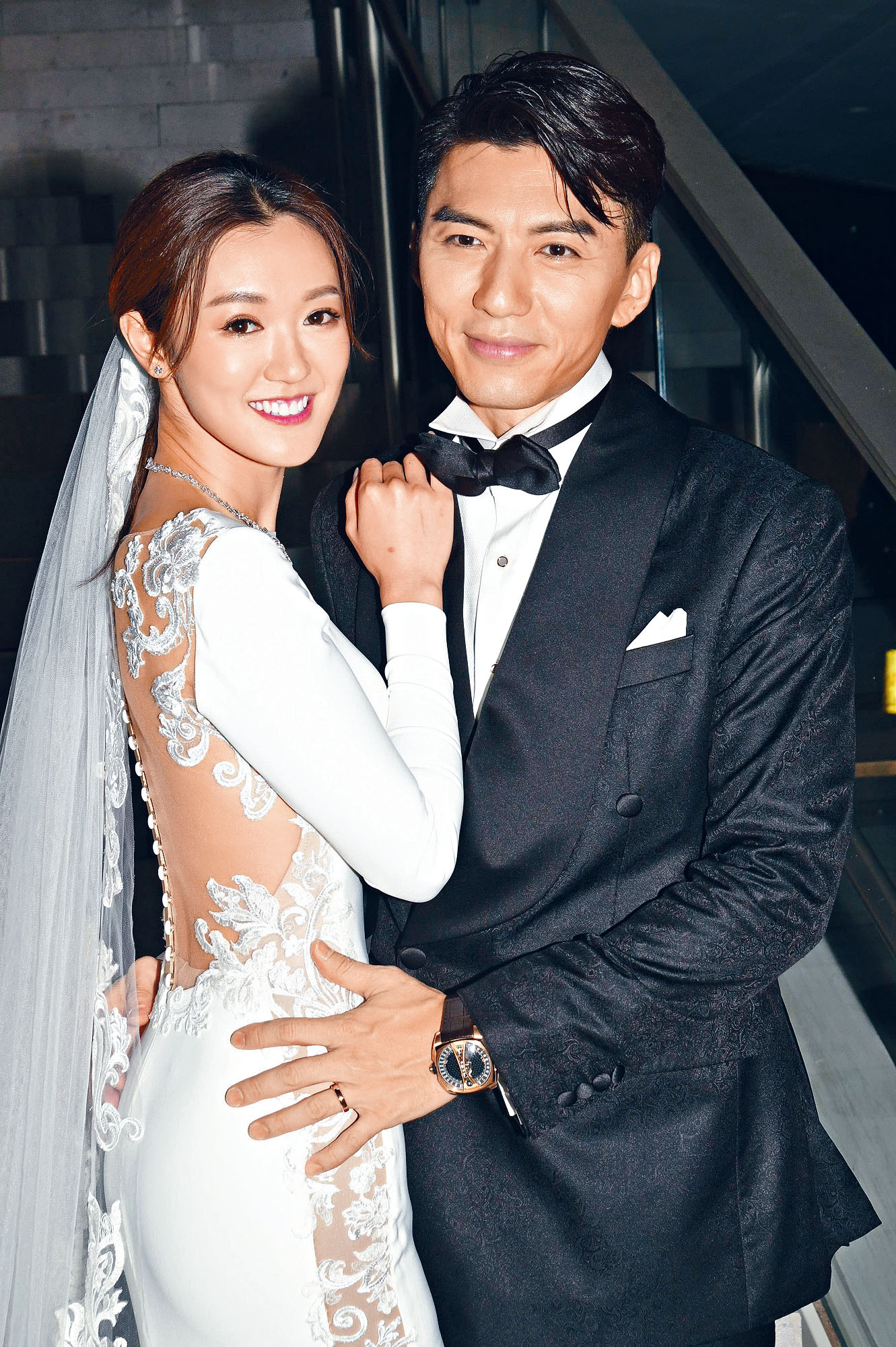 Bowie Cheung wears the wedding gown she designs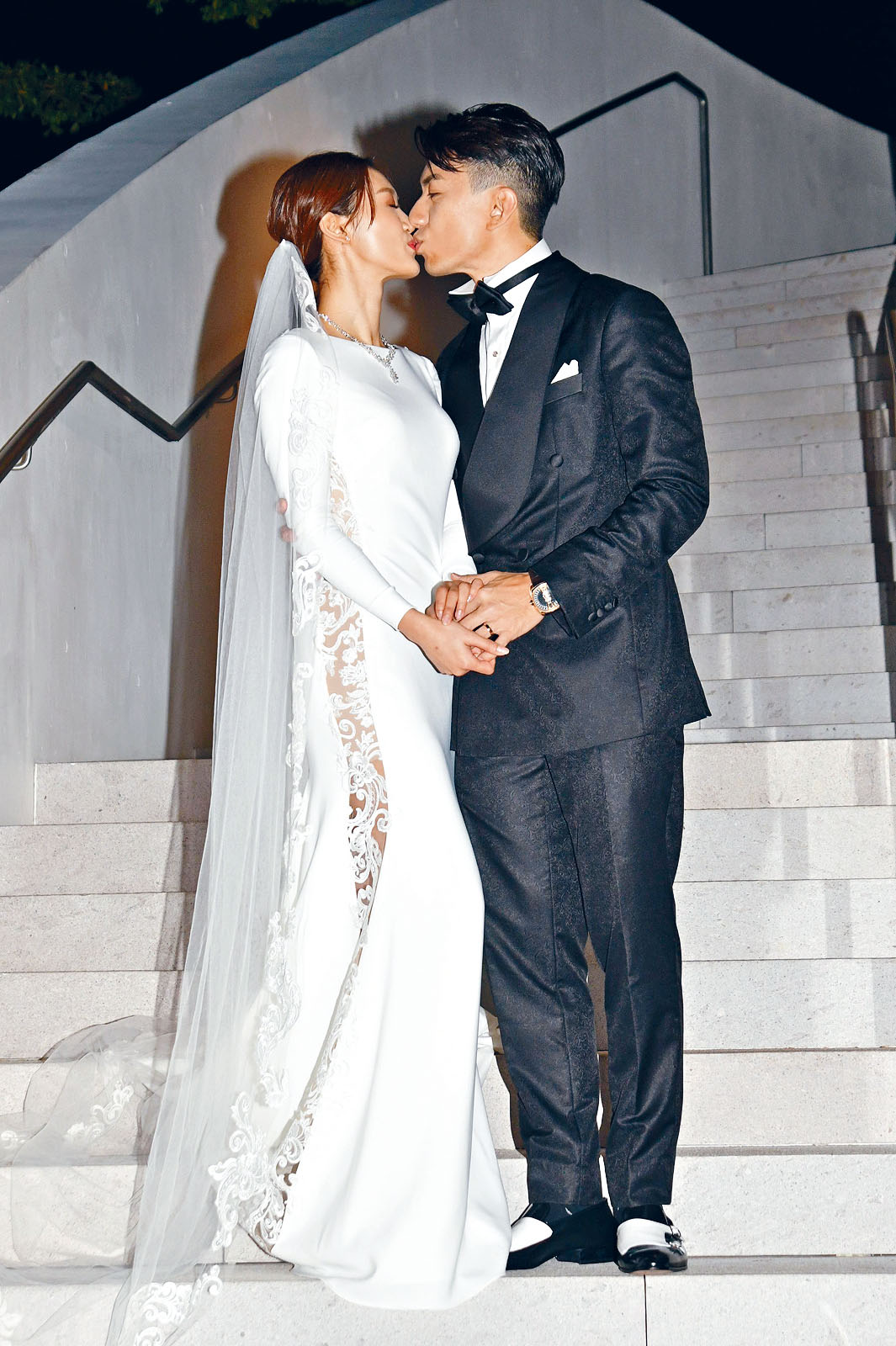 Benjamin Yuen jokes that from now on he can kiss Bowie Cheung at any time.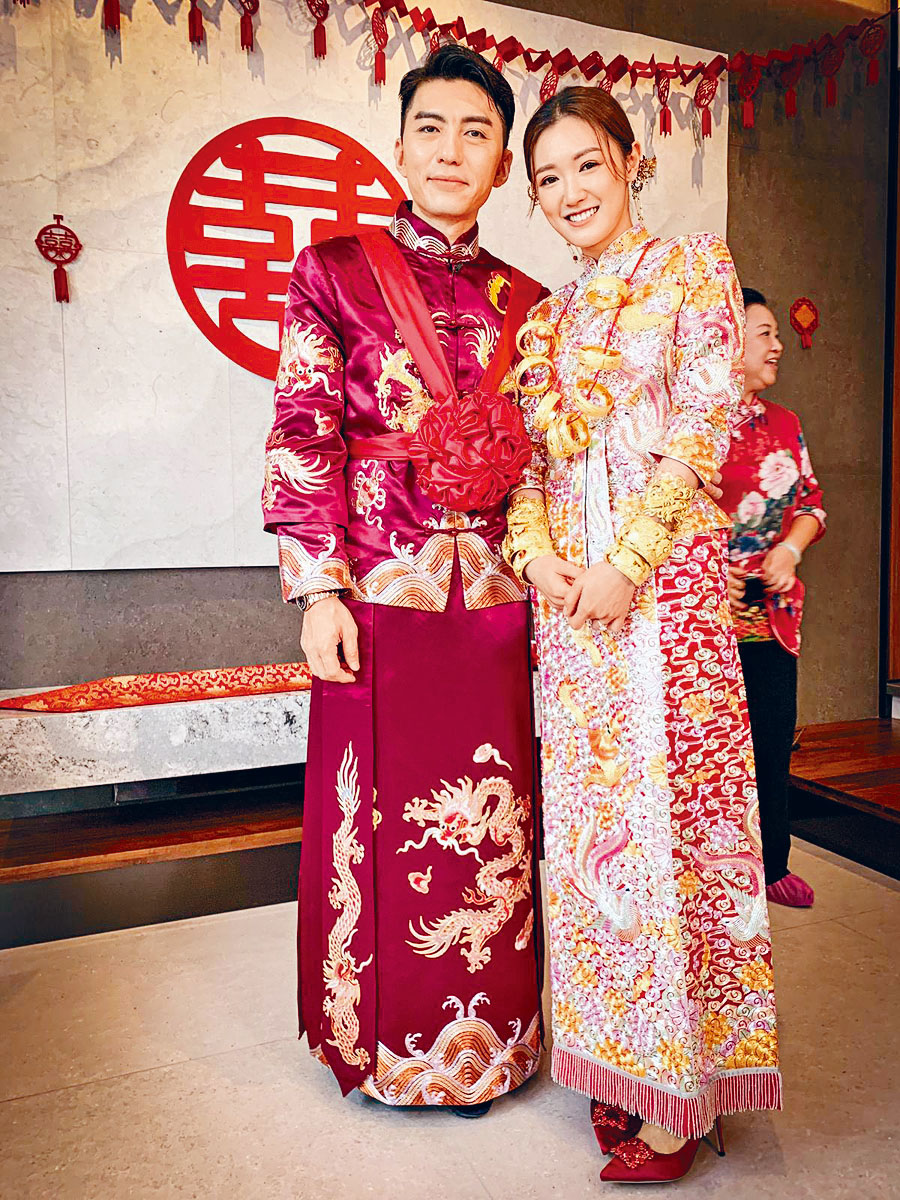 The seven Dragon and Phoenix bracelets on Bowie Cheung are the most eye catching

Benjamin Yuen thanks Bowie Cheung for tolerating him in the past

Ashley Chu is Bowie Cheung's bridesmaid
courtesy of on.cc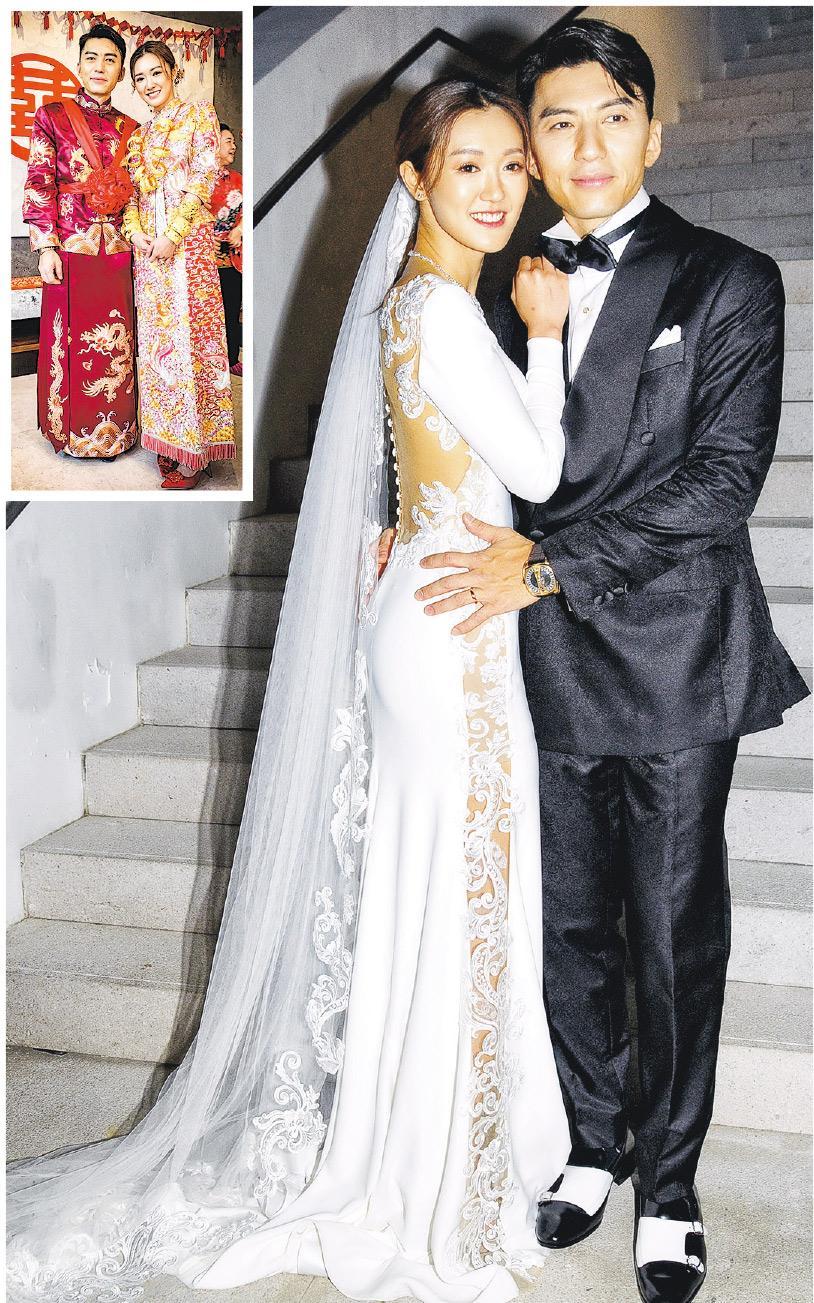 Benjamin Yuen Wai Ho and Bowie Cheung Bo Yi yesterday held their wedding ceremony at their Clearway Bay mansion's clubhouse and invited around 100 guests to witness their marriage certificate signing. Yuen Wai Ho was emotional during the ceremony, thanking his wife for tolerating him in the past. Bowie Cheung said that she enjoyed their current condition and was in no hurry to have a baby.
Although the wedding ceremony was simple. the newlywed followed the traditions thoroughly. They wore Chinese costumes for the ceremony. Bowie Cheung won their pairs of Dragon and Phoenix bracelets and 4 pairs around her neck. Earlier Bowie changed into a white wedding gown. Her father accompanied her into the venue for the signing. Yuen Wai Ho read his vows. After the signing, the newlywed stepped outside to speak to the media and kissed many times per the media's request.
The bride wore the wedding gown she designed, with the diamond necklace from Mommy. They said that yesterday mainly they conducted the tea presentation ceremonies to the elders. The wedding ceremony began at noon. They did not have any wedding games for the groom, invited their parents, friends outside the business to attend. Industry friends included Joel Chan Shan Chung, Nancy Wu Ting Yan, Pal Sinn Lap Man and others. Brian Tse Tung Man and Jazz Lam Tsz Sin were in the groom's party, while Ashley Chu Chi Yin was in the bride's brother while Bowie's sister Boanne Cheung Po Yan was the maid of honor.
Yuen Wai Ho revealed that during the ceremony he was the first one to break down. He said, "When I saw Father-in-law came out hand in hand with her I already couldn't hold back anymore." Bowie said that she has never seen him so emotional. Yuen Wai Ho also revealed that during his vow he made some additions. "They revolved around getting to know each other in the African plains years ago, and thanking her for tolerating my stubbornness and spoiling me for 3 years. I have been very happy in those 3 years, it was the spring of my career. I thank her for keeping me company through the happy and the not so happy. After 3 years I have to settle down, I want to marry her." Bowie joked that her husband was not considered stubborn, he just loved to buy toys. Yuen Wai Ho also revealed that he added a last minute a cappella performance of his new song YOU AND YOUR OTHER HALF. As for the bride's door opening lai see figure, Yuen Wai Ho did not reveal anything. He only said that it would be a good omen.
Speaking of the wedding ceremony under the gathering restriction, the couple said that it was quite a headache and knew that something happened in the afternoon. When a police officer arrived, they handled the matter immediately. He said, "We reminded guests to wear masks, everyone followed the rules and wore them. We never thought about making a big deal. We hope to have the banquet after the pandemic. Everyone will then be able to party all night." Bowie Cheung said that they already tried to reduce the guest number to about 100. They consulted the lawyer. Thermometers and hand sanitizers were on hand, as they took the full preventative measures.
Was the sudden wedding due to "double happiness"? Bowie touched her belly and said, "You can tell from what I am wearing that I am not with child. We are in no hurry. I really enjoy life right now, tomorrow I have to work. Even the honeymoon has to be postponed." Yuen Wai Ho pointed out that not unless they had a surprise. Their elders however wanted grandchildren.
They said that after marriage they would officially move into their new home, but first they would have to clean up their room. Their bed was filled with traditional items like children's shoes, his mother in law put them there and they learned something. As for the cost of the wedding, Yuen Wai Ho said that he has not calculated it yet. He admitted that he spent a lot of money, but that was not important. The most important was that they were happy.