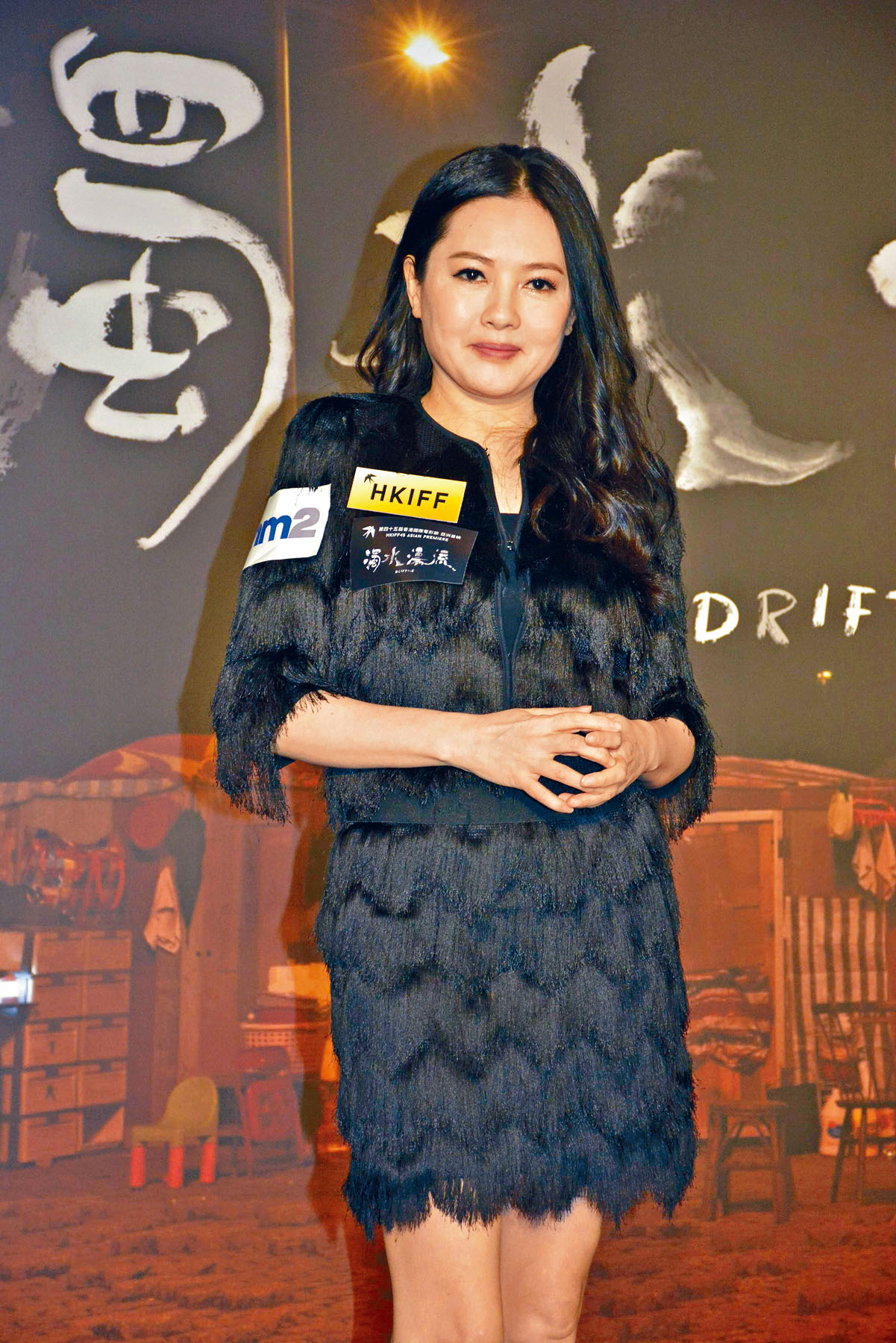 Pretty since her younger days, Loletta Lee performs without make up in the new film
courtesy of singtao.com
Loletta Lee reveals that her daughter Annise is working in the creative field
Cecilia Choi says the role reminds her of her volunteering days
courtesy of singtao.com
Loletta Lee, Cecilia Choi and Cecilia Yip attend their new film DRIFTING's Asian premiere at the Hong Kong International Film Festival
courtesy of mingpao.com
Director Jun Li Chun Shek, actors Cecilia Yip Tung, Loletta Lee Lai Chun, Baby Bo Pui Yue, Cecilia Choi Sze Wan, Chu Pak Hong and Will Or Wai Lam two nights ago attended the 45th Hong Kong International Film Festival Asian premiere press conference for their film DRIFTING (JUK SHUI PIU LAU). The film was a story about a group of under the bridge homeless that was marginalized in society. Earlier it was even selected for competition at the Rotterdam Film Festival. Best Actress Yip Tung said that although her role was minor, she wanted to contribute to the film industry and agreed to perform. As for Lee Lai Chun, she would object to her daughter getting into the business.
Lee Lai Chun said that in the film she played a hard working homeless person and even appeared without make up. She admitted that she lacked confidence in her natural look. Speaking of co-star Francis Ng Chun Yu's foul language scene, she said that she was not required to use foul language. However she also really liked this type of current subject movies. The film was about a group of homeless that resided under a bridge in Sham Shui Po and was being marginalized by society. Due to city re-development they were being swept out for a long period of time.
Due to the pandemic, Lee Lai Chun revealed that two movies that needed to be postponed and she had no idea when work would begin. She felt a little bored, luckily her daughter Annise Hui Yi Yung was in Hong Kong and kept her company. She and her daughter picked out what she wore this night together. Would her daughter get into the business? Lee Lai Chun said, "Right now she is in a creative job, I never prohibit her from getting into the business. If she had any advertising or small project she would give it a try, but if she had to sign with a company she wouldn't. (Would you require to work as a mother and daughter team?) I wouldn't be such a despot."
The 23 year ago Hui Yi Yung was Sister Chun and former husband Clarence Hui Yuen's daughter and could absolutely rival any female star. Sister Chun and famous Hong Kong music maker Hui Yuen wed in 1996 and gave birth to Yi Yung in 1998, but this short marriage ended after 4 years.
The special appearance from Best Actress Cecilia Yip Tung was only 10 seconds long in the film. She joked, "If the director didn't cut my role, it probably would be 10 seconds." She said that although she only had one scene she did not mind. Because the director gave her the complete script before the shoot, she felt very respected -- unlike past cameos when she only got one page of the script. Her performance would then require her imagination.
Yip Tung said that in the film she played a mother who was looking for her son, the character was somewhat like the "Yu Man-hon case" so she got into the character like so. Although the role was minor, she wanted to contribute to the film industry and hoped that even more people would be able to support Hong Kong film. She also said, "Actually I am not so high and might, whenever people ask me I would make the movie."
Playing a social worker, Choi Sze Wan said that the difficulty of this performance lay with not only needing to understand the role but also understand the street friends with compassion. She watched them as an observer.