Tony Leung Ka Fai, Gordon Lam, Louis Koo, Kent Cheng, Philip Keung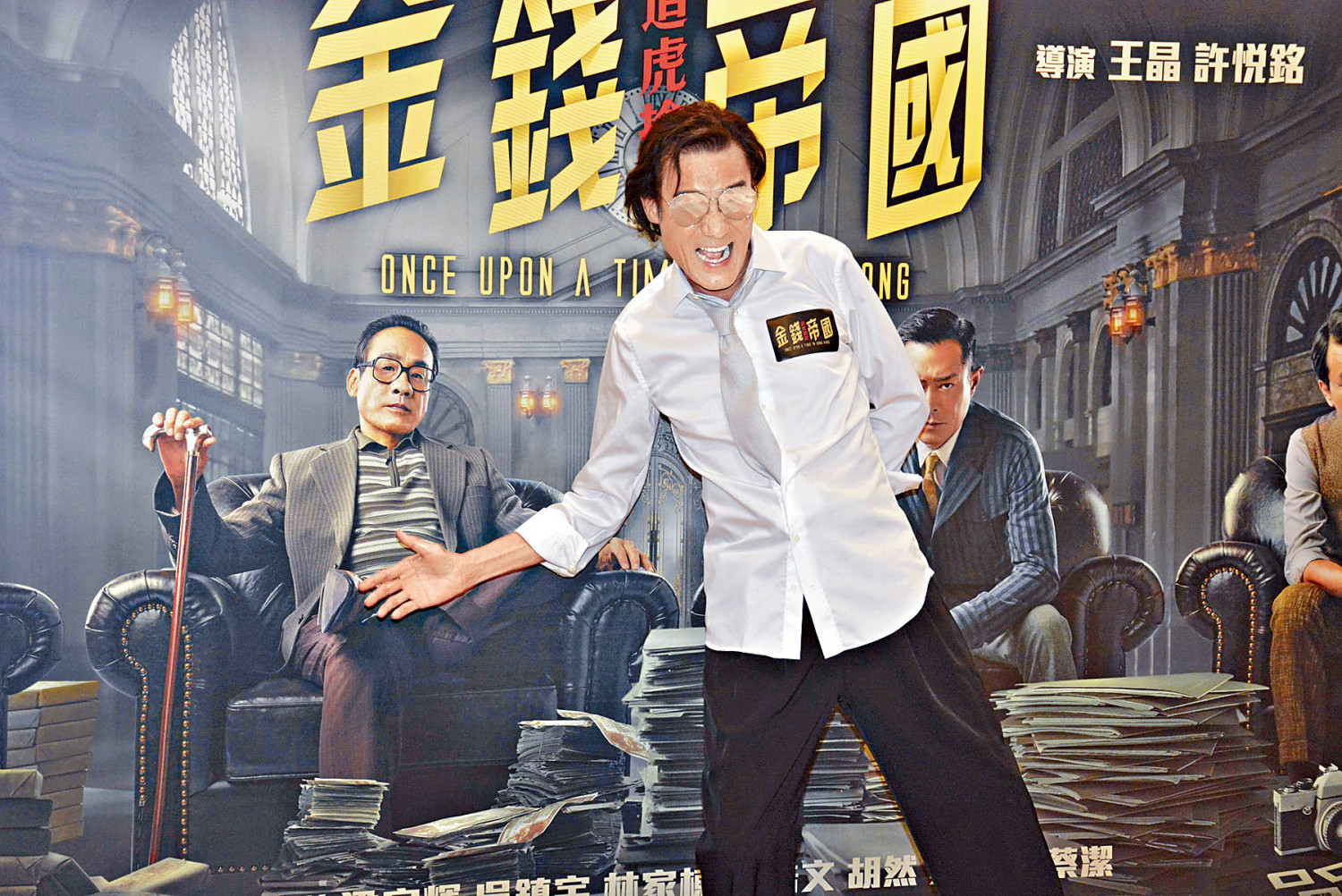 courtesy of singtao.com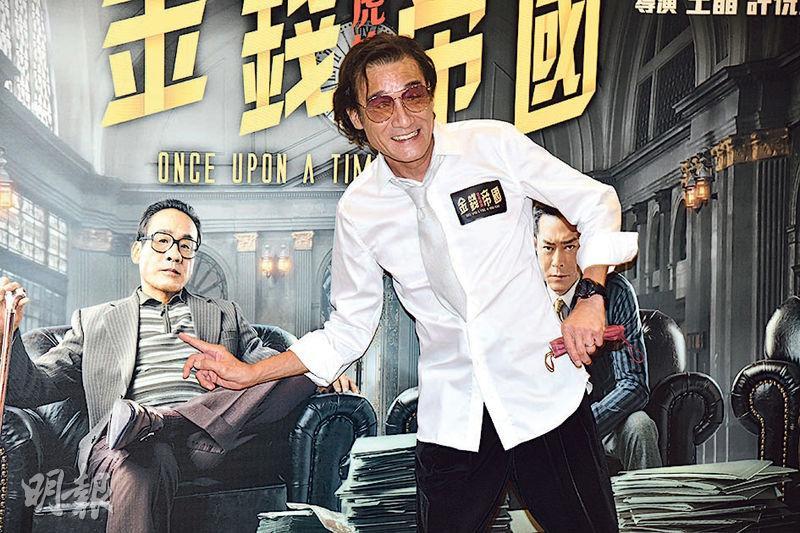 Tony Leung Ka Fai plays Cripple Ho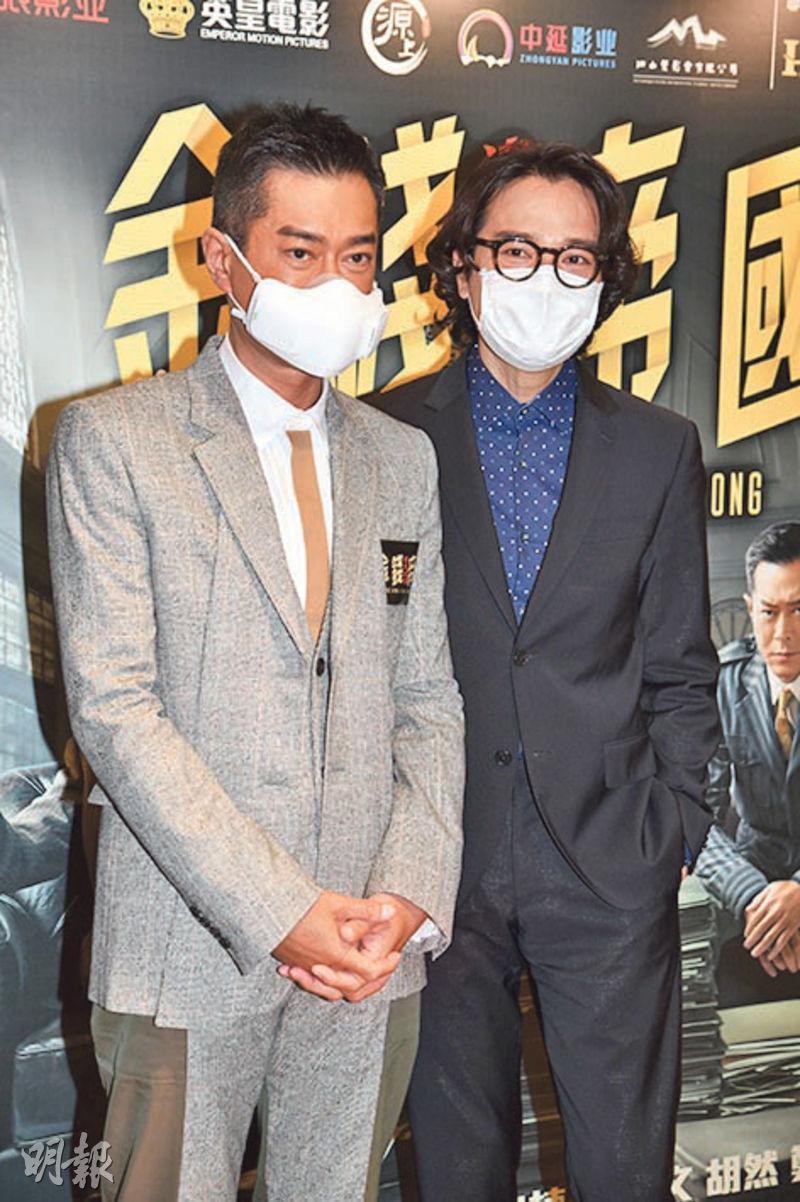 Louis Koo and Gordon Lam have such great chemistry that they do not mind playing gay characters.
courtesy of mingpao.com
The film ONCE UPON A TIME IN HONG KONG (GUM CHIN DAI GOK JUI FU KUM LUNG) two nights ago held its premiere. Director Wong Jing, actors Louis Koo Tin Lok, Gordon Lam Ka Tung, Tony Leung Ka Fai, Kent Cheng Juk Si, Philip Keung Ho Man and Jacky Cai Jie attended. Goo Jai wore a wearable air purifier, which also isolated his voice. No matter how loudly he talked he could not be heard. Ka Tung and Goo Jai have worked together on 22 films so far. They have cultivated certain chemistry. Ka Tung even stated that each time they made a movie he must fall for his co-star, whether he played a partner or an enemy. They both said that they would be willing to play gay characters.
In ONCE, Koo Tin Lok and Lam Ka Tung played Independent Commission Against Corruption investigators. Lam Ka Tung said that for his first class at the artist training class he had to fall for his co-star. "This of course is the most basic, if you don't fall in love with your co-star you have nothing to do. Whether they play partners, enemies you have to fall for them. Once when I had noodles, Goo Jai added an egg for me!" Goo Jai also joked, "In the film I was heartbroken and devastated. Now we are working on a movie in which he plays my enemy, and I want to kill him too!" They said that they had characters with common goals. They actually have already worked together on 22 films and cultivated certain chemistry. Would they be able to accept playing gay characters? Goo Jai said, "I can!" Ka Tung also said, "Next time we will have the chance." Would they not be tired of each other? Ka Tung joked, "You hold nothing back in love, we have chemistry and happy about cultivating a co-star. During the performance we can spend less time drifting back and forth."
Reportedly Ko Tin Lok spent half hundred million on a Ma On Shan mansion. Goo Jai shook his head and said no. Lately he has not considered buying a home.
Leung Ka Fai looked obviously thinner. He said that he did not, only ONCE required special effect make up for him to play Cripple Ho. It made his skin loose so far. Two nights ago he wore sunglasses to play Sei Gor Patrick Tse Yin, but he joked that he made matter worse. Later he wanted to impersonate Ka Tung, but in a perm he was not as cool as him. In the film Ka Fai in order to resemble the character shaves his forehead. He said that it was not considered a sacrifice for art, this was the professionalism of an actor. "However at first I was afraid that the hair wouldn't grow back. Fortunately I may be old but still firm. They all grew up. Actually early for COLD WAR (HON JIN) I shaved my head. I waited for my hair to grow long for two days before starting work!" Leung Ka Fai also pointed out that this time the toughest part of the film was actually voice work. "I insisted on providing my own Chaozhou dialect. Earlier I had to look for an instructor to learn from. Finally both the instructor and I collapsed!"
Ka Fai since finishing the pandemic relief film ALL U NEED IS LOVE (JUNG SI YAU OI JOI GAK LEI) has stayed home in self quarantine. Everyday he focused on beauty and performed emergency work on his loose skin, but he still failed. However lately he had film offers. If Wong Jing's new film would start production first he would stay in Hong Kong. Otherwise he would return to work in the Mainland. Speaking of working in the Mainland would require quarantine and vaccination first, Ka Fai said, "For work I have to do it, but now it's self quarantine. I haven't gone to get vaccinated yet. I am already old, but every year I have a physical examination. For now I haven't had 'three high', in addition I could tell whether my blood pressure shot up with just a glimpse."
Keung Ho Man in the film had a scene in which he pushed a wooden cart on fire by hand. During the shoot he did not expect the wind direction and the fire burnt his eyebrows and eyelashes. He joked that he smelled something burning and realized that his left eyelashes were gone. Luckily now they grew back. Cai Jie during the shoot took the chance to learn from her elders in secret, and praised them for giving on plastic chairs together to wait for the shoot. They truly were very professional. Cai Jie earlier posted that she ran into a "scheming woman". She responded, "It is only something trivial, it's personal, thank you for caring!"