courtesy of singtao.com
courtesy of on.cc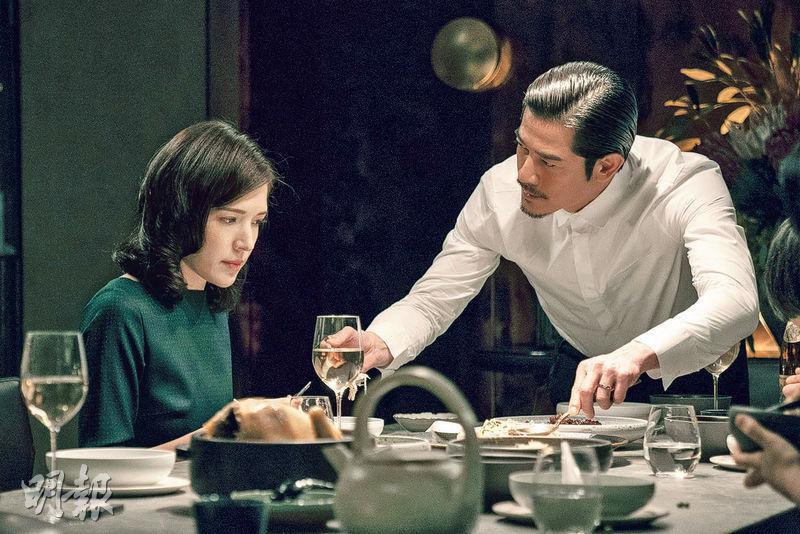 courtesy of mingpao.com
Best Actor Aaron Kwok Fu Sing, Taiwan star Hsu Wei-ning, Mainland actor Duan Yihong starred, the Leste Chen directed suspense HOME SWEET HOME will open in Hong Kong on May 6th. In the film Sing Sing played a dark father. In the story an unexpected guest visited a family of four, then one strange event after another followed and gradually uncovered each person's secret. The character was dark but Sing Sing would not repeat the difficulty of leaving a character, because he had two cute daughters at home. When Sing Sing saw them, any negative emotions would vanish.
While Sing Sing took the role in HOME, another film I'M LIVIN' IT (MAK LO YUN) started production at the same time. He on one hand supported the I'M new director, and on the other Leste Chen was one of the directors he really admired. Instead of having to choose he double booked himself to work on both films. Sing Sing said, "I'M LIVIN' IT was a story about the homeless. HOME SWEET HOME's character was in a rich family. The differences were enormous. Luckily each character had very solid designs, very easy to grasp. With experience I was able to get into character very quickly."
HOME SWEET HOME was shot completely in Korea. In order to achieve the unique artistic style that the director was after, they looked for a house with a basement in Korea for the shoot. Sing Sing over those few months commuted between Hong Kong and Korea, and at the same time he had to get into the dark and cold condition of the role. However Sing Sing did not bring that negative emotion home. When he saw the two cuties at home, they were the miracle cure for his emotional adjustment.
Despite years in film, Sing Sing once fell into the character's dark side. He said, "The hardest character to leave was THE MURDERER (SAK YUN FAN). Each time I was interviewed I would be reminded that I was the murdered. The nightmare never ended, in dreams I seemed to have killed someone. Instead I would ask myself where were the bodies buried. The character gave me quite a deep experience. After the promotion ended, I put my energy in other interests and slowly distracted my attention to be able to leave the role completely."
For Sing Sing, playing dark character was already child's play. Would he consider giving comedy a try? He said that he kept wanting to try different genres. Real actors should try any and all characters, but in recent years drama has been featured, very few comedy directors have appeared. He has not tried comedy in the past decade. His comedic cell could be slowly found, without the burden of being an idol or Papa. He joked that he was very funny, especially when he was trying to cheer up his daughter.
The film had many dinner scenes, in the past "prop" food was only good to look at and not to eat. This time the director put great emphasis on dinner scenes. Sing Sing explained, "Many dinner table talks were used to get the audience into the mood. I would talk about the cuisine that my wife personally cooked for me. Thus cuisine was a requirement. The director even hired real chefs to be on the set. Each meal was made piping hot with real material. We never tried that before. After the cameras stopped we still kept eating. It was really very delicious, I remember in one scene we had steaks, the steak was slow cooked for 24 hours. It was very tasty, I am still savoring it now. Usually for movies ice cold prop dishes were prepared, this time it was great."
Recently Sing Sing fell in love with calligraphy. His wife Moka Fang shared his work on social media before. Sing Sing said, "Due to the pandemic concerts and movies were temporarily suspended, I too stopped and took a break. I spent more time with my family and daughters. After children went to bed early I would have my own time to learn. The motivation for learning calligraphy was because I liked to draw. Actually seven years ago I started to collect Zao Wou-Ki's work. So far I have over ten items in my collection. I admired Zao the most for mixing Chinese ink with Western style, but I am not collecting to invest. When I looked at the work at home I would naturally be happy. Since then I started to watch people teach painting online. Calligraphy was helpful to painting, so I began to study calligraphy with an instructor. I am still learning. I believed that if you are willing to learn and practice hard, anyone would be able to do it." Have his daughter been learning as well? Sing Sing said, "She is in the children's class. She is learning words. I am teaching her to write." Sing Sing did not give up his racing hobby, only the pandemic did not permit it. He realized that in life many things would change due to the condition, thus other interests were born for him to improve himself.
As the pandemic faded in Hong Kong, Sing Sing revealed that starting next month he would begin working on movies and hinted that this year he definitely would perform a concert. He has already met with the team and would announce the details later. Was he confident that the capacity would return to 100% admission rate once his show began? Sing Sing said, "I have to wait to announce which venue it will be at, I can only say that it will be an all new concert." When asked if it will be a new venue, Sing Sing kept his mouth shut and asked everyone to watch HOME SWEET HOME first.