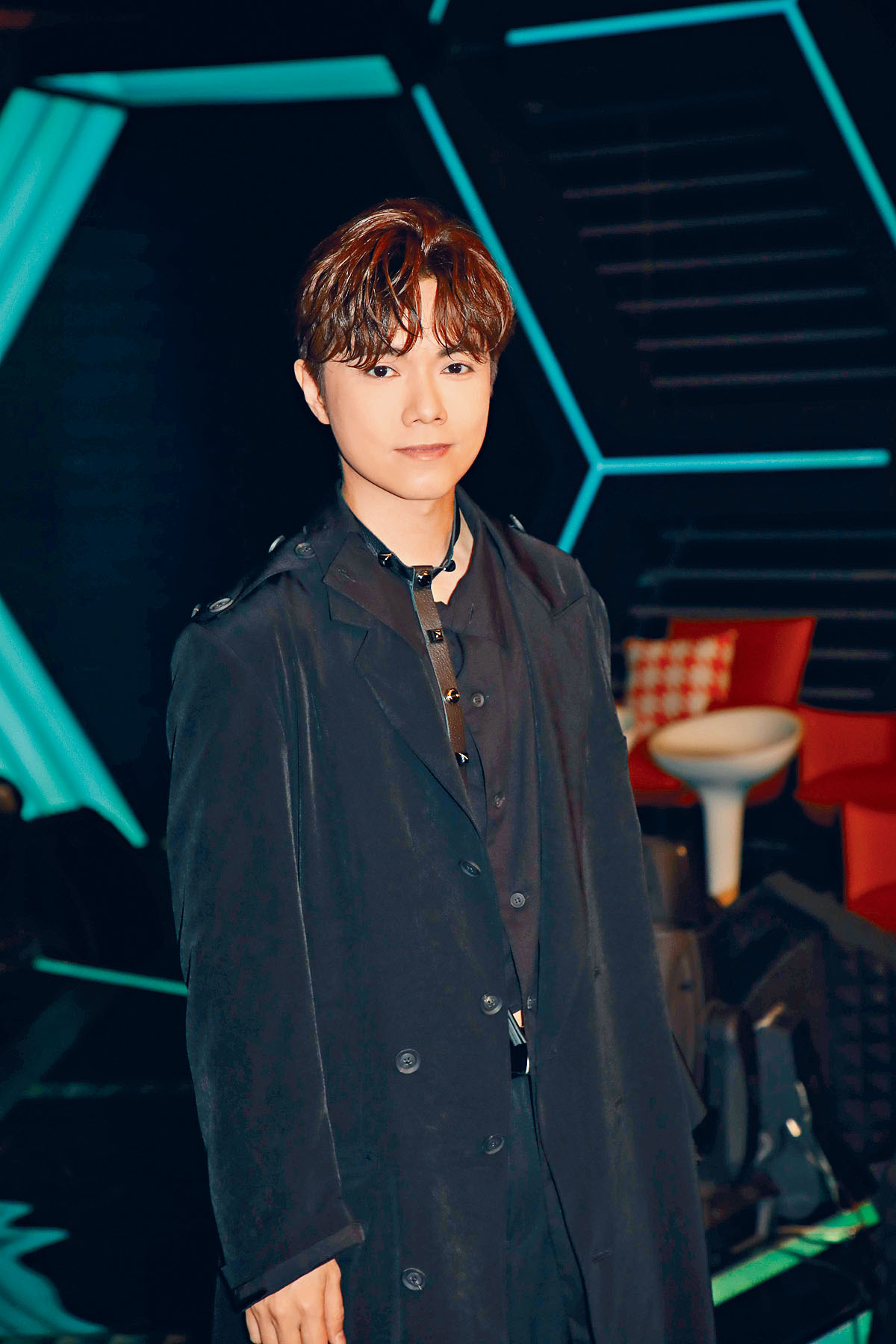 Hins Cheung opens the new format JADE SOLID GOLD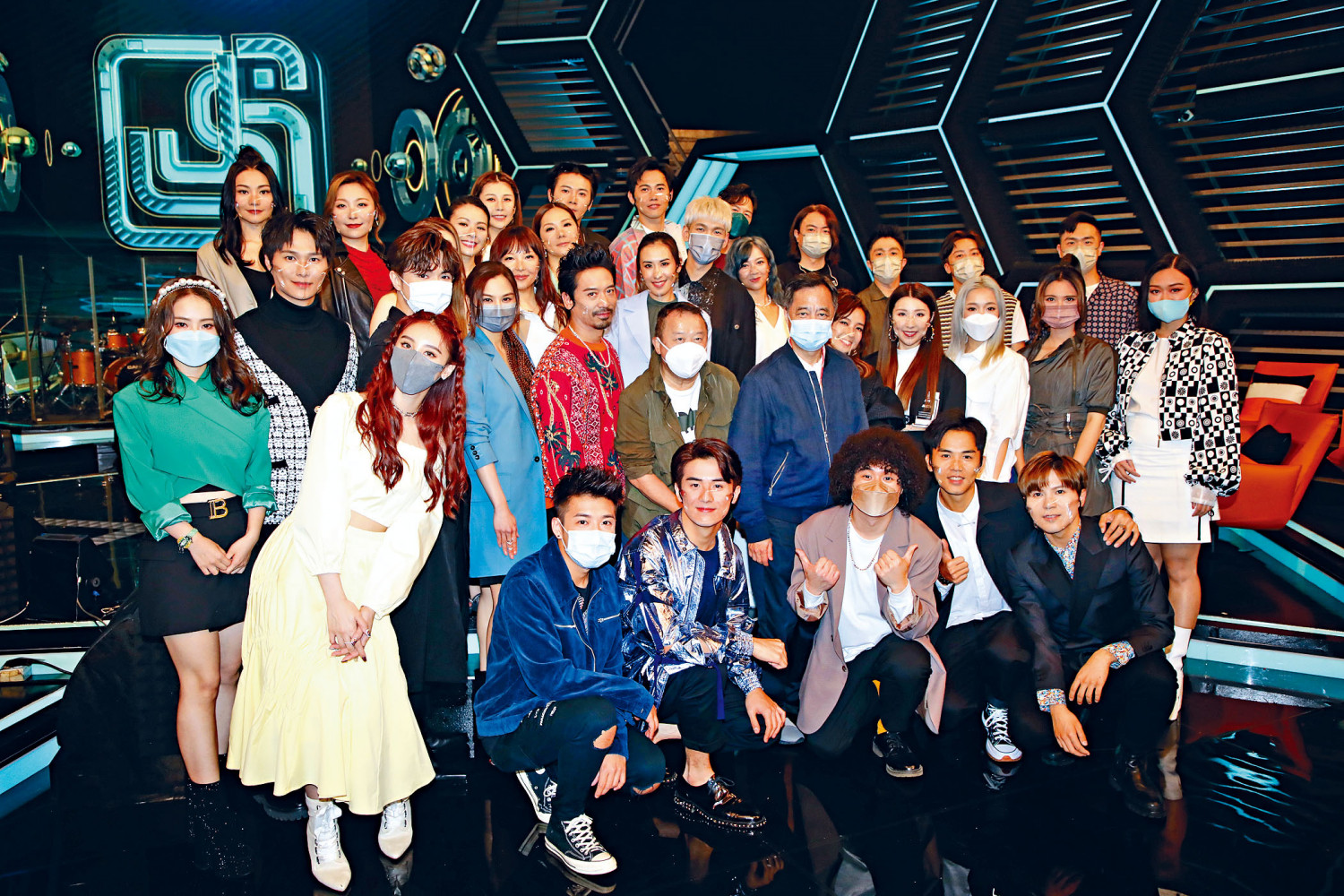 Eric Tsang and Ho Lai Chuen show their support and pose for photos with all the singers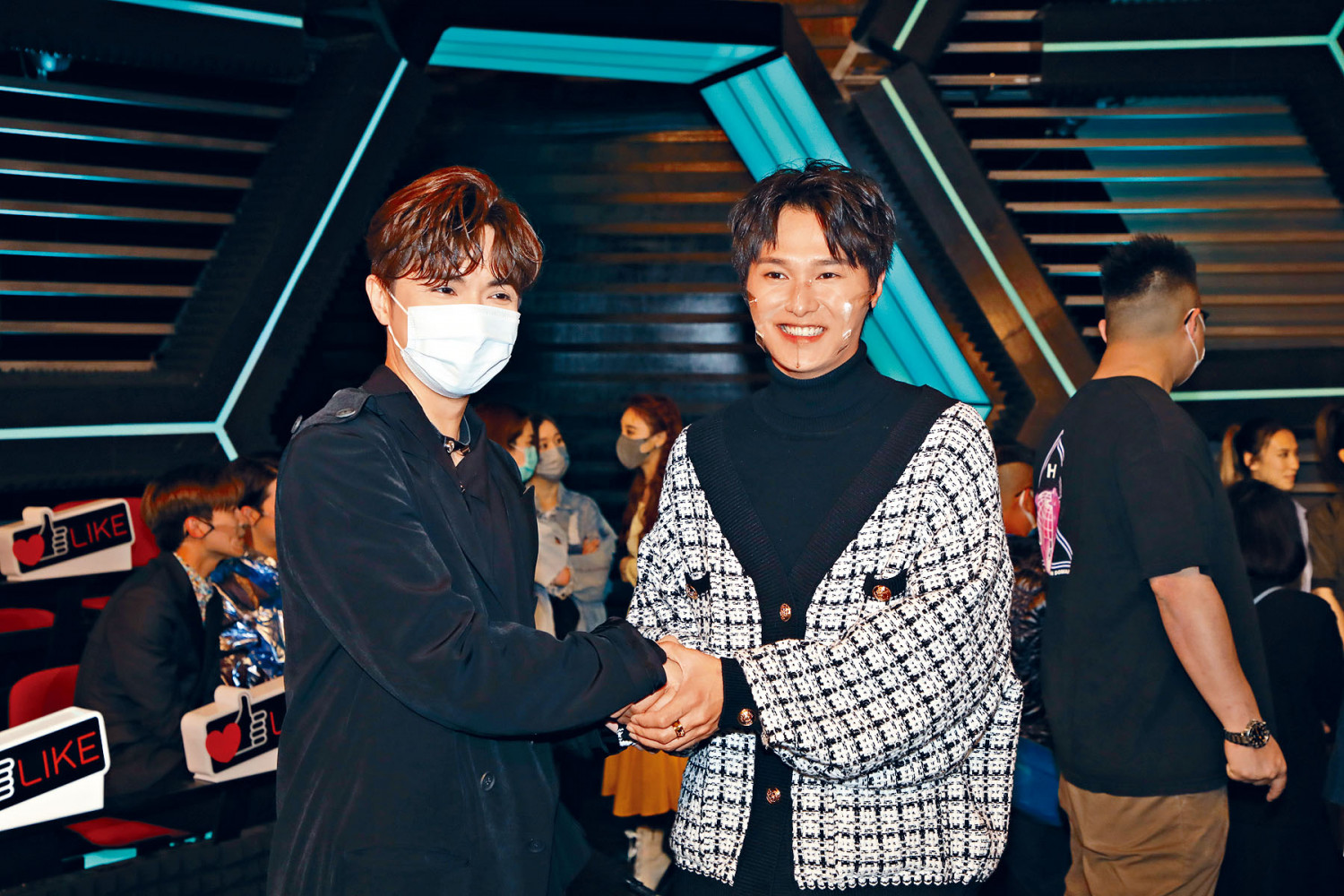 Hubert Wu is happier than finding gold when he runs into Hins Cheung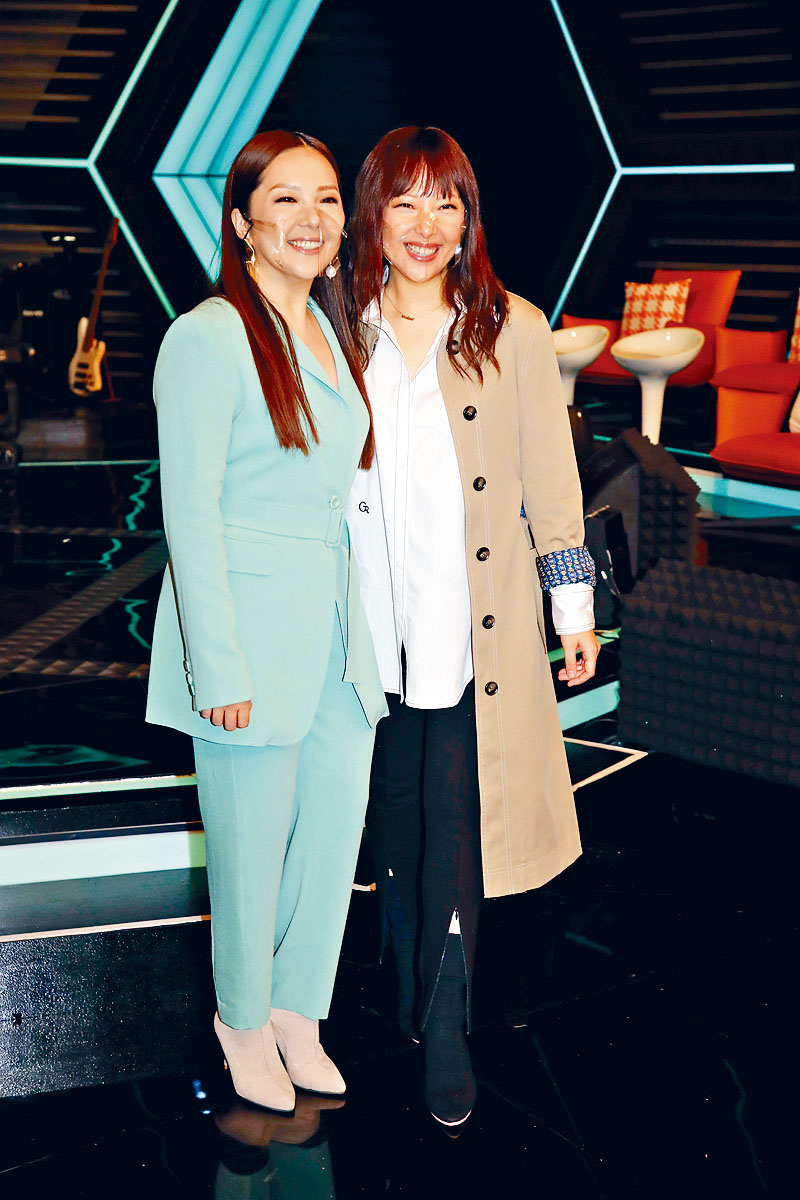 Janice Vidal and sister Jill Vidal perform again on JADE SOLID GOLD
courtesy of singtao.com
Hubert Wu would not let go of Hins Cheung's hand
courtesy of on.cc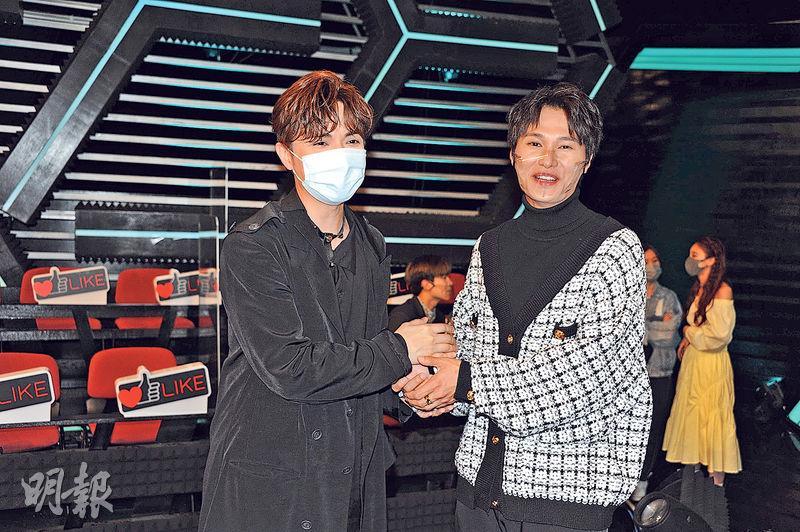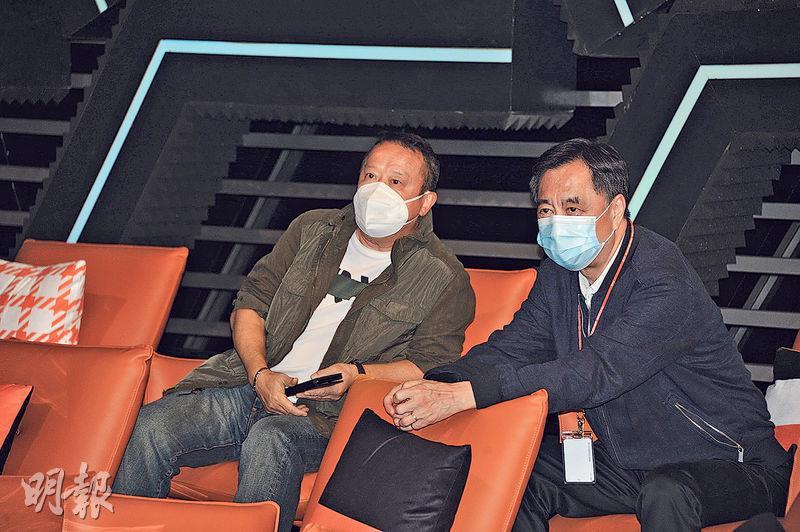 Eric Tsang, Ho Lai Chuen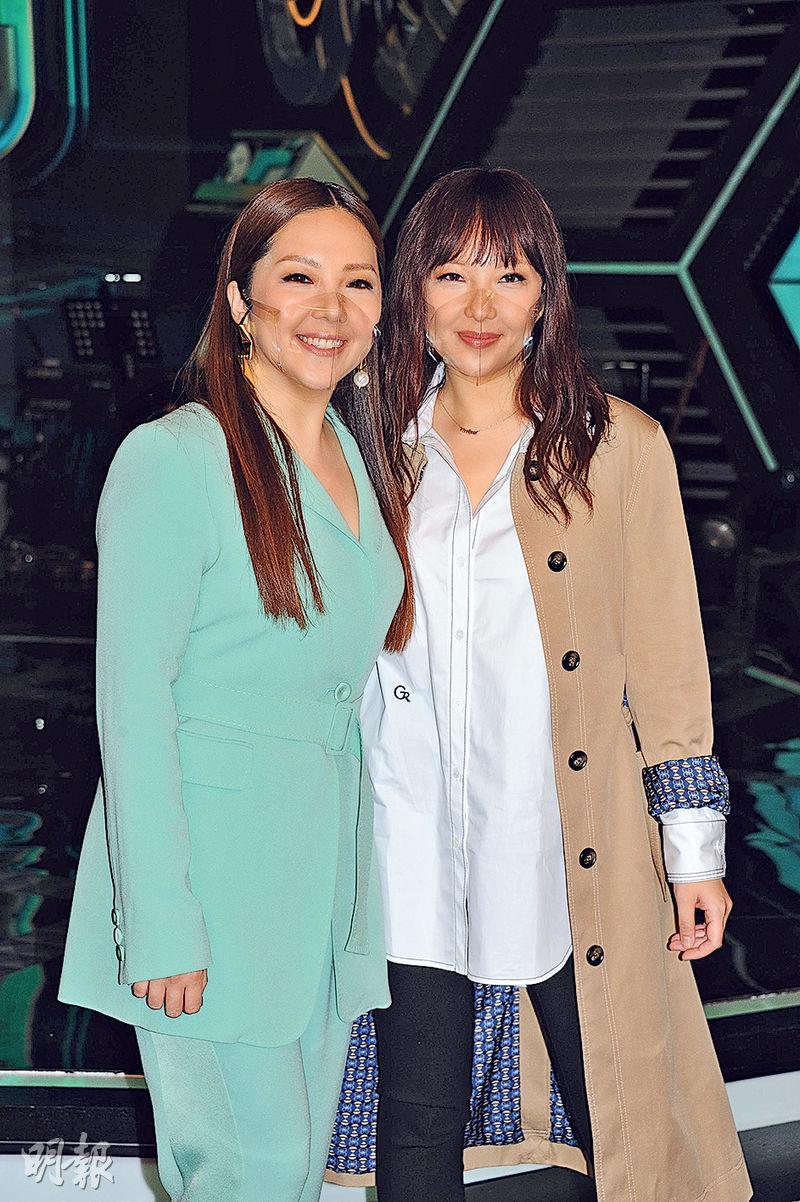 courtesy of mingpao.com
The Eric Kwok Wai Leung, Kandy Wong Shan Yee and Oscar Tao Lau Lun host all new format TVB program JADE SOLID GOLD two nights ago held its first taping at the Tseung Kwan O Television City. Almost 30 singers participated, including Hins Cheung King Hin, Hubert Wu Hung Kwan, Janice Vidal (Wai Lan), Jill Vidal (Wai Sze), Gin Lee Hung Ngai, Phil Lam Yik Hon, Jay Fung Won Him, Mag Lam Yun Tung, JW and Stephanie Ho Ngan Sze. Deputy general manager Eric Tsang Chi Wai and the Voice CEO Ho Lai Chuen also attended to support their show. Hin Jai hoped that everyone would be able to unite, respect music and make a good music program. That would be beneficial to both viewers and singers.
Cheung King Hin said that it has been quite awhile since he performed with so many singers. He even ran into old record company colleagues and thought that the show was very exciting on or off stage. "Although I was a little late today, I am very happy to see this situation." He also said that Hong Kong music or entertainment not only had artists. In recent years he saw many industry insiders switched jobs, some were selling frozen meat. Although they made more money than before, this industry ultimately had a type of magic and dream. He hoped that after the pandemic people would like this industry would return and bring even better programs.
As for the confrontation between the new JADE SOLID GOLD and the ViuTV program CHILL CLUB, Hin Jai felt that the air time was prime time -- very important no matter the station. This was also a great sign, proving that everyone valued music. As for him opening the first show, Hin Jai humbly said, "Don't say that, a good program is good not just because of one person. It is a team effort. The most important is for music programs to respect music. A good program benefits the viewers the most, and singers would have more promotional channels."
Wu Hung Kwan two days ago was busy with finishing his series production of RETURN OF THE CUCKOO and rushed over at night to be a guest on the program. He said, "I am very happy to His Majesty (Cheung King Hin). I am very nervous, each time I see him I can feel my heart beat because he is my idol. Before I started in the business I already liked him, each time I see him I would be like a little fan."
Celebrating a birthday earlier, he said that his birthday wish was to working with his idol whether in music and on a series. Has his rumored girlfriend Sisley Choi Si Bui celebrated with him? He said, "She said Happy Birthday to me, and to work hard on the series." Speaking of Si Bui recently buying a parking spot, Wu Hung Kwan jokingly congratulated her on becoming a parking property owner. Would he give her a new car? He said, "If I have the money I would change my car first. (How would you like her to celebrate your birthday?) Tell her to give me her parking spot, or maybe take a picture for me so I can be jealous." After the interview, Wu Hung Kwan went to take pictures with his idol Cheung King Hin. Hin Jai put his arm around his shoulder and held his hand, Wu Hung Kwan was obviously a little shy.
Janice Vidal (Wai Lan) and her twin sister Jill (Wai Sze) performed on the program. Jill revealed that she would perform her new song WAYS TO FACE REGRET and receive live reviews from other singers. Would she feel nervous? Jill admitted, "This is probably the first time (being reviewed), I am nervous and a little stressed. I have been practicing all along, but because of the pandemic I performed on the stage less." Janice said that she rather liked this new format and believed that it would a lot of fun. She said that her sister also sang her the new song at dinner, and she thought her sister performed very well. Jill said that the advice Janice gave her was very useful and enabled her to improve.