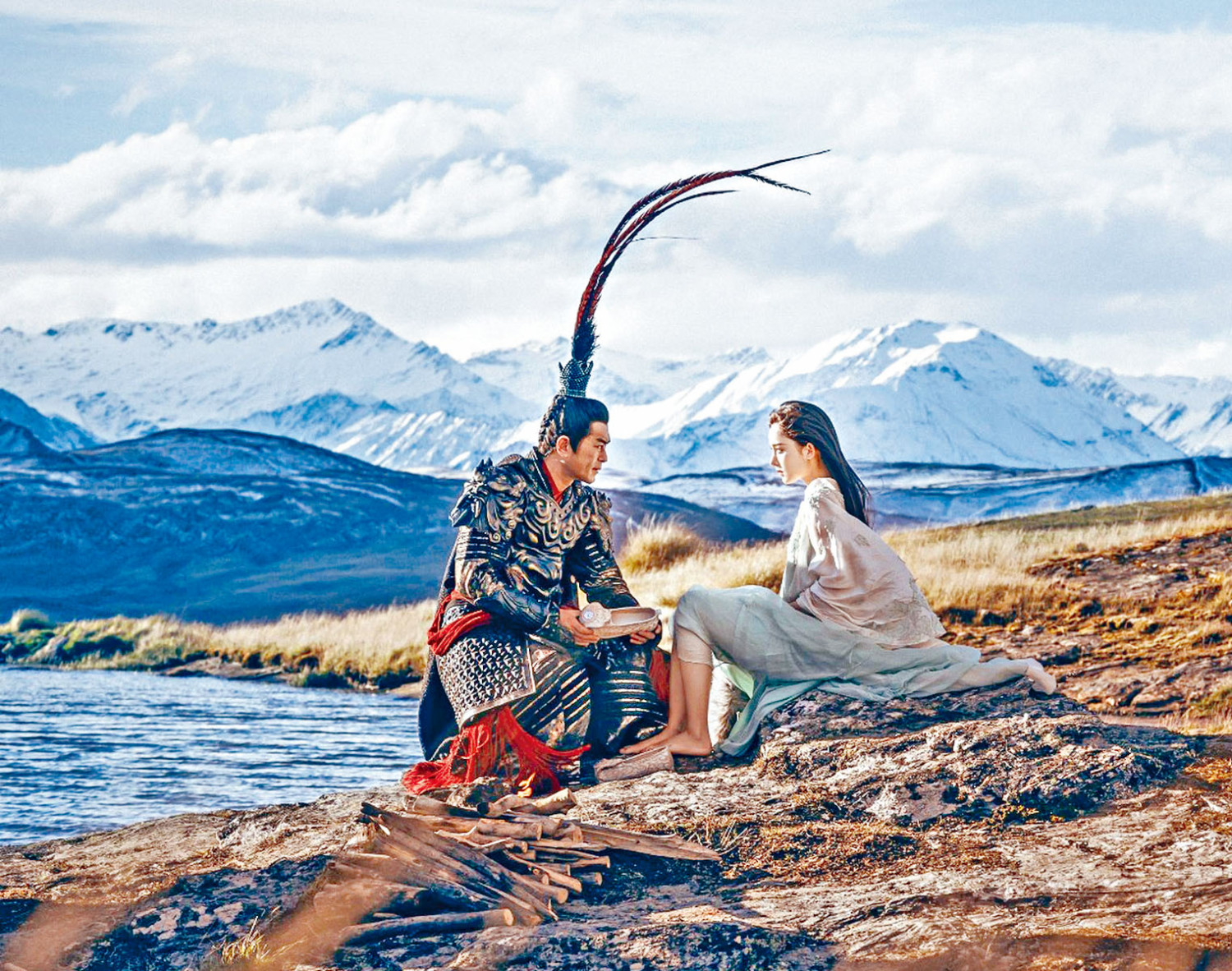 Louis Koo and Nazha freeze in New Zealand for their encounter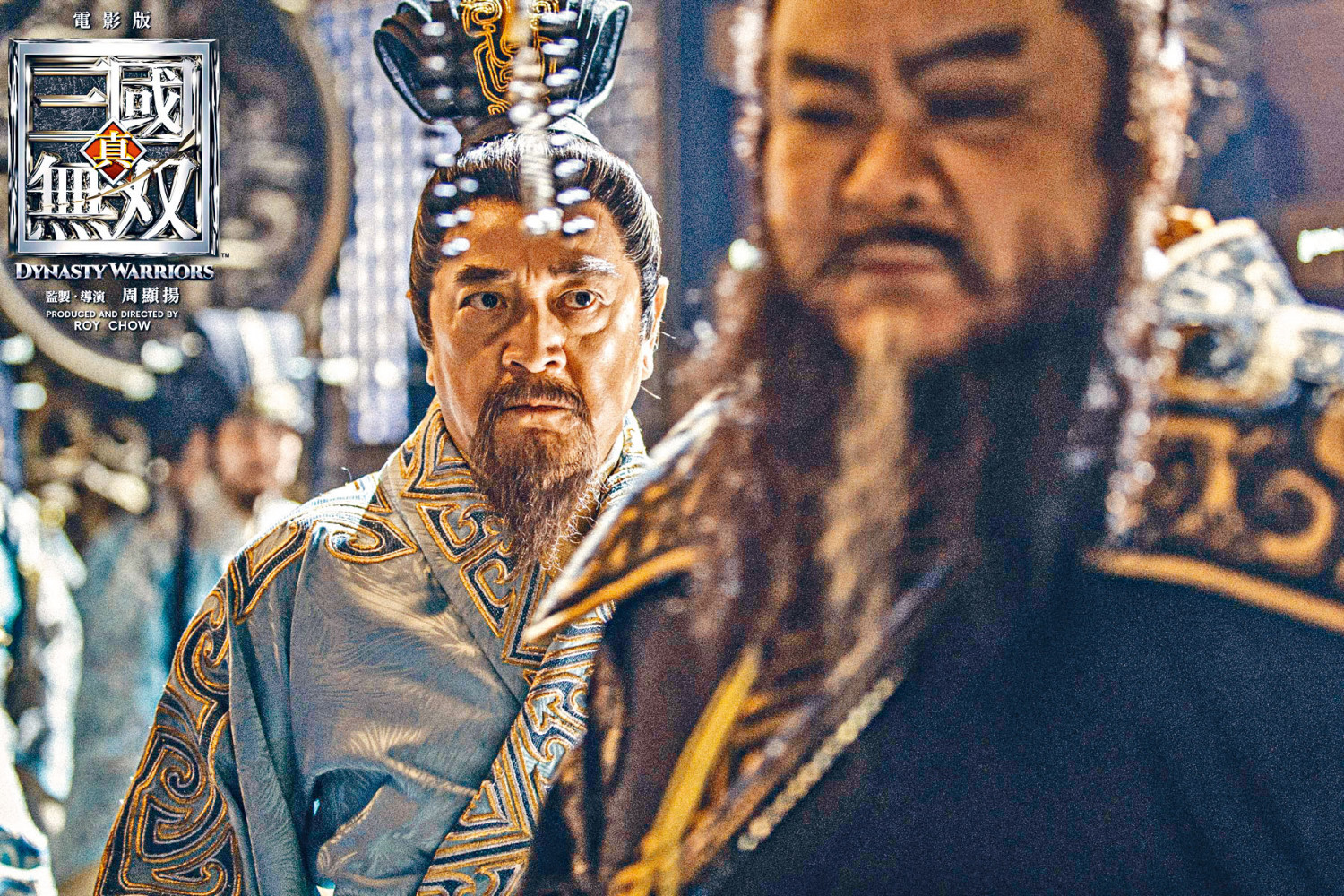 Paul Chun and Lam Suet are both the only choice for their roles
courtesy of singtao.com
Director Roy Chow Hin Yeung directed and produced, over HK$ 300 million production that took over years to make, DYNASTY WARRIORS (JUN SAM GOK MO SEUNG) will open on the 29th in Hong Kong. The film earlier received Netflix's astronomical and record breaking purchase of a Chinese film's global rights. The entire film was shot on location in New Zealand. In one scene the Louis Koo Tin Lok played war god Lu Bu on the edge of a lake met the Gulinazha played beauty Diaochen and felt in love at first sight. Nazha admitted that at first she was nervous about working with Koo Tin Lok and even revealed that he in order to close the distance between them would tell some bad jokes.
Based on the classic video game with the Three Kingdoms as its background and shot on location in New Zealand, the film DYNASTY WARRIORS brought together heavyweight actors Hong Kong people were familiar with, including Koo Tin Lok, Carina Lau Ka Ling, Ray Lui Leung Wai, Lam Suet, Philip Keung Ho Man, Eddie Cheung Siu Fai, Paul Chun Pui, Law Kar Ying and others.
The film shot on location in New Zealand, with the Koo Tin Lok played war god Lu Bu on the edge of a lake running into the beauty Diaochen and fell in love at first sight. The hero saved the beauty, under the picturesque scenery of the snowy Emei mountain this war torn romance became even more exotic. Director Chow Hin Yeung revealed that on the even of shooting the first encounter between Lu Bu and Diaochen, snow suddenly fell in New Zealand. The entire location was covered in snow. Although the temperature was very low, Nazha still insisted on shooting the scene in the water under the ice and the snow. The next day she fell ill.
Shooting the scene in the water below freezing temperature that day, Nazha said that the most memorable was being numb from the freeze. "The lake water pierced the bones, Diaochen's costume was very flimsy. No protection was useful. During the shoot I just kept shivering, even my lips were shuddering. Getting back I felt numb in my entire body." Although the on and off screen teams had a rather tough shoot, Nazha saw the resulting exotic snowy mountain and icy lake s scene and thought it was worth all the hard work. Chow Hin Yeung also had a lot of praise for her professionalism.
Working with Koo Tin Lok for the first time, Nazha said that at first she was a little stressed and nervous. "Because this was the first time we worked together and he is my idol; however Mr. Koo would tell some bad jokes to close the distance with everyone."
The team used over 1,000 people, horses and extras there to create the most realistic battle scene. New Zealand's scenery left the actors in awe. Wang Kai who played Cao Cao said, "After coming to New Zealand, I realized that actual location production felt completely different. You could casually shoot and get beautiful scenery. Put into the film, it would still be a type of visual enjoyment." Han Geng who played Guan Yu said, "In this type of scenery, you rode the horse, that feeling from you charging in, wow......"
Playing Diaochan's godfather Wang Yun, Paul Chun Pui has been in film for over half a century, but he felt a little nervous this time with DYNASTY. The reason was that his previous costume film was the 2009 Mainland film DON QUIXOTE. He returned to costume film 12 years later completely because he admired director Chow Hin Yeung. Currently in the Mainland, Brother Paul said, "Before making this movie, I haven't worked on a costume film for a very long time. So when we made it, I was more or less a little nervous because I didn't know how my performance was."
In addition, director Chow Hin Yeung and the Dong Shuo portrayer Lam Suet earlier accepted a Hong Kong Open Television interview. Speaking of casting, Chow Hin Yeung pointed out that no matter how they thought he did not have another choice for Dong Shuo. Lam Suet also said, "As soon as I saw the character I said, hurry up and ask me to play him. I didn't sleep well for several days. Finally the producer asked me."
Lam Suet in the film fought for Diaochen with the Louis Koo Tin Lok played Lu Bu. Lam Suet praised Koo Tin Lok as very handsome in costume. "If I was Diaochen I would choose him too. Why would she choose Dong Shuo? There would be no chance at the fight normally, but in the movie it's different. At least for a moment I didn't treat him like Koo Tin Lok, I treated him like Lu Bu."
Aside from dramatic scenes Lam Suet also had action scenes. Lam Suet pointed out that horse riding scenes were already very hard. "The costume weighted several dozen catty. Everyone sympathized with the horse. That horse gave up and went to Heaven, instead of letting a fat guy ride him it would rather die. Actually on the second day it died from a heat stroke." Chow Hin Yeung also said that that year was the hottest. "Everyday the temperature was over 40 some degrees (Celsius), everyday someone had heat stroke, I did and the actors did too. Later I thought of cutting up the armors and spraying water. Looking back now that period was very rough."