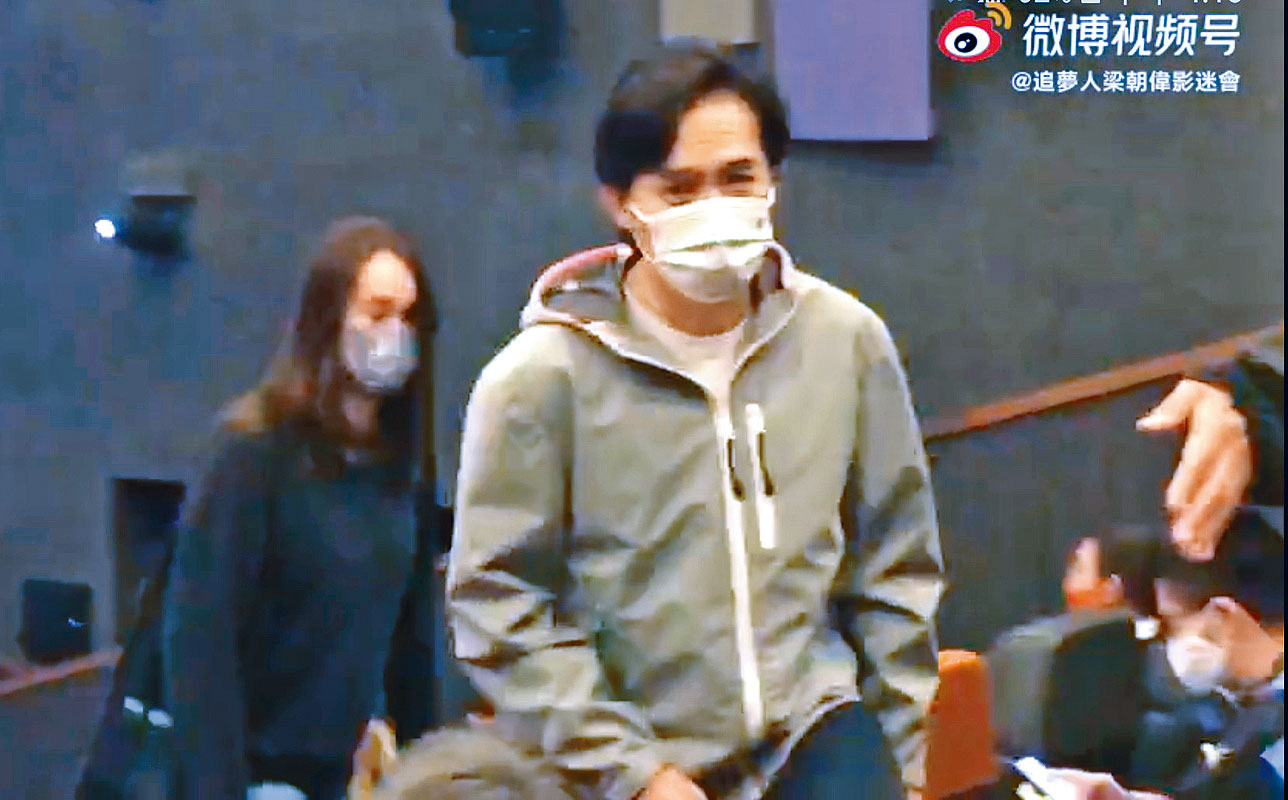 Tony Leung Chiu Wai's "surprise attack" was a pleasant surprise for the audience
courtesy of singtao.com
Stanley Kwan would have a heart to heart conversation with actors before making his movies and does not mind sharing his private side with them
Leslie Cheung and Anita Mui's performance is unique in the heart of Stanley Kwan
Tony Leung Chiu Wai appears at the film festival's LOVE UNTO WASTE restored version screening
courtesy of mingpao.com
The always low key Tony Leung Chiu Wai rarely attended events, but earlier he suddenly appeared at the Stanley Kwan Kam Peng directed film LOVE UNTO WASTE screening and surprised the audience.
The 45th Hong Kong International Film Festival ended two nights ago. Famous director Kwan Kam Peng was this year's Filmmaker in Focus. Because Kwan Kam Peng was unable to attend the screening, one of the film's stars Wai Jai showed his support. Wai Jai's fan club shared the video on Weibo. In it the casually dressed Wai Jai briefly shared his experience. He said that because director Kwan Kam Peng was unable to come, so he asked him to come. He said that after watching it during its release he never saw the film again. He thanked the Hong Kong International Film Festival for giving everyone, including himself, the chance to watch LOVE UNTO WASTE again.
"The last time I watched it was already over 30 years ago, my impressions of the film are in bits and pieces. I have no way to compare it with the restored version we just watched. LOVE UNTO WASTE was my very early performance. Thank you Director Kwan for giving me the chance. He was very serious, had passion and attention to details, I really enjoyed working with him."
Ah Kwan has always been extremely demand of his films, when he made LOVE UNTO WASTE he even had a "short term cross" with good friend Elaine Jin (Kam Yin Ling). "Her performance during the first few days was overacting, maybe she felt that she got such a major role it was invaluable! In the scene win which she and Tsai Chin sang together, I told her Tsai Chin was very easy going. She got upset and felt very hurt. Why did I have to compare her with Tsai Chin, she performed in several movies!" Luckily Au Ting Ping played the mediator and they made up. "At the time I didn't handle it well, I got a little frustrated. I used the wrong method. She knew I cared about her."
The 63 year old director Kwan Kam Peng earlier spoke with Oriental Daily. As the film "general" he admitted that he hoped to have a thorough heart to heart with all actors. Speaking of his deep friendship with actresses, he admitted, "Like when I worked with Ah Mui (Anita Mui Yim Fong), (Maggie) Cheung Man Yuk, Joan Chen, (Veronica) Yip Yuk Hing, my movies happened to have heavier roles for the female characters. When I made LOVE UNTO WASTE, I completely put myself out there. I didn't mind tell them my private stuff, including my relationships. Of course I hope that they would reciprocate. Actors and directors unable to trust each other is a major taboo. Anyone who worked with me before would understand."
Among actresses, Ah Kwan's relationship with Ah Mui was the deepest. He once publicly stated that he "loved Mui Yim Fong the most". They even talked all night on the phone about anything and everything. Later when Ah Mui passed, the final thing Ah Kwan did for her friend was writing the eulogy. Every word and every tear touched people inside. In 1987, when Ah Kwan prepared to make ROUGE, because he "liked it" top star Ah Mui waited for the film for over half a year for the production to start. Ah Kwan said, "Everyone said that Yu Fa was a ghost, but I feel this is a romance. Now I am teaching at City U, earlier to prepare for a lesson I watched this film again. I still felt sad, and I couldn't think of anyone to ply Yu Fa and Sup Yi Siu (Leslie Cheung Kwok Wing's role)."
As for when Jackie Chan produced ROUGE, he overstepped and upset Ah Kwan. "During the shoot he had no opinion, but after watching the rough cut he said that he wanted to edit the film anew, and that wire scenes and stunt shots had to be added. I didn't know at all, someone secretly informed me. I called (Willie) Chan Chi Keung (Jackie Chan's manager), if a single frame was changed, please don't put my name down as the director!"
Cheung Man Yuk according to Ah Kwan was "absolutely smart". He once publicly said that before making CENTER STAGE in 1992, he originally wanted Ah Mui to star. However because she did not want to shoot on location in the Mainland, they decided to "break up" as Maggie shaved her brows and took the role as the second choice. Finally she extremely rapidly got into the role and did not disappoint as she became the first Chinese Best Actress at the Berlin Film Festival. Back then the film held a premiere at the Ocean Cinema, everyone showed their support for Maggie. Unfortunately during the two and a half hour run, viewers kept leaving. Thus the official release was edited down until recently at the Film Festival when the "director's cut" appeared again. Speaking of being the second choice, Maggie actually did not mind too much. She even ran to thank Ah Mui for giving her the chance.
Turning from director to teacher, Ah Kwan admitted that it was an exchange of time. From his students he also learned something. "I have to tell myself, not to be stubborn with my existing views of film, to examine what movies to make now and prepare for my future retirement finances. This semester I gave the students a survey and realized that 80% of them have not seen my movies. When I asked (Fruit) Chan Gor, (Felix) Chong Man Keung to be guest lecturers the response was not too great. Then when I asked new director (Sasha) Chuk Tsz Yin for help, right after class the students surrounded her to exchange WhatsApp. I thought maybe they should be polite and ask me first!" As for what genre of film he would like to make next, he said, "In recent years Hong Kong experienced alot, everyone is very sharp. I am writing about life, relationship changes and results in Hong Kong under the 'Great Era', characters would be numerous. If I had to consider production cost I would have to 'charge' it. I hope to start production early next year!"