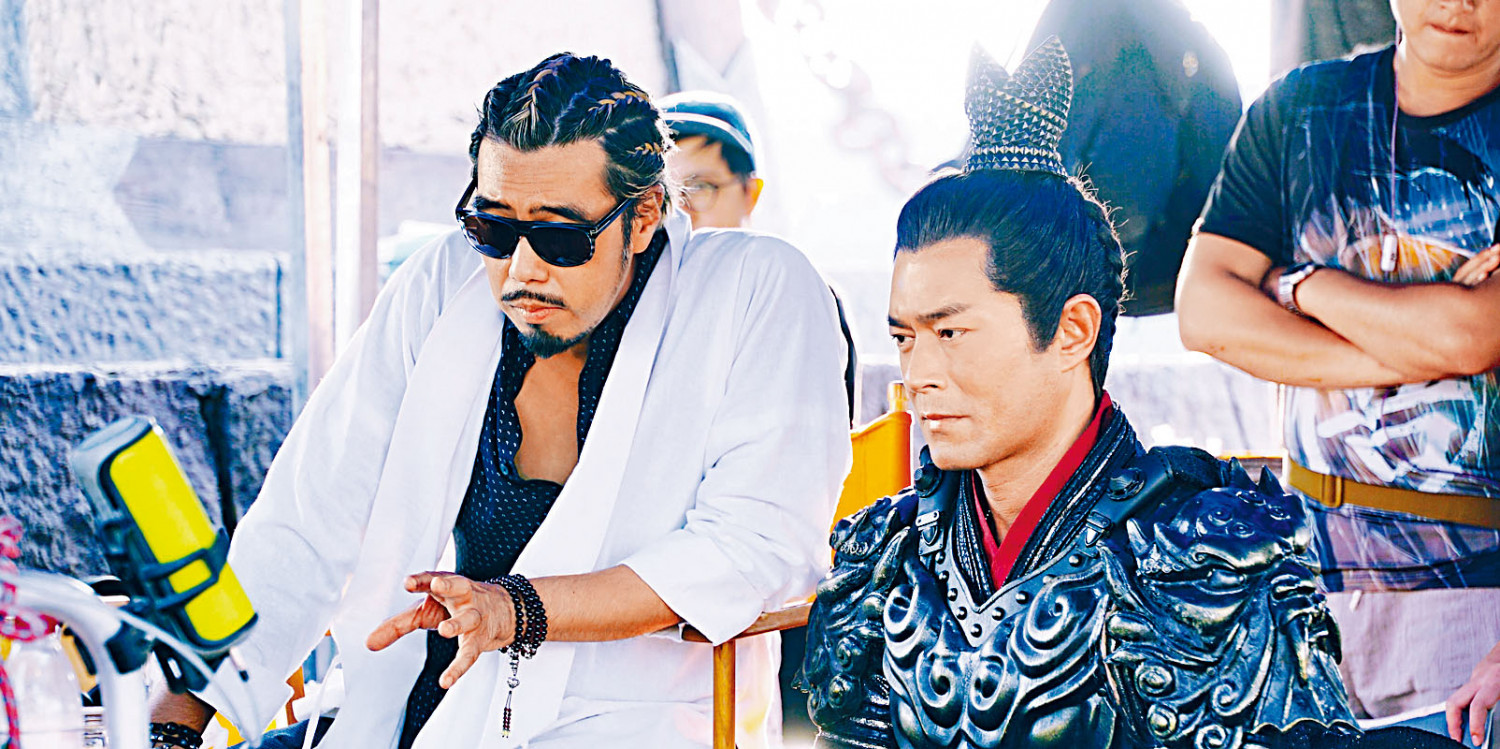 Roy Chow thinks Louis Koo is the coolest Lu Bu in history
courtesy of singtao.com
The Louis Koo Tin Lok, Carina Lau Ka Ling, Ray Lui Leung Wai, Lam Suet, Philip Keung Ho Man, Eddie Cheung Siu Fai, Paul Chun Pui, Law Kar Ying and others starred, Roy Chow Hin Yeung directed, Christine To Chi Long produced video game film adapation that was on location in New Zealand, DYNASTY WARRIORS (JUN SAM GOK MO SEUNG) will open on April 29th.
In recent years Hong Kong costume films are few and far between, director Chow Hin Yeung insisted that the DYNASTY WARRIORS production would bring together Hong Kong actors of substance who would very rarely appear together in a costume film and bring the well known history of the Three Kingdoms and classic game to everyone's eyes. Director Chow said, "Being able to bring together so many actors of substance to perform in a costume action film truly has been a long-awaited and rare experience. It really hasn't been tried in a very long time. I hope it will be able to pleasantly surprise the audience." He also said that in order to give the audience a sense of familiarity at the movies, he handpicked actors of substance Hong Kong would be familiar with. While working with the Hong Kong actors, everyone communicated very well. They trusted him and were able to very quickly and accurately interpret their roles. The resulting feeling was great and he savored the production process.
Director Chow also said that as early as pre-production, he already had someone in mind for Lu Bu and he had to be Koo Tin Lok. "Playing Lu Bu requires a presence, the most important is being cool! In addition Lu Bu is the game is the best fighter and the most handsome. Goo Jai in the film was also able to demonstrate that ambiguous feeling between good and evil. I feel Goo Jai is the coolest Lu Bu! We deliberately created several costumes for Goo Jai, with the famous lobster antenna golden crown. However because the lobster antennae were too long, during the shoot someone was specifically assigned to protect it!" Goo Jai during the shoot flew back and forth seven times to the shoot location due to his busy schedule. The "horse chase in the forest" scene was shot five separate times, which showed how involved Goo Jai was with the production. The film version required a "forge master" to represent that "Mosou power" that the game never explained. Director Chow said, "This character must have a special presence. I hope to find an elegantly beautiful woman with the ability to take all the air out of the room with her presence, that has to be Ka Ling. Ka Ling carries a lot of weight with her appearance, both strong and tender, very pretty." Lau Ka Ling's "forge master" became the reflection and the desire of Mosou heroes. In order to achieve "realistic fantasy" the team spent a month with all handcrafted costumes that were priceless.
Director Chow praised the professionalism of the Hong Kong actors, resembling whatever role they played. "Brother Lui (Lui Leung Wai) in the past has played many classic costume films like THE GREAT CONQUEROR'S CONCUBINE, being able to get him to play Yuan Shao is very important. Yuan Shao led a group of warlords against Dong Zhuo. He was a 4th generation duke, an aristocrat, so he required strong pride and dominance. As soon as Brother Lui turned around in his armor and the camera panned over, the dominating presence of a king already appeared!"
As for the Brother Kar Ying played Lu Boshe, "Shooting the killing by Cao Cao in New Zealand, both actors after the camera stopped were in tears because of how in character they were. Even the crew was moved. In addition, Brother Kar Ying was a veteran Chinese opera actor. He was more than familiar with the Three Kingdoms characters."