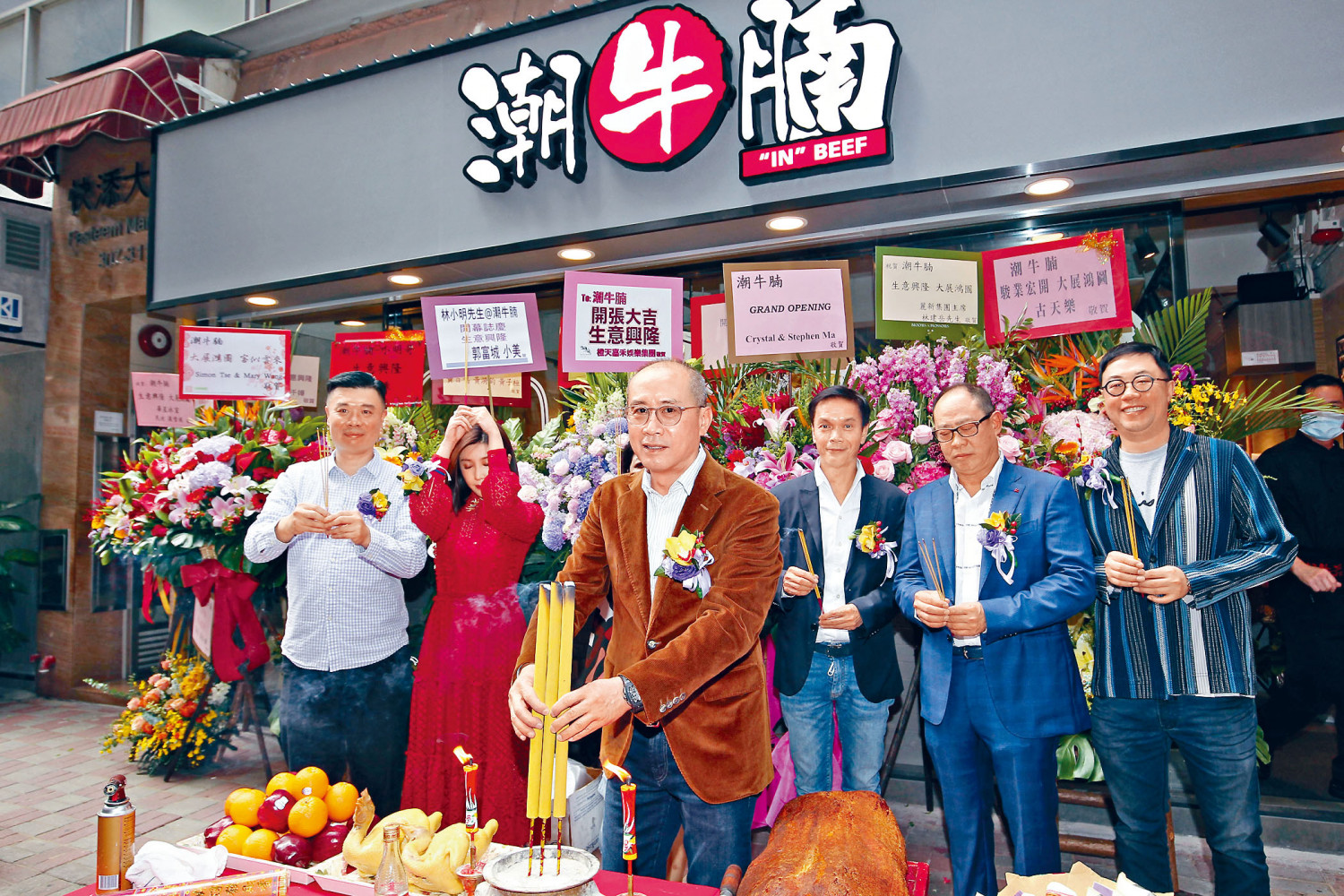 Daneil Lam invests in a restaurant in a weak market, joking that the timing is right
courtesy of singtao.com
Universe film company boss Daneil Lam Siu Ming opened a restaurant "IN" BEEF in Wanchai yesterday. Friends Tse Kwan Ho, Ben Lam Kwok Bun, Ken Low Wai Kwong, Jacqueline Chong Si Man, Michael Wai Chi Ho and others came to congratulate him. Lam Siu Mng's daughter Lam Chi Ying also came to cheer her father on.
Lam Siu Ming talked about the film THE WHITE STORM 2 setting Hong Kong film box office record in the Mainland, which SHOCK WAVE 2 broke earlier. He hoped that he would be able to break the record again and pointed out that normally he would not dare to predict the box office for each film. However he would have an estimated number in his heart. He revealed that SHOCK 2 if not for the pandemic would definitely have made more than 1.3 billion. Under the pandemic the number was considered a happy one. As for whether he would have the confidence to invest more in new film productions, he said that he would do so naturally, depending on how much money would be required. Of course he would not reduce the investment, at least he would invest over HK$ 200 million. He also revealed that in June the new film THE WHITE STORM 3 (SO DUK 3) will start production, the initial estimated investment would be 250 million RMB. The crew has already arrived in the Mainland to prepare. Actors will head there early next month. He admitted that the goal of course would be setting a new box office record.
UA cinema circuit earlier declared bankruptcy. Lam Siu Ming revealed that he was affected as he suffered at least 7 figures in losses. SHOCK WAVE 2 due to the pandemic was unable to open in Malaysia, Europe and North America, from which he was not unable the losses. however this has not affected his production progress. Lam Siu Ming said that earlier he already finished a movie about fire fighters in the Mainland. He was preparing to start production on THE WHITE STORM 3 (SO DUK 3). Another romance will start production in August. A movie about planes and starred Andy Lau Tak Wa will likely start production in September, SHOCK WAVE 3 and a movie bout the financial market will hopefully start early next year.
Tse Kwan Ho said that due to THE WHITE STORM 2 he met Boss Lam. He will take part in THE WHITE STORM 3, which will start production in Yunnan in June. In May he will head to the Mainland and start work after completing the quarantine. He would return to Hong Kong after finishing the film around early August and hoped that the box office would be the more the better. Speaking of his play that has been postponed numerous times since last year, he hoped that the pandemic would fade soon so he would be able to return to the stage.