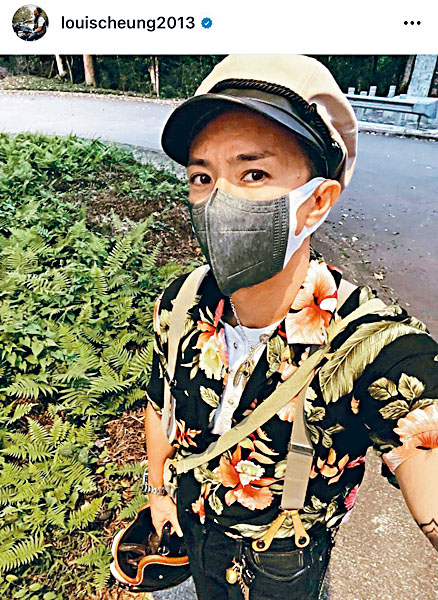 Louis Cheung's motorcycle stalls in the country and has to call his wife Kay Tse for help
courtesy of singtao.com
Julian Cheung and Louis Cheung rub each other down
courtesy of on.cc
The 10 Hong Kong film company co-funded film ALL YOU NEED IS LOVE (JUNG SI YAU OI JOI GAK LEI) wanted to provide pandemic relief to base level film workers. Many show business artists supported the endeavor. Two of the film's actors Julian Cheung Chi Lam and Louis Cheung Kai Chung sacrificed their looks, sang for children, soaked for half a day in 40 degree (Celsius) hot water, jumped into a vehicle, nd gave their all in order to support the industry.
In the film they performed an aloe oil scene. Chilam stated, "Giving someone a massage isn't easy, especially when Ah Chung's muscles are so thick......truly every business has its difficult part." Speaking of sacrificing their looks, it was nothing when compared to the difficulty of soaking their feet in hot water for half a day. Ah Chung said, "I feel like the mixed vegetable in people's hot pot, I was smoking!" Chilam agreed, "We got a little dizzy from the soak, actually the production crew was soaking with us. They had an even tougher time."
However the most challenging was singing the children's hit song BABY SHARK for a child. They both agreed that it was difficult. Ah Chung joked, "As a singer who is used to singing complex songs, singing this type of simple melody is difficult; however Chilam had a tougher time, he hasn't listened this song as much. I have heard this song for over 100 million times! However in this scene we were actually playing support for the child, haha!"