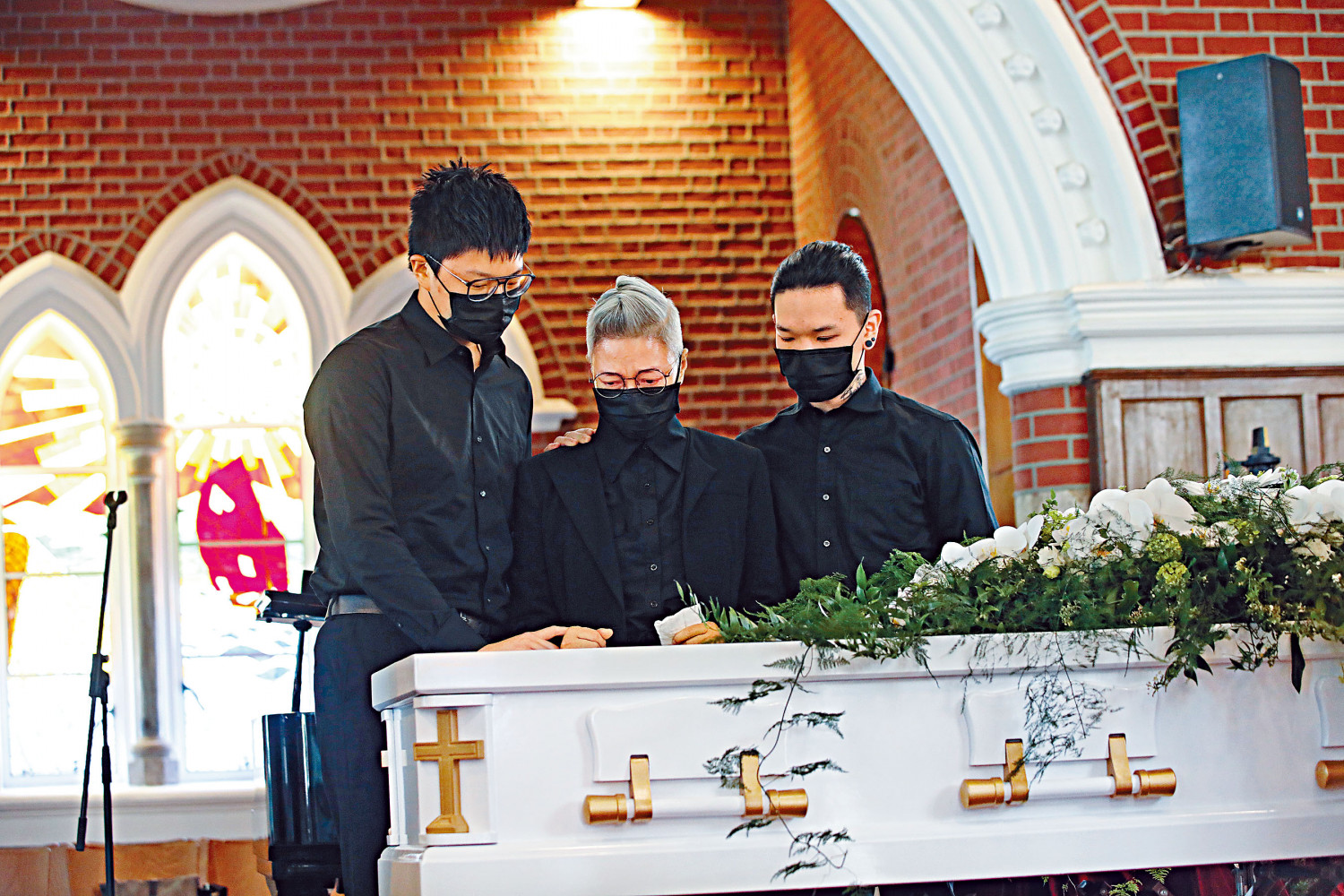 Man Yi's eyes were all red when she touched Uncle Chi's casket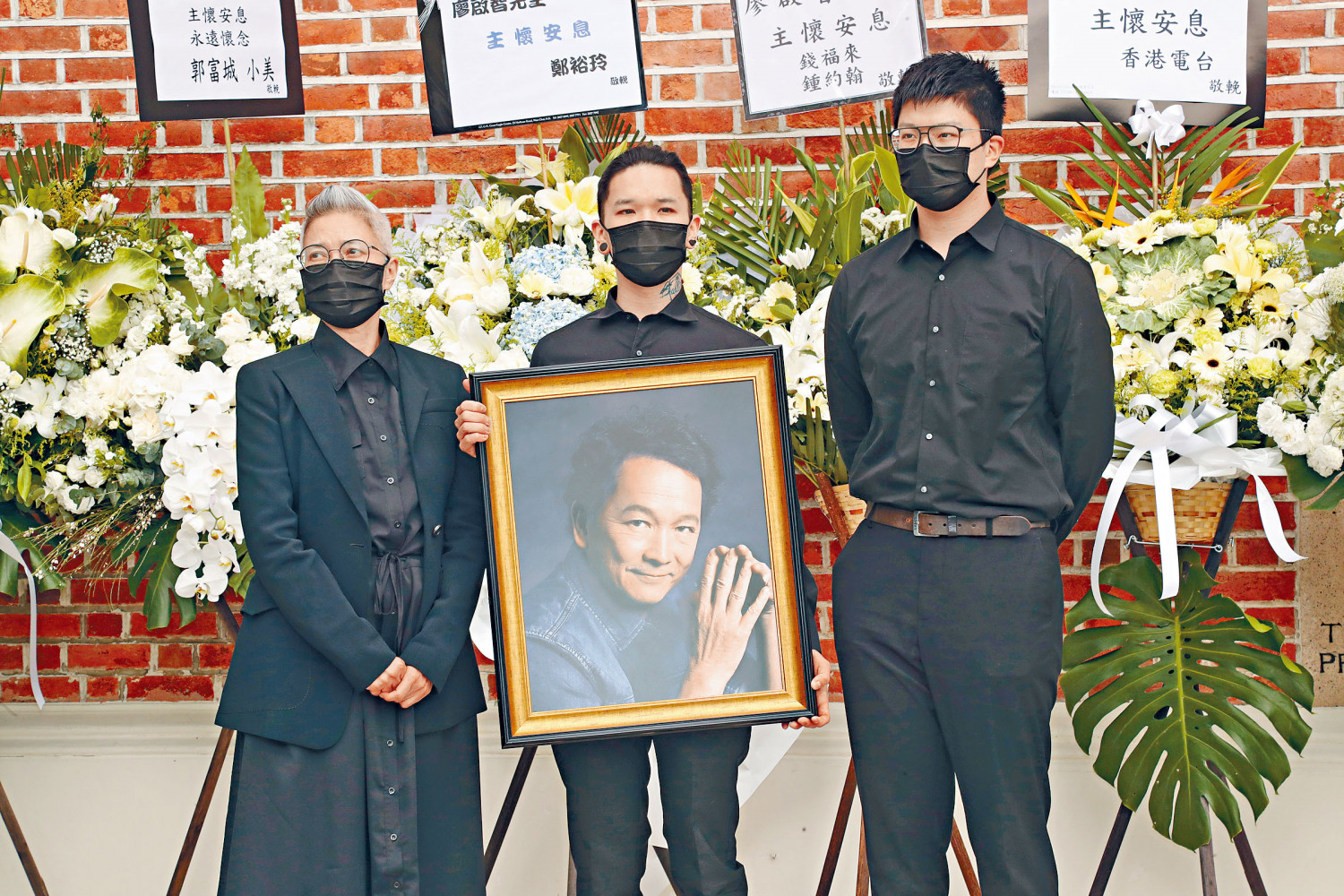 Man Yi and their sons stopped for media photo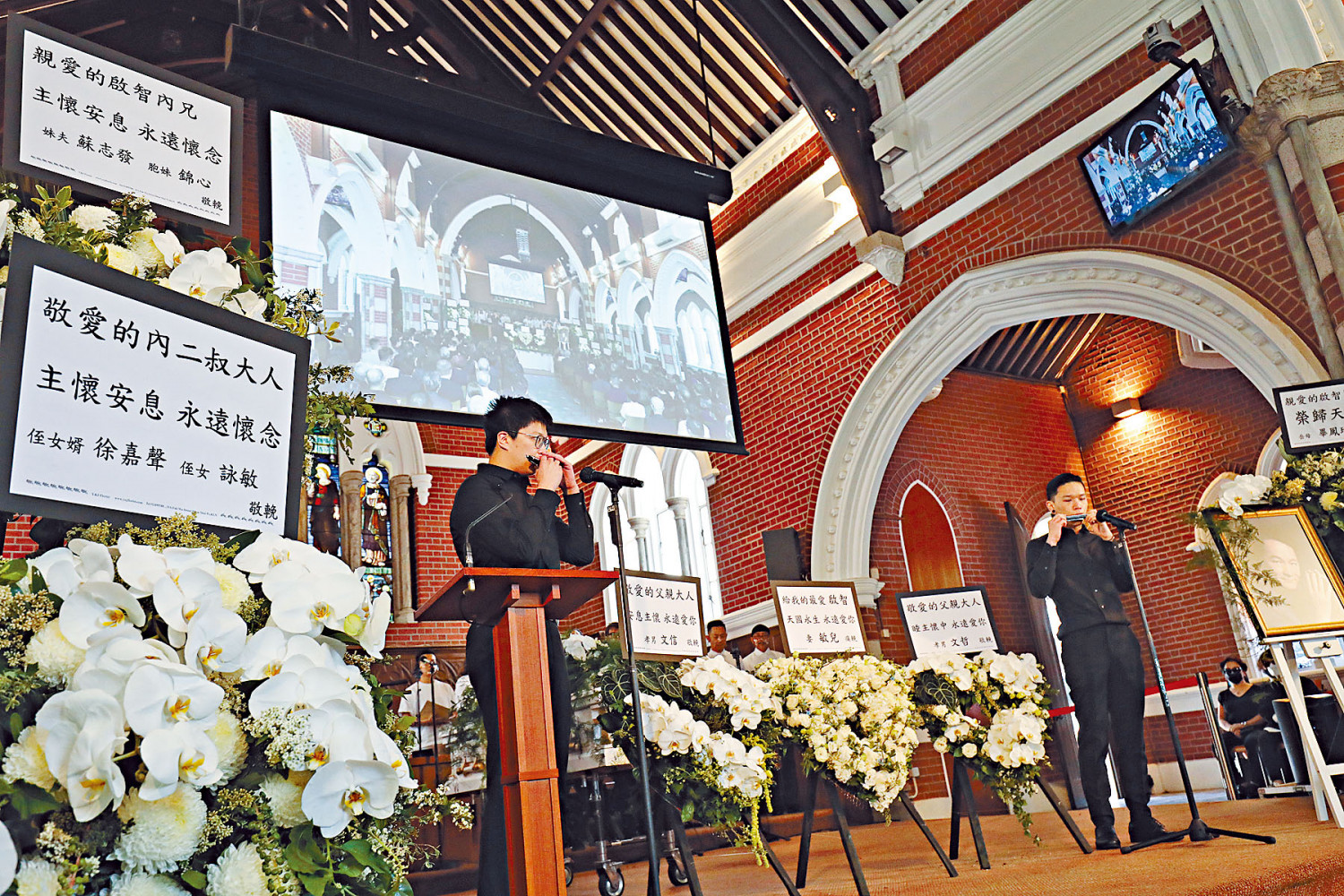 Sons Man Jik and Man Shun played the harmonica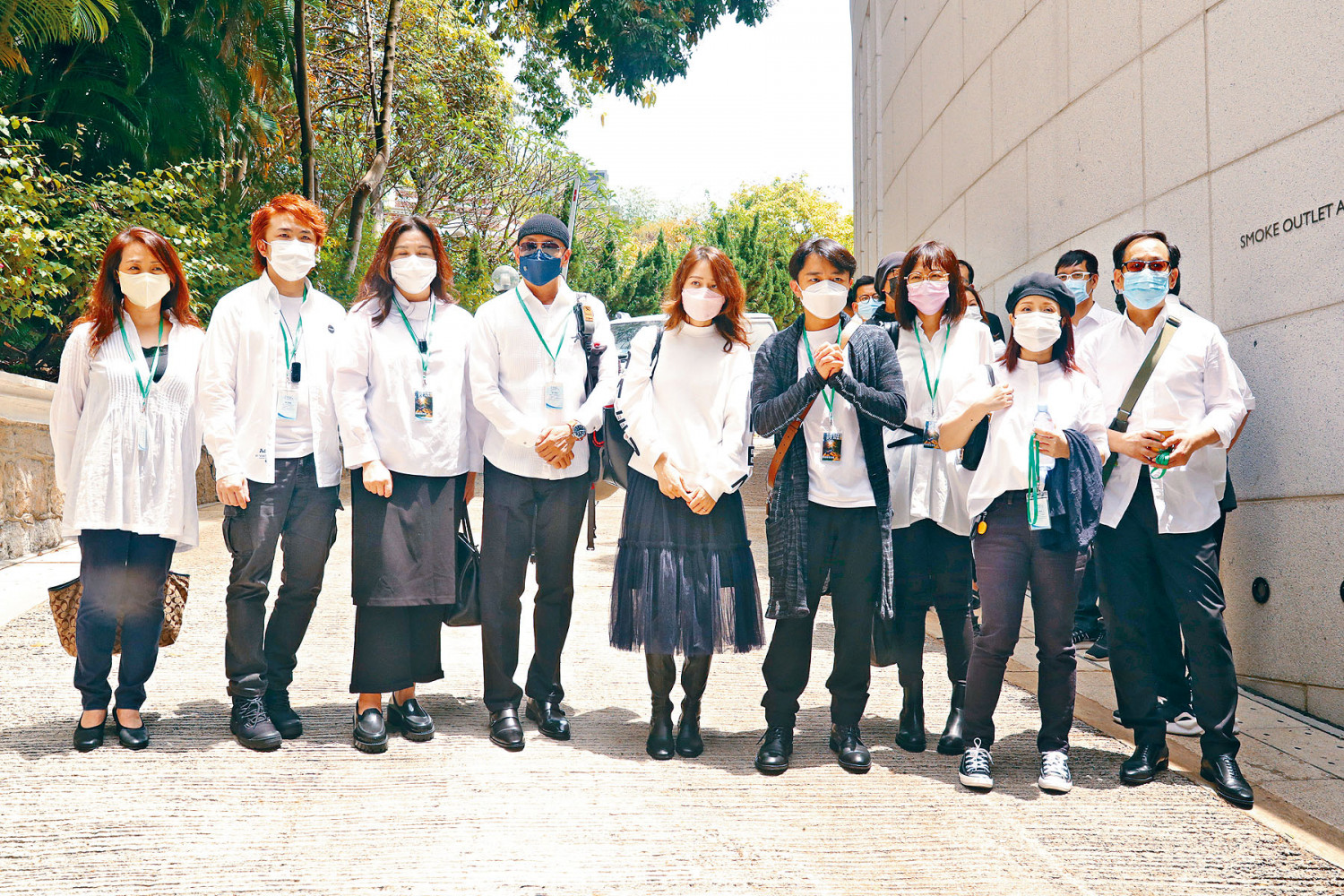 The choir including Wong Cho Nam, Peter Cheung, Ram Chiang and To Yin Gor performed for Uncle Chi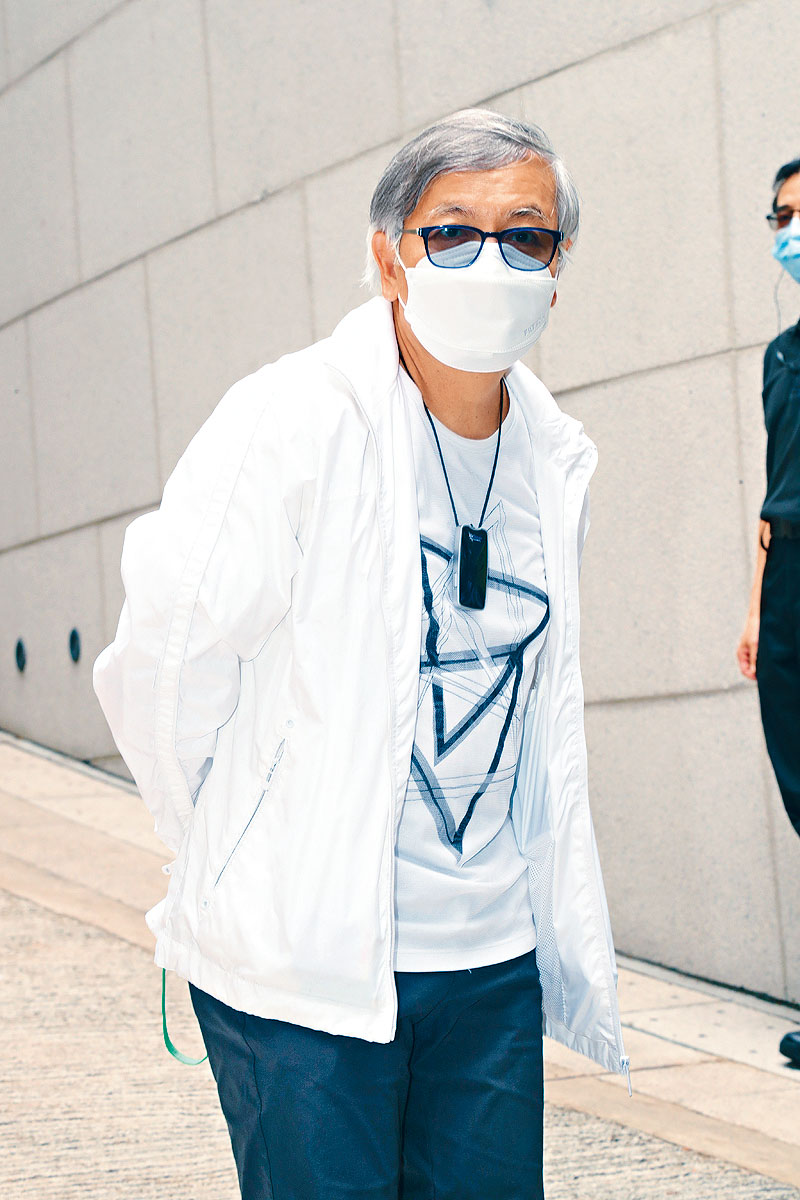 Tin Kai Man said that the family arrived early to prepare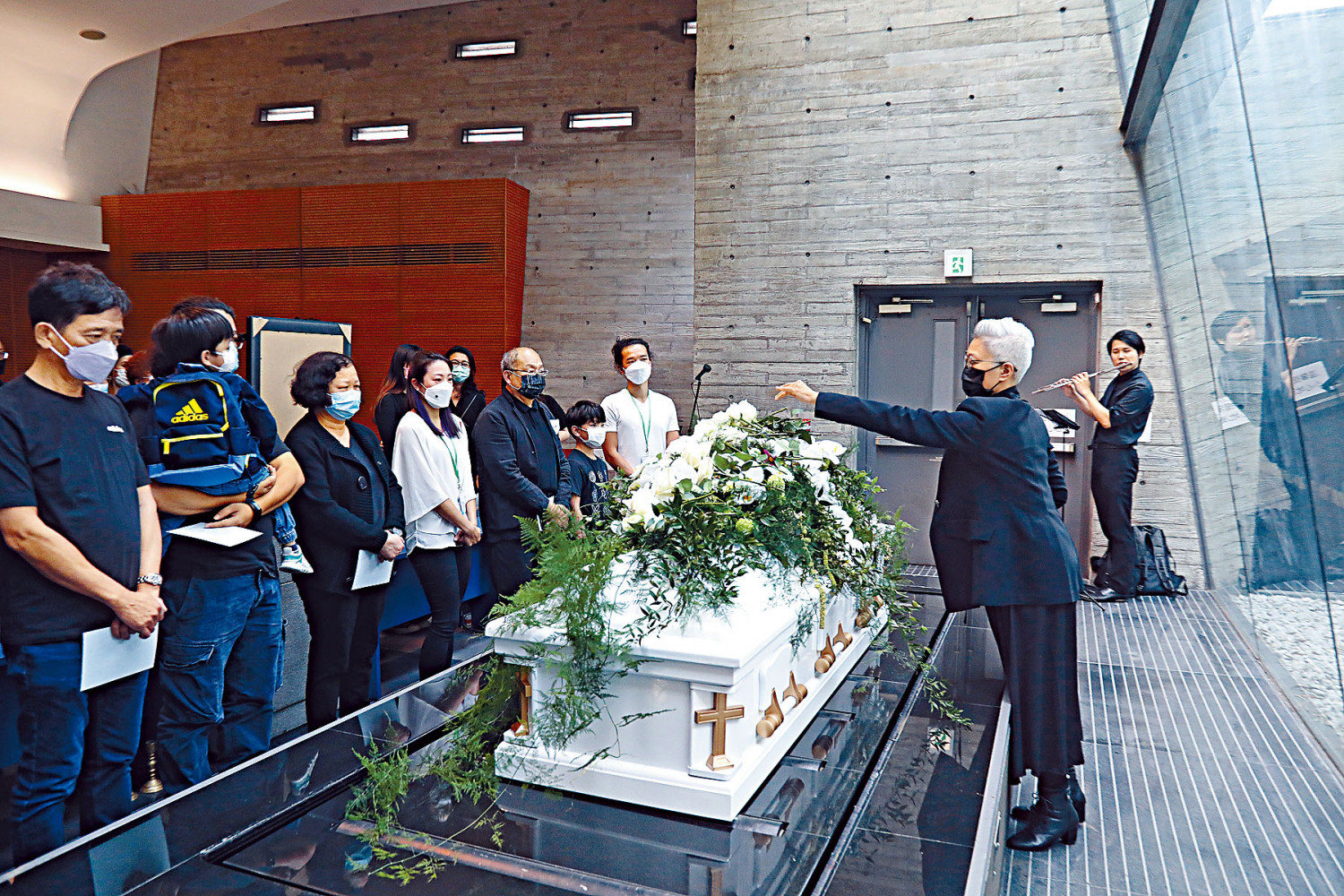 Man Yi presented flowers to Uncle Chi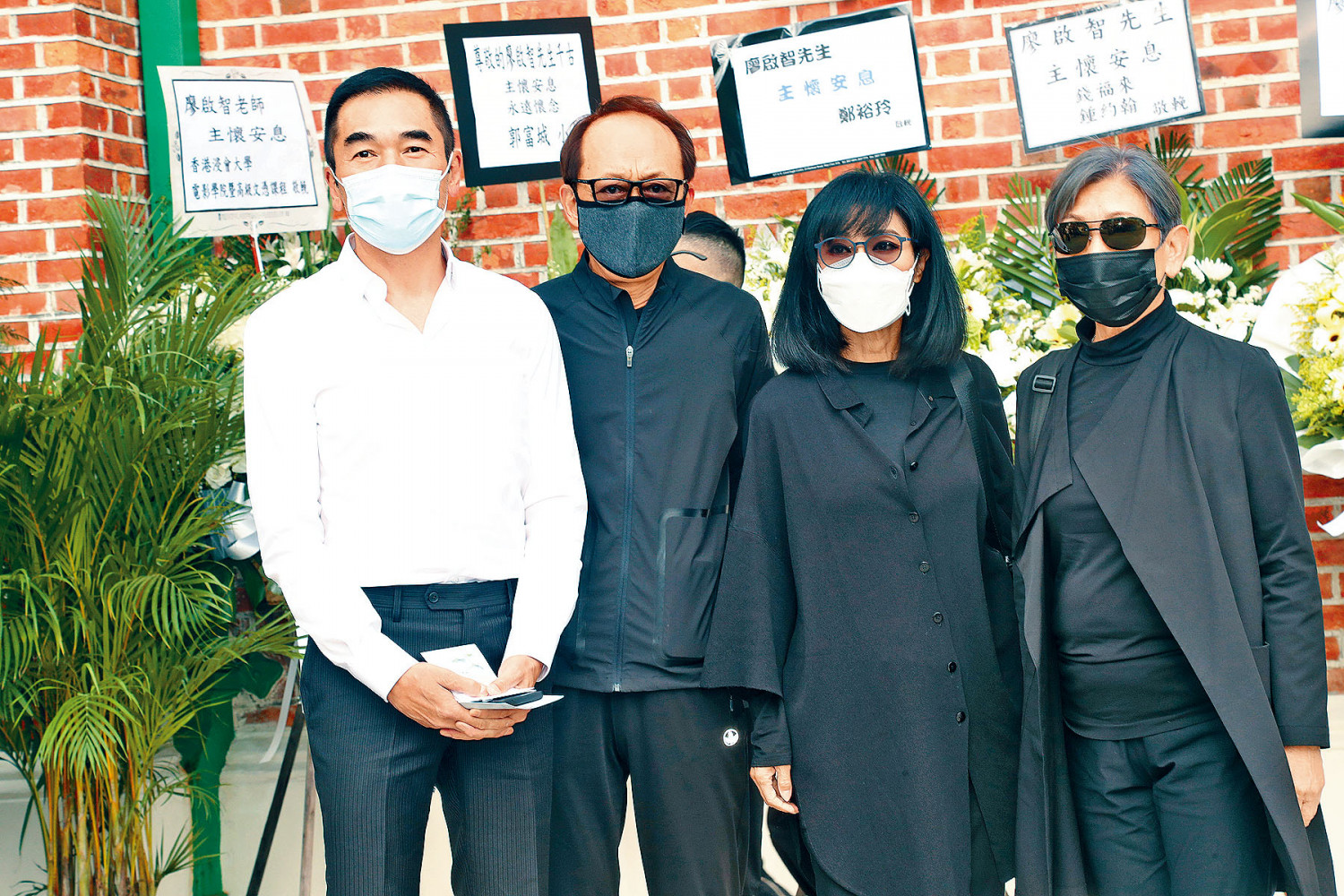 Alex Fong Chung Shun, Fong Ping, Michelle Yim and Nin Paw spoke to the media
courtesy of singtao.com
Chan Man Yi chose this photo
Man Yi and their sons could not hold back their tears during the viewing
The flowers from Liu Kai Chi's family were on display as the choir performed
Elder son Man Jik carried his father's photo
Aaron Kwok
Liu Kai Chi's favorite film of his career was CAGEMAN
courtesy of on.cc
Uncle Chi asked to play their family of five, including their late son Liu Man Lok,
rendition of IN HEAVENLY HOME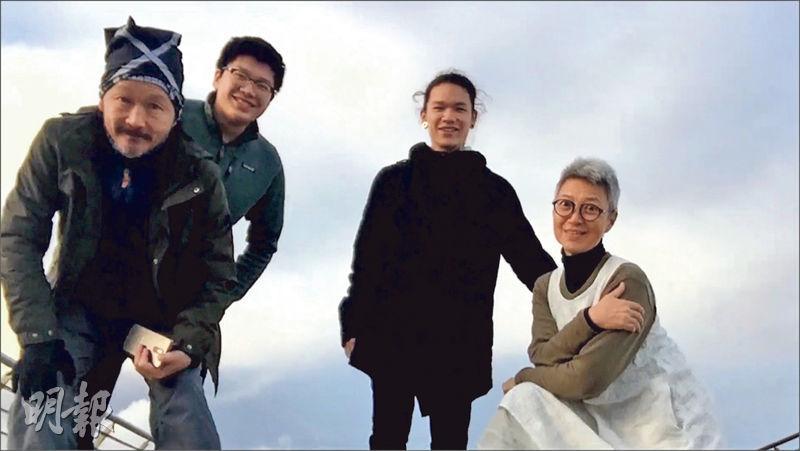 Although Uncle Chi was busy with work, he never neglected his family and often went on vacation with them.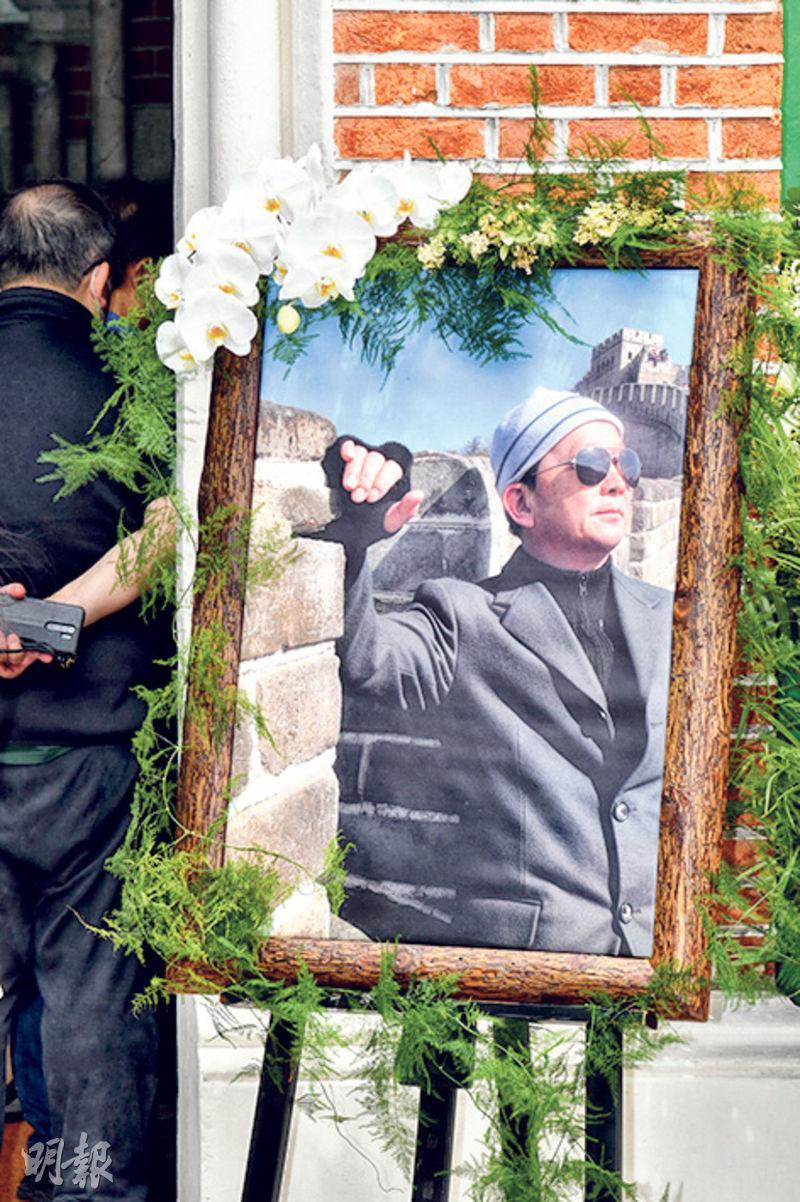 Uncle Chi chose this photo of him at the Great Wall, which Man Yi placed outside the church to fulfill his wish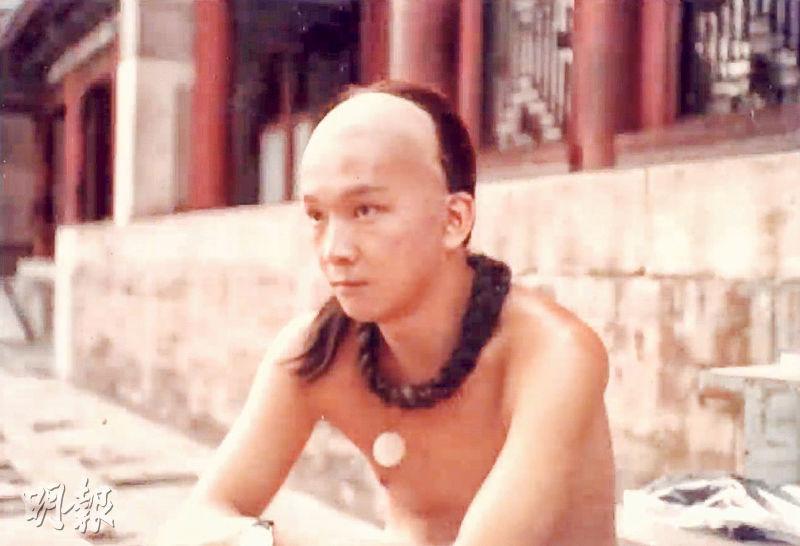 Liu Kai Chi shaved his head in solitary with Mainland actors while working on the series LEGEND OF A BOXER over 30 years ago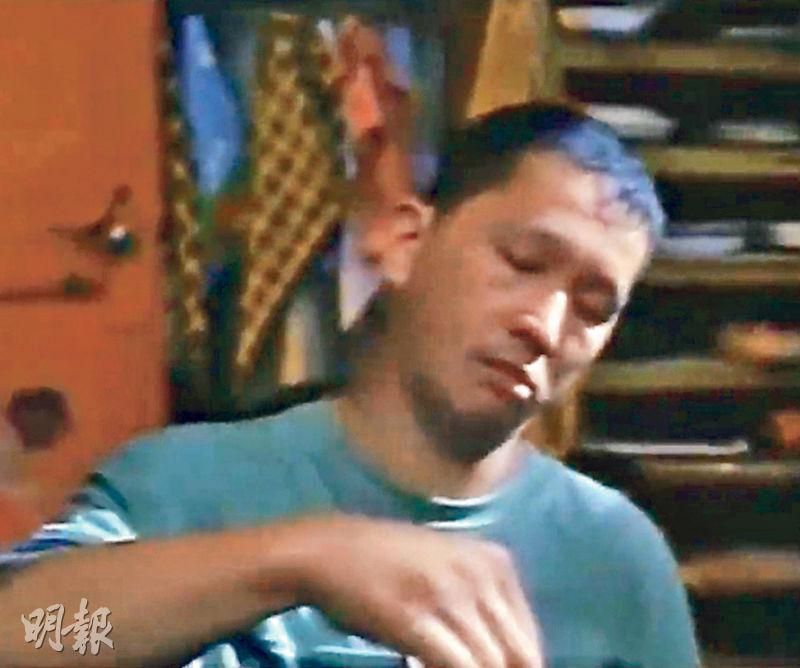 CAGEMAN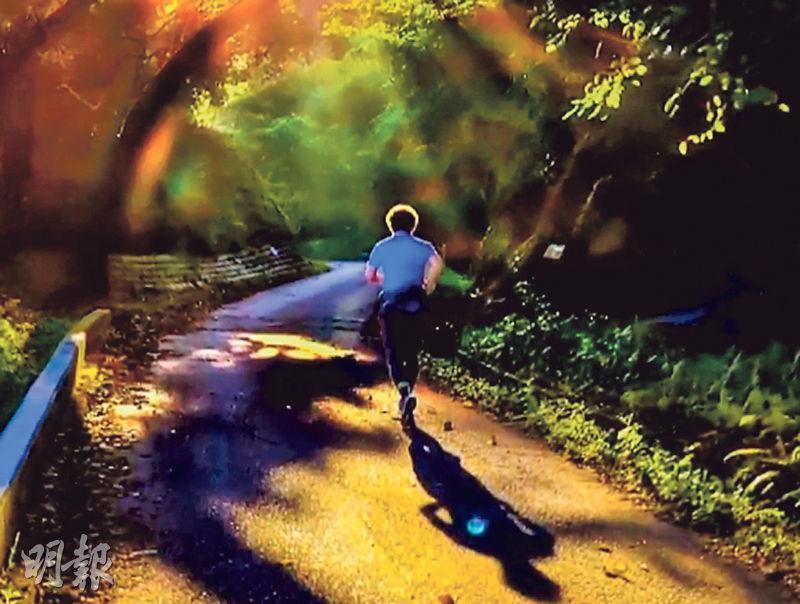 Liu Kai Chi described life as a "short distance run", losing at the starting line but winning at the finish line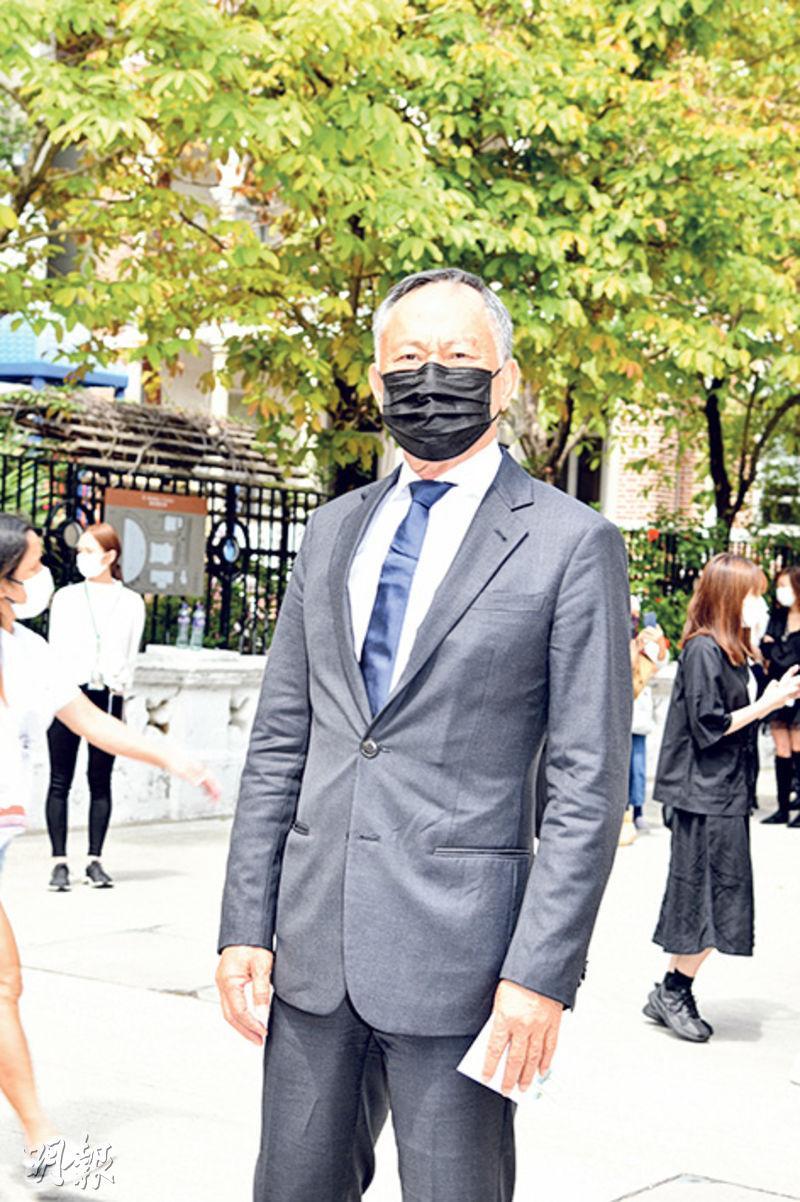 Johnnie To
Adrian Wong and her father Felix Wong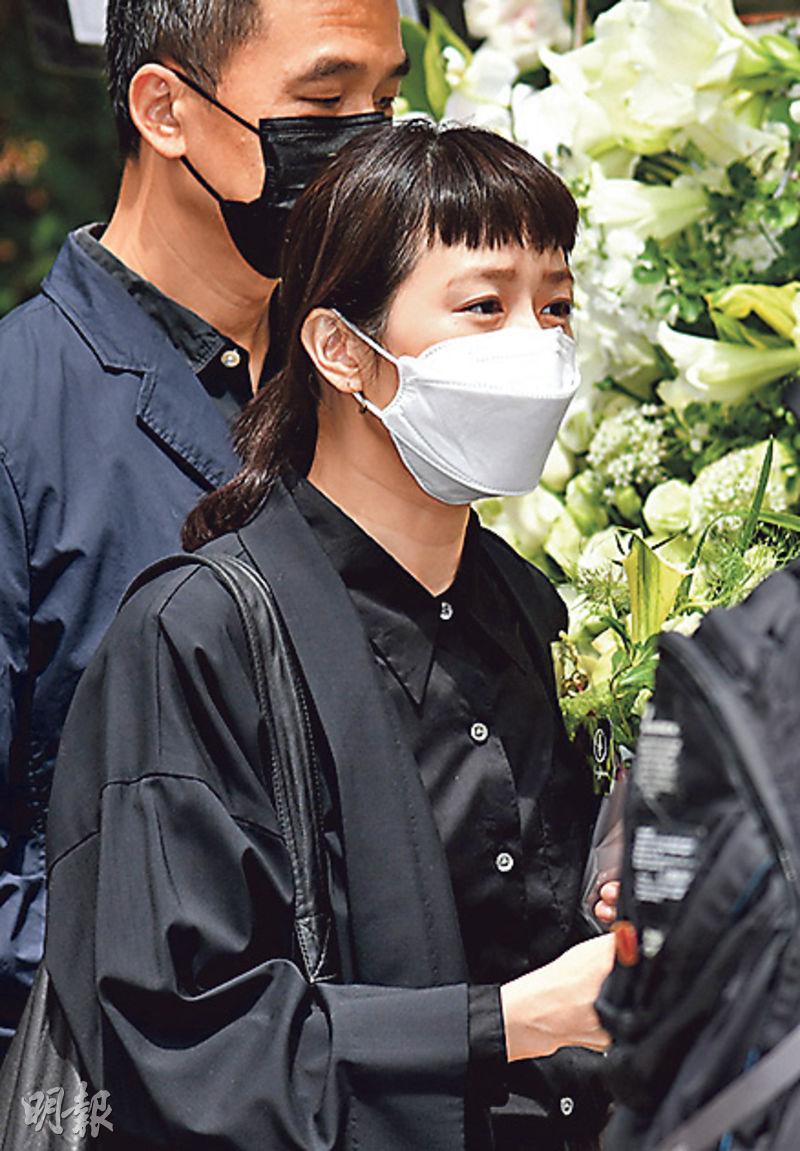 Karena Lam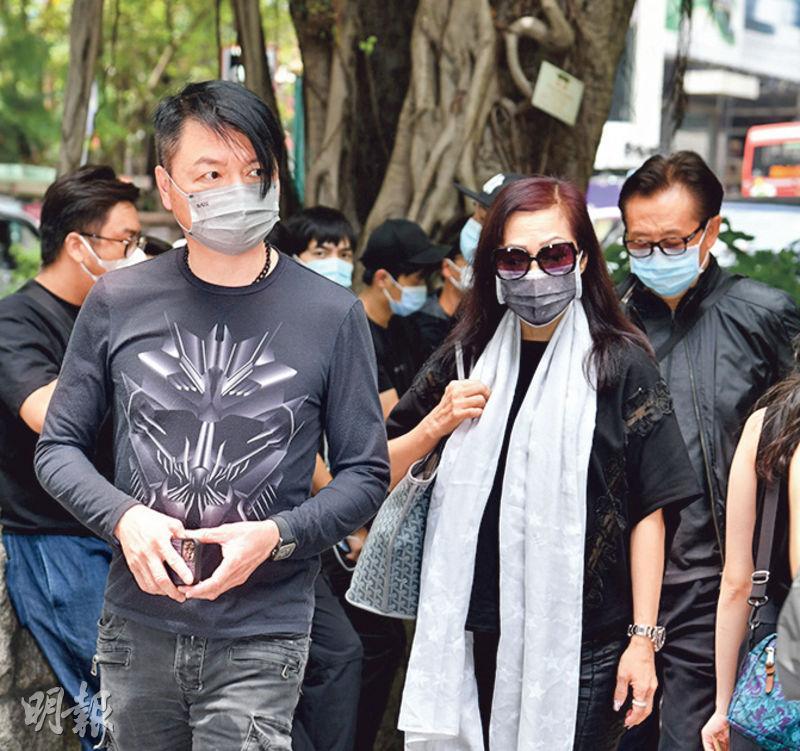 Ai Wai and his former wife
courtesy of mingpao.com
Veteran actor Liu Kai Chi succumbed to cancer on March 28th at age 67. His family yesterday arranged for a funeral ceremony at the St. Andrew's Church for Uncle Chi.
Due to the pandemic no public memorial was held, but the ceremony was broadcast live and a memorial page was set up for everyone to remember Uncle Liu. All funeral gifts would be donated to charity in the name of Liu Kai Chi. Around 12:50 PM the hearse arrived with Uncle Chi's white casket. Widow Man Yi and their sons Liu Man Jik and Liu Man Shun were dressed in black. The media fought to take photos and caused a stir. Outside the church door were floral arrangements from family and friends including Albert Yeung Sau Sing, Julian Cheung Chi Lam and Anita Yuen Wing Yi, Aaron Kwok Fu Sing, Leon Lai Ming, Miriam Yeung Chin Wa, Dayo Wong Tsz Wa, Mr. and Mrs. Francis Ng Chun Yu, Carol Cheng Yui Ling, Mr. and Mrs. Sean Lau Ching Wan. Among family and friends who came to pay their respect were Kwok Fu Sing, Alex Fong Chung Shun, Felix Chong Man Keung, Mak King Ting, Meg Lam Kin Ming, Michael Ning (Bak Ji), Cherry Ngan Cheuk Ling, Andrew Pong King Fung, Ali Lee Kai Sum, Chin Kar Lok, Helena Law Lan, Fong Ping, Tang Ying Man, Johnnie To Kei Fung and his wife, Tin Kai Man and choir members Wong Cho Nam, Peter Cheung Shung Tak and Eugina Lau Mei Guen, To Yin Gor and May Kwong Man Shun. Before entering, guests were required to have temperature checks and "Leave Home Safe" QR code scans.
The ceremony began at 2:30PM in a closed door format. The hall was decorated simply. At the entrance of the church was a photo from Uncle Chi's Great Wall visit, a photo that Uncle Chi personally chose. However Man Yi said, "Uncle Chi picked this photo himself, so we fulfilled his wish and put it at the door. However no one would use a photo with sunglasses for the final photo, so I chose another handsome photo for that." Uncle Chi's photo was placed at the center of the hall, next to them were heart shaped floral arrangement from Man Yi with the words, "For my most beloved Kai Chi, Eternal Life in Heaven, Love You Forever, Wife Man Yi". On both sides were the floral arrangements from their sons. After the ceremony, Uncle Chi's casket was taken to the hearse. Man Yi followed as elder son Liu Man Jik carried his late father's photo. The family of three permitted photos from the media and appeared to be strong.
The ceremony started at 2:30 PM. Uncle Chi's white casket was placed in the hall, on top of it were full of white flowers. The pastor first led everyone in a prayer. Uncle Chi's sons Man Jik and Man Shun played the harmonica. Cheung Shun Tak, Lau Mei Guen, Chiang Chi Kwong, Wong Cho Lam and other church members performed HAIL TO FRIENDSHIP with new lyrics.
At the ceremony a video of Uncle Chi's life was shown. His wife Chan Man Yi said, "When Uncle Chi bid farewell, he told me, 'It's been hard on you, now you can properly rest. We really appreciated him, his hard work gave us a lot of things. He just kept working like that, he had it very tough and rarely rested." She said that in the past year due to the pandemic, everyone were trapped at home most of them. They spoke alot. At the time Uncle Chi promised her that after the restrictions would be lifted they would go to the Mainland to see the famous mountains. Finally they were unable to fulfill this wish. Chan Man Yi described Uncle Chi's life as destined to be tough. In 1984 they had a little money, took two months off with TVB and fulfilled their dreams of backpacking through Europe; they bought cheap flights and had over 20 hours of transfer, but on the return they realized they miscalculated. They should arrived in Hong Kong on the 10th but due to the time difference they would not return until the 11th. Uncle Chi had to work on the 10th and the company did not approve more time off, so he could only buy a direct flight to return to Hong Kong first. Chan Man Yi in order to save money kept taking transfers. They were both at the airport, Uncle Chi boarded his flight first. When he went to the gate and looked back he was already in tears and Man Yi also broke down.
Man Yi said, "This reminded me that, actually in life and death, even if you know you would be reunited with him very soon, you would still miss him."
She also said that Uncle Chi on his sick bed knew that he would soon pass. He had many tears and was very reluctant to go because he was a very responsible person. He was unable to let his family go. She held back her tears and said, "I want him to know, the three of us are great. We really are able to take care of ourselves." She also promised to continue the good qualities of the Liu family, to be responsible and respect others, and asked their sons, "Can we do it?" Man Jik and Man Shun nodded, then Man Yi cheered them on.
His sons also shared their lives with their father. They sometimes would also call Papa "Uncle Chi". Elder son Liu Man Jik said that Uncle Chi's love for him was almost to the level of spoiling him. As he grew, he differed from his father's orderly personality. Thus he became upset at him while he was afraid of Papa as well. Those were both his illusions as Uncle Chi loved him from the bottom of his heart; when he went to study in Australia, each time he returned home Uncle Chi would pick him up at the airport. He said, "That smile told me how much he missed me. He was a Papa who loved me very much."
Second son Liu Man Shun mentioned how he and his father got long when Uncle Chi was hospitalized early in the year. He read little inspirational stories to Uncle Chi, while Uncle Chi would fix his pronunciation. This became their new activity. Later the family even had a TUESDAYS WITH MORRIE script table reads at the hospital, which was a play that he liked and performed. Man Shun's job was production related, Uncle Chi often gave him advice. Man Shun said, "I don't have the chance to consult him and ask him for his advice, but I am very grateful to be his final student, to become a student and son he can be proud of."
Chan Man Yi also mentioned in 2006 when their youngest son Liu Man Lok passed, their family of five once recorded a song IN HEAVENLY HOME. Uncle Chi missed his son, so he listened to this song everyday. IN HEAVENLY HOME was played and had Man Lok's voice, along with their warm family photos.
As the ceremony neared its end, Chan Man Yi returned to the stage and thanked the production team for planning a beautiful yet peaceful ceremony. She said, "I believe Uncle Chi would definitely accept and be happy with it. After Uncle Chi passed, I saw many people from different locations, with different religions and different political viewers, they all had very positive recognition of him. I was very touched inside. I also didn't think that so many people would attend a funeral. My feeling is like everyone gave a final award to Liu Kai Chi. I am very grateful to everyone for teaming up to give him this Oscar of life. I hereby accept this award on Liu Kai Chi's behalf, again thank you everyone for your love for Uncle Chi. Thank you!"
Fong Chung Shun, Paw Hee Ching and Michelle Yim (Mai Suet) before leaving the church. They talked about Uncle Chi and got choked up. Sister Bau described the ceremony as peaceful yet warmth. Although it was sad it was also happy, enabling Uncle Chi to depart in a blessed atmosphere. Fong Chung Shun got choked up and shook his head as he could not speak, after settling down he said that he and Uncle Chi were friends for years. He remembered that after working on PROJECT GUTENBERG (MO SEUNG), Chow Yun Fat formed a team to start running. The last time they ran together was in November last year. Then Uncle Chi got sick and went to the hospital, to avoid bothering Uncle Chi he did not visit. After finishing the last run with Uncle Chi, did he have any regret? Fong Chung Shun said, "No regret, we ran together for years. I saw him becoming more and more open, happier and happier." Also on the running team, Mai Suet remembered Uncle Chi's running style and thought he was very handsome. Yesterday at the ceremony were also photos from Uncle Chi's runs. Sister Bau emotionally said, "Uncle Chi would always run with us. We ran the worst so we were in division C, he was division A, constantly going back and forth to watch over us." Speaking of Uncle Chi's final wish of making the film TAKE TWO (FAN DAU YUN SUN) to cultivate new comers, Sister Bau said that someone was already helping with the production. Everyone would definitely help if they could.
Hong Kong Federation of Film Workers' Tin Kai Man said that the ceremony was simple, Uncle Chi's sons were in charge of the arrangement. How was Man Yi? Tin Kai Man said, "She's OK, nothing special. She has been very strong throughout our communication."
Uncle Chi contributed his life to show business, making over 92 films, 110 television series and over 21 plays. In the past decade he even dedicated himself to education. Chan Man Yi revealed, "When in school he was discriminated against, so very early on he already learned to respect others and understood that everyone was equal. In 1984 when he went to the Mainland to work on the television series THE LEGEND OF A BOXER, at the time the director demanded Mainland actors to shave their heads but not the Hong Kong actors. He thought why did the Hong Kong actors have special privilege, without saying anything he had his head shaved. His action touched me very deeply."
Man Yi privately asked which one of his movies did her husband like the most? He said that he really enjoyed CAGEMAN, but not because it won an award. She said, "He said that this film was able to reflect social problem. Ironically after 30 some years not only the problem hasn't been resolved but created so many varieties of subdivided rooms. It is the shame of Hong Kong people!" In the past 2 years as Hong Kong faced the pandemic and the social movement, property owner Uncle Chi reduced and even cancelled rent to get through the hard times with everyone.