Jacky Cheung
courtesy of singtao.com
Louis Koo
Leanne Li witnesses her husband Wong Cho Nam's honorary fellowship presentation
courtesy of on.cc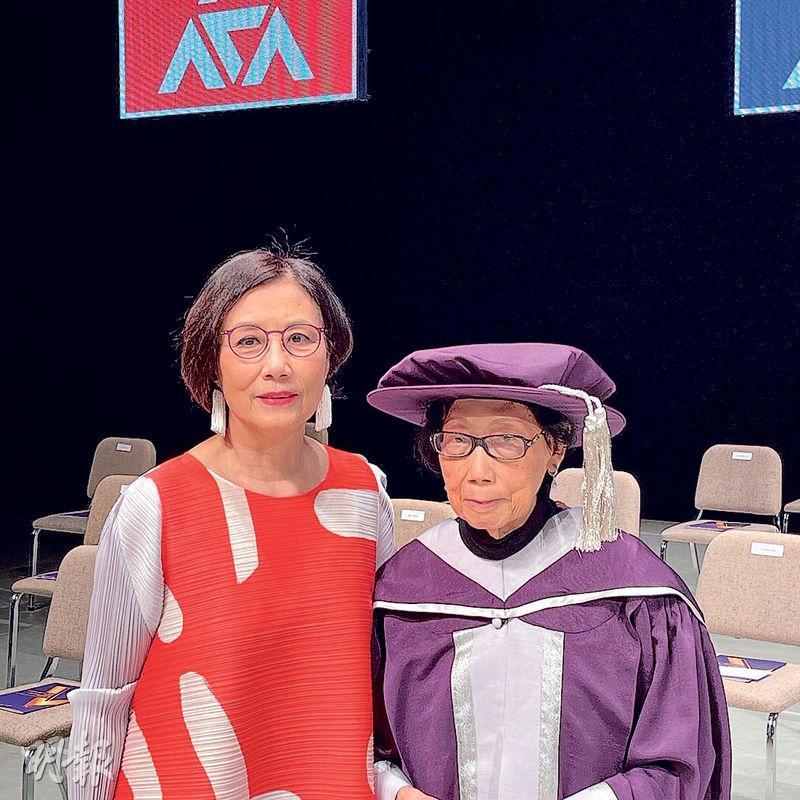 Liza Wang congratulates Cantones Opera singer Leung So Kam for years of teaching
courtesy of mingpao.com
The Hong Kong Academy for Performing Arts two days ago at the Academy Lyric Theatre held its honorary doctorates and honorary fellowships presentation ceremony to honor ten outstanding people in society for their performing art achievements and contribution to the Academy for Performing Arts' development. The ceremony was officiated by the Academy Council Chairman Professor Stephen Chow Chun-kay. God Song Jacky Cheung Hok Yau received an honorary doctorate, while Best Actor Louis Koo Tin Lok and TVB's first chief creative officer Wong Cho Nam received honorary fellowships.
The school commended Cheung Hok Yau for being a show business master class figure, humble, passionate about community service, sparing no effort in helping the younger generation, and always supporting the development of the Hong Kong Academy for Performing Arts. In 2013, he even guest starred in the first Academy for the Performing Arts film and television academy's first film production bachelor's course graduation film A COMPLICATED STORY and made the film much better for it.
As for Koo Tin Lok he has been actively in promoting Asian film industry development, including LITTLE BIG MASTER (NG GOR SIU HAI DIK HOK JEUNG), MEN ON THE DRAGON (YIK LAU DAI SHOOK), and the upcoming release WARRIORS OF FUTURE (MING YUT JIN GEI). He also provided domestic new directors many directing opportunities, supported and benefit the film industry and the Academy for Performing Arts film and television academy, and provided even more employment opportunities for graduates. Koo Tin Lok once served as the Academy's consultant council member, gladly sharing his opinions and helping the younger generation. In addition, special mention was made about his benevolent and low key charity work. So far he donated to the constructions of over 100 school buildings in the Mainland.
The Hong Kong Performing Art Academy graduate Wong Cho Nam's heart has always been with his alma mater. With his directing debut I LOVE YOU, YOU'RE PERFECT, NOW CHANGE! (NEI MAI LEI, NGOR OI NEI!) he invited over 50 Performing Art Academy graduates to participate in the production and the performance, and 20 drama academy students to participate in the musical performance. He physically contributed to cultivate those who came after him.
Upon receiving the honorary fellowship from his alma mater, Wong Cho Nam said that he felt deeply honored. "The Hong Kong Academy for Performing Arts is where my performing art creativity was enabled. My 18 years of hard work was recognized by my alma mater. Today (the 16th) I received a honorary fellowship from the Hong Kong Performing Art Academy. I deeply feel honored, in the future I will keep working hard and moving forward."
Wong Ming Chuen two days ago also attended the ceremony and posted a photo with Cho Nam on social media. She praised his excellent performance background and outstanding talking skills, which made his humorous image stood out and always deeply influenced viewers everywhere. Ah Jeh said, "His talent is multi-dimensional, now he has just begun. I believe in the future he will have even more, even wider and even better creations (on and off screen) to look forward to. Congratulations Cho Nam! Keep going!"