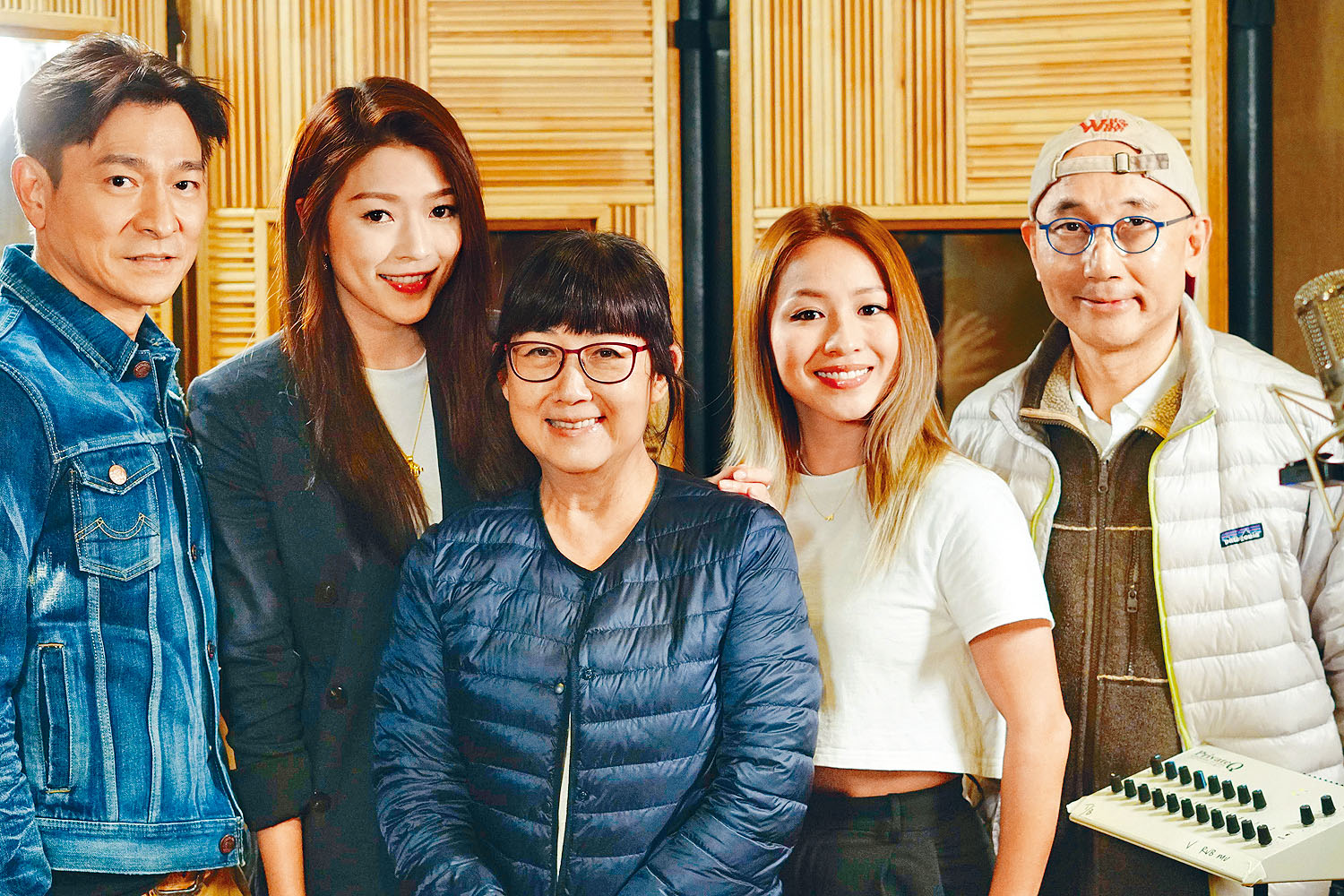 Shiga Lin (second left) and Stephanie Cheng (second right) grab the chance to take a photo with Andy Lau (left)
courtesy of singtao.com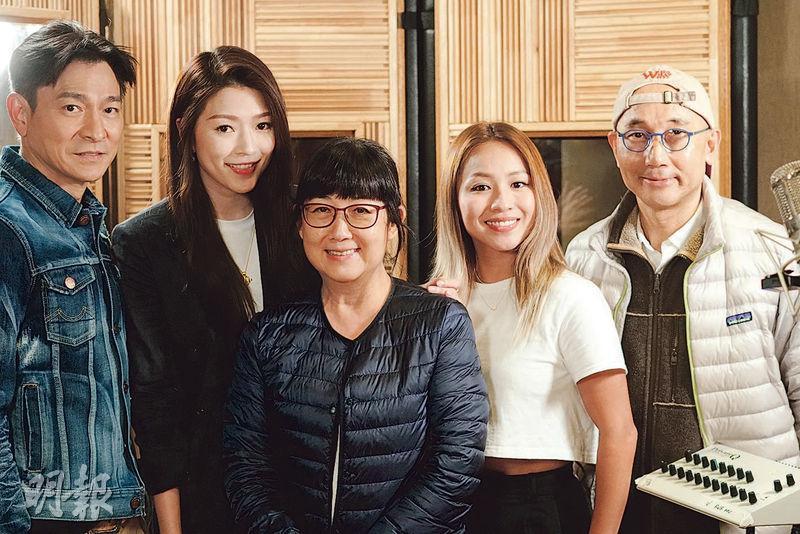 Andy Lau, Shiga Lin, Tong Shu Sum, Stephanie Cheng and Lowell Lo contribute to the pandemic relief film theme song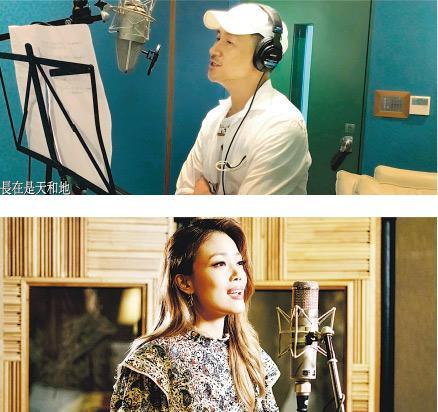 Jacky Cheung and Joey Yung also perform for IF LOVE IS IN THE HEART
courtesy of mingpao.com
The pandemic did not stop the film industry's concern for its colleagues. 10 Hong Kong film companies co-financed the film production ALL U NEED IS LOVE (JUNG SI YAU OI JOI GAK LEI) to provide assistance to the basic level workers. The film will officially open on April 22nd. Aside from big stars in the cast, even the film theme song IF LOVE IS IN THE HEART also had the enthusiastic participation of many singers. They included two "Heavenly Kings" Andy Lau Tak Wa and Jacky Cheung Hok Yau, Hacken Lee Hak Kun, Joey Yung Cho Yi, the Grasshoppers, William So Wing Hong, Edmond Leung Hon Man, Pakho Chau, Fiona Sit Hoi Kei, Joyce Cheng Yun Yi, Stephanie Cheng Yung, Shiga Lin, Deep Ng Ho Hong and others. Lowell Lo Koon Ting wrote the music while his wife Tong Shu Sum wrote the lyrics. The song music video also premiered on TVB's HAVE A BIG LAUGH.
Yung Cho Yi said that working with Lo Lo for the first time, she was extra excited. She said that it was a rare chance and Lo Lo repeatedly praised Joey's singing. The three experienced singers of the Grasshoppers under Lo Lo's guidance finished her recording in a flash. Remus Choy Yat Kit said that due to the pandemic, he has not been inside a studio in a very long time. Even the Grasshoppers did not see each other for a very long time. Calvin Choy Yat Chi hoped to remind everyone to pay attention to health and hygiene through the song.
Shiga Lin, Cheng Yung at the studio ran into their idol Lau Tak Wa, took the chance to "collect the stamp" and got a photo. Shiga Lin said, "When you take a photo with Wa Jai, your heart actually gets a little tense!" Cheng Yung was timid at the rare encounter but was very pleased with a selfie with Wa Jai. Although each singer only recorded a small portion or even two or three verses, everyone put in a lot of preparation. Sit Hoi Kei at the studio often asked Lo Lo about pronunciation and articulation, and wrote English pinyin over the lyrics. Her eagerness to learn left Lo Lo with nothing but praise for her.