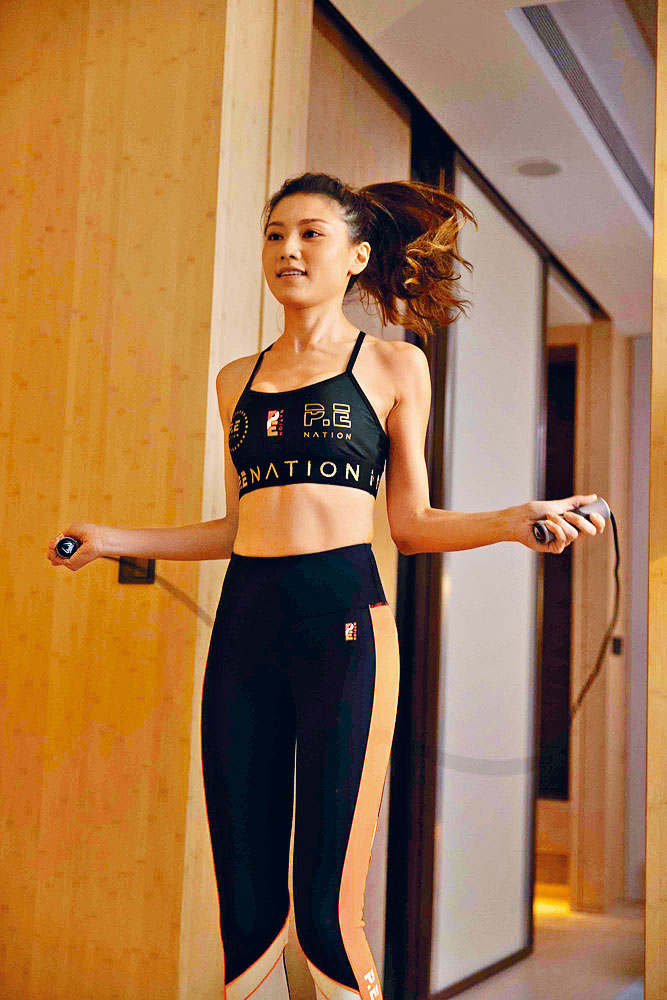 Chrissie Chau jumps rope in tight fitness gear
courtesy of singtao.com
courtesy of on.cc
Ten Hong Kong film companies co-funded a movie to fight the pandemic, ALL U NEED IS LOVE (JUNG SI YAU OI JOI GAK LEI) has already opened. The 63 year old Best Actor Tony Leung Ka Fai said that he was already halfway out of the film industry. This time due to the pandemic he agreed to perform. In the film Chrissie Chau Sau Na kept slapping her. He was red and swollen and needed to keep applying ice, but he did not feel it was rough.
This film had a major scene that brought up a scene from the classic Hong Kong film MEN SUDDENLY IN BLACK (DAI JEUNG FU). Playing Uncle Nine and Brother Tin, Leung Ka Fai and Eric Tsang Chi Wai were in quarantine with two newcomers Aaron Chow Chi Kwan and Dough Boy at a hotel. The four got lonely, disguised themselves as the testers, went to different rooms to test hotel patrons and look for the chance for "hook up". They ran into different patrons, including landlady Yuen Qiu, office worker Jacky Cai Jie, and fitness lady Chau Sau Na.
In the film Chau Sau Na wore low cut fitness wear and jumped rope in front of Ka Fai. Uncle Nine took the chance to test Sister Na, but Sister Na kept slapping him. Actually Sister Na had a fear of men. When any man got close she would hit him. Uncle Nine thus suffered and turned all red and swollen from being slapped.
On the set, Ka Fai would tell Sister Na every time, "Hit me hard! Don't worry!" The crew immediately would apply ice to Leung Ka Fai while Sister Na kept apologizing. Ka Fai said that during the shoot he often had to work in full gear. Shooting in the balcony under the blazing sun, he almost had a heat stroke. In addition Sister Na slapped him like mad. However he did not feel that was rough, in comparison to the pandemic this was child's play. Ka Fai said, "I already am half out of the film industry. This time due to the pandemic I agreed to perform. I hope there wouldn't be a second time because of the pandemic." Ka Fai admitted that being able to be with a group of old and new on and off screen talent, he sensed how united everyone were. He hoped that even when for the pandemic, Hong Kong film industry would be able to continue to remain united!
Sister Na felt very sorry that she had to slap Brother Ka Fai like crazy. "I can only say sorry, Brother Ka Fai, thank you, Brother Ka Fai!" Sister Na said that when she got the script she really was very afraid and very nervous, because she did not know how to start. "After two or three takes, Brother Ka Fai suddenly asked me, 'Are you making a martial art film?' Then I was very afraid! Did you hit too hard? In addition when I saw how red and swollen his face was, other than sorry I really don't know what else I could say! Brother Ka Fai was really very professional, each time he would tell me, 'Don't worry about hitting me, I am OK!'" Brother Ka Fai made Sister Na relax in her performance, but seeing Brother Ka Fai having to keep applying ice her heart ached a little.