ANITA's Louise Wong is the Best New Performer favorite
courtesy of on.cc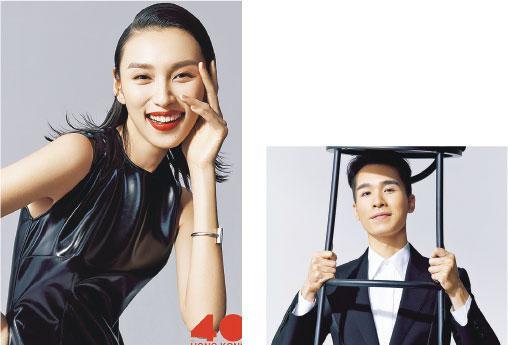 ANITA's Louise Wong and ZERO TO HERO's Leung Chung Hang
courtesy of mingpao.com
The 40th Hong Kong Film Awards would take place on July 17th. Before the ceremony, the event yesterday release the Best New Performer and New Director nominees' individual photos to welcome the upcoming ceremony.
This year's five Best New Performer nominees each had two nominations. Louise Wong Dan Nei played the diva of a generation in ANITA, Leung Chung Hang in ZERO TO HERO (MAMA DIK SUN KEI SIU JI) played the Hong Kong Special Olympics athlete So Wa Wai. They respectively would compete for Best Actress and Best Actor as well. Fung Ho Yeung played the "young So Wa Wai", Will Or Wai Lam who played a young man with aphasia in DRIFTING (JOOK SHUI PIU LAU), and Chung Suet Ying who played the unwed pregnant young woman in TIME (SAT CHOOK GOR WONG FUN) would compete for Best Supporting Actor and Best Supporting Actress.
New Director nominees included DRIFTING's Jun Li Jun Shek, CAUGHT IN TIME (CHUI BO)'s Lau Ho Leung, four time Hong Kong Film Award Best Art Direction and Best Costume and Make Up Design winner Man Lim Chung who was nominated for the first time as a director for his Ann Hui On Wa documentary KEEP ROLLING (HO HO PAK DIN YING); ONE SECOND CHAMPION (YUT MIU KUEN WONG)'s Chiu Sin Hang and HAND-ROLLED CIGARETTE (SAU GUEN YIN)'s Chan Kin Long would also compete for the prize for the first time. As usual, this year's New Director winner would receive HK$ 100,000 from Create Hong Kong and the Hong Kong Film Development Fund.
In addition, the event also announced that the July 17th live broadcast of the 40th Hong Kong Film Awards would provide narrative description and sign language interpretation. The Hong Kong Society for the Blind and Hong Kong Sign Language From Deaf Star would provide services for the visually impaired, the hearing impaired and those in need so they would be able to enjoy the event without any obstacle.