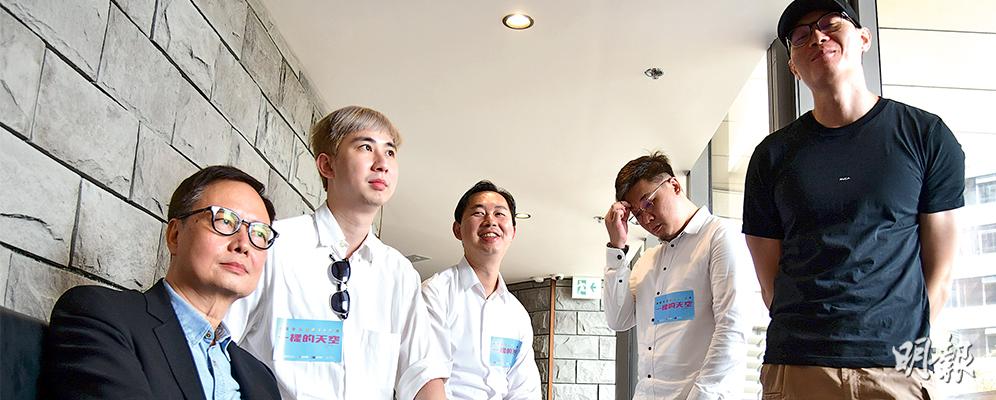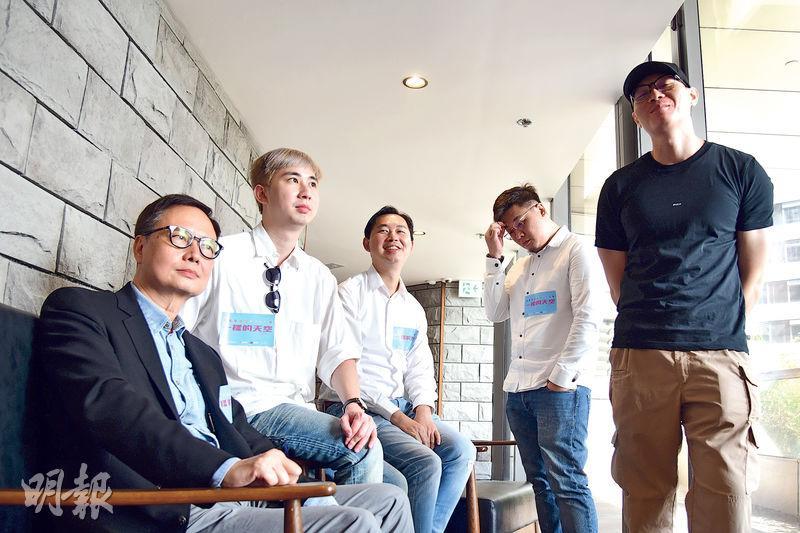 LOOK UP producer John Chong praises its 4 new directors Yip Ching Hang, Tim Poon, Hau Chor Fung and Daniel Chan, hoping that they would bring something new to Hong Kong film.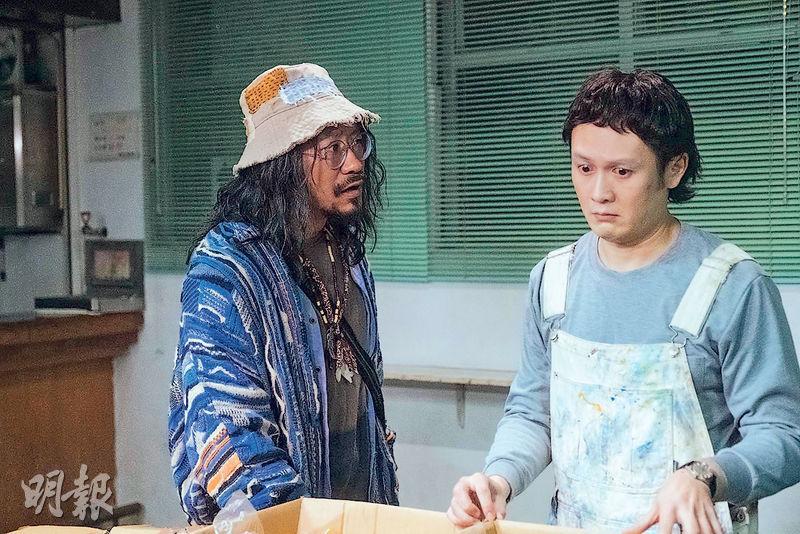 In 90 DEGREE WORLD, Aaron Chow plays a character with autism and OCD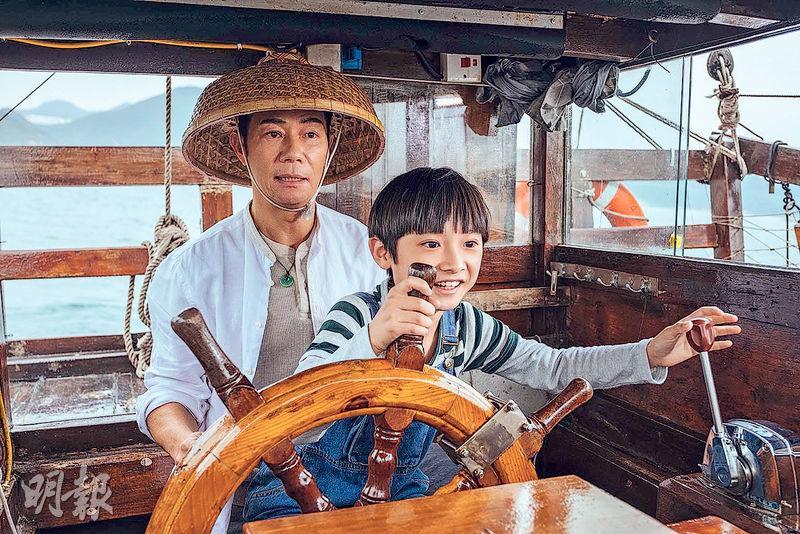 Eddie Cheung and a child actor play father and son in RIDING WIND,BREAKING WAVES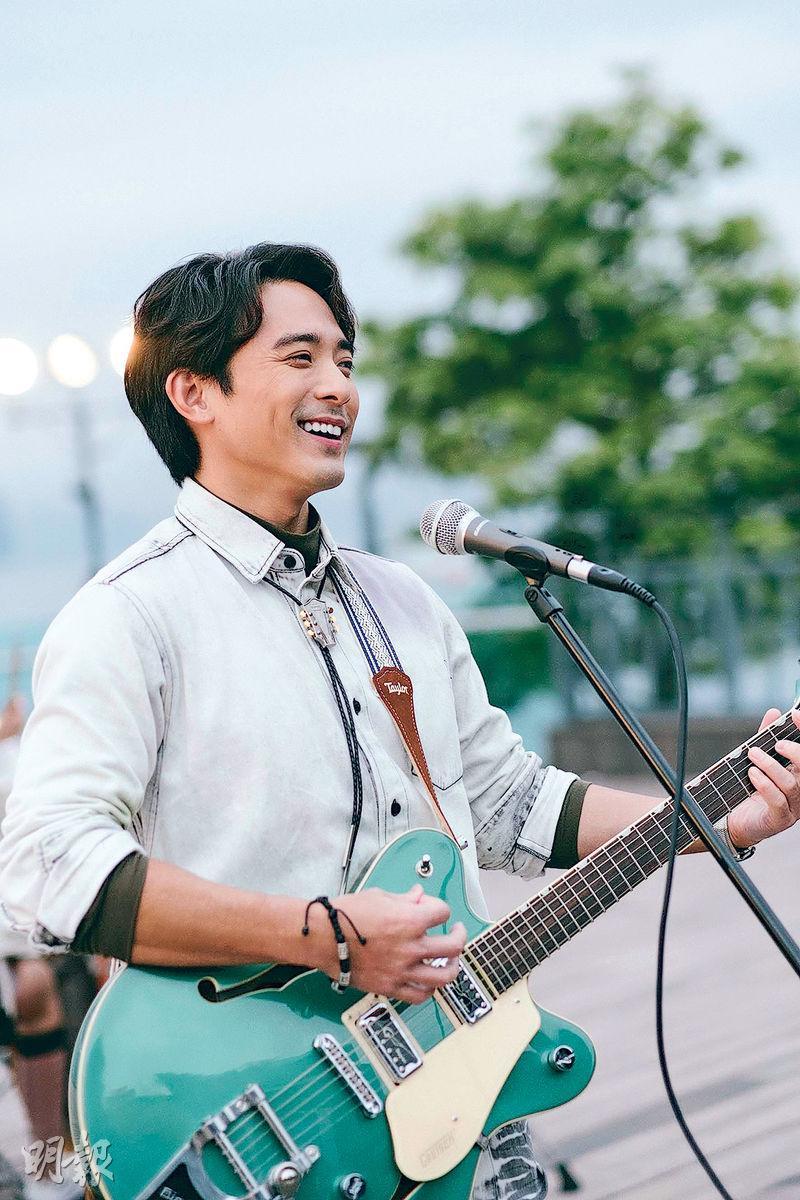 Alex Lam plays a music student in CANTONESE OPERA DREAM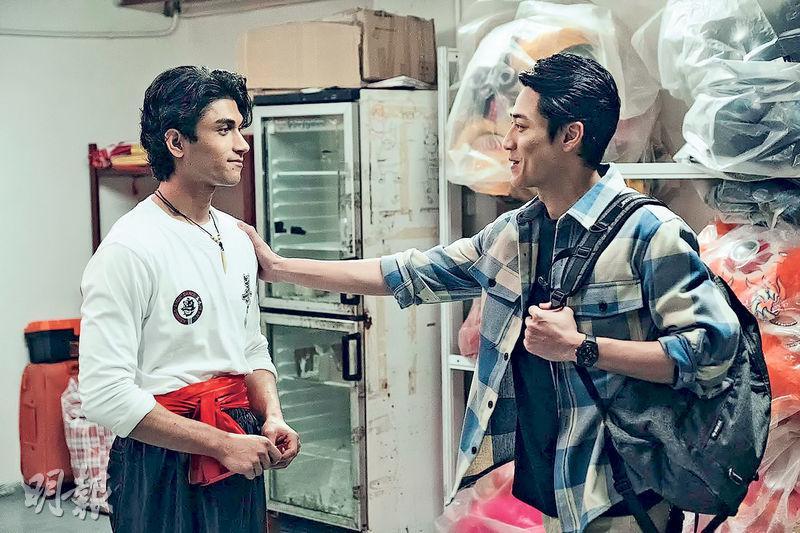 In UNDER THE LION PILE South Asian kid Bipin Karma chases a lion dance dream
Chu Kam Yin plays an social work student and connects the 4 segments
courtesy of mingpao.com
Would Hong Kong film be able to return to the 80s and the early 90s golden era after various setbacks? Many have discussed the topic. The INFERNAL AFFAIRS (MO GAN DOH) franchise producer, veteran filmmaker John Chong Ching said, "No!" He felt that Hong Kong film still had hope, but it would require new comers to accept the torch, bring a new outlook, resolve years of generation gap issues. Thus his new film LOOK UP (YUT YEUNG DIK TIN HUNG) used 4 new directors. He gave them opportunities in hopes of bringing a ray of light to the film industry.
The Chong Ching produced, 4 new directors Daniel Chan Yee-Hang, Tim Poon Chi Yin, Hau Chor Fung and Yip Ching Hang directed film LOOK UP (YUT YEUNG DIK TIN HUNG) consisted of 4 stories. It started production early this year when the fifth wave of the pandemic began, and thankfully finished without much problem. 4 directors said that they were scared but elated, happy to have the chance to make a movie for the big screen. However they also worried that under the pandemic they might not be able to finish it successfully. Yip Ching Hang said, "On the last day when I shot one of the segments UNDER THE LION PILE, it was when the pandemic was at its most severe. The next day someone tested positive on the team, so I immediately got tested and put myself in quarantine. The pressure then fell on another story CANTONESE OPERA DREAM's director Hau Chor Fung. At the time he still had one more unit to complete." Hau Chor Fung said that when something happened to the team, everyone was cautious and at high alert. Luckily they were able to finish successfully.
Chong Ching said that he asked 4 new directors to direct because the Hong Kong film industry were short on successors and faced a talent shortage. New talent must be cultivated. He asked new directors to make more movies and give them more on the job opportunities. He said, "Over a decade ago I already said that the film industry suffered from a gap. I was fortunate to join the Hong Kong film business at this peak in the 1980s as a screenwriter, at Cinema city I followed Tsui Hark, (Ringo) Lam Lan Tung, (Karl) Maka, (Dean) Shek Tin, (Raymond) Wong Pak Ming and other producing experts and benefit a lot; the opportunities were numerous then. I wrote 3 scripts in a year and people thought they were too few. Now due to the market shrinkage, all the independent companies were gone. Production drastically dropped, new directors and screenwriters had less on the job opportunities. Thus from when LOOK was greenlit to its completion, the time was very short. Even under the severe pandemic, I still gladly did it, gave them opportunities and hopefully brought impact to the film industry." He praised director Johnnie To Kei Fung for founding "Fresh Wave" short film competition to recruit talent and added a lot of new forces to the industry. More of such projects could be done. He also praised 4 new directors for having a lot of potential. He was very pleased with their results, as they have already received offers from others.
Working with 4 new directors, Chong Ching felt that he gained something. "After working in film for many years, there are many unwritten rules. 90% are right, 10% are too safe. However they have a lot of guts creatively, a lot of impulse that made me young. Actually creators must stay young at heart, this time I learned something." They also learned a lot from Chong Ching. Poon Chi Yin said that Chong Ching shared production experience with them and gave suggestions in every aspect. They learned how to do their best under limited resources and handled the interpersonal relationship with people in every post.
Speaking of whether Hong Kong film would be able to return to the glory days of the 80s to the early 90s, Chong Ching said, "No! Because the eras are different, people are different too. When we were screenwriters we brought 'Ma' to work, because everyone cursed us out. Now we are afraid of causing trauma for the next generation and we become the ones stuck in between." However he disagreed that Hong Kong film was already dead. "Now the setback the film industry faces is the greatest in history, but it still has hope. I would dare to say whether it would rise again, but I have seen the passion of the actors and the workers. For example in LOOK, actors came to show their support without paying any mind on salary. Another example would be (Louis) Koo Tin Lok kept asking everyone to use new actors, new directors. So Hong Kong film still has a sign of life."
4 new directors did not feel that Hong Kong film had no hope or had difficulty to survive. Yip Ching Hang felt that after the baptism by internet, the world's films have begun to transition. Now instead they had no regional restriction, only that the divide was too great they would need time to adjust. "Only certain level of directors would be able to make blockbusters. Less experienced directors would need to try new genres. With the impact of technological advances, the audience had too many choices. Convincing them to spend money and go to the movies would be hard, but traditional framework could be broken through as unique stories would be able to attract an audience. Although now Hong Kong films are trendy as Korean films have already surpassed them, as long as they firmly believe, continue to try, Hong Kong films still have hope."
Poon Chi Yin agreed, saying that Taiwan film once declined but now has many productions. "Although the production rate was not as it was before, but quantity didn't mean quality. Less didn't mean bad. There is no verdict." Hau Chor Fung did not feel that they were born at the wrong time. "Now there are more platforms. Aside from theaters, internet platforms are showing films and instead there are more opportunities. However as Chong Ching said, now it's not the master and disciple system like before. Without masters watching over you, it would be hard to learn their essence."
In the 25 years after the Hong Kong Hand Over, the most memorable for Chong Ching was in 2003 with the Mainland and Hong Kong signed the Closer Economic Partnership Accord. With the Mainland market, Hong Kong film got a shot of confidence. "By late 1990s, piracy made many film companies close. Everyone was very pessimistic, but Media Asian film was founded in 1993. After toiling for almost 10 years, finally with INFERNAL AFFARIS (MO GAN DOH) it shone and brought glory back to the film industry." As for the future of Hong Kong film, Chong Ching felt that the opportunity would lie in the Greater Bay Area. Because this market would be enormous, it would be beneficial to film professionals. With risk there is reward? He said, "The risk was the pandemic of the past few years, it's the same idea. With the Greater Bay Area market, there is another big opportunity."