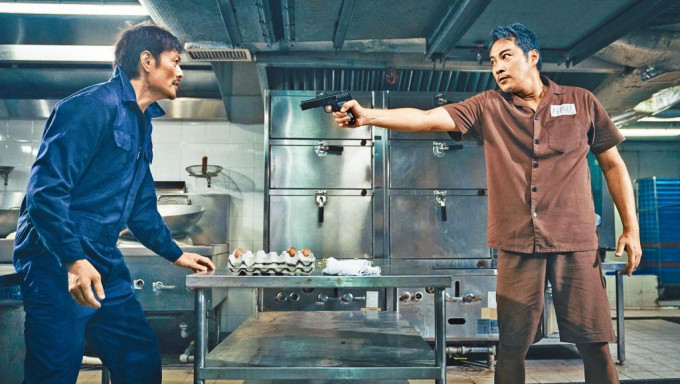 courtesy of singtao.com
courtesy of on.cc
Patrick Tam Yiu Man earlier worked on the film BREAKOUT BROTHERS 3 (TOH YUK HING DAI 3) with an injury and had a close quarter combat in the kitchen with Kenny Wong Tak Bun. He joked that he was already used to working with an injury.
The Ng Kin Hung and Edmond Wong Tze Wun produced, Mak Ho Bong directed, Tam Yiu Man, Ron Ng Cheuk Hei, Justin Cheung Kin Sing, Adam Pak Tin Nam, Kenny Wong Tak Bun starred BREAKOUT BROTHERS 3 added Moses Chan Ho as the new prison warrant Ma Man Ho. They battled brawn and brains to resolve another prison escape conspiracy! At the end of the second film Tak Bun went from the prison warrant to a prisoner. This time he even had conflict with the Tam Yiu Many played prison boss. Tam Yiu Man even performed their fight scene despite his injury as he and Tak Bun locked in on close combat.
Reportedly, Tam Yiu Man while working on BREAKOUT BROTHERS 2 injured his rib from a car roll over scene. Also because the second and the third films were being shot at the same time, when working on the BREAKOUT BROTHERs 3 kitchen fight scene with Tak Bun Tam Yiu Man despite his injury still fully submerged himself into it. He even said that he was already used to working with injury. "I am used to it, since becoming an actor I really have had any and all kinds of injury. Luckily my co-star is the rich in experience Tak Bun. I could not only relaxed during the shoot but the result was also great. However the most memorable was for my first film a Muay Thai master knocked out one of my tooth. Perhaps he thought he was in the ring, so I couldn't blame him. After I picked up the tooth I immediately went to the hospital. After the bleeding stopped I returned to the set to keep shooting."
Tak Bun said that he knew Tam Yiu Man was injured, so during the shoot he was extra cautious. "Because in that scene everyone was in close combat, I had to push him onto a table and punch him. I was very worried that I would hurt him more, but everyone was very professional. we had good stunt coordinators on the set. Although the process was difficult in the end everyone was able to finish the shoot successfully. I hope that the audience would enjoy watching it."