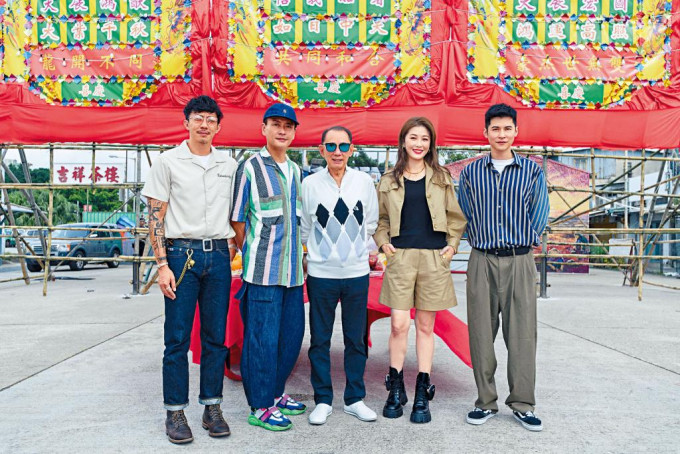 Louis Cheung, Bosco Wong, Albert Yeung, Niki Chow and Carlos Chan
courtesy of singtao.com
Louis Cheung and Carlos Chan work on a street chase scene
Bosco Wong runs for his life
courtesy of on.cc
Emperor Motion Pictures TRIAD 3 (JAT JIK 3) recently held its production start ceremony. Emperor Group chief Dr. Albert Yeung Sau Sing personally hosted the event. Producer Ng Kin Hung, Jason Siu Kim Chau and director Ng Ka Wai, leads Bosco Wong Chung Chak, Carlos Chan Ka Lok, Louis Cheung Kai Chung, Niki Chow Lai Kei, Mark Cheng Ho Nam, Michael Tao Dai Yu and others appeared in support.
TRIAD 2 (JAT JIK 2) has not opened yet, but the original team created TRIAD 3 was already starting production. The three leads Wong Chung Chak, Chan Ka Lok and Cheung Kai Chung were rather excited. Bosco revealed, "Last time my character was much more powerful, although this time i was still the eldest one of the three, I told the director, he had to give me some flaw so the audience would get a different feeling. Thus the director came up with some pretty funny faults for me!" Ka Lok also said that the characters were very different between the two films. "Last time I was the important figure who made the brothers turn on each other. This time the three are more united, because we have a common enemy we have to take care of!"
After a long time away from the big screen, Tao Dai Yu and Cheng Ho Nam this time joined the new film and played a pair of mob brothers. Dai Yu said, "We are like brothers but we also compete in the open and in secret. The characterizations have dimensions and they don't just fight and kiss. They would be very exciting!" Brother Mark said that this type of film represented a unique part of Hong Kong, then he very gladly took the role. "I am very happy, whenever I have roast pork it means a production start worship ceremony. Other places would make this type of arrangement. At my own home the feeling is extra different! Over the years, when I work in Hong Kong I also love roast pork and goose rice. Whenever I have it it means I have a job!" Dai Yu humbly said that he was a rare guest in the film industry. "I just chatted with Mark Gor just now during the ceremony. The last time we worked together was already over 30 years (1991). At the time I was still working on television. Time really passed by very fast!" Brother Mark once released a record. Dai Yu also recently with INVERT EARTH became "Music New Discovery". Would they be interested in singing the theme song for the new film? Dai Yu interrupted and answered, "Save this one for Brother Mark, don't mess with me!" Brother Mark heard and joked that his lips were sealed. "I would zip up my lips!" Dai Yu added, "When I was at the artist training class, I studied magic, Chinese dance, sing a little. I just wanted to try anything, the most important for everyone to be happy!" Brother Mark gave Dai Yu the thumbs up. "Multi-talented!"