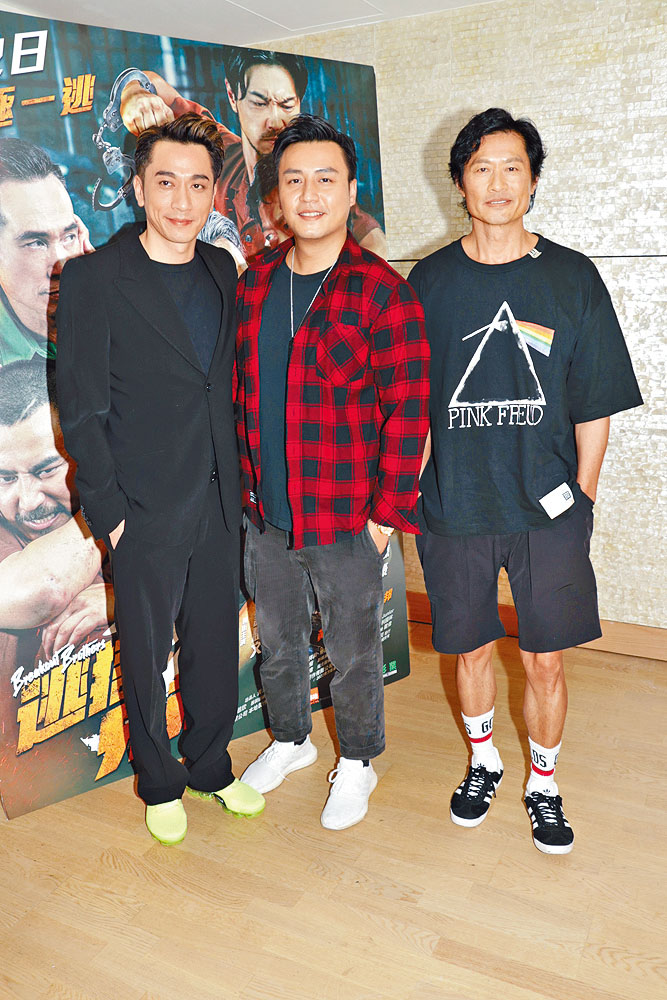 courtesy of singtao.com
courtesy of on.cc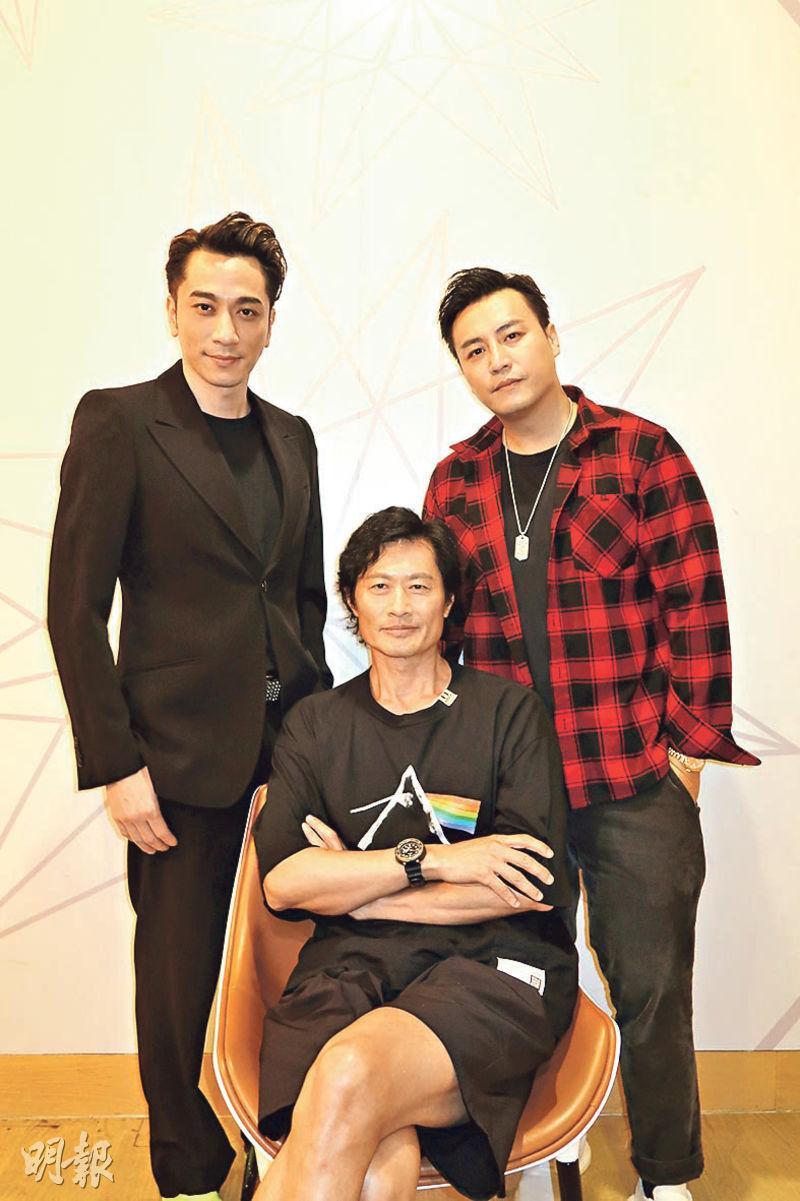 Ron Ng has to get off on time to wash his car, says co-stars Kenny Wong and Justin Cheung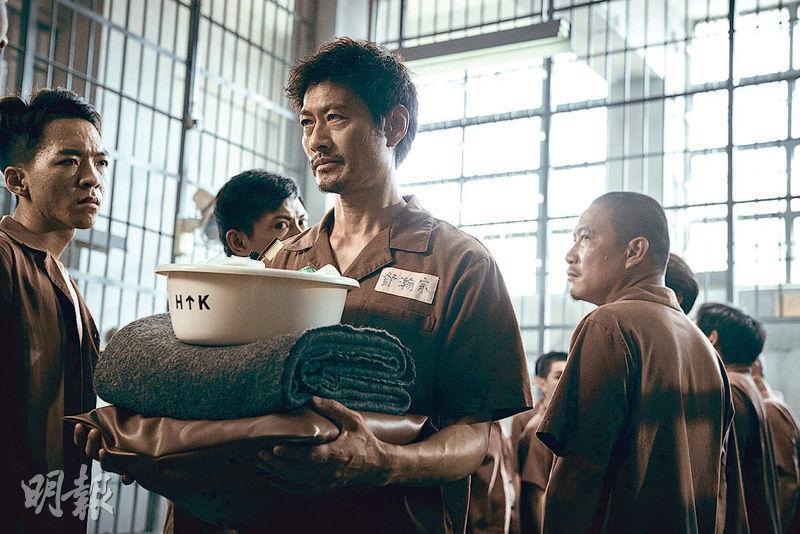 Prison warrant Kenny Wong becomes a prisoner in this installment
courtesy of mingpao.com
The Ron Ng Cheuk Hei, Kenny Wong Tak Bun and Justin Cheung Kin Sing starred film series BREAKOUT BROTHERS (TOH YUK HING DAI)'s "final chapter" -- BREAKOUT BROTHERS 3 added Moses Chan Ho as the new prison warrant, who battled brains and brawn with everyone to stop a great prison escape conspiracy. Earlier Ron, Wong Tak Bun and Cheung Kin Sing spoke to the press together. Aside from sharing fun experience from the production, Ron when asked about rumored girlfriend Hana Kuk Chi Kiu remained tight lipped, but thus became the laughing stock for his co-stars and was just as entertaining.
Taking part in all three films in the series, Tak Bun pointed out that in recent years Hong Kong films already very rarely would reached a trilogy. He wanted to thank the director the most, because he has never played the same character in a film trilogy in his career. Playing the prison warrant, he in the previous film already turned into a evil dark lord. Tak Bun said that although this character was pretty fun, it was also very hard to play. Ron and Cheung Kin Sing both said that he knew the role like it was the back of his hand. Tak Bun humbly said, "It's still very hard to play."
In the film Tak Bun had many scenes with Patrick Tam Yiu Man and Chan Ho, even a close quarter combat scene with Ah Tam. "In one scene we were fighting in the kitchen, with grease all over. We didn't roll on the floor but we did roll on the table." Earlier Ah Tam injured his ribs on the set, which Tak Bun denied having anything to do with. He pointed out that Ah Tam was injured on the set of the second film for a scene on the wires. Did he have to accommodate Ah Tam during the fighting scene? Tak Bun said, "Of course, but actually Ah Tam was the one who had to adjust to me. When I hit him, he would dodge to accommodate me. Because Ah Tam worked on the third film before recovering, Ah Tam was still able to block -- which was amazing."
The film's cast was almost all male, since they already had certain chemistry they clicked right away. The shoot of course was smooth. Cheung Kin Sing said, "As soon as we took our marks the production went smoothly, we don't hinder co-stars from doing their own things."
Recently linked to Hana in rumors, Ron was asked he was kept from dating. He immediately stressed, "No, at the time we were making two movies at once. I was able to coordinate. (Has the relationship become clear?) I didn't say that, when I said that I was able to coordinate I was talking about family. I was able to make time to eat with Ma. (What about your girlfriend?) I am not talking about that." When Tak Bun and Cheung Kin Sing heard that Ron was asked about his rumors, they immediately leapt up and back in a funny way. When asked if Ron would ask his girlfriend to support the new film, he said, "No matter who it is, they should buy their own tickets to support the film industry. (Would you go together to watch the movie?) I don't even have time to watch it myself, because I have to make movies."
Returning to their seats, Tak Bun and Cheung Kin Sing were asked if Ron has introduced his girlfriend to them yet. Cheung Kin Sing immediately said, "We don't ask, we talk about cars. If the car is the 'wife', then we are always swapping 'wives'." Ron reacted drastically, "Wow......jinx." Cheung Kin Sing revealed that even if Ron didn't bathe everyday he still would wash his car. Thus work could not go overtime. When asked if Ron's car only played Hana's songs, Ron was stunned and did not know how to answer. When asked if Hana visited the set while making this film? Ron stressed that she did not. Tak Bun stared at Ron and joked, "I don't even know which one is your girlfriend , I am waiting for you to confirm. You haven't confirmed. (You don't dare to say?) I really don't know." Cheung Kin Sing spoke up and explained that on the set aside from star Christine Ng Wing Mei, no opposite sex appeared.
Although their relationship has not yet been publicized, Ron and Hana were rumored to be living together in a mansion. Ron immediately denied that they lived together at the reported location. "At least investigate first, (investigate what?) I haven't thought about it. (Have you tried living together?) I haven't, no no no." Cheung Kin Sing chimed in, "You messed with people a lot, elder." Even when Cheung Kin Sing could not help, Ron helplessly said, "If he doesn't speak he is already helping me."
Earlier he and Bosco Wong Chung Chak shot promos for a music program. Ron said that it was only an interview taping for the show, he denied that he would perform on it. Because he had work on hand and the quarantine would require a month, he did not have time to attend the taping in Changsha. However he admitted that he still had a singing bug. If he would get to sing he would, he would have to wait until Tang Chi Wai return to Hong Kong he would be able to, because only he had any idea what his singing range was. Did Tang Chi Wai introduce Hana to him? Ron denied, "If we saw each other at TVB we definitely would know each other." Reporters joked that even if they knew each other they might not be dating, just like Tak Bun who has been at TVB for years but has never been linked in rumors with any female artists. Tak Bun pouted and said, "No one likes me." Ron pointed out that no one would want someone as handsome as Tak Bun? Tak Bun smiled and said, "Don't cheer me up."
The married Tak Bun was asked if he shared the advantages of marriage with Ron. Tak bun felt that Ron would know even without him telling him. Did Ron have any plan to wed? He said as usual, "Work comes first." Tak Bun agreed that work would come first, especially when Ron is transiting to an action star he should focus on work first.