courtesy of on.cc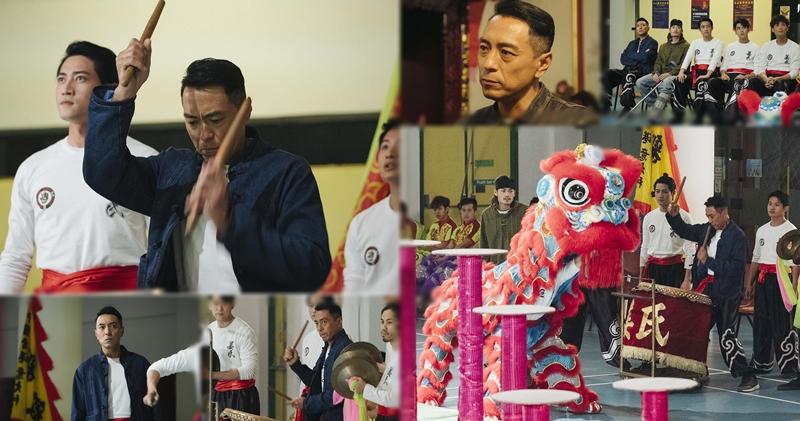 Philip Keung is convincing in his role as a lion dance master
courtesy of mingpao.com
The Sil-Metropole Organization, Emperor Motion Pictures, Media Asia Film and One Cool Film Production joint release, John Chong Ching produced, four new directors Daniel Chan Yee-Hang, Tim Poon Chi Yin, Hau Chor Fung and Yip Ching Hang directed film to commemorate the 25th anniversary of the Hong Kong Handover, LOOK UP (YUT YEUNG DIK TIN HUNG), would open on June 23rd. The film with four stories would show how Hong Kong people chased the dreams in the past 25 years.
One of the segments UNDER THE LION PILE was about the Bipin Karma played Nepalese who loved lion dance. Due to race he never got the chance to study the art. Later the Philip Keung Ho Man played Master Kwan made an exception and made him his disciple, so he would be able to fulfill his lion dance dream. As Master Kwan, Hak Jai actually studied lion dance on and off scene. He was able to dance with the lion head and play the drum. He was able to personally perform all the lion dance scenes in the film, more than capable of playing a master to teach his disciples. Hak Jai even shot videos on his breaks to teach viewers the basics of a resting lion dance and a moving lion dance to promote the art of dragon and lion dance.
The shoot also reminded Hak Jai of his childhood with his mother. Once his sister was ill and had to see a doctor. It happened to be the Lunar New Year and people were performing lion dances on the street. Hak Jai after taking his sister to see the doctor with his mother darted to the streets to watch the lion dance, and completely forgot to put his sister's medication in his pocket. He recalled, "Mama looked everywhere for me, the more she looked the madder she got. When she found me she got me a lashing without hesitation, but now looking back I really deserved it!"