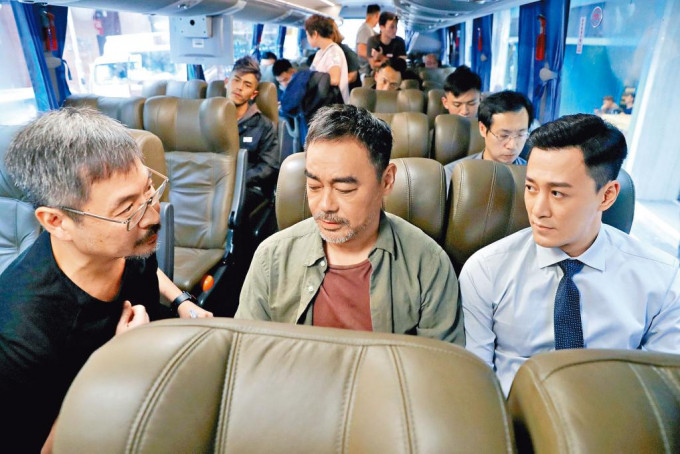 Sean Lau and Raymond Lam listen attentively to Director Wai Ka Fai's instructions
courtesy of singtao.com
Working with Sean Lau again, Charlene Choi says their chemistry is better than before
Raymond Lam learns a lot from working with Sean Lau
Joey Yung jokes that she visits the set to meet Sean Lau, much to friend Charlene Choi's dismay
courtesy of on.cc
In 2007 Wai Ka Fai and Johnnie To Kei Fung directed MAD DETECTIVE (SAM TAM). Wai Ka Fai said that the film had nothing to do with DETECTIVE VS. SLEUTHS (SUN TAM DAI JIN). "MAD DETECTIVE was a movie that was more mild mannered and reserved, with more internal depictions and more literary; DETECTIVE VS. SLEUTHS tries to package the story with action, The characters have no connection at all, even the meaning of DETECTIVE is different. The 2007 MAD DETECTIVE had double meaning, describing Ching Wan as a mad great detective but as a 'little mad' detective; but the DETECTIVE VS. SLEUTHS' detective represented a group that did something illegal, then with torture to follow up on some unresolved cases and kill some people."
30 years since the god series THE GREED OF MAN, Wai Ka Fai and Sean Lau Ching have already become a dream team. While writing this script, Director Wai already determined in his mind that Lau Ching Wan would be the first choice of the lead Lee Chun. "As everyone knows, Ching Wan is a very outstanding actor. I really like the way I work with him. He really trusts me, and I also really trust him. On the first day of work, we didn't complete the direction of the entire film at all, we would give some space and try and see how the character would transform. Starting from Fong Chin Pok, to many film characters later, to now we have been the same way!"
Ching Wan recalled when Director Wai invited him, he directly agreed. "He wanted to make a story about DETECTIVE VS. SLEUTHS, and asked me if I would do it? Did I want to work with him? I answered, 'sure', that's how it was!" Working together again after over 10 years, Ching Wan felt that Director Wai wanted to cook up an all new film with a different style. "He wanted to make a genre that he has not made before, a very heavy duty action film. In comparison he excels the most in drama. This time we have to climb the mountain and dive into the sea, with explosions and car chases. This subject in his hands would have a different, innovative view!"
Ah Sa and Ching Wan worked together on GOOD TIMES, BED TIMES (LUEN SEUNG NEI DIK CHONG), FANTASIA (GWAI MA KONG SEUNG KUK) and other films. Working together again, Ah Sa admitted that she felt drastically different. "Earlier collaborations with Ching Wan were all comedies, very different from this time. Before maybe I was younger, I didn't have much to talk about with Ching Wan. Maybe he felt that I was a little slow. However this time the entire film was very intense, basically every scene was very intense. It was either car chases or building jumps, if not buildings then jumping into the sea. All were like extreme sports. Thus the feeling became everyone was in the same boat! Working with Ching Wan was very comfortable. He gave me a lot of encouragement. For each scene everyone would communicate very clearly because the shoot, because they had many dangerous stunts in them."
In the film Lam Fung played Ah Sa's husband. Ah Sa revealed, "I was more familiar with Ah Fung. Before shooting this scene we just finished a 4 month long television series production. Thus basically we were able to finish my scenes with him very quickly, because we were very certain about each other's work format; he of course was very charming, Ching Wan aged like fine wine. Of course she was not calling him old, he had many acting experience. In addition he truly could play anything. In each scene he would have different changes in his interpretation. Thus I must focus to handle him!"
Lam Fung agreed, saying that Ah Sa as a good partner in his show business career. Because they have known each other for a long time, he understood her very well. As soon as they took their marks they naturally had chemistry. However this time for them was a huge challenge. Aside from trying this type of characters for the first time, he also worked with Ah Sa and Ching Wan. He looked forward to it very much and was honored. Ching Wan was the actor many actors would like to work with. Lam Fung was no exception. "Before the shoot began, Brother Ching Wan already kept 'pocketing things' (advise) for me, because it was my first time with this type of roles, I was very excited inside. However more or less I was very nervous. In addition I have never worked with Director Wai. I didn't know about his production methods or how he wanted the actors to grasp the roles. Ching Wan however told me, 'No need to think too much, as long as whatever the director says, you do then you would be fine!" When she ran into director Wai during the official shoot, he was a very tempered person, very friendly and strong. Thus I was able o focus on the character very quickly."