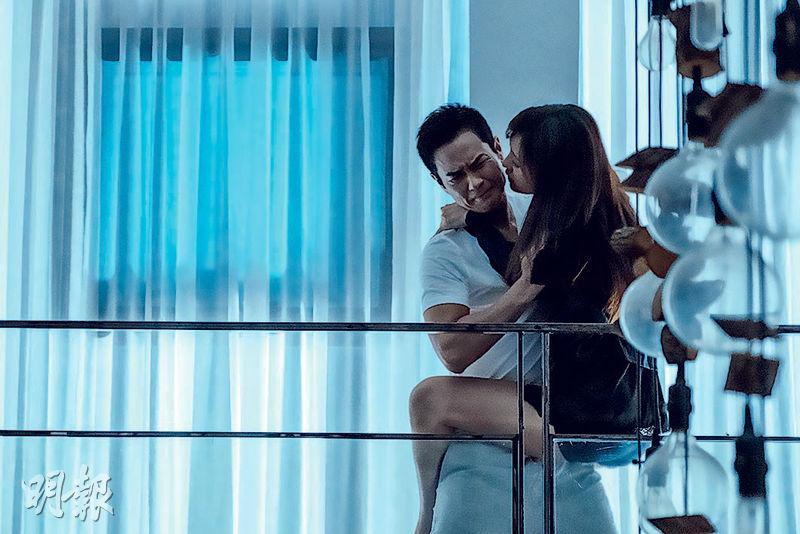 Kevin Cheng and Dada Chan have daring scenes in BURNING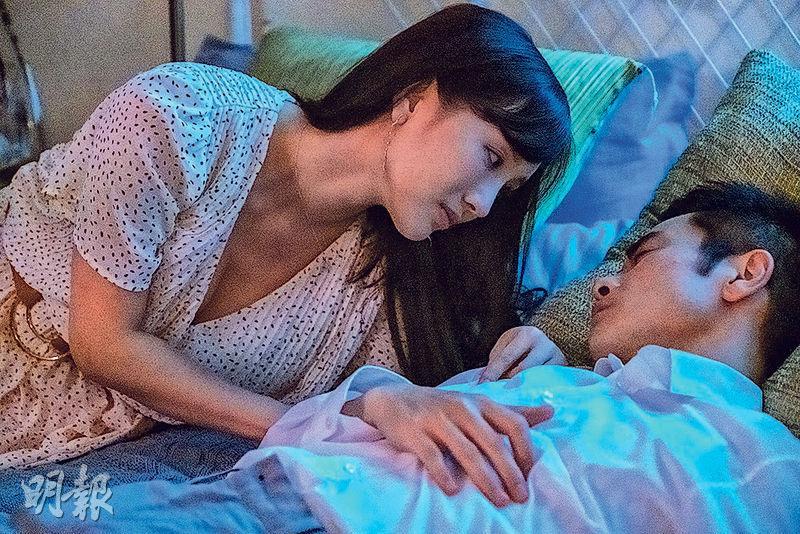 In the film a blacked out Kevin Cheng has an one night stand with Dada Chan
courtesy of mingpao.com
The Raymond Wong Pak Ming produced, Benny Lau Wai Hang directed, Kevin Cheng Ka Wing, Dada Chan Jing, Rebecca Zhu starred romantic thriller BURNING (FUN SUN) unveiled even more of the story with the production special. Dada had to drink for courage to perform the passion scene. Rarely performing passion scenes, Kaw Wing admitted that he was more panicked than enjoying it.
The film BURNING was about the Cheng Ka Wing played doctor Yuen Chi, who had a happy and quiet life with his wife and 5 year old son. However because Ka Wing blacked out once from drinking and had an one night stand with Dada. Since then Dada madly fell for the married man Ka Wing! The production special released yesterday revealed even more film details and the messages from them.
From the earlier released trailer and the production special, Dada invasively seduced Ka Wing and invaded his home. The love scene was even rather daring! Director Lau Wai Hang said that this triangle relationship story was something that everyone would have a chance to run into. The story was dangerous love story that revolved around three people. "The Dada played Fong Yu would risk everything for love, even exceeding an average person's value.....only to get the man she wants."
Ka Wing said about his character's state of mind. "I believe many men would have very complicated state of mind. On one hand you feel guilty and want it to end, but this woman from the one night stand suddenly appears in front of you. Inside you have to have a lot of struggle." Rarely performing such passion scenes in the past, Ka wing before the shoot had detailed discussions with Dada and director Lau Wai Hang in hopes of the most suitable way to shoot it. Ka Wing said, "I feel that actually girls playing this type of role would feel awkward or not dare to go too far, but I feel Dada is really very professional. I also thank her for trusting me very much, during the shoot it was harder than imagined. I at the time hoped that it would finish shooting as soon as possible! Perhaps people would say you are in luck, but making this type of scenes actually wasn't enjoyable at all. You have several dozen people staring at you while making this scene, you would be more panicked or nervous more than anything else. You would only hope to do a little better. You wouldn't have time to think about anything else. We are very pleased with the result."
Dada joked that she has not made such passionate scenes in many years. In the story she needed to go to Ka Wing's home to seduce her. For this seduction scene, she said that before the cameras started rolling she had to drink for courage. "Ka Wing was quite a gentleman. He often would keep me in mind, then chat with me in advance and coordinate our performance. This gave me quite a sense of security. Shooting this type of passion scenes, the most important is for the actor to be able to give me confident, to make me feel safe. So I am very grateful to Ka Wing. He also performed very well. I was pleased with the result too, I hope he would be as well!"