Carlos Chan and Michelle Wai hope their film sequel would turn into a film franchise
courtesy of on.cc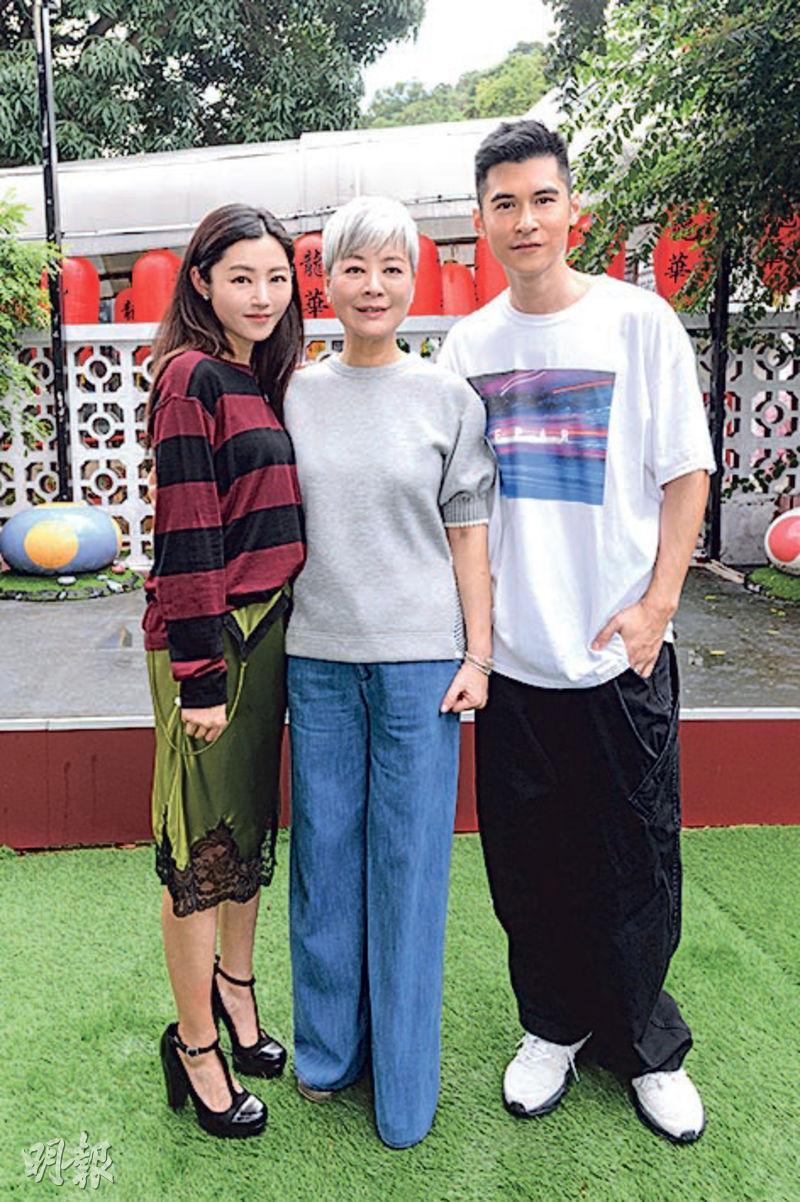 Michelle Wai, Elaine Jin and Carlos Chan work together on READY OR KNOT 2
courtesy of mingpao.com
The Emperor Motion Picture READY OR KNOT 2 (BUT YUT SING FUN 2) will be Anselm Chan Mau Yin directed, Carlos Chan Ka Lok, Michelle Wai Sze Nga, Chu Pak Hong, Kaki Sham, Renc Yeung Si Wing starred, Law Kar Ying and Vincent Kok Tak Chiu guest starred. Following the first film's momentum, READY OR KNOT 2 not only gathered the original cast but also added Elaine Jin (Kam Yin Ling), Law Kar Ying, Fish Liew Chi Yu, Michael Ning (Bak Ji) and others to create a dream team that was full of freshness.
Earlier READY OR KNOT 2 held its production start ceremony, which Emperor Group chief Dr. Albert Yeung Sau Sing personally oversaw. Director Chan Mau Yin led the cast, prayed for a smooth production and box office success; leads Chan Ka Lok and Wai Sze Nga were rather excited that READY OR KNOT would be able to have a sequel. Michelle said that when working with Ka Lok on the first film already had a lot of spark, so they immediately had chemistry as soon as they took their marks. Ka Lok said that he was not only excited but also a little nervous bout this performance. He felt that the character was even more difficult than the last time.
Ka Lok looked forward to READY OR KNOT being able to become a film franchise and continued on. Michelle even thought of getting pregnant then making the sequel to READY OR KNOT 2, so the photographer would be able to shoot the child birth process live.
One of the bright spots of READY OR KNOT 2 was the return of Kam Yin Ling, who would play Ka Lok's mother. Elaine was an award show frequently flyer. Known as the "Support Character Heavenly Queen", she had quite a presence. Ka Lok and Michelle both praised Elaine for her professionalism and being very friendly privately.
After recuperating for awhile, Elaine was willing to make READY OR KNOT 2 because the script was relatable. She felt that many families had to face the mother in law and daughter in law relationship. Elaine was very happy to work with film industry new comers, feeling no matter her age she would be able to naturally gel with them. Elaine earlier worked with Ka Lok once, while working for the first time with Michelle on this film. Elaine said that both put their heart into the work and were passionate. Elaine felt that she was blessed to return to film and was grateful. She also promised to keep making movies.