For the week ending Sunday June 5 2022
Photos courtesy of Yahoo! Movies Hong Kong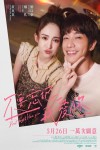 10 DON'T FORGET I LOVE YOU
Can : But Yiu Mong Gei Ngor Oi Nei
d. Barbara Wong Chun Chun
Gulnazar, Jasper Liu, Zhang Xinyi, Edward Ma Chi Wai,
Zhang Yang, Luo Ji
Rating : IIA
Length : 126 mins.
Opening February 2022 (POSTPONED)
Opening May 26 2022
Trailer :
https://youtu.be/jnL7AMhja7g
[ BROADWAY CIRCUIT ]
A brain tumour surgery leaves Yao with anterograde amnesia. As such, his memory "resets" everyday, that he can only recall past information but not new events. Unable to perform the simplest day-to-day tasks on his own, Yao hits rock bottom until meeting Xingyue. Endless "restarts" of their relationship is sweet yet unbearable, and would the two make this "unforgettable" love happen?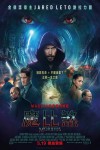 9 MORBIUS
d. Daniel Espinosa
Jared Leto, Matt Smith,
Adria Arjona, Jared Harris, Al Madrigal, Tyrese Gibson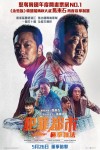 8 THE ROUNDUP
Can : Fan Jui Doh Si Gik Kuen Jup Fat
d. Lee Sang-Yong
Don Lee, Son Sukku, Choi Guy-Hwa, Park Ji-Hwan
Rating : IIB
Length : 105 mins.
Opening May 26 2022
Trailer :
https://youtu.be/o94UJhR2I6I
[ BROADWAY CIRCUIT ]
"You feeling it? We have to get this guy"
4 years after the events of Garibong district round up operation, Geumcheon Police's Major Crimes Unit is given a mission to repatriate a fugitive who fled to Vietnam.
Beast cop Ma Seok-do and Capt. Jeon Il-man intuitively realize that there's something wrong with the suspect's willingness to turn himself in and uncover crimes committed by a terrifying killer named Kang Hae-sang.
Ma and his unit begin their investigation across two countries and follow the bloody breadcrumbs left behind by Kang...
No borders in catching the bad!
Another exciting and tension-filled round up!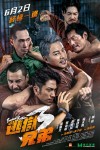 7 BREAKOUT BROTHERS 3
Can : Toh Yuk Hing Dai 3
d. Mak Ho Bong
Patrick Tam Yiu Man, Ron Ng Cheuk Hei, Kenny Wong Tak Bun,
Justin Cheung Kin Sing, Adam Pak Tin Nam,
Moses Chan Ho, Louis Cheung Kai Chung,
Rating : IIB
Opening June 2 2022
Trailer :
https://youtu.be/ZKxc8bm47L8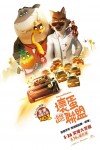 6 THE BAD GUYS
d. Pierre Perifel
Animation
English Voices: Sam Rockwell, Marc Maron, Akwafina,
Craig Robinson, Anthony Ramos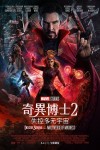 5 DR. STRANGE IN THE MULTIVERSE OF MADNESS
d. Sam Raimi
Benedict Cumberbatch, Elizabeth Olsen, Chiwetel Ejiofor,
Benedict Wong, Xochitl Gomez, Michael Stuhlbarg, Rachel McAdams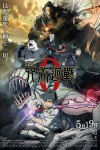 4 JUJUTSU KAISEN: ZERO
d. Park Sunghoo
Japanese Animation
Rating : IIA
Length : 105 mins.
Opening May 19 2022
Teaser :
https://youtu.be/xC-chvgpI9k
[ MCL CINEMA ]
Yuta Okkotsu witnessed the death of his childhood sweetheart in a traffic accident.
"Promise me we'll marry each other when we grow up!"
Rika was turned into a cursed spirit. Haunted by her spirit, Okkotsu wanted to end his life.
But he was taken to the Jujutsu High by the most powerful Jujutsu Sorcerer, Satoru Gojo.
There, Okkotsu met his new classmates: Maki Zen'in, Toge Inumaki, and Panda.
There, he made a decision.
"I want to have the courage to live on!"
"I'll break Rika's curse at Jujutsu High."
On the other hand, a mysterious villain has shown up. He is none other than Suguru Geto, the man banished by Jujutsu High for the massacre of innocent lives in cold blood.
Suguru wants to build a paradise of Jujutsu Sorcerers and eliminate all non-sorcerers.
He will unleash a thousand curses in Shinjuku and Kyoto.
Can Okkotsu stop Suguru before it's too late?
Can he break Rika's curse?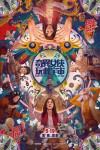 3 EVERYTHING EVERYWHERE ALL AT ONCE
d. Dan Kwan, Daniel Scheinert
Michelle Yeoh (Yeung Chi King), Stephanie Hsu, Ke Huy Quan,
James Hong, Jamie Lee Curtis, Harry Shum Jr.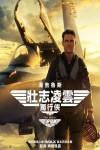 2 TOP GUN MAVERICK
d. Joseph Kosinski
Tom Cruise, Jennifer Connelly, Miles Teller, Monica Barbaro,
Val Kilmer, Lew Pullman, Glen Powell, Jon Hamm, Ed Harris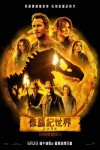 1 JURASSIC WORLD: DOMINION
d. Colin Trevorrow
Chris Pratt, Bryce Dallas Howard, DeWanda Wise, Isabella Sermon,
Laura Dern, Jeff Goldblum, Sam Neil,
Omar Sy, BD Wong, Justice Smith, Daneilla Pineda