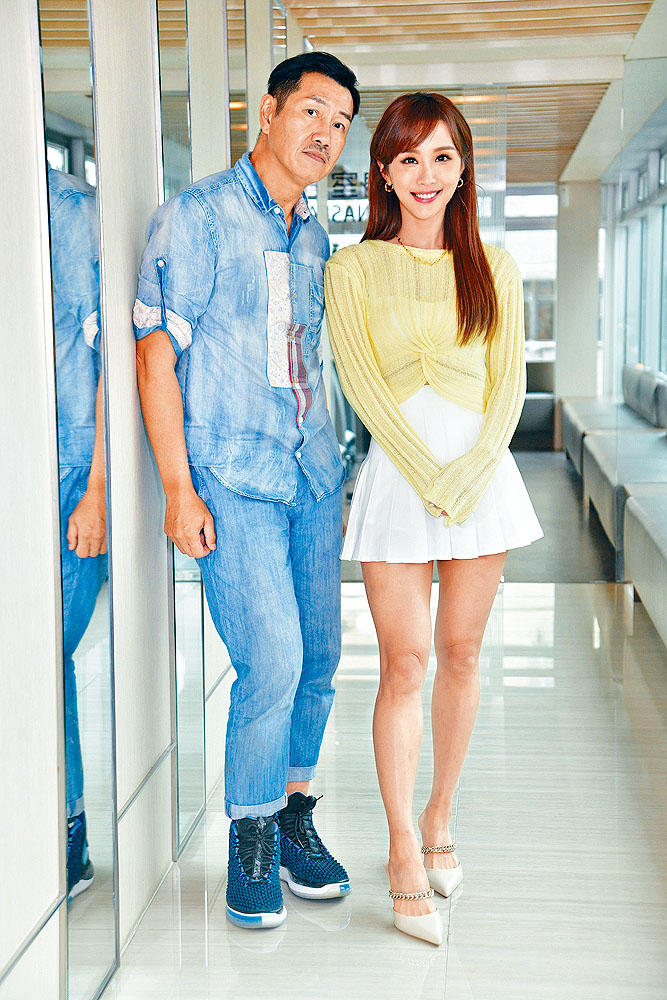 Dada Chan praises Tony Ho on his abuse scene skills
courtesy of singtao.com
Dada Chan does not mind bed scenes if the story requires them
Dada Chan praises Tony Ho for hitting with just the right amount of force
courtesy of on.cc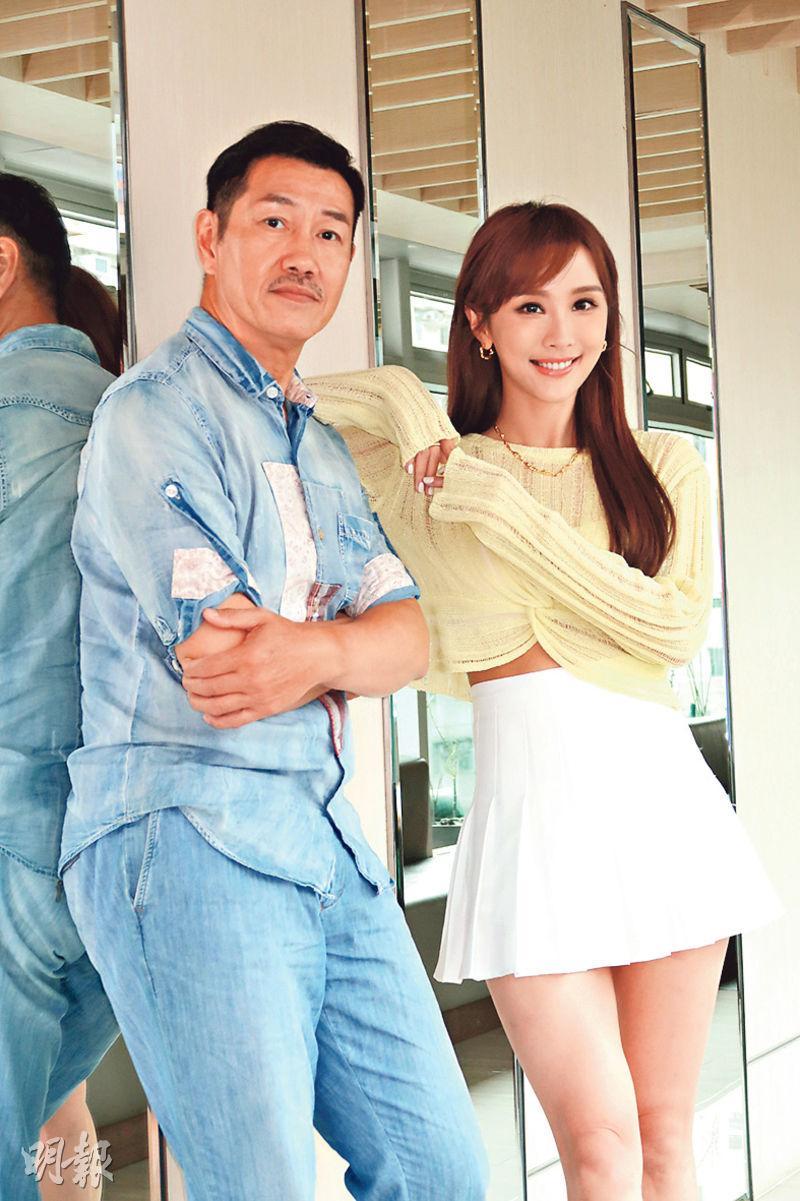 Tony Ho and Dada Chan play a married couple and off screen they have nothing but praise for each other.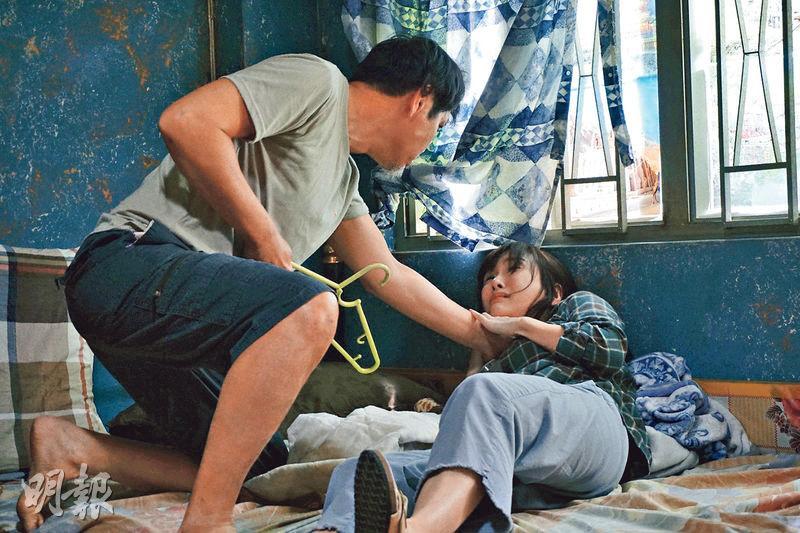 courtesy of mingpao.com
The film A MURDER ERASED (BEI SIU SUT DIK HUNG ONG) was Dennis Law Sau Yiu directed. In the film Dada Chan Jing suffered frequently domestic abuse at the hands of her former husband Tony Ho Wa Chiu, whipping her with a hanger, strangling her and beating her. In the film Dada and Timmy Hung Tin Ming also had a relationship. In one scene Dada wore a veil on her head and went with Tin Ming to get their marriage certificate, the director added a kiss scene at the last minute. Neither minded, and the result was very romantic.
During the shoot even the abuser Ho Wa Chiu felt bad for Dada, because struggling inside a 100 square foot subdivided room was tough. However Dada instead thought it was comfortable, mainly in the film she was already used to the long term physical abuse and did not resist much. Of course working on these "action" scenes would often leave minor wounds, bruises and scratches were inevitable. Ho Wa Chiu also said that he would hold back when getting physical with women. Dada praised her co-star, "He was very precise, I felt it but it didn't hurt me because before the shoot everyone already communicated and coordinated."
Dada said that in recent years her movies required some experience and had to get hit. Each time her character has been so tragic, next time it would probably be her turn to hit a man. Although recently she mostly played tragic character, she stated that she was able to leave them. "I have learned to leave the role in a flash, so I would bring the character into real life!" Ho Wa Chiu was hurt while working on MURDER. In one scene Lam Suet brought his followers to collect a debt and he was beaten. He was in so much pain that he wanted to die, but he still continued to finish the scene. Then he went to the hospital for x-ray and learned that two of his ribs fractured. He needed to rest for over a month before resuming work. He also joked that this time the director fooled him. "At first when he told me the story he said that Dada would be my wife. I thought I would get a kiss, but who knew only my fist would get intimate with her!" However, Ho wa Chiu in the film still had many love scenes with other actresses.
Dada said that she had many challenges in the film. Aside from the physical abuse, she also had a 8 year old son for the first time. She said, "Is it because I am getting older that I have to play a mother? However the child actor is very smart and already has acting experience. Everyone very quickly achieved chemistry." In addition Dada and Hung Tin Ming also had a relationship. Tin Ming said that when he first read the script it had a very passionate bed scene with Dada, but the director removed it in the end and did not shoot it. Dada said that everyone communicated about this scene and felt that their character expressed a spiritual exchange and not physical relationship. "Even if we shot it it would not have gone too far. This isn't a category III film. Instead in one scene Tin Ming and I went to pick up our marriage certificate. I wore a veil to get registered. I was already at the prettiest in my life, it felt rather romantic!" She pointed out that the director at the last minute added a kiss scene. At the time she and Tin Ming looked at each other and felt that everyone's response that it was acceptable, comfortable. In the end the scene was very helpful to the characters and had a very romantic feeling.
Did Dada wanted to get hit or have more intimate scenes? She said, "Now from film productions we want improvement, instead we want to make something that they haven't tried before. I hope to play roles I haven't played before and challenge myself!" Earlier due to the pandemic, many films were halted. As the pandemic began to subside, this month she received several scripts in a row. She said that earlier she made four movies that have yet to be released. She hoped that the film industry would be able to get back on track soon. She would continue to receive even more good scripts, and kept accepting challenges!