courtesy of on.cc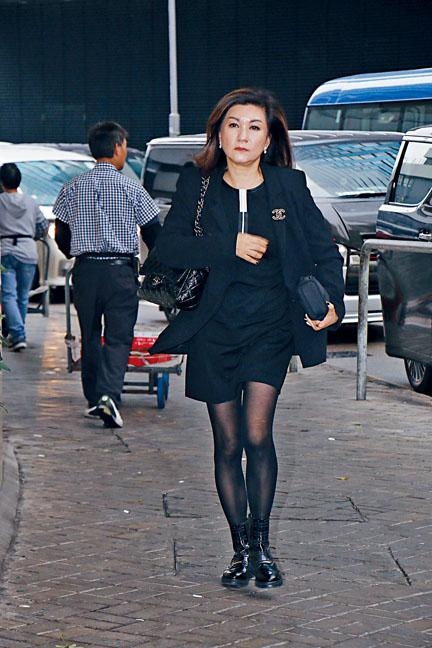 courtesy of singtao.com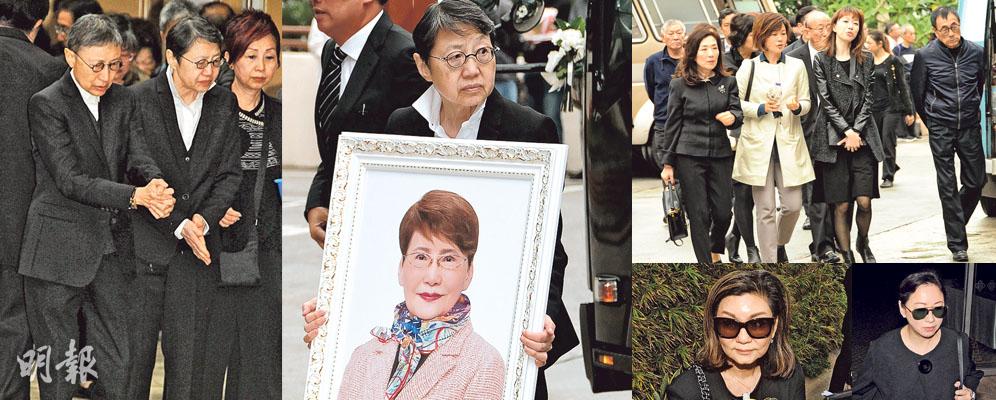 Maege carries Mona Fong's photo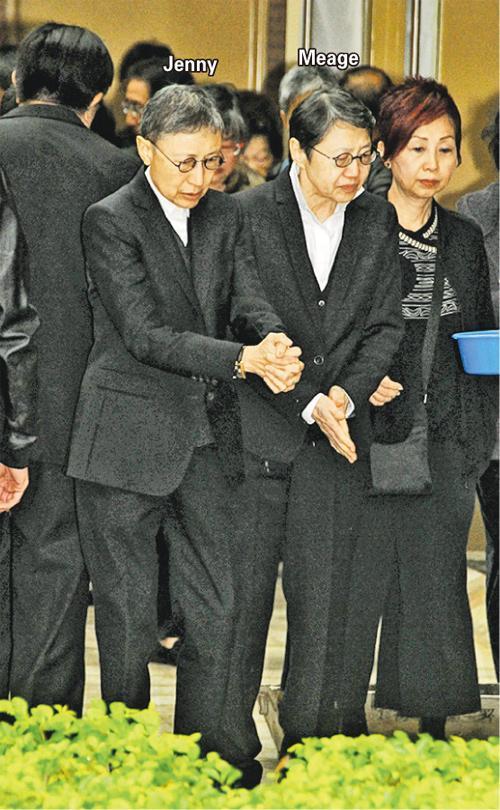 Mona Fong's sisters Jenny and Meage
JoJo Cho and Liu Chia-Chang are among those who bid Mona Fong farewell at the crematorium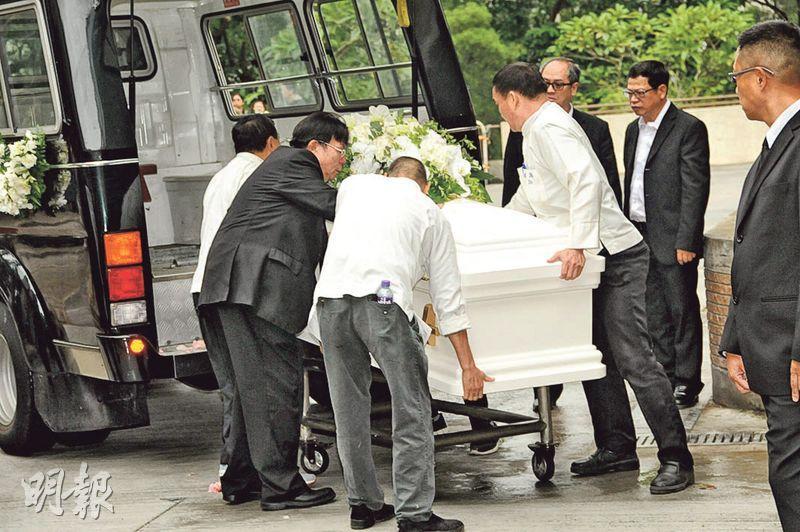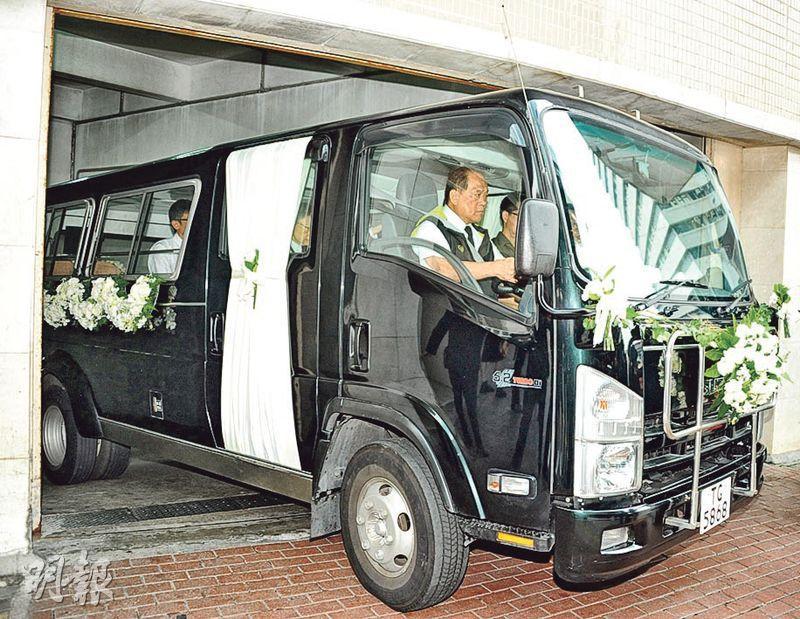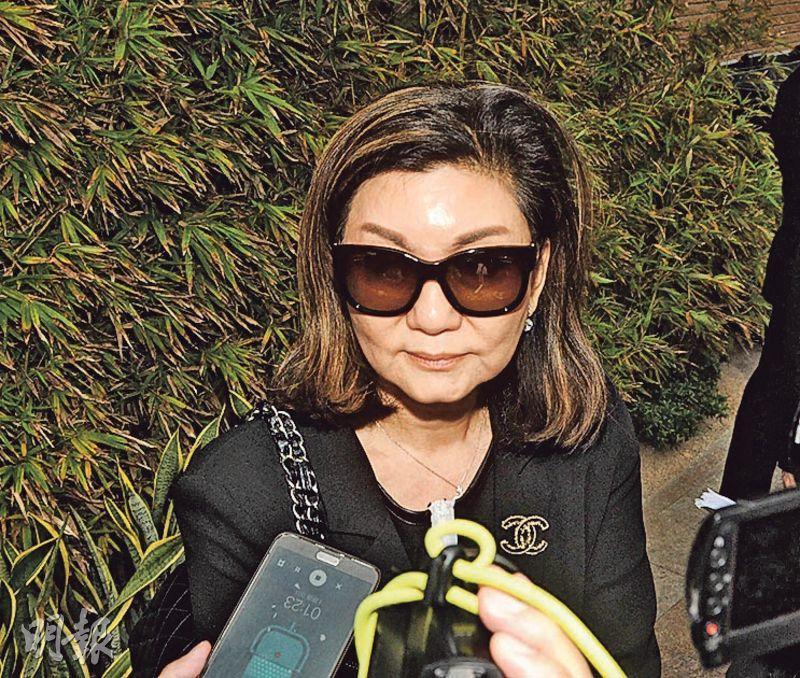 Elaine Lok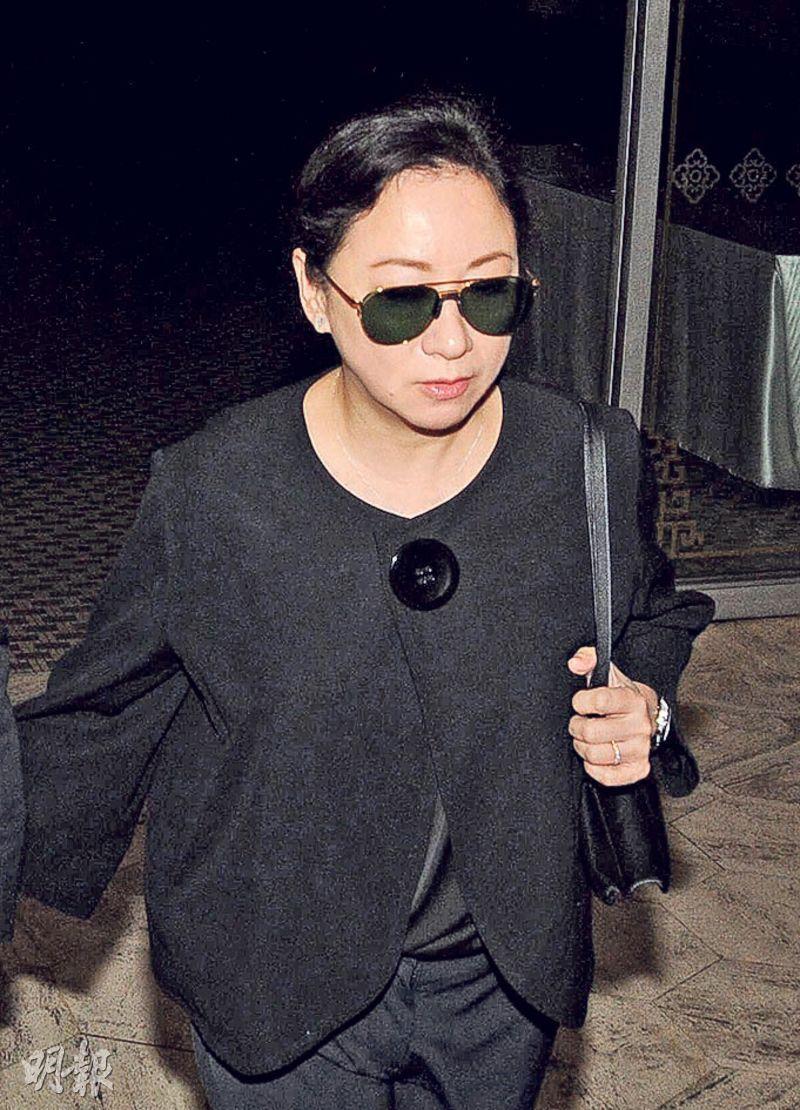 Charlene Tse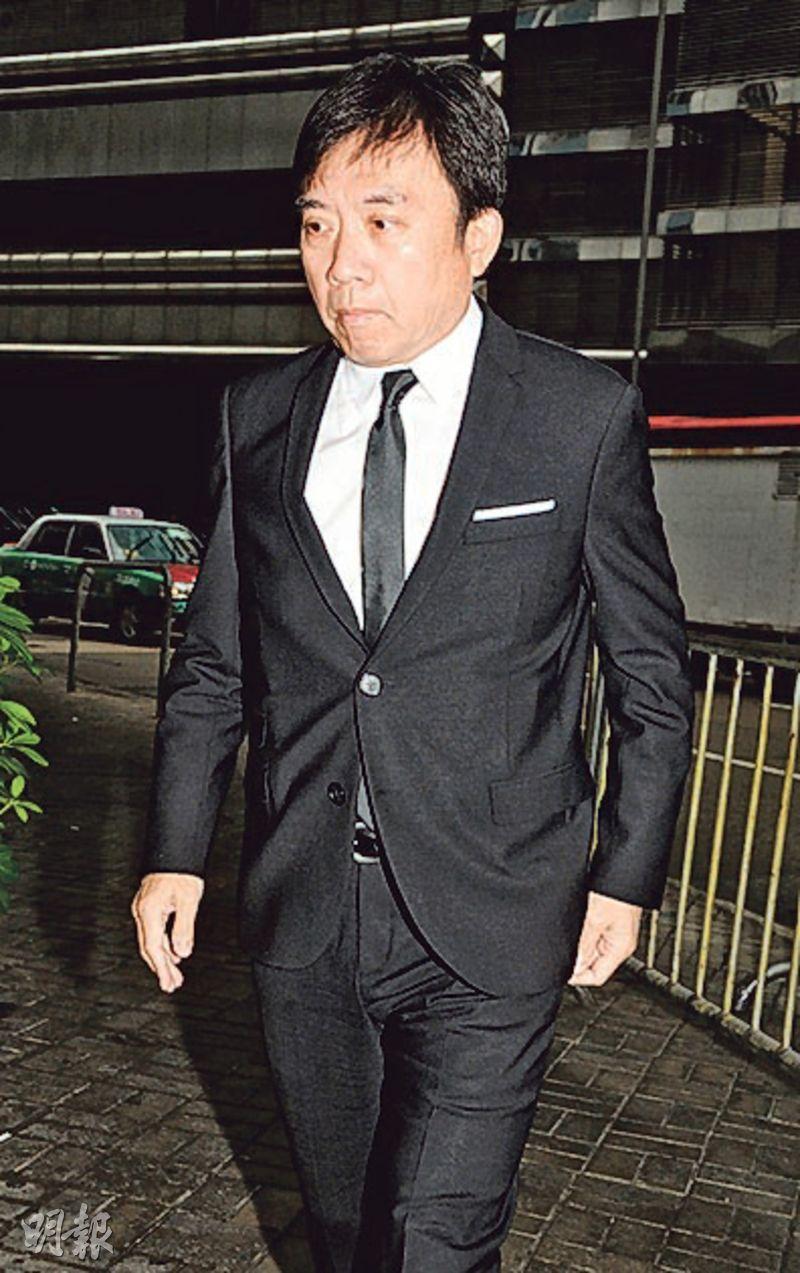 TVB chair Chan Kwok Keung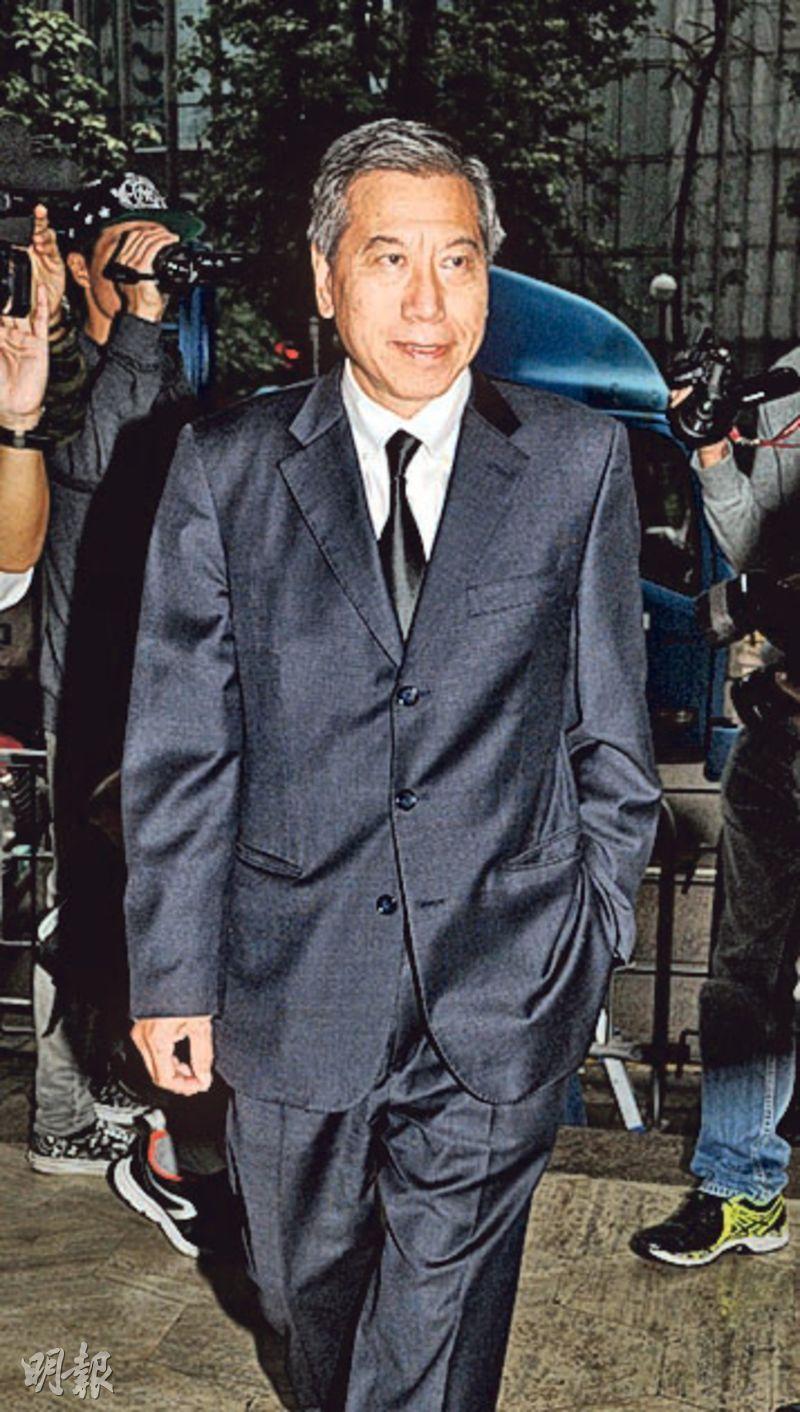 TVB executive director and group CEO Lee Bo On
courtesy of mingpao.com
Sir Run Run Shaw (Siu Yat Fu)'s widow Mona Fong Yat Wa (Aunt Six) passed away last week at age 83. Yesterday her funeral took place at the Hong Kong Funeral Parlor. Her friends included TVB president Chan Kwok Keung, executives Lee Bo On and Elaine Lok Yi Ling, Liu Chia-chang, JoJo Cho, Charlene Tse Ning and her husband and Crucindo Hung Cho Sing came to send Aunt Six on her final journey. Lok Yi Ling said that Fong Yat Wa perhaps due to her family and friends seeing her off looked as peaceful as she was sleeping.
Yesterday morning Fong Yat Wa's funeral took almost an hour and the Buddhist ceremony ended around 10:50 AM. The white coffin was transported to the Cape Collinson Crematorium. Around 11:30 AM, Fong Yat Wa's sisters Meage and Jenny arrived in the horse. The "elder sister" Meage carried her eldest sister's color photo into the hall. The crew immediately closed the gate. When family and friends arrived on a bus the hall was opened up again for them to enter.
The 15 minute cremation ceremony was closed door. After the ceremony Meage and Jenny left first but they looked sorrowful as they were sobbing with tissue in hand. They did not stop to speak to the media. Lok Yi Ling despite a sad look was still willing to stop for an interview. "Ms. Fong was very pretty, as comfortable as she was asleep; maybe because her family, colleagues and friends have come to send her off."
Did Ms. Fong have any final wish? Ms. Lok said, "She constantly told everyone to be happy, healthy and work hard. At this age she had more money than days. She often told us to eat better, love our families, pay attention to our health and not to give ourselves too much stress! However she really missed work, really missed the 50th TVB anniversary. Last Saturday she was still speaking on Sunday (the 19th) she wanted to go to the anniversary. Only everyone thought that the anniversary had so many people, we told her to rest a little."
Was Ms. Fong already hospitalized at the time? Ms. Lok said, "She was in and out. Her appetite was already poor. She couldn't eat and had to dietary supplementary shots." Ms. Fong was rumored to have a blood disorder. Ms. Lok replied, "She felt that she wasn't sick, only her health was poor. Even when she was working she didn't eat on schedule. At meetings she would only have a sandwich. Instead when she went out for work she would usually take us to have the best. She really loved us."