Despite Lok Ho Ming's efforts, his co-hosts are criticized
Hubert Wu denies that Alfred Hui's department nets him awards
courtesy of on.cc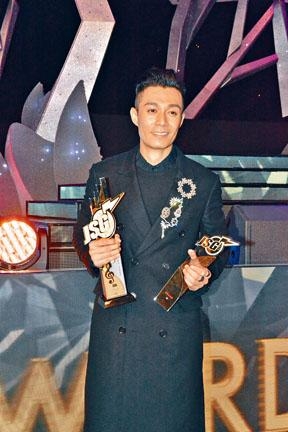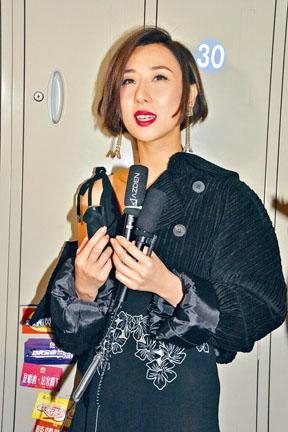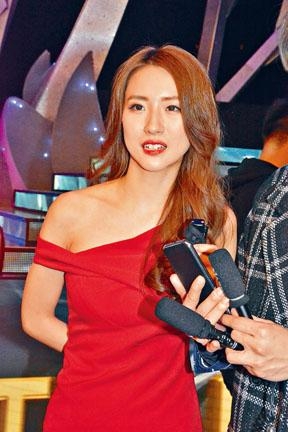 courtesy of singtao.com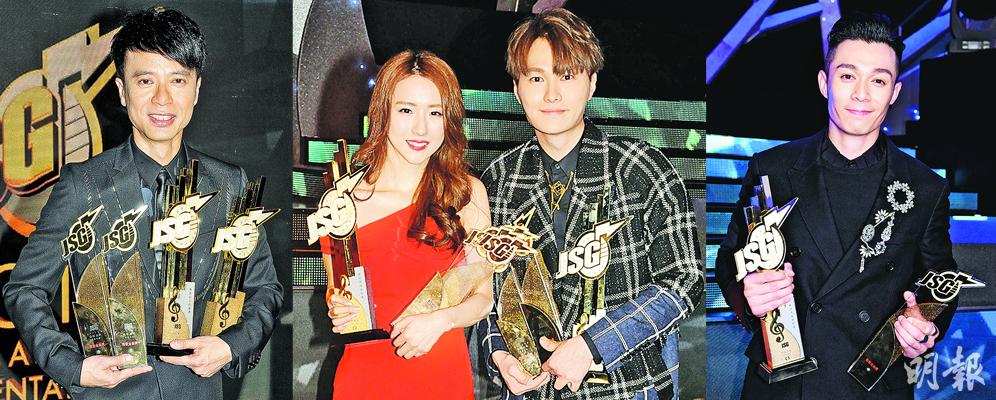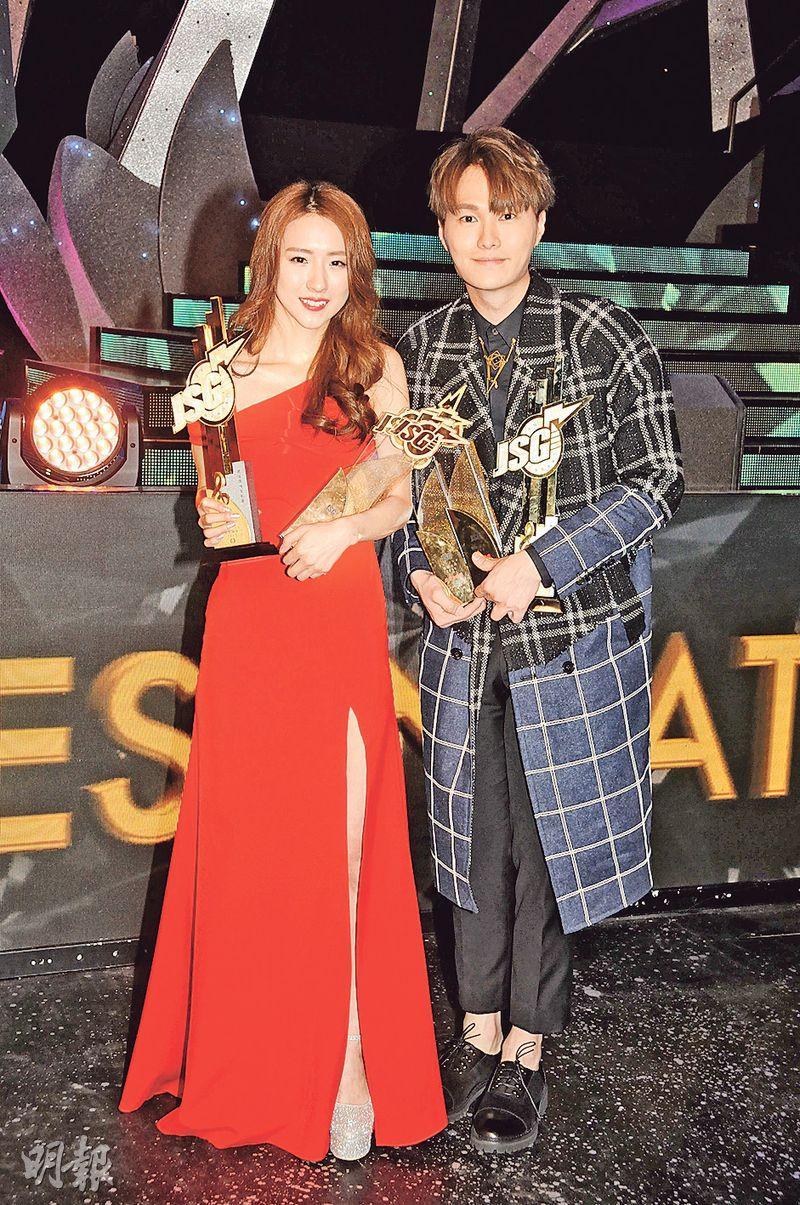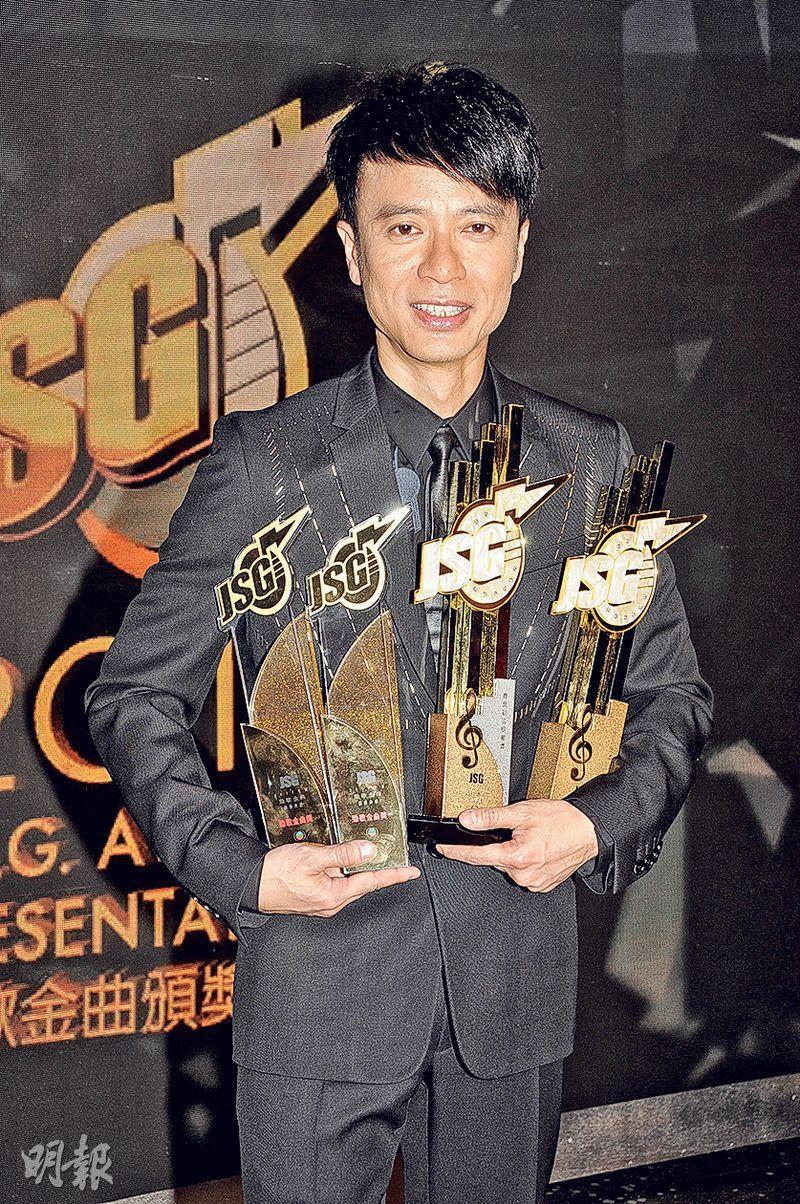 Vincy Chan leaves her marriage to fate but hopes she will get married
courtesy of mingpao.com
Fama feels winning without attending instead is showing respect to them
Hubert Wu finally breaks his "bridesmaid curse"
The Voice Entertainment's Fred Cheng also wins
Vivian Koo and Vincy Chan perform the classic hits
Vincent Wong, Kayee Tam
Kandy Wong
Sisley Choi
Veronica Shiu
The hosts' stiff dancing becomes a source of comedy
Hana Kuk
Mag Lam
courtesy of on.cc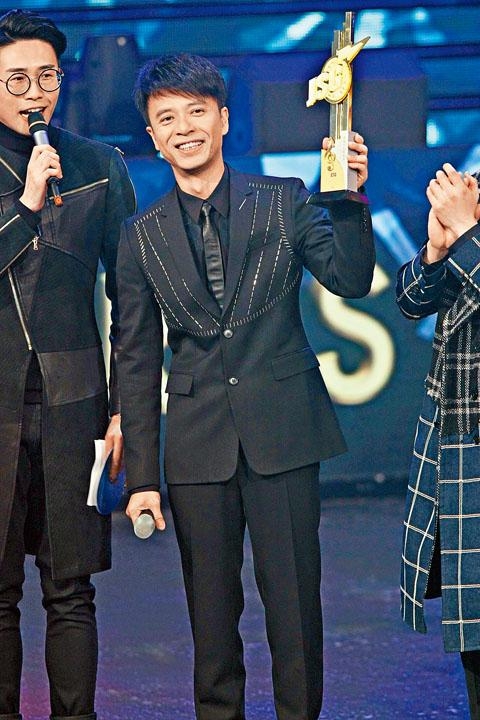 courtesy of singtao.com
Hacken Lee wins 4 awards at home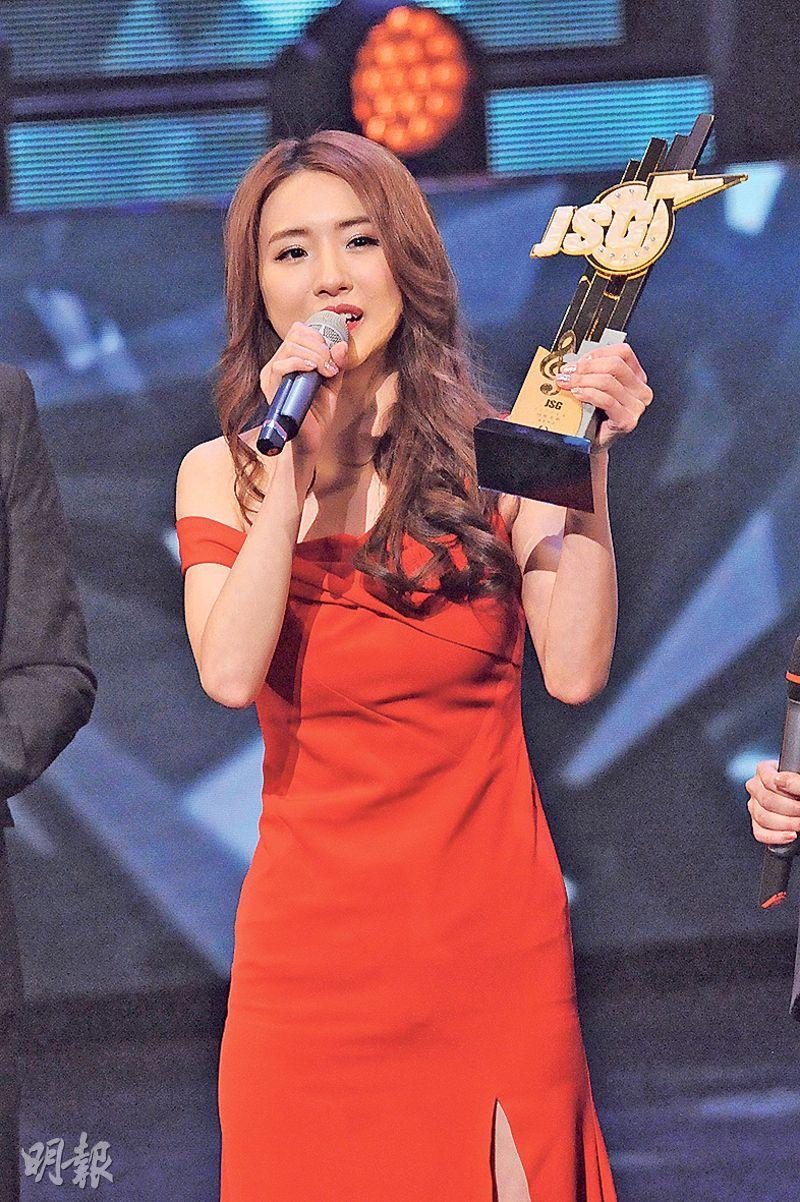 Hana Kuk in her 18 months career wins 3.5 awards for series songs to lead the female singers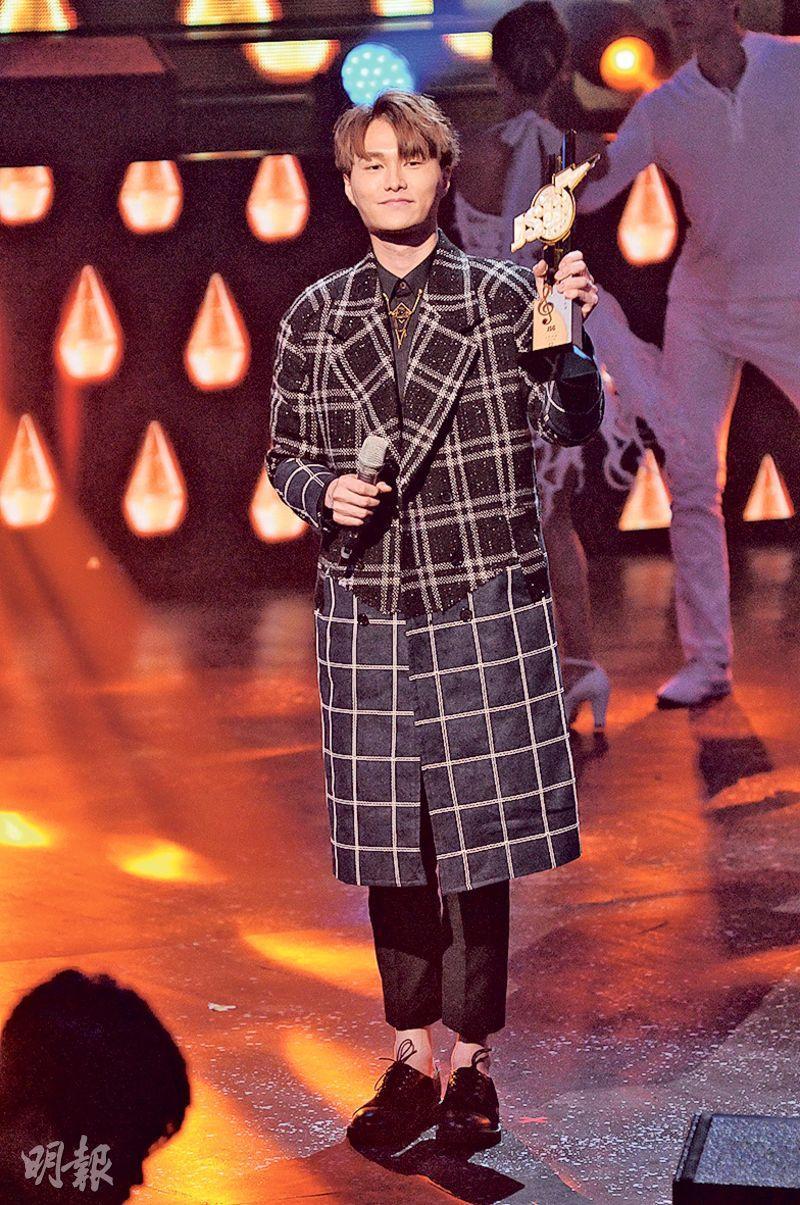 Hubert Wu gets 3 awards supposedly after Fred Cheng is suspended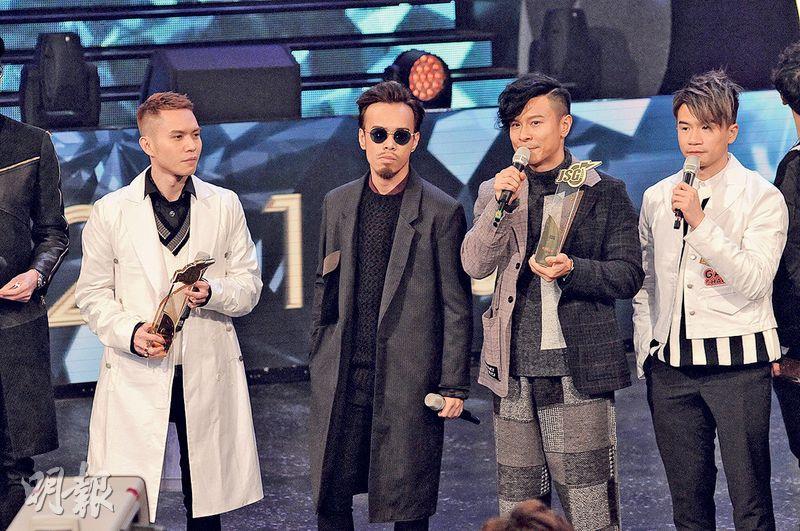 C AllStar still wins Best Band/Group despite annoucing their breakup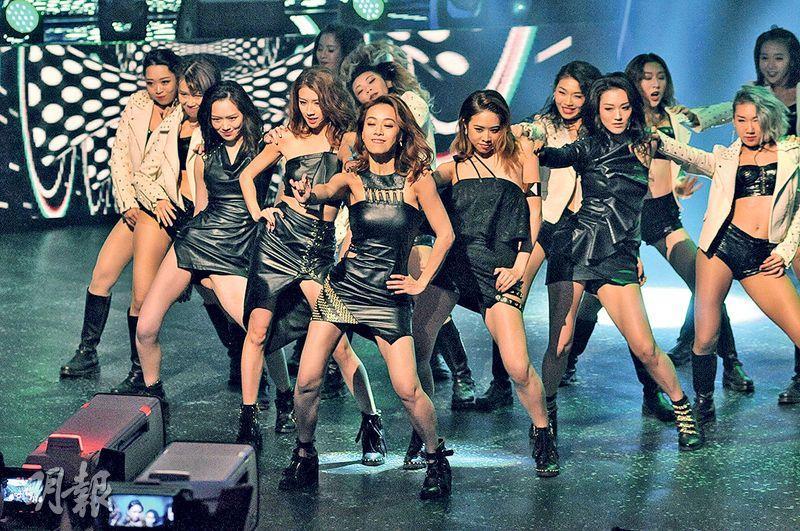 Crystal Fung, Sisley Choi, Jacqueline Wong, Veronica Shiu and Bowie Cheung open the show in black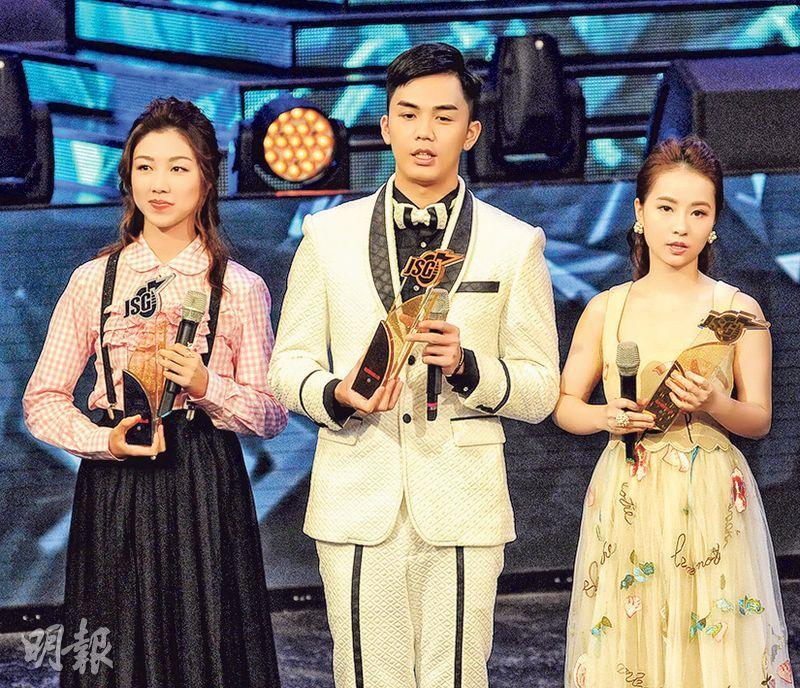 new comers Cherry Ngan, Alvin Ng and Vivian Koo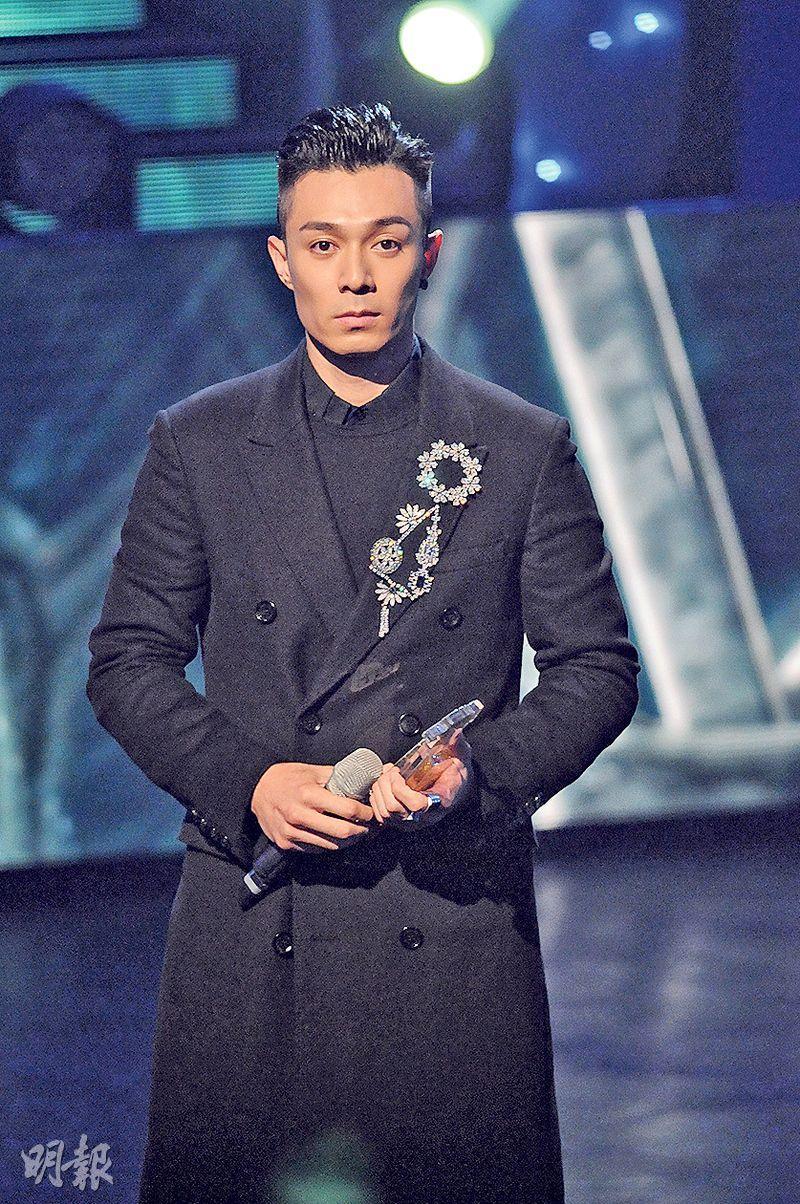 Pakho Chau betrays the Voice Entertainment and insists on attending the Metro Hit Awards, but he still gets 2 awards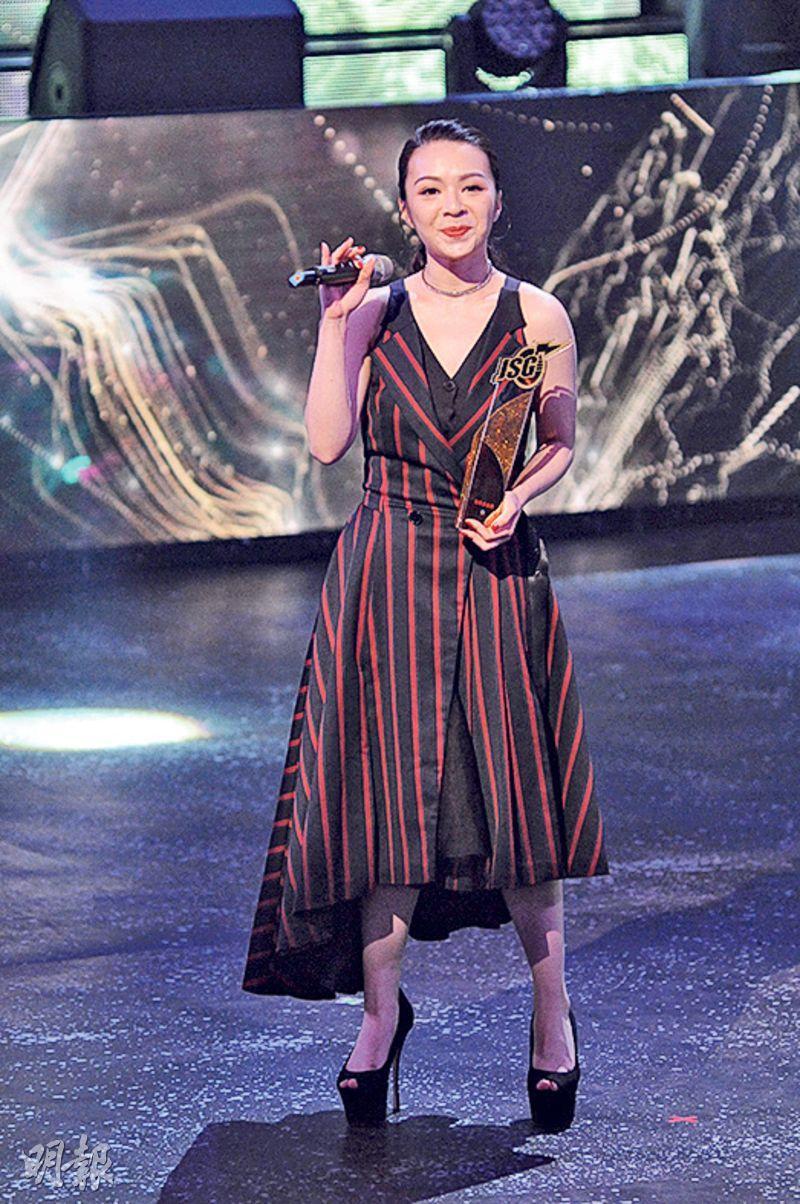 JW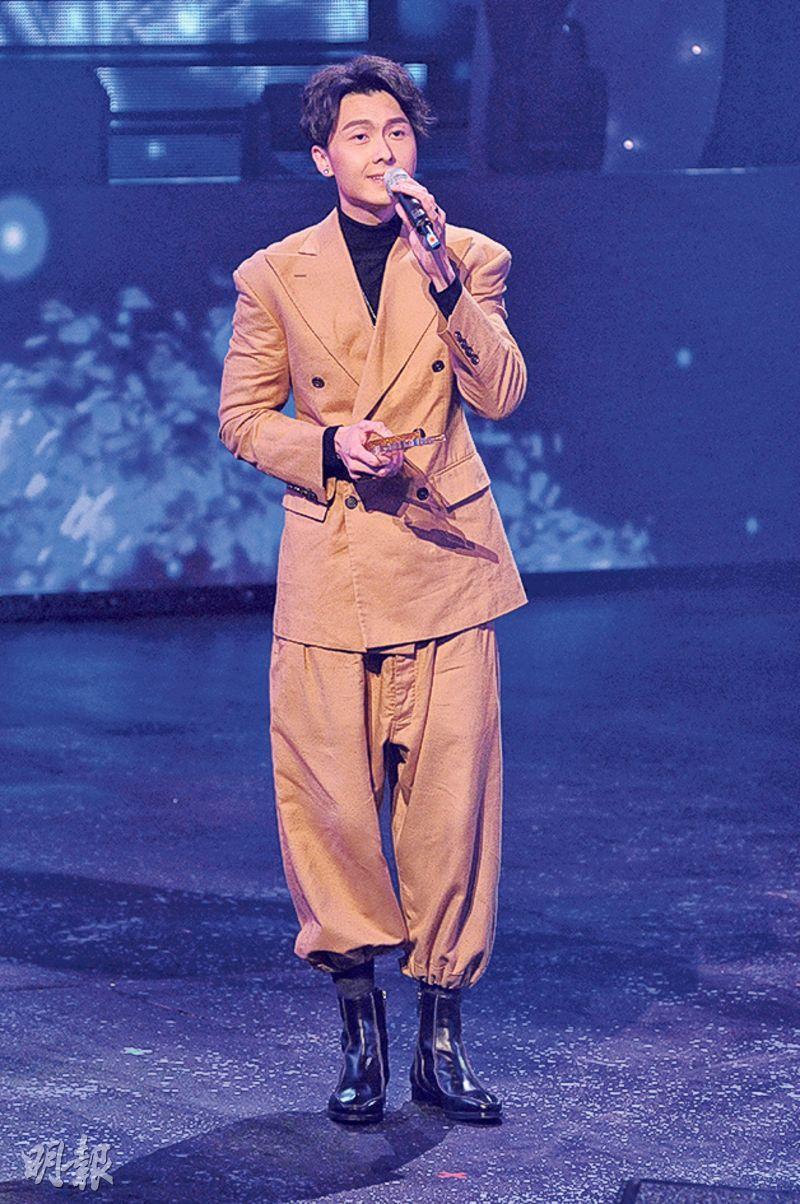 Vincent Wong is out of it from working on series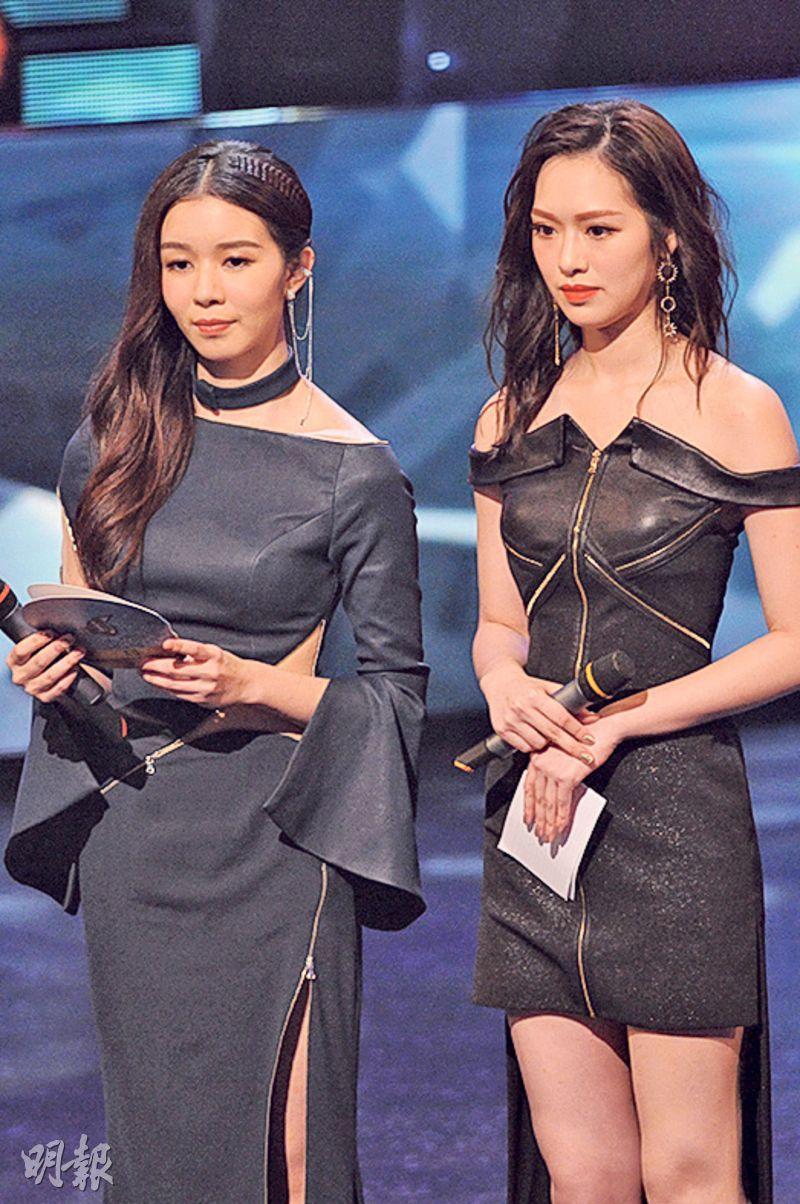 Louisa Mak and Crystal Fung keeps on flubbing their lines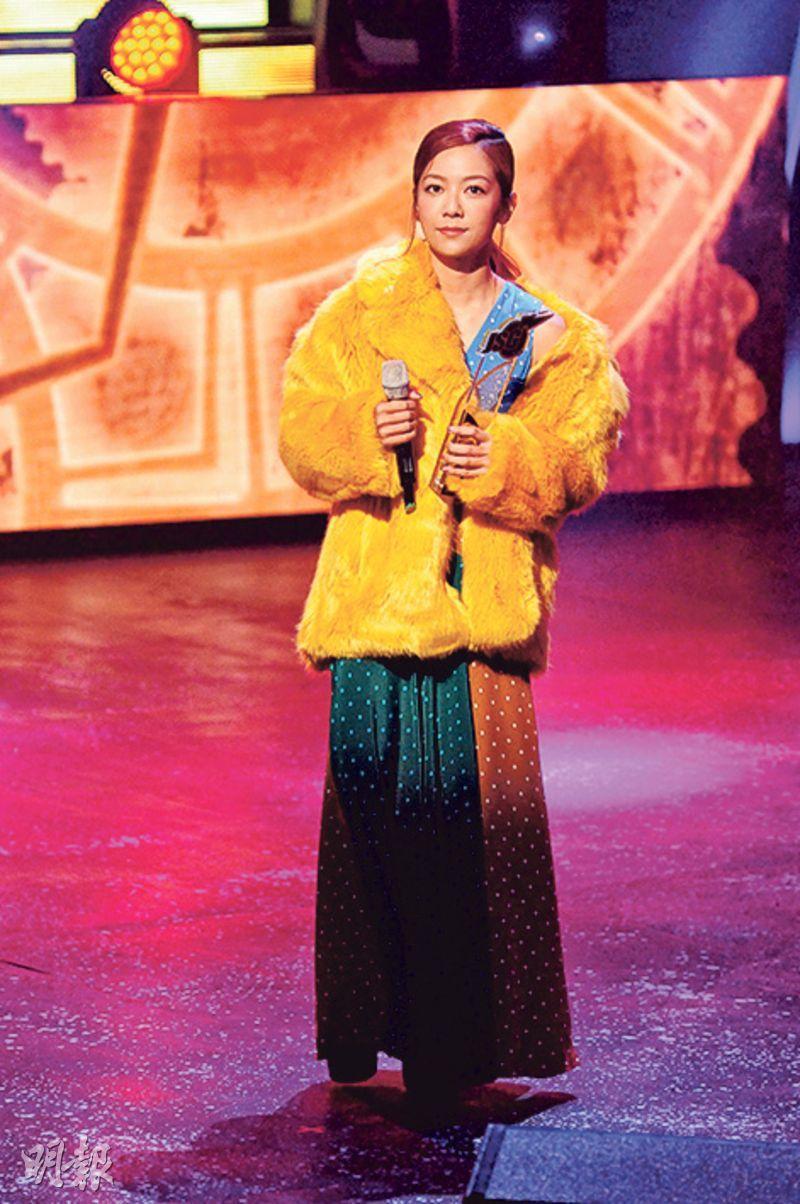 Stephanie Ho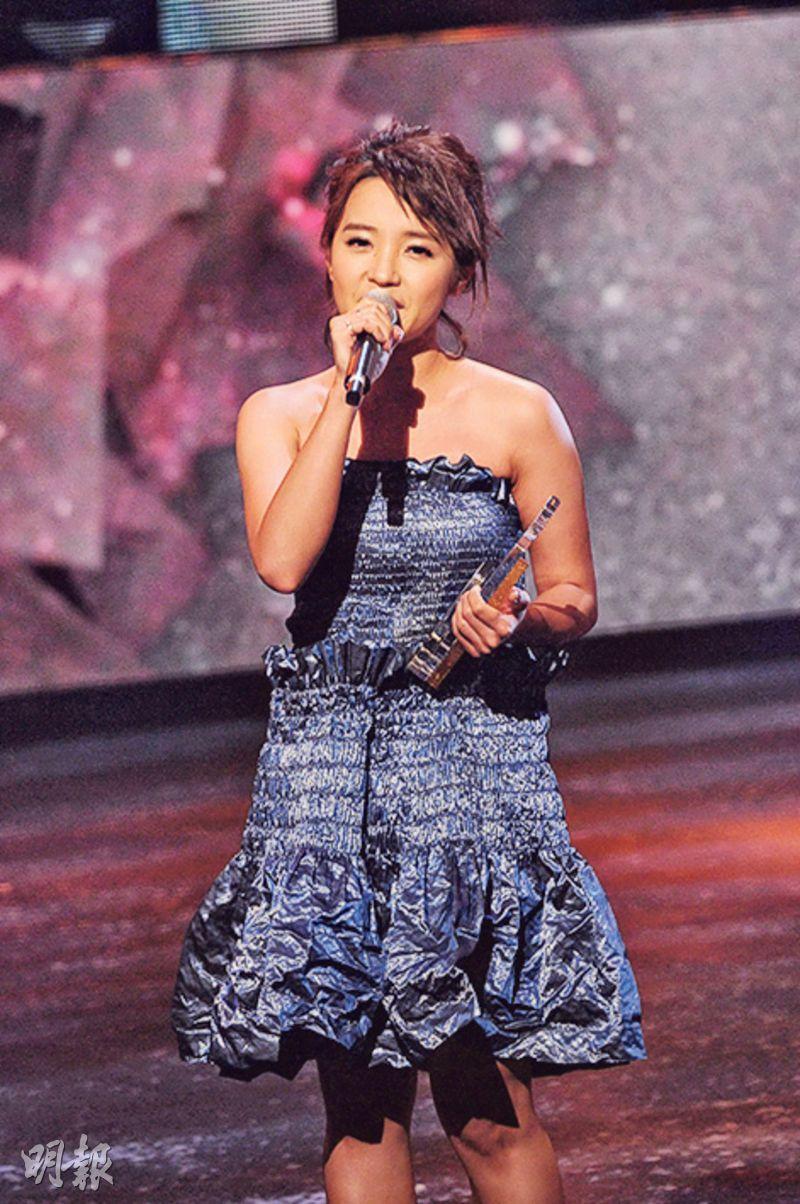 Kandy Wong
courtesy of mingpao.com
The 2017 TVB JADE SOLID GOLD AWARDS took place last night at the Tseung Kwan O Television City. This year 38 awards were presented, a little less than 45 last year. At the same time, this year "the highest popularity singer award" was added and the past "Most Popular Male and Female Singer Awards" were merged into the "Most Popular Singer Award". Last night attending singers included Hacken Lee Hak Kun, Pakho Chau, Hana Kuk Chi Kiu, Vincy Chan (Wing Yi), Ken Hung Cheuk Lap, Mag Lam Yun Tung, JW, Huber Wu Hung Kwan, James Ng Yip Kwan and others. In the end the Most Popular Singer was Lee Hak Kun. The "Voice Entertainment Gang" as expected became the big winner with 14 awards.
Since several years ago TVB and the four major record companies parted ways over royalty disputes, in recent years JADE SOLID GOLD only had the support of Emperor singers, the Voice Entertainment and other record company's young singers. Thus last night Emperor and the Voice Entertainment singers were seated in the front row. The Voice Entertainment singers like Pakho Chau, Kuk Chi Kiu, Wu Hung Kwan, Stephanie Ho Ngan Sze at the center on one side, while on the other were Wing Yi, Hung Cheuk Lap and others.
Joining the Voice Entertainment this year, Pakho Chau was the first singer to win the song award. Ho Ngan Sze followed. When she accepted that way she said, "This year I have experienced a lot of good and not so good things, I hope my songs and as a person from now on would improve everyday with every song."
Coming home with a "goose egg" from the Metro Hit Awards, Wu Hung Kwan received strong support from the event. His record was said to be hard to get, his nude scene from THE EXORCISTS' METER was shown. He also won two song awards for I WAS HERE and JUST A FRIEND. When he accepted his award he admitted that this year was a special year because he had a lot of new attempts in music. "JUST A FRIEND originally wasn't mine, but I ended up in my hands. I appreciate my team for trusting me."
Rumored to be upset at Metro Hit Awards and skipped it, JW last night also received a song award. She denied the rumor backstage. "Because I have to rehearse for my concert, I really didn't have time to go. I didn't even go to my family's and my boyfriend's Christmas party. I wasn't petty either. As a singer as long as I make good music I am happy. The award is a bonus. I am OK without it too." Metro did not invite her to send a video. JW said, "I didn't know I have to, I just listened to the company's arrangement. I don't mind, every year the award shows are singers' gathering for me."
Was she upset that Joyce Cheng Yun Yi, Janice Vidal (Wai Lan) and Ivana Wong Yuen Chi won? JW said, "I can't possibly be upset, every year there have been only a few awards, winning every year is impossible. I too hope music is in full bloom, in addition their songs are great. Even Gin Lee and AGA didn't win but this year they work very hard. Singers aren't just about awards."
When duet awards were announced, Vincent Wong Ho Shun shared two awards with Hana Kuk Chi Kiu and Kayee Tam. Ho Shun was surprised and sentimental. "I started as a singer, for the award I have to thank the company and my two colleagues. I hope Cantonese songs will continue on. I am the most sorry about forgetting elder (Lowell) Lo Koon Ting's name. I have been so busy with a series that I haven't even had the time to sleep. This time I come to accept the awards at the last second, I am not at my best either."
He also forgot to thank his wife in his speech. Ho Shun said, "That's right, actors instead would think of what they would say in advance. This time I really didn't have time to think. Of course I have to thank my wife. She gave me space to work, next time I would remember." Would he consider a record release? He said that nowadays music no longer needs to release a record. Music could be shared in other ways. The most important was to surprise everyone.
Kayee Tam with the WALK WITH YOU solo version won a song award. When she performed this song she got teary eyed.
This year's Jade Solid Gold hosts got younger, as the show daringly went with Louisa Mak Ming Sze, Crystal Fung Ying Ying and Lok Ho Ming. Louisa was inevitably nervous for her first big show and was a little stiff. With her braces, when she explained the votes were counted under accountant supervision she said "acchicken" instead and made the audience laugh.
When the show started, the five former Miss Hong Kong pageant contestants formed "five little flowers" Jacqueline Wong Sum Ying, Sisley Choi Si Bui, Veronica Shiu Pui Sze, Fung Ying Ying and Bowie Cheung performed the hit song I WAS HERE, but Sum Ying and Bowie were obviously lip synching poorly. After their performance the new comer awards were announced. The gold, silver and bronze prize went to Vivian Koo (Kuk Me), Cherry Ngan Cheuk Ling and Alvin Ng Fu Kiu.
In addition, when JW and Ng Yip Kwan's ACTUALLY ONLY BECAUSE OF DEEP LOVE was announced as the Best Duet silver prize winner, Ying Ying said that this song gave Brother Kwan a rumor. In the audience Wu Hung Kwan immediately guessed that Brother Kwan and immediately shook his hand. JW sat between them and blocked them with her hand in a funny way.
2017 TVB JADE SOLID GOLD AWARDS

SOLID GOLD SONG AWARDS
HEAVENLY NET
(Pakho Chau)
I DON'T FLIRT
(Stephanie Ho)
SENSE OF SECURITY
(JW)
EARLIER RECORDED
(Deep Ng)
POLISH
(Angela Hui)
I WAS HERE
(Hubert Wu)
JUST A FRIEND
(Hubert Wu)
FORGET MYSELF
(Hana Kuk)
WAITING FOR A LIFETIME
(Hana Kuk)
VICTORY
(Fred Cheng)
BB
(Rainky Wai)
TAKING ASHES ON VACATION
(Ken Hung)
WALK WITH YOU
(Kayee Tam)
AFTER GRADUATION
(Mag Lam)
HEARTBROKEN TO TRANSFORMATION
(James Yip)
TOGETHER FOREVER
(ToNick)
FALL IN LOVE IN A MOMENT
(C AllStar)
HABITUALLY LOVE YOU
(Vincy Chan)
C3PO
(Hacken Lee)
LOST SOUL CHRONICLES
(Hacken Lee)
GOLD SONG GOLD PRIZE: LOST SOUL CHRONICLES
(Hacken Lee)
MOST POPULAR SINGER:
Hacken Lee
BEST PERFORMANCE (Male):
Hubert Wu
BEST PERFORMANCE (Female):
Hana Kuk
BEST DANCE SINGER:
Sherman Chung
MOST POPULAR NEW COMER (Gold):
Vivian Koo
(Silver):
Cherry Ngan
(Bronze):
Alvin Ng
BEST DUET (Gold): WALK WITH YOU
(Vincent Wong, Kayee Tam)
(Silver): ACTUALLY ONLY BECAUSE DEEP LOVE
(JW, James Ng)
(Bronze): WANT TO SAY BUT STOP
(Vincent Wong, Hana Kuk)
BEST BAND/GROUP (Gold):
C AllStar
(Silver):
Supper Moment
(Bronze):
ToNick
BEST CREATIVE SINGER (Gold):
Kandy Wong
(Silver):
Sophy Wong
(Bronze):
Adason Lo
HIGHEST POPULARITY SINGER:
Pakho Chau