Louis Koo, Ng Siu Hin
courtesy of on.cc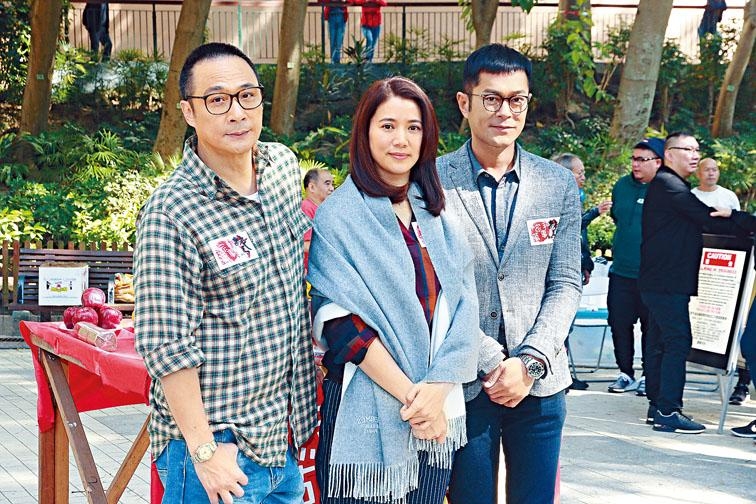 courtesy of singtao.com
Cheung Tat Ming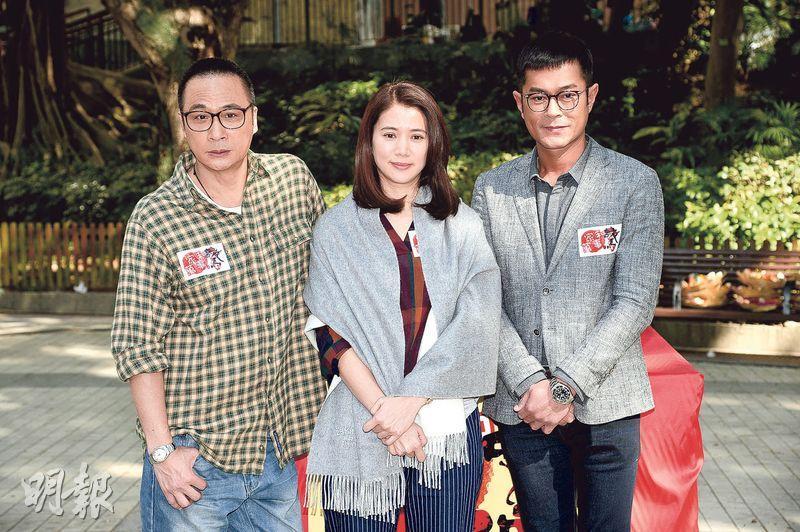 Francis Ng, Anita Yuen, Louis Koo
courtesy of mingpao.com
Francis Ng Chun Yu, Louis Koo Tin Lok, Anita Yuen Wing Yee, Cheung Tat Ming, Lo Hoi Pang, Elena Kong Mei Yee, Mak Cheung Ching and others yesterday attended the Herman Yau Lai To directed new film GA WOR MAN SI GAING production start ceremony. Playing Chun Yu's father in the film, Tat Ming after makeup was very convincing.
In the film Chun Yu and Len Len would play a couple. Working together after over a decade, would they have any intimate scene? Len Len said, "Tons! Why else would I take it?" Chun Yu joked, "We screwed in the bed...'s screw, otherwise the bed would collapse! This time we have to add screws. This is a 'category III' comedy, it's category III funny, the category for the funniest." After years away from film, Len Len said that she really wanted to work with Chun Yu again. Chun Yu joked, "Every female star after working with me wants more!" Len Len replied, "That's right! I am 'licking my chops' too."
This time Cheung Tat Ming is one of the producers. Chun Yu said that the film script was Tat Ming's play script years ago. It received many awards. He suggested for Tat Ming to adapt the play into a film and play his father, the story would be about the housing problem and many city disorders. He also said that many friends wanted Tat Ming to return to film. "Tat Ming saw that the character had to be in a wheel chair and immediately agreed. He was more into on screen than off screen performance. He always thought that he was an idol. (Would you like Tat Ming to win an award with the film?) He can win a screenplay award."
Fully supporting Tat Ming, Chun Yu and Len Len were asked if they gave a "friendly discount"? Len Len admitted that she took the normal rate. Chun Yu said, "Tat Ming is just producing, not investing. If anyone can get Tat Ming to produce they are proven to have a lot of money. I am very busy, they should be laughing that I can make room in my busy schedule. Taking a pay cut wouldn't make sense. When you say it is Tat Ming's comeback or final film, a lot of favors can be called in and many would guest star."
Producer and screenwriter Tat Ming said that the makeup alone took two hours. After the shoot he had to use hot towels to melt the glue before he was able to remove the makeup. The neck wrinkles were real and did not require make up. He said that this was the first key role he had since his cancer was under control. Originally he did not want to perform, but this was the first time he would work with Goo Jai. In addition his character was wheel chair bound, which was very suitable for his numb limbs. He said, "I will have to sit in a wheel chair sooner or later, let me try it. This time I get to see Goo Jai and get paid, I am very happy." He said that his character was played by an actress in a disguise and won a Best Supporting Actress. Was he confident that he could win an award with this character? Tat Ming said, "It will depend on where Goo Jai leads me. In one scene Goo Jai would be amazing. Chun Yu, Len Len and me try to scare him as a family, but he scares us back instead. In another scene Goo Jai would have to cry and affect us very much."
Goo Jai said that this film would be a dark comedy that would reflect reality. He felt that film required different subjects. Would this performance have a lot of potential? He said, "Working with Tat Ming is already a great show." Would he have any romance? Goo Jai joked that he had to work with art and had no romance.