Sandrine Pinna, Kitty Zhang, Zhang Tianai demonstrate the sexy "demon cat walk"
courtesy of on.cc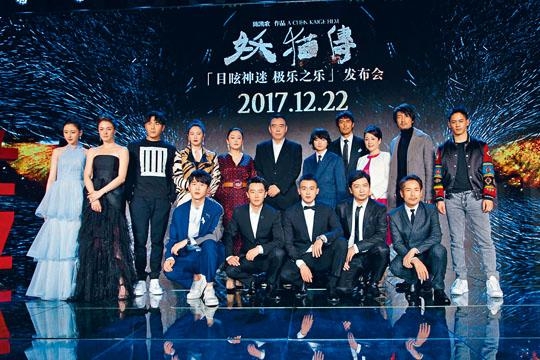 courtesy of singtao.com
The film LEGEND OF THE DEMON CAT yesterday held its global premiere press conference in Beijing. Director Chen Kaige attended with Huang Xuan, Sandrine Pinna (Cheung Yung Yung), Oho Ou, Hiroshi Abe.
The team paired up according to character relationships on the stage. As one of the three beauties, Cheung Yung Yung went on the stage, got into character in a second and demonstrated the "concubine step". She said that it was "especially slow" and even brought Zhang Yuqi and Zhang Tianai to learn together. When asked why she was able to play Yang Yuhuan, Cheung Yung Yung said that the director watched her previous films so he asked her for a chat and audition. Director Chen Kaige said that he would only cast people he felt right about, the comment left a deep impression with her. Because she believed in the director's choice she became a "challenger" after one adjustment after another. With her refusal to quit she moved the director. Finally Cheung Yung Yung thanked the director for his love.
Cheung Yung Yung and substance actor Zhang Luyi paired up to play the "Emperor" and the "Concubine". They were already full of chemistry for their first collaboration. On the set they not only talked about characters bu also made fun of each other. Japanese star Hiroshi Abe said that Cheung Yung Yung gave him some delicious Shanghai crab. He happily ate for over a hour and also melted that outside the film friendship into the film.