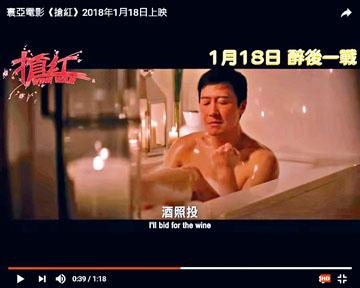 courtesy of singtao.com
The Leon Lai Ming directed and starred dark comedy action film WINE WAR (CHEUNG HUNG) invited Zhang Hanyu, Du Juan and David Wang to shoot on location in French and will open on January 18 next year.
Leon in the film in order to obtain priceless red wine began a series of action sequences. In the story the Leon played Willie and the Zhang Hanyu played Zhang Shui grew up together in an orphanage, but Willie was adopted and immigrated to France. Years later, Zhang Shui suddenly appeared in France to ask for Willie to help with win a red wine "wine god" bid. In a seemingly easy red wine auction, one after another shooting took place.
The latest WINE WAR trailer not only had many large scale explosion scenes but also Leon's bath scene.