courtesy of on.cc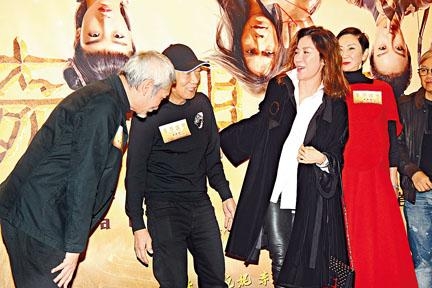 courtesy of singtao.com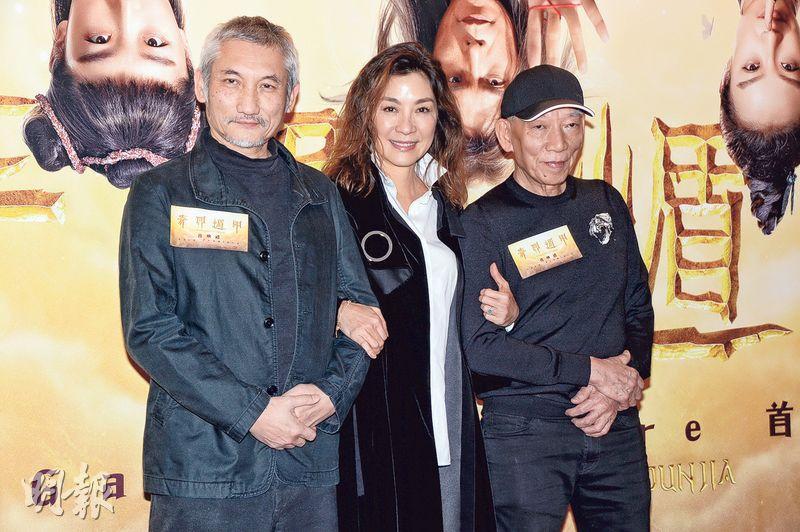 Tsui Hark, Michelle Yeoh, Yuen Wo Ping
courtesy of mingpao.com
The Yuen Wo Ping directed, Tsui Hark produced new film THOUSAND FACES OF DUNJIA (KEI MOON DUN GAP) two nights ago held a premiere. Michelle Yeoh (Yeung Chi King) came to support her friend. Lord Eight said that when Yeung Chi King worked on fight scenes she risked her life and would be bruised all over. Tsui Hark said that he definitely would ask Yeung Chi King for the sequel and Yeung Chi King quickly responded, "It's a deal."
Because the new film's leads Aarif Rahman (Lee Chi Ting), Zhou Dongyu, Wu Bai did not appear, Tsui Hark and Lord Eight made fun of their absence. Tsui Hark said that Wu Bai was the actor who surprised him the most. Before hand he never thought that the result would be so good, because Wu Bai turned his guitar playing gesture into palm force. Lee Chi Ting was the vainest, so his face was not hit in the entire film. Lord Eight said that Zhou Dongyu was also vain, only she turned her make up into something strange.
Yeung Chi King admitted that she would like to work with Tsui Hark and Lord Eight again. He sad, "My first film was Tsui Hark's. As long as they will be in it, I will be able to play any character." Tsui Hark and Lord Eight also exchanged pleasantries, saying that as long as she will be in it they will have no problem. The new film had its share of fight scenes. Yeung Chi King deeply believed that as long as Lord Eight taught the actors they were fine, because he would not accept any take that was not fought well. Lord Eight said that although Yeung Chi King hit people mostly, but she ended up being hit because she took so many risks that she was bruised all over.
Playing a martial art master in the film, Shi Yanneng revealed that each school sent experts to challenge him. In the end he had to fight against a dozen or so people. Originally scheduled for a film production in Malaysia, with the pending rain season it was postponed. Thus he took the time to work on a crime film in the Mainland.
In addition, the latest version of THOUSAND FACES OF DUNJIA was drastically different from the 1982 version THE MIRACLE FIGHTERS. When asked what kind of film it was, Tsui Hark and Yuen Wo Ping both said, "THOUSAND FACES OF DUNJIA mixes together some past ancient culture. It is a very fun, magical kung fu film." Yuen Wo Ping said that this film had a lot of special effects and included a lot of new stuff. The entire film had an unprecedented style, both Chinese and Western. Tsui Hark said, "While the Western culture influenced us, perhaps our Eastern culture also included them."