courtesy of on.cc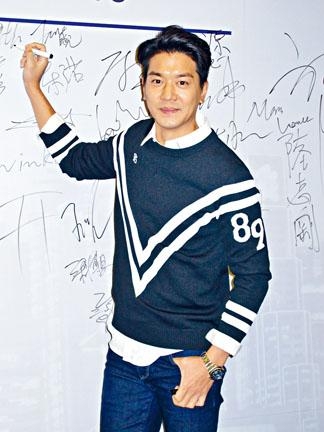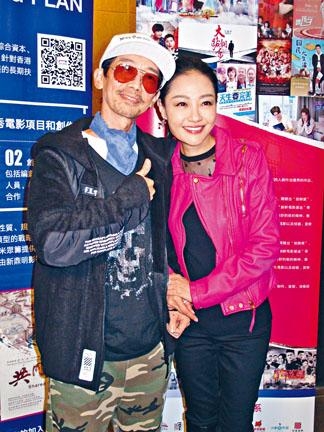 courtesy of singtao.com
Chris Lai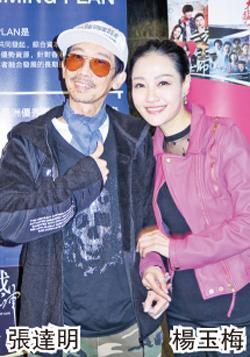 Cheung Tat Ming, Yeung Yuk Mui
courtesy of mingpao.com
Cheung Tat Ming, Yeung Yuk Mui, Chris Lai Lok Yi yesterday attended an Asia film and television event. Cancer survivor Tat Ming has been busy with his written, produced and starred film GA WOR MAN SI GAING. He said that the production time has been long and rather tough. He would like to stay with 12 hour of work everyday the most. Because he played an old character, Tat Ming would spend hours in make up every time. After work unlike other actors who could go home and go to bed, he still needed to spend a lot of time with make up removal and hair washing.
Tat Ming continued, "This time I didn't need the full make up, thanks to (Anita) Yuen Wing Yi. She said after she made THE AGE OF MIRACLES (MA MA FAN FAN) she had to see a dermatologist for seven months. (Francis) Ng Chun Yu while making SHED SKIN PAPA (TUET PEI BA BA) also had to look old and knew it was very tough. So they took great care of me and only asked for make up on important areas on my face, and no neck wrinkle." Tat Ming said that this was his comeback film, he called in a lot of favors. Aside from getting Yeung Yuk Mui to guest star, he was also in negotiation with Wu Fung and his god father Law Kar Ying to perform.
Yeung Yuk Mui guest starred for a day or two. She said, "This job is great, an obvious boon for me." The former Miss Asia contestant was asked about the "resurrection of ATV", she stated that she is with TVB now and recently even signed three more years. "I am very loyal and faithful, TVB treated me very well and gave me a lot of opportunities. When I got back to TVB I saw a lot of familiar faces and felt the warmth, so ATV to me is nothing special."
Lai Lok Yi revealed that the Mainland film that he made two months ago will open soon. The salary was a little better than TVB's, mainly he has not made a movie in four years and he really wanted to give it a try. He said, "Now I am in negotiation with some Mainland film companies. The government there is very cooperative with the production, it can block a bridge the size of Ma Ching for us to shoot a car chase. We can even shoot drifting in the streets. Hong Kong government may not be able to do that. In Hong Kong even spotlight at night would get complaints. Earlier (Samantha) Ko Hoi Ning and I worked on raining scene for a new series, a seemingly drunk foreigner came over and asked us if we were firefighters and why we could spray water. He still refused to understand after we explained ourselves. I really hope that the government and the people would support film productions. Otherwise actual location would turn back to studio sets and greatly discount the entertainment level."