Hacken Lee jokes that he is sweating bullets next to the younger singers
Gin Lee, Janice Vidal and AGA won both Excellent Singer and Gold Song awards
Cherry Ngan, Sophia Wong, Alvin Ng
courtesy of on.cc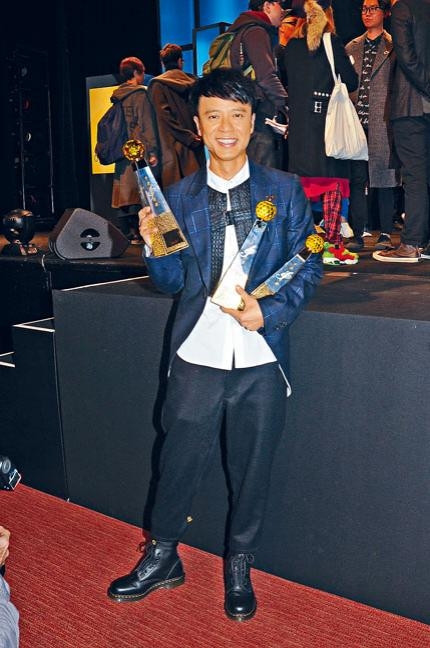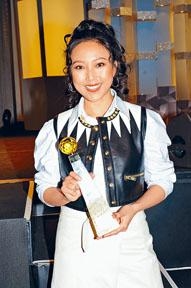 courtesy of singtao.com
Janice Vidal
After 30 years in music Hacken Lee swears to sweep the 4 major awards for a grand slam
Pakho Chau after joining Voice Entertainment has support from TVB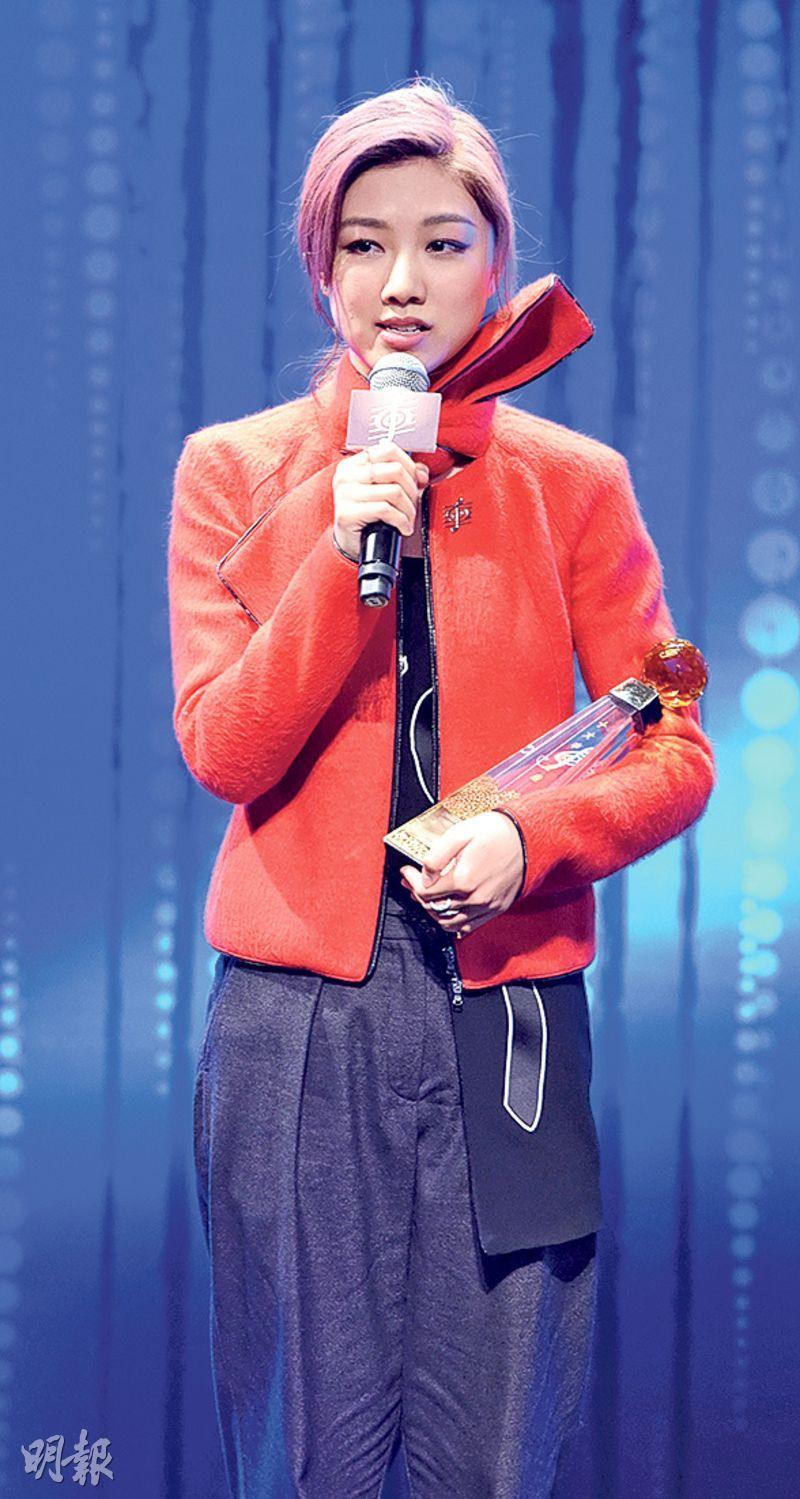 Cherry Ngan seems nervous after winning Best Prospect Award
Alfred Hui has released many songs under his new label, but he wins an award with one from his old one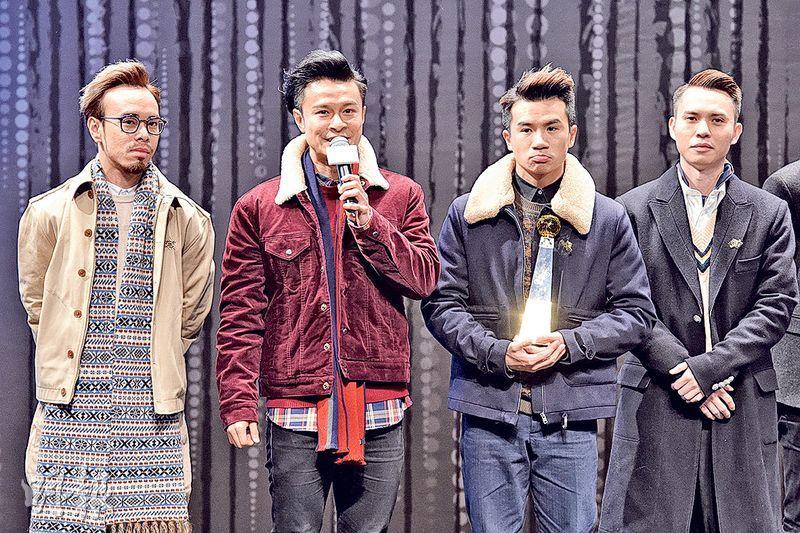 C AllStar gets back together for the awards despite announced break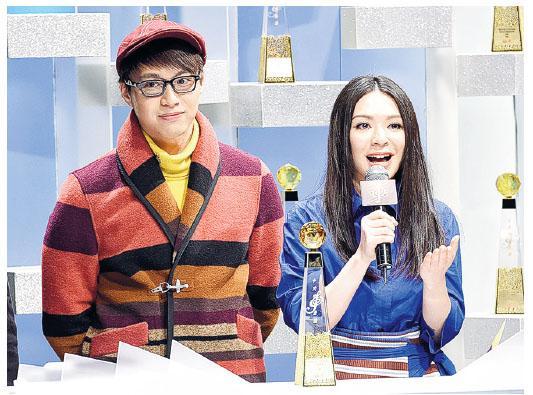 James Ng, JW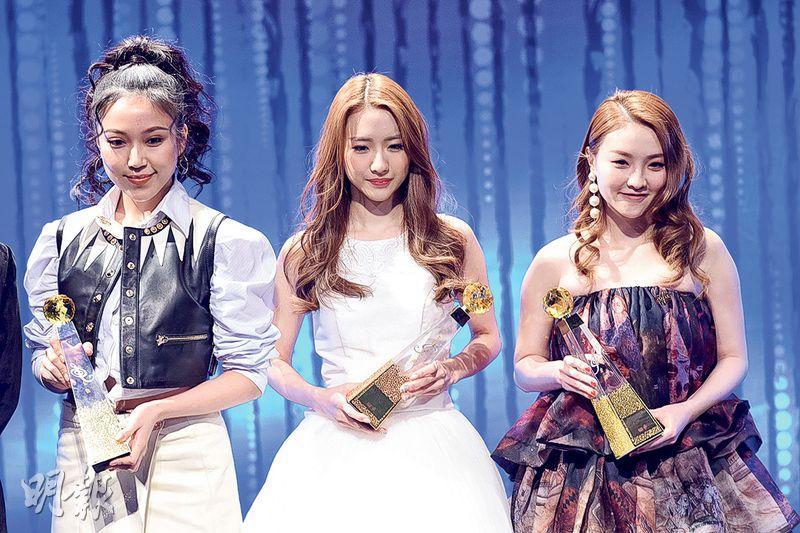 Most Improved: Sherman Chung, Hana Kuk, Mag Lam
courtesy of mingpao.com
Radio Hong Kong this year got first dibs as yesterday it held the 40th Top Ten Chinese Gold Song Awards at the Hong Kong Design Institute and handed out the first music report card this year. Active again after joining Emperor, Hacken Lee Hak Kun won three awards, Excellent Popular Singer, Top Ten Gold Song and Sales Award. Joey Yung Cho Yi who announced that she would not attend the awards this year also took home two awards and won her 15th sales award. Following Hacken with two awards were Pakho Chau, Janice Vidal (Wai Lan), Alfred Hui Ting Hung and others.
To celebrate the 40th anniversary of the Top Ten Chinese Gold Song, Radio Hong Kong divided this year's awards into first and second half. Aside from yesterday's awards, the rest will be presented on January 4th at the Me and You Concert. Attending singers that night will be stronger than yesterday, already invited are Eason Chan Yik Shun, Alan Tam Wing Lun and Eliza Chan Kit Ling. A "Gold Song 40 Global Outstanding Singer award" was set up so this year the "Golden Needle Award" will go unpresented. Yesterday mostly younger singers attended. The most experienced was Lee Hak Kun. The event announced the "Excellent Popular Singer award", going from ten to eleven winners. Winners included Lee Hak Kun, Pakho Chau, Hui Ting Hung, Jason Chan Pak Yu, Wai Lan, AGA (Kong Hoi Ka), JW, Gin Lee (Lee Hung Ngai) and the absent Yung Cho Yi, Chan Yik Shun and Ivana Wong Yuen Chi. Hak Kun saw the younger sngers in the audience and joked, "Around me are all very young singers, but I saw Heung Suet Wai and Chan Siu Kei. My generation of people are here." Hak Kun said, "Today is very interesting, the Gold Song on 40th anniversary year split into award and performance days. Today mainly I have to perform thank you speeches. I am starting my thank you performance now."
Hak Kun just returned from performing in the Mainland. "To be able to personally attend is a happy thing, in the past two years Radio Hong Kong presented awards to me, but due to work I couldn't come. At the beginning of the year I already apologized. I hope to appear at the end of the year. So this time I can attend and accept the awards, exactly fulfilling my beginning of the year promise." Speaking of him as a big winner that could rival his age, Hacken said, "Hopefully." Some said that the award show split into two days was not complete enough, Hacken said, "I was notified, because of the 40th anniversary the event would take place over two days. It doesn't matter, I get to be nervous one more time. At the concert on the 4th I will open the show with a first gold song of the 80s to the last song of this year." Hacken said that when he was sweating bullets when he accepted the top ten excellent singer because the other winners were very young. Luckily in the audience were many of his friends. When many singers of Hacken's generation took a step back and not attend award shows, Hacken was just the opposite. He said, "I have a young heart, age makes no difference. We all start the race on January 1st. With the Oscars Meryl Streep attends all the time too. Actually singers here today are all very hard working, let's see if their work is suitable to everyone's taste. (Which female singer do you like?) It's not up to me. Shouldn't this year be Wai Lan? To me that would be pretty fresh, but I really don't know."
Fellow Emperor singer Sherman Chung Shu Man and Hana Kuk Sun Kiu and Mag Lam Yun Tung won the "the Most Improved" gold, silver and bronze prizes. Chung Shu Man said, "This year friends said to me that I actually liked to dance. I am with embarrassment that I danced a lot over the past ten years, but I was happy that even friends who didn't pay attention to me saw me. I probably improved." She said, "For ten years, I know I worked very hard and put a lot of effort into work. I felt that everyone would do that, not a big deal. However actually when someone reward your hard work with an award it is very happy." As for her vocal cord damage, she said, "I have to slowly treat it with medication. Right now singing may be a little much, but I wouldn't force myself. As long as I believe I would perform my best."
Cherry Ngan Cheuk Ling won the "Best Prospect" gold prize. She admitted that she was very nervous and kept wiping the award on the stage. She said, "At film awards you can sit with your team, when everyone is waiting for the award we would hold hands. However just now everyone very nervously stared at the stage. I held (Sophia) Wong Ka Yi next to me and felt we were both so nervous that our hands were ice cold and in cold sweat." Did she give her boyfriend the good news? She said, "My boyfriend is rehearsing, he probably didn't watch. However he already told me good luck in advance. I try not telling him and see when he would know. (How can he not know?) No, I want to see how long before he finds out."
Switching to Warner this year, Hui Ting Hung won the "excellent popular singer award" and with his old company Voice Entertainment release PAINFUL AWAKENING won the Top Ten Gold Song. He said, "It's pretty special. Since PAINFUL AWAKENING won a rare award, I might as well say that actually this song has a win -- the (Jinny) Ng Yeuk Hei sung NUMB (MA JUI). At the time she was pregnant so she postponed its release. Even after I switched companies it still hasn't been released. Indeed it's a little regrettable." Would he regret that the winning song wasn't from his current record company? "It's still my work, but I hope Ng Yeuk He would release NUMB soon."
Pakho Chau yesterday won the Excellent Popular Singer Award and Top Ten Gold Song, but because Pakho rushed back from promoting and performing in Malaysia he did not arrive until the show started. Thus he missed the chance of accepting his first award. Pakho said with regret, "Because the presentation took place in the afternoon, I already took the first flight back to Hong Kong but I still missed a part of it. I regret that I wasn't able to personally accept the 'excellent' award, but I insisted on attending because the award show is the annual reminder to myself to keep working hard, and what other people appreciate about me."
Was he expecting a big harvest at this year's awards? He said, "I attend for the stargazing, being happy for winning singers. This year I switched record companies and had less songs, so I also came to share the joy. In 2018 I will push myself and quicken my pace for good performance."
Speaking of Shawn Yue Man Lok and Shum Ka Wai being at odds over business, Pakho who has been rumored to be at odds with Lok Jai said, "I don't know, (Are you and Lok Jai friends?) We are all friends, in past years we went to Lunar New Year visits and dined together. Mr. Shum is great. He would invite us friends to the New Year group visits, but last year I wasn't in Hong Kong to participate. (Would you this year?) I don't know yet, maybe Mr. Shum won't be in Hong Kong. (Would not having money problems between friends be the best?) The most important is to respect each other, all the money problems can be taken care of. The most important is clearly differentiating them. I am just responding with how I see it, usually friends owe me money."
TOP TEN GOLD SONG WINNERS (PARTIAL)
SALES AWARDS
Male:
Hacken Lee
Female:
Joey Yung
Group:
Twins
EXCELLENT POPULAR SINGERS
AGA, JW, Hacken Lee, Joey Yung, Eason Chan, Janice Vidal, Gin Lee, Ivana Wong, Pakho Chau, Alfred Hui, Jason Chan
TOP TEN GOLD SONGS
3AM
(AGA)
HEAVENLY NET
(Pakho Chau)
NATURAL ENEMY
(Janice Vidal)
BROTHER AND ME
(C AllStar)
LOST SOUL CHRONICLES
(Hacken Lee)
EMPTY SISTER
(Gin Lee)
TOGETHER FOREVER
(ToNick)
DOMINATING LOVE SONG
(Jason Chan)
ONLY BECAUSE OF DEEP LOVING
(James Ng, JW)
PAINFUL AWAKENING
(Alfred Hui)
RARE ENCOUNTER
(Phil Lam)
EXCELLENT POPULAR MANDARIN SONG
GOLD:
WHO WOULD CUT THE MOONLIGHT (Eason Chan)
SILVER:
AS YOU LIKE IT (A-Lin)
BRONZE:
I HAVE ME (Janice Yan)
BEST PROSEPCT
GOLD:
Cherry Ngan
SILVER:
Sophia Wong
BRONZE:
Alvin Ng
MOST IMPROVED
GOLD:
Sherman Chung
SILVER:
Hana Kuk
BRONZE:
Mag Lam
BEST BAND/GROUP
GOLD:
Supper Moment
SILVER:
Dear Jane
BRONZE:
C AllStar
CASH BEST CREATIVE SINGER:
Phil Lam