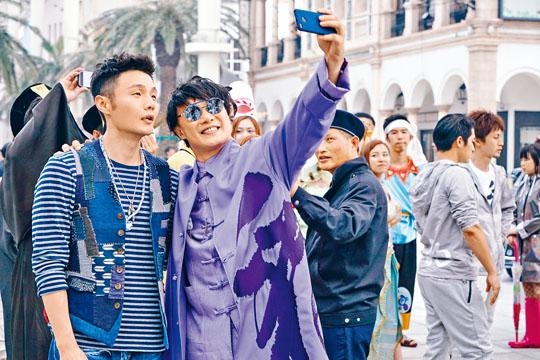 Both Li Ronghao and Eason Chan work on their first action film
courtesy of singtao.com
The Eason Chan Yik Shun and Li Ronghao starred, Vincent Kok Tak Siu directed action comedy KEEP CALM AND BE A SUPERSTAR (NGOR DAI GUI SING) will open early next year. It even invited the Hong Kong poster illustrator Yuen Tai Yung to return for a poster. Eason felt very honored to be the actor of Master Yuen's first poster of his return. Master Yuen put his and Ronghao's most "exaggerated" side from the film on the poster.
Eason and Li Ronghao both worked on their first action film. Kok Tak Siu praised Eason's fighting would make everyone believe that the double did it for him. Eason said, "Each shot had to be its best for me to be pleased. I spent several weeks to keep practicing for the action scenes, to remember how to fight. From the first day to two months later my face got pointier from the shoot!"