Mother Mui and Teddy Robin Kwan
courtesy of on.cc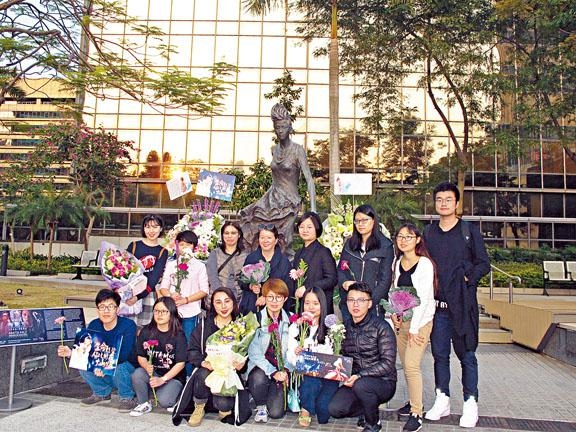 courtesy of singtao.com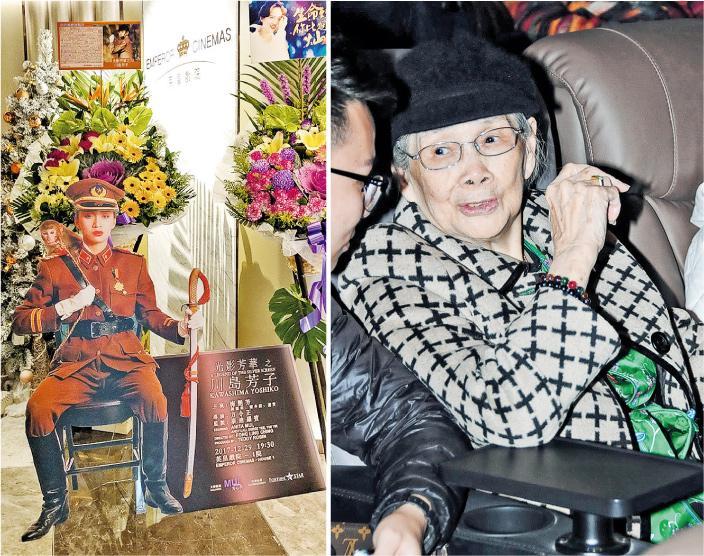 The 94 year old Mother Mui takes the opportunity to enjoy Anita Mui's film KAWASHIMA YOSHIKO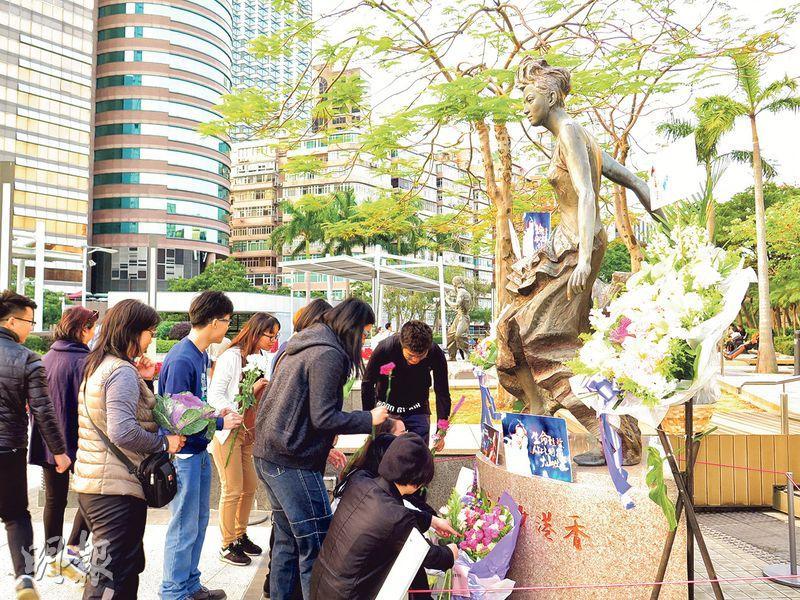 Yesterday fans flocked to the Anita Mui statue to pay their respect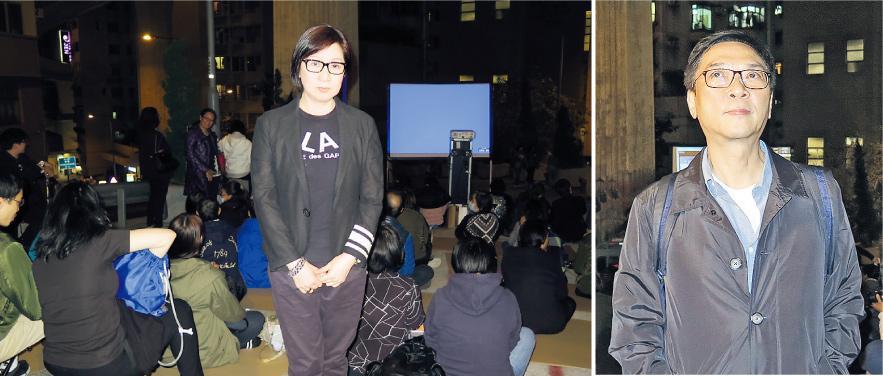 Anita Mui International Fan Club president Ms. So takes part in a ROUGE screening under the Shek Tong Tsui overpass. Director Stanley Kwan attends to share his experience.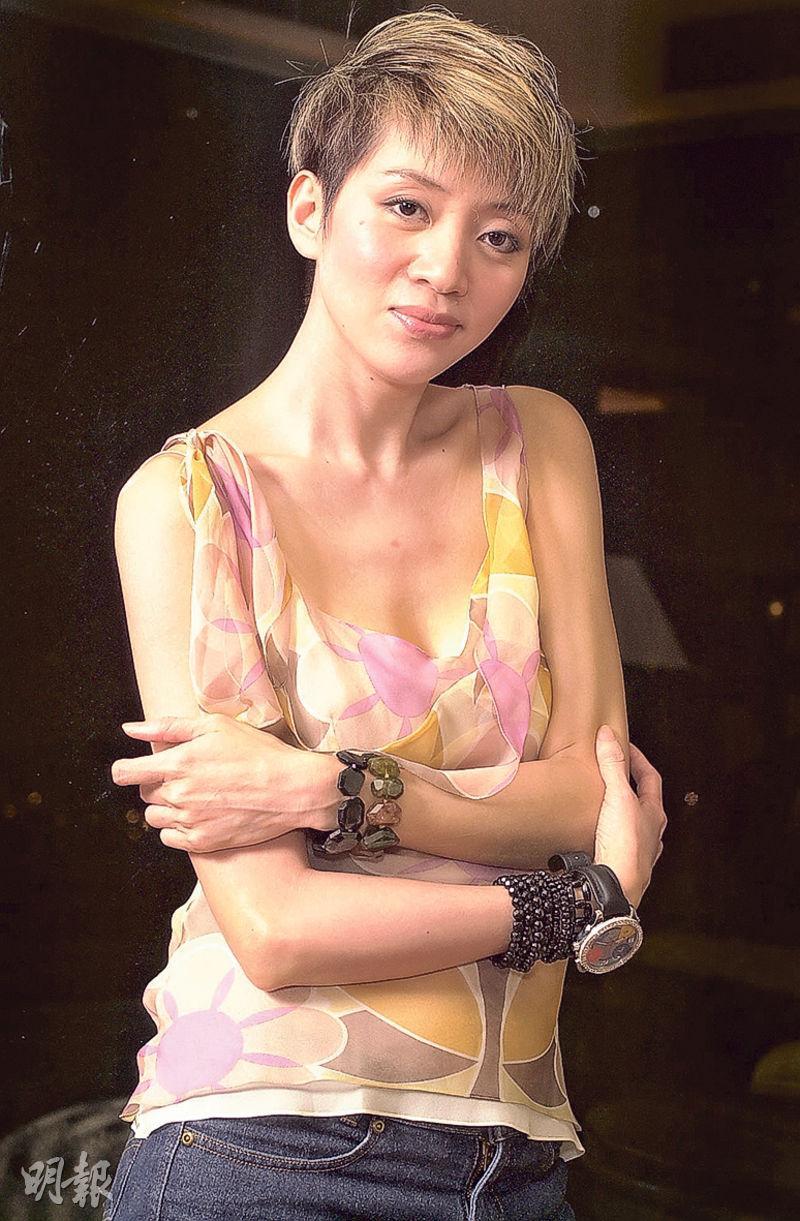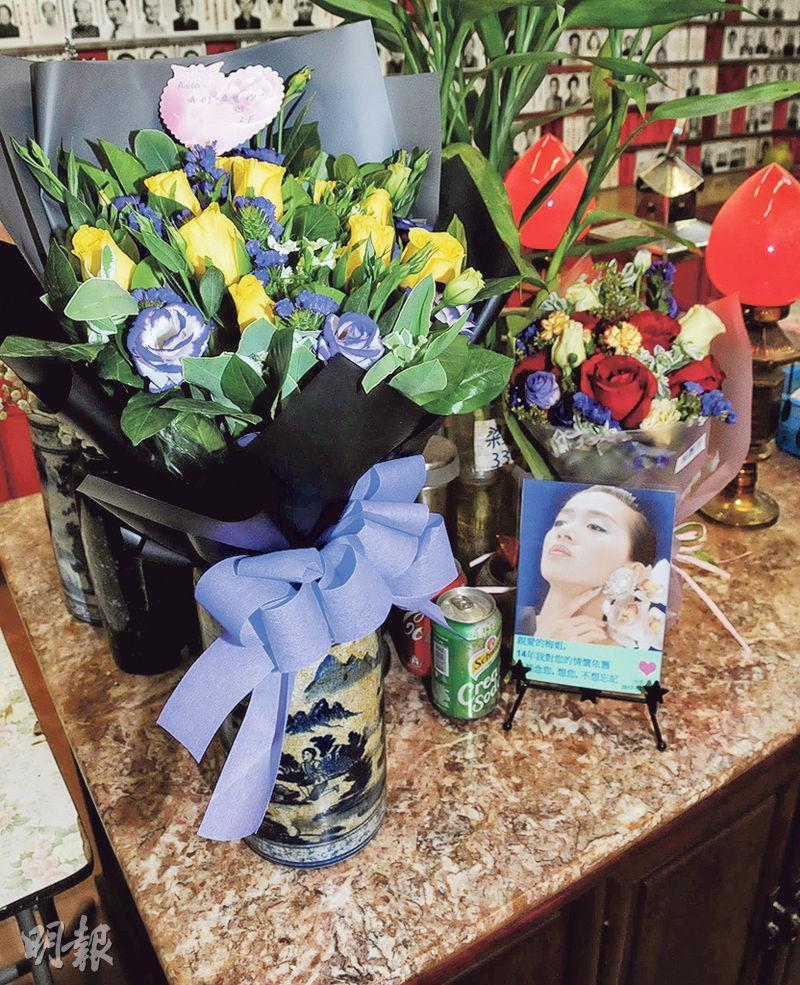 Fans prepared flowers Shang Sin Chun Tong to pay respect to their idol Anita Mui
courtesy of mingpao.com
Yesterday (December 30th) was the 14th anniversary of the superstar of a generation Anita Mui Yim Fong's passing. Mui fans two nights ago remembered their idol in different ways, watching Ah Mui's films, paying their respect at Ah Mui's spirit tablet at the Shang Sin Chun Tong, presenting flowers at Ah Mui's statue in Tsim Sha Tsui, as time has not eased how much they missed their idol. Ah Mui's mother Tam Mei Kam two nights ago went to the movies to watch her daughter's film KAWASHIMA YOSHIKO. She said that she missed her daughter very much, sometimes she would see her when she would be half awaken. Someone also said that Ah Mui has become the god daughter of the Goddess of Mercy, which put her at ease.
Ah Mui's fan organization Mui Nation two nights ago held a screening of KAWASHIMA YOSHIKO at a Central cinema. The 94 year old Mother Mui came with clutches. She said earlier she injured her right left from a fall. Her son Mui Kai Ming was unable to accompany her due to knee pain. Mother Ma admitted that she has not attended an event in a long time. Normally when she went out for tea she would need a wheelchair. She would stay home and play mahjong; this time she came not only to be a part of the crowd but also took the opportunity to enjoy this movie again. The last time she saw this movie was years ago and forgot a lot of it.
Did she still miss Ah Mui? Mother Mui said, "I miss her so much that I don't! It's been so many years, occasionally when I am half awake I would see her. I know that she told my doctor and friends to take care of me; someone also told me that they saw Ah Mui practicing next to the Goddess of Mercy and learned that she was the Goddess' god daughter. Thus I am very at ease."
Yesterday a big group of fans went to Ah Mui's spiritual tablet at the Shang Sin Chun Tong in Kowloon Tong. Fans prepared their idol's favorite custard tart, honey cake, sushi and other food. Six floral arrangements from fans were placed under the altar. Some fans also went to Ah Mui's spiritual tablet at the Lautau Island.
At 5 PM, a dozen or so Mui fans went to present flowers at her statue in Tsim Sha Tsui, prayed and took photos to remember their idol. During the group photo, the presence of 14 fans was the same number as how many years since Ah Mui passed. Two fans from Beijing said that they have been fans for 7 years and praised how Ah Mui lived was worth learning from, with her kind and helpful heart. The most memorable for them was Ah Mui's 2003 farewell concert, which they constantly watched again and again; they also liked her performance in the films KAWASHIMA YOSHIKO and WU YAN.
The Anita Mui International Fan Club president Ms. So took part in the planning of the film screening of ROUGE, which took part at one of the film's location -- under the Shek Tong Tsui overpass. Over 200 Mui fans attended. Ms. So said that they applied for the outdoor screening with the government. Although it was the first, she felt that holding it at this location had special meaning. They also received the assistance from many volunteers, thus they did not spend much on preparation. Next year would be the 15th anniversary of Ah Mui's passing. They had plans for other events but no format has been set.
ROUGE's director Stanley Kwan Kam Peng also attended. "I felt that she never left, only immigrated to a very faraway place. She hardly ever came back. This film made everyone remember Ah Mui and (Leslie) Cheung Kwok Wing, they would always remind in everyone's hearts." He recalled that back then Ah Mui was very serious and in character. He said that Ah Mui had a lot of natural talent and organization abilities, as she was able to gather all workers to watch playback together.